Porinju Veliyath is an Indian entrepreneur who works as a fund manager and investor in the stock market. He owns a company called Equity Intelligence India Private Limited where he takes care of his own investments as well as those of his clients. In 2017, the Economic Times described him as an expert in small-cap stocks. Porinju Veliyath's investment portfolio grew significantly from 2013 to 2018 due to his wise investment choices during the stock market's bullish phase. He invests in multi-bagger stocks, which greatly contributed to the growth of his portfolio.
Wiki/Biography
Porinju Veliyath was born on Wednesday, 6 June 1962 (age 61 Years; as of 2023) in village Chalakudy, Thrissur, Kerala, India. His zodiac sign is Gemini. After completing his school education, he joined Government Law College, Ernakulam, Kerala to study L.L.B. [1]Porinju's LinkedIn Account Once, in a media conversation, Porinju Veliyath described that he comes from a lower-middle-class family in Chalakudy village, near Kochi, Kerala. When he was 16, his family faced many financial difficulties. They had to give up their house to settle their debts. At that point, he realized he needed to step up and support his family, so Porinju Veliyath began working as a teenager.
Physical Appearance
Height (approx.): 5′ 10″
Hair Colour: Black
Eye Colour: Black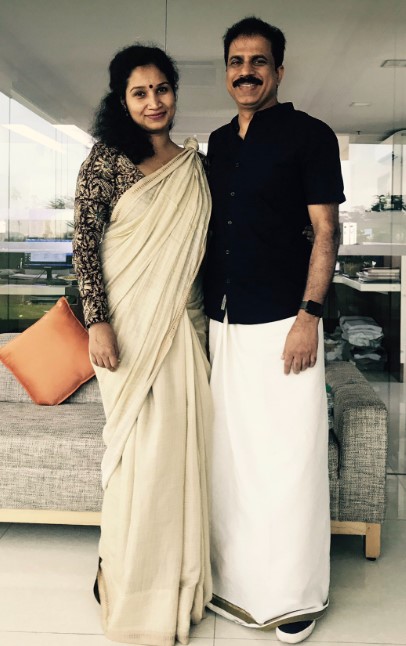 Family
Parents & Siblings
There is not much information about his parents.
Wife & Children
His wife's name is Litty Porinju Veliyath.
The couple has two sons named Sunny Porinju and  Joshua Porinju and a daughter named Shilpa Porinju.
Career
Porinju began working as an accountant at Rs. 1,000 per month remuneration when he was sixteen years old. Later, he worked as a phone operator and received a salary of Rs. 2,500. During an interview with a popular newspaper, he shared his experiences of struggling during his teenage years. Porinju Veliyath mentioned,
I had to start working right from my teens…It was not easy. We were homeless when I started working."
Corporate Sector
He gained experience in the financial market by working in different roles including being a fund manager and research analyst. In 1990, Porinju Veliyath got his first job in the stock market as a floor trader for Kotak Securities. He served in the position till 1994. In the same year, he moved to Mumbai and started using the name Francis (which is the English version of his name). From 1994 to 1999, Porinju Veliyath worked at Parag Parikh Securities as a research analyst and fund manager.
Stock Market and Entrepreneur 
In 2002, Porinju Veliyath decided to go back to his home state of Kerala because he was not satisfied with life in Mumbai. In Kochi, he established his own company called Equity Intelligence India Private Limited for managing stock market funds. Porinju Veliyath is famous for investing in small companies. However, he also holds shares in some big and well-established companies, like Reliance Industries, in his investment portfolio. In September 2021, Porinju Veliyath's personal investments in his portfolio were worth Rs. 213.11 crores.
Porinju Veliyath is a director for Arya Vaidya Pharmacy, a company that collaborated with Hindustan Unilever Limited (HUL) to create the "Lever Ayush" range of Ayurvedic personal care products.
Literary Works
In 2008, Porinju Veliyath wrote a book called "Ohariyiloode Engane Nettam Koyyam" (which means "Complete step-by-step guide to share market and investing" in English). The book was published by Dhanam Publications.
Car Collection
Porinju Veliyath owns a Jeep Grand Cherokee.
He owns a Toyota Land Prado.
Porinju Veliyath has a Mercedes Benz E-Class.
Net Worth
In April 2023, Porinju's investments were worth Rs. 120 crores. According to a stock market website, this is a growth of over 2000% in less than 8 years. In December 2015, his investments amounted to Rs. 5.87 crores. [2]Trendlyne
Facts/Trivia
Porinju Veliyath frequently uses Twitter to express his thoughts on current events and value investing. He has more than 1,000,000 followers on the platform. It is said that in 2016, he made a prediction on Twitter that Reliance Industries and Jio might experience positive developments.
Newbies and options trading! pic.twitter.com/qO7F7AYcIm

— Porinju Veliyath (@porinju) June 16, 2023
During his free time, he enjoys travelling to faraway destinations, reading books, and writing his own books.
No Switzerland can beat our own Kashmir! pic.twitter.com/VkhX8AzKV6

— Porinju Veliyath (@porinju) April 6, 2023
Porinju Veliyath finds inspiration in the stock market investing strategies and skills of Udah Kotak and Radhakrishan Damani.
In 2017, Porinju Veliyath made news when he arranged his son's wedding at the sub-registrar office. According to media reports, he kept the wedding simple and economical by only purchasing two computers for the office. Shortly after the wedding, he shared a photo of the newly married couple on Twitter along with a caption. Porinju Veliyath wrote,


My son, @sunnyporinju just got married today; the sub-registrar has requested for couple of computers for office – the only wedding expense. I posted the picture from the registrar's office itself. It was just a casual mention. I don't want to give too much importance to it."
Besides being a businessman, he is a sports lover. Porinju Veliyath is a passionate football player who enjoys playing with his students on weekends. During his free time, he also enjoys watching football matches and analyzing team strategies.
Famous Indian news channels frequently invite Porinju Veliyath to their live shows, where he shares stock market investment strategies with the viewers.
Porinju Veliyath is an animal lover and a caring pet owner. He has several pets at his farmhouse in Kochi. Porinju Veliyath enjoys posting pictures of his pets on social media.
Porinju Veliyath loves to enjoy alcohol occasionally.
In May 2023, Porinju Veliyath opened a knowledge centre in his hometown Kochi. He posted some pictures of the centre on his Twitter account.