La. Ganesan is an Indian politician and social activist. In 2016, he was nominated to the Rajya Sabha from Madhya Pradesh. He is known for becoming the 17th Governor of Manipur. In July 2022, he was appointed as an acting governor of West Bengal.
Wiki/Biography
La. Ganesan was born on Friday, 16 February 1945 (age 77 years; as of 2022) in Tanjore district, Madras Presidency, British India (now Thanjavur district, Tamil Nadu, India). In 1960, La. Ganesan completed his schooling at Veera Raghava High School, Thanjavur. [1]Rajya Sabha's official website After completing his schooling, La. Ganesan could not pursue higher education because of the sudden death of his father, and he had to take care of the family's responsibilities. [2]Rajbhavan.nic.in
Physical Appearance
Height (approx.): 5′ 10″
Hair Colour: Salt and Pepper
Eye Colour: Dark Brown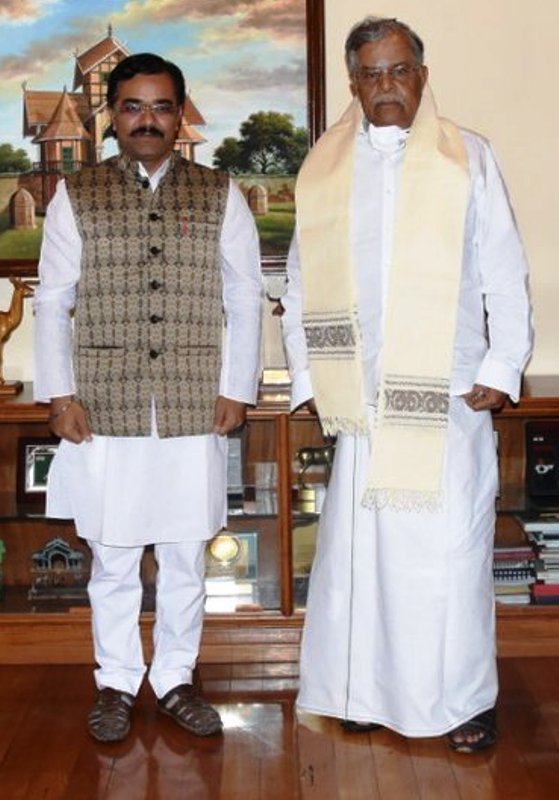 Family
La. Ganesan belongs to a Tamil Brahmin family. [3]The Indian Express
Parents & Siblings
His father, Lakshmi Raghava Iyer, was a businessman. His mother's name was Alamelu L.
He has three brothers named L. Session, L. Narayanan, and L. Krishnamurthy. L. Session is a journalist, L. Narayanan is an ex-employee of the state's Telecom Department, and L. Krishnamurthy is a former Tamil Nadu government employee.
Wife & Children
La. Ganesan is unmarried.
Religion
La. Ganesan follows Hinduism.
Address
His permanent address is 18/37, Postal Colony, First Street, West Mambalam, Chennai – 600037.
Signature/Autograph
Career
Politics
La. Ganesan, after the death of his father, took up a job in the state government's Revenue Department as a Revenue Settlement Inspector (RSI) in Tamil Nadu. After working for nine years in the Revenue Department, La. Ganesan resigned from his post and joined the Rashtriya Swayamsevak Sangh (RSS) in Tamil Nadu as a pracharak. His stint with the RSS began when he was very young as his family was deeply involved in the propagation of the ideologies of the Sangh. In 1975, when the Government of India declared an emergency in the country, La. Ganesan was made the leader of an underground movement, which aimed at protecting the democracy in the nation by standing against the then Indira Gandhi-led Indian government. Due to his participation in many underground movements, in 1975, he landed up on the Tamil Nadu police force's wanted list as a result of which he had to go into hiding for more than a year. In 1978, La. Ganesan, for his contributions to the Tamil Nadu RSS, was made a district-in-charge of the organisation. In 1979, he was made a zonal-in-charge of the Tamil Nadu RSS. In 1981, while working with the RSS, La. Ganesan, to protect the interests of the Hindus, fought against the massive religious conversions that took place in the town of Meenakshipuram, where more than a thousand Dalits were converted into Islam. [4]Rajbhavan.nic.in In March 1982, La. Ganesan played a vital role in resolving the issues that led to the Mandaikkadu communal riots. His role during the riots was appreciated by many national leaders. In 1991, while serving as a Joint State Organizer of Tamil Nadu RSS, La. Ganesan was asked to side-step into the Bharatiya Janata Party (BJP) to help in the growth of the political party. As a member of the BJP, La. Ganesan worked on making the party strong from the grassroots in the state of Tamil Nadu. Over the years, he moved up the ranks of the party and went on to serve the party as its Organizing Secretary, National Secretary, Vice President, and the State President of Tamil Nadu. From 1991 to 2021, La. Ganesan served as a member of the party's National Executive Committee. La. Ganesan contested the 2009 and 2014 Lok Sabha elections from Tamil Nadu but lost. In October 2016, La. Ganesan was nominated to the Rajya Sabha as a member of the parliament from Madhya Pradesh because of his social activities. He remained an MP till the end of 2018.
Governor
On 27 August 2021, La. Ganesan was appointed as the governor of Manipur by President Ram Nath Kovind.
On 18 July 2022, La. Ganesan took oath as the Governor (additional charge) of West Bengal.
Controversies
"Sacrifice the state" row
In 2017, the farmers of the Neduvasal village in Tamil Nadu were protesting against a project of the ONGC. The ONGC had marked an area of ten kilometres in the village to extract natural elements such as methane and hydrocarbon. The area marked by the corporation included the ancestral lands of farmers. In 2017, La. Ganesan, as an MP, gave a controversial remark in support of the extraction of natural elements by the ONGC. He said,
There is nothing wrong in sacrificing a state for the welfare of the country." [5]Hindustan Times
The statement didn't go well with Ganesan.
Assaulting the President of the BJP
In 2020, La. Ganesan was accused of verbally and physically attacking the BJP's first Dalit President, Kirubanidhi, in the 2003 national party meeting, held in Indore. Kirubanidhi alleged that there was a heated argument over the utilisation of the party funds during which La. Ganesan lost his calm and hurled casteist slurs at the party's president. Kirubanidhi also alleged that when he tried to stop La. Ganesan from abusing him, La. Ganesan physically attacked him by twisting his arm behind his back, when he was trying to pacify him. Narrating the incident, he said,
My tenure was nearing completion. I had to submit the accounts. I found many irregularities in the handling of party funds. Ganesan continued to handle the party's state funds even after his elevation as national secretary. When I prevented him by doing so, he got angry, developed a grudge against me and then attacked me. He was unable to digest the fact that a Dalit is in a leadership position. After that episode, I exited the party and joined the DMK." [6]The Federal
Salary
La. Ganesan's approximate salary as the governor of Manipur is Rs 3,50,000 + other allowances (as of July 2022).
Net Worth
As of 2014, La. Ganesan's net worth was approximately Rs 3,07,000. [7]MyNeta
Facts/Trivia
In an interview, La. Ganesan once claimed that he did not get married as he wanted to serve RSS and the nation.
La. Ganesan, in an interview, said that even though he belongs to a political party with a different ideology, he respects the Communist leaders of Tamil Nadu.
Several media houses reported that La. Ganesan is a coffee lover.
In 1975, during the emergency, La. Ganesan wrote many patriotic songs, which targeted the Indira Gandhi government.
In an interview, he claimed that during the 1975 emergency, he never personally attacked the then PM of India, Indira Gandhi, despite being pressurised by his fellow protestors to chant anti-Indira slogans. [8]

The Hindu He said,


I protested against the crisis and also wrote songs. Even then I avoided the personal attacks and disrespectful speeches. I also tried to stop those chanting "Down with Indira Gandhi" and "Down with Indira Gandhi's dictatorship!"
Describing his morning routine, La. Ganesan, in an interview, said that he used to wake up at 4 am and go for a walk. After which, he used to read at least one chapter of the Bhagavad Gita.
La. Ganesan is the founder of the newspaper Orey Nadu, which means "one nation."
In 2010, La. Ganesan founded Pottramarai, which is a non-political organisation aimed at promoting Tamil artists, laureates, musicians, and artists all over the world.