KTS Dre, also known as Kutthroat Dreko, [1]ABC Chicago was an American rapper and gangster based in Chicago. He made headlines after he died from getting shot 64 times on his head and chest.
Wiki/Biography
KTS Dre was born as 'Londre Sylvester' [2]ABC Chicago in 1990 in Chicago, Illinois, US. Nothing is known about his education and childhood.
Physical Appearance
Eye Color: Black
Hair Color: Black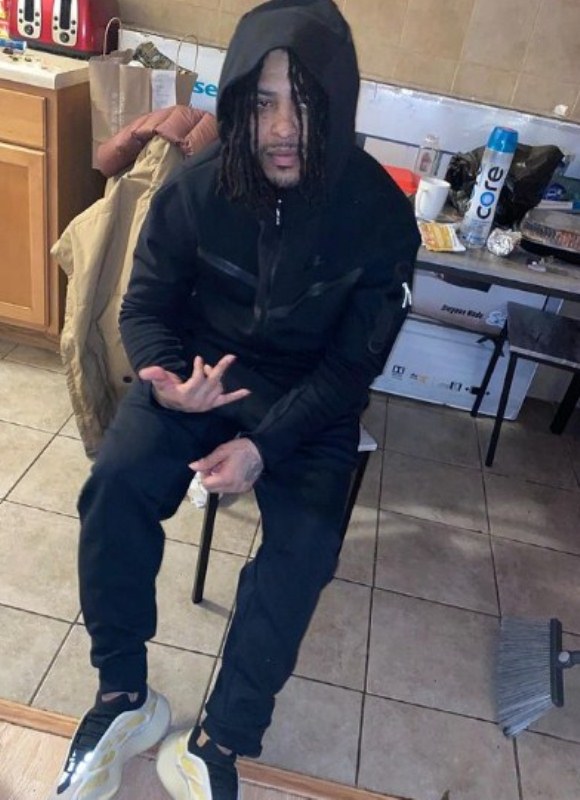 Family
His father, Vincent "Vinne" Davis, was a member of Gangster Disciples (GD). His father died in 2016 in gang violence.
Nothing is known about his mother. His stepmother's name is Vonya. He had a younger brother named KJ and two younger half-brothers named Devon Davis (KTS Von) and Vinnie, all gangsters and part of the KTS gang. KTS Von was also a rapper, and he died in 2015 after he was shot.
He had a sister named Ree.
Relationship
He had a girlfriend before his death.
Career
As a Gangster
His family members were all gangsters. KTS Dre followed in his father's path to become a gangster in his teens, which made his younger siblings and half-siblings become gangsters too. KTS Dre claimed the lakeside in Chicago first. The word KTS in his name stands for 'Kill To Survive,' which is his gang name. His gang also goes by the name Kutthroat. All of the gang members have KTS and Kutthroat in their names. KTS Dre and his gang hung around the 75th & Cottage in Chicago, which is the main block of KTS.
As a Rapper
KTS Dre appeared in many music videos of KTS members. In 2015, he was featured in the music video of the famous 'Kill To Survive' by his brother KTS Von.
The same year, he appeared in KTS Von's music video of 'Street Life.' In December 2019, KTS Dre (Kutthroat Dreko), along with Kutthroat Rio, sang a song titled 'NLMBK- Pt. 2.'
Controversies
In 2015, he was arrested for possessing a weapon (9mm Glock pistol). He was set on parole later for the gun conviction. [3]

ABC Chicago
On April 27, 2020, KTS Dre was arrested for possessing a weapon and resisting police. Dre was ordered to be held in lieu of $50,000 by a judge. He was then placed under house arrest with a GPS monitoring device. In June 2021, he was arrested again for breaching the bond conditions of his case. On July 10, 2020, he was released after his fiance posted a $5,000 deposit bond. [4]

ABC Chicago
Murder
After his release from the Cook County Jail on July 10, 2020, at 2700 block of South California Avenue, Illinois, US, at 8:50 pm, several suspects exited two vehicles and started shooting at Dre. Dre suffered as many as 64 bullet wounds on his head and other parts of the body, and 59 shell casings were found littered at the sight of the accident. When he arrived at the Mount Sinai Hospital, Chicago, he was pronounced dead. Several reports claimed that the reports were targeted at him. While he was being attacked, a 60-year-old woman walking with Dre was shot on her knee; the woman was sent to Stronger Hospital and was listed in good condition. Another 30-year-old woman, who was passing by, suffered a graze wound to her mouth. KTS Dre was one of the forty people shot in the city that day and one of those ten victims who died from injuries.
Facts/Trivia
KTS Dre had several tattoos on his body. He had 'Kill to Survive' with a target symbol tattooed on his neck, 'Kutthroat' inked on the forefinger of his right hand, 'Bitch' inked on the middle finger of his right hand. He also had tattoos on the back of both his hands and forearms, right side of his face and left eyebrow, chest, and hindarms.
KTS Dre was a heavy smoker and was often seen smoking in his social media posts.
KTS Dre was the cousin of Zeko (of 051 Young Money), who was shot in 2008.
Dre's death was linked to the long string of death of Chicago rappers, including King Von (shot in Atlanta), FBG Duck and his cousin (shot in Chicago), and Indian Red Boy, who died after they were shot.
Dre was often spotted with guns and arms on his social media profile.