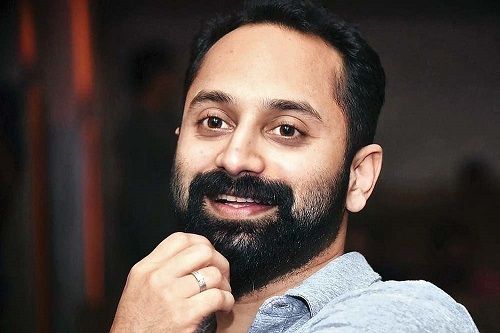 Fahadh Faasil is a South Indian actor, who mainly works in Telugu and Malayalam films. In 2017, he received the National Award for Best Supporting Actor for his performance in 'Thondimuthalum Driksakshiyum.'
Wiki/Biography
Fahadh Faasil aka Abdul Hameed Mohammed Fahad Fazil [1]Wikipedia- Fahadh Faasil was born on Sunday, 8 August 1982 (age 39 years; as of 2021) in Alappuzha, Kerala. His zodiac sign is Leo.
He did his schooling at SDV English Medium Higher Secondary School in Alappuzha, Kerala. He then attended The Lawrence School in Lovedale, Tamil Nadu, and The Choice School in Thrippunithura, Ernakulam, Kerala. He pursued B. Com from Sanatana Dharma College, Alappuzha, Kerala. He is an engineering college dropout. [2]Behind Woods Later, he did M.A. in Philosophy from the University of Miami, Florida, US. [3]Merepix In an interview, while talking about quitting engineering, he said,
I have discussed my engineering college dropout story earlier in a couple of my interviews. In America, you cannot shift majors after the first two years of school or else it meant your financial aid being withdrawn. So after my second year, my advisor called me in for a counselling session as my grades were falling crazy. During the session, I somehow gathered the courage to admit that I am a failed actor/individual who has been running away from my own and measurements is the last thing I want to do with my life. My advisor took the initiative to write to my dean and I was shifted to the art school. Six years in America and when I returned home without a degree, the only thing I felt good about was the fact that, since I don't have a degree I could start anywhere."
Physical Appearance
[4]The Times of India Height: 5′ 6″
Hair Colour: Black
Eye Colour: Black
Family
Fahadh Faasil was born in a Muslim family. [5]The Quint
Parents & Siblings
His father, A.M. Fazil, is a filmmaker, producer, and screenwriter. His mother's name is Rosina Fazil. He has two younger sisters named Ahameda Fazil and Fathima Fazil, and one younger brother named Ismail Fazil (Vachu), who is also an actor.
Wife & Children
He met the South Indian actress Nazriya Nazim (12 years younger than him) while shooting for the Malayalam film 'Bangalore Days' in 2014. Initially, they became friends, and later, fell in love with each other. On 8 February 2014, the couple got engaged, and in the same year on 21 August 2014, the couple got married following the Muslim wedding rituals.
In an interview, while talking about his wife Nazriya, he said,
7 years of Bangalore days bring back so many good memories. Falling head over heels for Nazriya, the beginning of my journey with her. I asked her out over a handwritten letter and slipped a ring along. She didn't say yes. But she didn't say NO either!! I shot Bangalore days along with two other films. It's just suicidal to shoot three films at a time. I used to look forward to returning to shoot Bangalore days (sic)."
He further added,
I loved being around Nazriya. But my thoughts were random. I don't know if it sounds well now, but at that point, there was a lot Nazriya had to give up choosing me. It absolutely worried me and I kept fluctuating. It's just when I thought it was all going to be over because I am not strong enough she said, 'Hello, method actor, who do you think you are? It's just one simple life. pack your bags with everyone and everything you need (sic). She once said that she'd take care of me for the rest of my life. No woman had ever said such a thing to me. Who wouldn't want a love like that?!"
Relationships/Affairs
Reportedly, he was in a relationship with the South Indian actress-singer Andrea Jeremiah, but later, the couple parted ways. [6]The Times of India
Autograph
Career
As an Actor
He debuted as a child actor with the Malayalam film 'Pappayude Swantham Appoos' in 1992 along with his younger brother Farhaan Faasil.
In 2002, he debuted as a lead actor with the Malayalam film 'Kaiyethum Doorath' in which he played the role of Sachin Madhavan. The film was produced by his father and did not do well at the box office. His father was criticised by the audience as the film turned out to be a flop. Later, in an interview, while defending his father, he said,
Don't blame my father for my failure because it was my mistake and I came into acting without any preparation of my own."
He then took a break from acting and continued his studies in the US, and after almost five years, he made his comeback in acting with the Malayalam film 'Kerala Cafe' (2009).
He appeared in four Malayalam films 'Pramani,' 'Cocktail,' 'Tournament,' and 'Best of Luck' in 2010. He came into the limelight in 2011 for his role in the Malayalam film 'Chaappa Kurishu.'
In the year 2013, he appeared in a dozen of Malayalam films which brought several laurels to Faasil. Some of his films released in 2013 were 'Natholi Oru Cheriya Meenalla,' 'Akam,' 'Artist,' 'North 24 Kaatham,' and 'D Company.' Some of his other popular Malayalam films are 'Haram' (2015), 'Thondimuthalum Driksakshiyum' (2017), 'Kumbalangi Nights' (2019), and 'Trance' (2020).
In 2017, he debuted in the Tamil films with 'Velaikkaran' in which he played the role of Adhiban "Aadhi" Madhav. His films which were released on various OTT platform amid the coronavirus lockdown are 'C U Soon' (2020), 'Joji' (2021), and 'Malik' (2021).
In 2021, he made his Telugu debut with the superhit film 'Pushpa: The Rise' in which he portrayed the role of Bhanwar Singh Shekhawat IPS.
As of 2022, he is filming for various films like 'Malayankunju' (Malayalam), 'Vikram' (Tamil), and 'Pushpa 2: The Rule' (Telugu).
As a Film Producer
Apart from acting in films, he has also produced a few Malayalam films like 'Iyobinte Pusthakam' (2014; debut), 'Kumbalangi Nights' (2019), 'Joji' (2021), and 'Thankam' (2022). The films have been released under his production company Fahadh Faasil and Friends.
Others
Faasil has appeared in a few Malayalam music videos such as "Nee" in 2018.
He has featured in several advertisements for brands like Titan, Milma, Jos Alukkas, and UAE Exchange.
Controversy
On 25 December 2017, he was arrested by the Kerala Police for presenting fake documents of his luxury car Mercedes Benz E Class to evade the taxes. Reportedly, instead of paying over Rs. 14 lakh, he paid Rs. 1.5 lakh of tax for the car worth around Rs. 70 lakh. He had to pay a bond of Rs. 50,000 and two solvent sureties to get bail. [7]The New Indian Express
Awards
2012: 42nd Kerala State Film Awards for Second Best Actor for the films Chaappa Kurishu, Akam
2013: 15th Asianet Film Awards for Youth Icon of the Year for the films Annayum Rasoolum, Amen, Artist, Oru Indian Pranayakadha, North 24 Kaatham
2013: 2nd South Indian International Movie Award for Critics Choice Best Actor – Malayalam for the film Diamond Necklace
2013: 60th Filmfare Awards South for Best Actor – Malayalam for the film 22 Female Kottayam
2013: Vanitha Film Awards for Best Actor for the film 22 Female Kottayam, Diamond Necklace
2014: 61st Filmfare Awards South for Best Actor – Malayalam for the film North 24 Kaatham
2014: 44th Kerala State Film Awards for Best Actor for the films Artist and North 24 Kaatham
2015: 17th Asianet Film Awards for Performer of the Year for the films Iyobinte Pusthakam, God's Own Country, Bangalore Days, 1 by Two, and Money Ratnam
2015: 17th Asianet Film Awards for Best Film for the film Iyobinte Pusthakam
2018: Asianet Film Awards for Best Actor for the film Thondimuthalum Driksakshiyum
2018: CPC Cine Awards for Best Actor for the film Thondimuthalum Driksakshiyum
2018: 65th Filmfare Awards South for Best Actor for the film Thondimuthalum Driksakshiyum
2018: International Film Festival of Kerala for Best Actor for the film Thondimuthalum Driksakshiyum
2018: 65th National Film Awards for Best Supporting Actor for the film Thondimuthalum Driksakshiyum
2018: 7th South Indian International Movie Awards for Critics Choice Best Actor – Malayalam for the film Thondimuthalum Driksakshiyum
2018: Vanitha Film Awards for Best Actor for the film Thondimuthalum Driksakshiyum
2020: 50th Kerala State Film Awards for Best Character Actor for Kumbalangi Nights
2020: 50th Kerala State Film Awards for Best Film with Popular Appeal and Aesthetic Value for Kumbalangi Nights
Favourites
Filmmaker(s): Hrishikesh Mukherjee and Bimal Roy
Car Collection
Income
He charged Rs. 70-80 lakh per film [9]On Manorama
Facts/Trivia
During an interview, he talked about his limitations and self-doubts. He said,


I have self-doubts and I don't consider myself to be a great artist. This is nothing to do with being unsure. But an actor needs to be flexible. I don't believe that I can play any character that's given to me. I'm here because I've nowhere else to go. I don't know for how long I'll be here. I've not promised anyone that I will be around for any given time."
In the Malayalam film 'Chaappa Kurishu' (2011), he did a long kissing scene which is considered the first-ever (longest kissing scene) in Malayalam films and the scene attracted huge controversy. [11]

The Times of India
He was among the few National Award winners in 2018 who boycotted the award ceremony because, in that year, the then Information and Broadcast Minister Smriti Irani was giving away the awards instead of the President of India. [12]

The Times of India
According to a media source, the role of Faasil in the popular Telugu film 'Pushpa: The Rise' was earlier offered to the Bengali actor Jisshu Sengupta, but he could not accept the offer. [13]

The Times of India During an interview, the famous Indian actor Allu Arjun while talking about Faasil's role in the film said,


I was wishing that he did this character because it needs a very powerful antagonist. Someone who has got a star presence. The moment he agreed and came on board it was wonderful. To see him perform in live was very nice. Because I have seen his work on screen but still there's a loss of generation. When you see the actor perform live, it's a different experience altogether."
In an interview, Faasil talked about working in Hindi films. He said,


The thing is, I am not fluent in Hindi. I need to think in the language that I speak my dialogues in. Yes, I've been offered many Hindi films. I'd love to come there. There's so much talent there. But at the same time, Malayalam cinema is also getting there. In a couple of years, the language won't matter."

He added,

They watched my movies before they came on the OTT platforms before the rest of the country did. I owe my career to them. It's because of them that I'm attempting (these movies) and experimenting. Outside of Kerala, I don't think I can do the kind of films that I do. None of my films are remade because they are very rooted. I absolutely enjoy it here and just want to be here for the time being."
During an interview, while talking about the challenges he faced while working in films. He said,


For me the challenge is within me. I don't think of what people expect from me. I think only of my own expectations from me. Does the commercial success of my films bother me? Not at all. As long as everyone associated with my film is paid and no one suffers a loss, I am fine. I produce my own films, and I am answerable only to myself. Like I said, I can't do the work that I want to do unless I am in control as a producer."