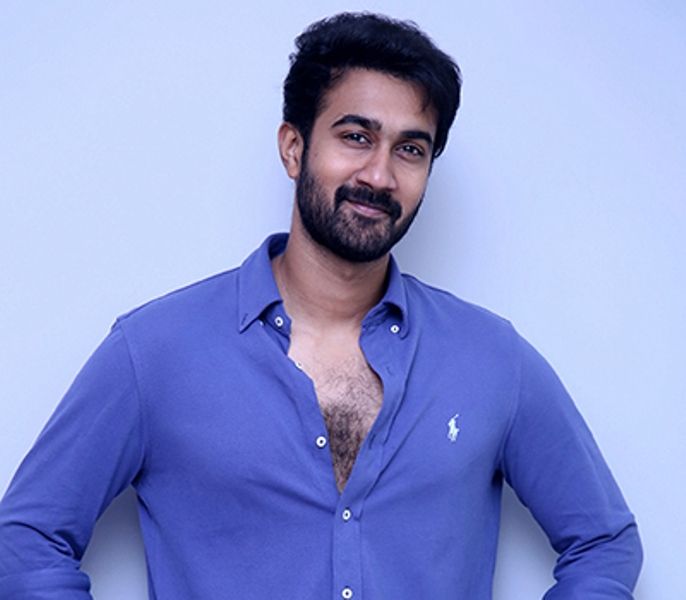 Santosh Shobhan is an Indian actor who primarily works in Telugu films. He is known for playing the role of Santosh in the Telugu-language film Manchi Rojulochaie (2021).
Wiki/Biography
Santosh Soban was born on Friday, 12 July 1996 (age 26 years; as of 2022) in Hyderabad. [1]Santosh Soban – Instagram His Zodiac sign is Cancer. Santosh did his schooling at St. Alphonsa's High School, Hyderabad. Soon after completing his schooling, Santosh pursued a Bachelor of Arts in Drama and Theatre at Christ University, Bengaluru. According to Santosh, his father wanted to pursue a career in acting. In an interview, Santosh talked about this and said,
I am sure I can speak for my brother as well here because both of us wanted to get into films at some point. The biggest influence was, of course, our father. Because he was a director, we grew up seeing so many technicians, actors around us and we were drawn to it, considering it 'cool' as kids." [2]Great Andhra
Physical Appearance
Height (approx.): 5′ 8″
Hair Colour: Black
Eye Colour: Black
Family
Santosh Shobhan belongs to a Telugu-speaking family in Hyderabad.
Parents & Siblings
Santosh Shobhan's father, Sobhan, was a film producer. On 6 January 2008, his father passed away due to cardiac arrest.
His mother, Soujanya, is a homemaker. Santosh's brother, Sangeeth Shobhan, is an actor.
Wife
Santosh Shobhan is unmarried.
Career
Film
In 2011, Santosh Shobhan made his acting debut as a child actor with the Telugu film Golconda High School in which he played the role of Gowtham.
In 2014, he appeared in the Telugu film Bangaru Kodipetta in which he played the supporting role of Venu. In 2015, he appeared in the Telugu film Thanu Nenu in which he played the role of Kiran.
Subsequently, he has appeared in many Telugu films like Paper Boy (2018), Ek Mini Katha (2021), and Manchi Rojulochaie (2021). In 2022, he appeared in the Telugu film Like, Share, and Subscribe in which he played the role of Viplav. In an interview, Santosh talked about the film 'Like, Share, and Subscribe' and said,
I am actually a bit behind on social media. Everyone knows YouTube. When we were shooting in Maredumilli Forest, there were guys who did YouTube vlogs there. Like share & subscribe says better than us. Everyone can relate to this story. We look for it somewhere but there are many interesting stories that we see. It is very exciting to see the story that started as a travel vlogger take a turn as an action comedy."
Web Series
In 2019, he marked his digital debut with Viu's show The Grill in which he played the role of Arjun.
In 2021, he appeared in Aha's Telugu-language web series The Baker and The Beauty in which he played the role of Vijay Krishna Dasaripalle.
Favourites
Facts/Trivia
Santosh Shobhan's many family members are involved in South Indian cinema in a variety of professions related to the industry. His father, Shobhan, was a famous producer and actor in the entertainment industry, His uncle Lakshmipathi, also worked as an actor in Telugu films and another uncle works as a co-director in Telugu films. One of his aunts is a singer. In an interview, Santosh talked about his family members and their connection with the film industry and said,


My father was the first person from our family to have joined the industry, my uncle Lakshmipathi took to films a little after him. Dad used to work with RGV and Krishna Vamsi in his earlier days. Another uncle is a co-director now; my aunt is a singer and we, as a family, were part of the media industry in various forms. However, not all our dinner conversations were about films.
According to Santosh Shobhan, he is the most educated member of his family. In an interview, Santosh talked about his family and said that his parents, brother, and uncle never held any college degree, and he is the only one in the family to hold a college degree. He said,


 It's so funny but I have to tell you that I was the first degree holder in our family – none of us including my mom, dad, brother, uncle have graduated. We knew we'll be part of the industry in some form. I still don't consider myself a hero. Neither of us thought we would need a backup. I completed my academics because mom wanted at least one-degree holder in the house (laughs). Both of us brothers were not good at anything else. We didn't have a safety net and we gave it all when we entered the industry."

Santosh Shobhan follows a non-vegetarian diet. [3]

YouTube – Tasty Teza
Santosh is a fitness enthusiast, and he often posts his workout pictures on different social media accounts. He also takes kickboxing lessons in Hyderabad.