Bruce Willis is a retired American actor. He achieved fame with a leading role in the comedy-drama series Moonlighting (1985–1989) as David Addison Jr. and gained recognition as an action hero after his portrayal of John McClane in the Die Hard franchise (1988–2013).
Wiki

/Biography

Bruce Willis, whose full name is Bruce Walter Willis [1]biography.com and was famously called Buck-Buck by his schoolmates [2]NY Times, was born on Saturday, 19 March 1955 (age 68  years; as of 2023) in Idar-Oberstein, West Germany. His zodiac sign is Pisces.

He attended Penns Grove High School where he joined the drama club that lead him to his profession of acting. He was eventually elected student council president. He graduated high school in 1973. He enrolled in the Drama Program at Montclair State University, [3]WIRED – YouTube where he was cast in a production of Cat on a Hot Tin Roof. He left school in 1977.
Physical Appearance
Height (approx.): 5′ 11"
Weight (approx.): 92 kg
Hair Colour: Bald
Eye Colour: Brown
Body Measurements (approx.): 42-35-14
Family
According to Willis, he belongs to a 'blue-collar' family.
Parents & Siblings
Bruce Willis' mother, Marlene, hailed from Kassel, Germany, while his father, David Willis, served as an American soldier. Following their relocation to the United States, Marlene found employment at a bank, while David pursued various professions, including welding, mechanics, and factory work.
Willis grew up alongside his younger sister, Florence, and two younger brothers, David (Film Producer) and Robert (who has since passed away).
Wife & Children
Bruce Willis tied the knot with actress Demi Moore on November 21, 1987, and together they welcomed three daughters – Rumer Glenn (born August 1988 and the eldest) who is an American actress, Scout LaRue Willis (Actress) (born in 1991, and the middle child), and Tallulah Belle, American actress (born in 1993 and the youngest). The couple's separation was announced on June 24, 1998, and they filed for divorce on October 18, 2000.
Following his split from Moore, Willis became engaged to Brooke Burns (American fashion model, game show host, actress, and television personality) in 2004, but their relationship came to an end after ten months.
On March 21, 2009, Willis exchanged wedding vows with model Emma Heming in Turks and Caicos.
The couple has since been blessed with two daughters – Mabel Ray, born in 2012, and Evelyn Penn, born in 2014.
Religion/Religious Views
Willis was a Lutheran, [4]Hope Evangelical Lutheran Church but no longer practices it. In a July 1998 interview, he stated:
Organized religions in general, in my opinion, are dying forms. They were all very important when we didn't know why the sun moved, why weather changed, why hurricanes occurred, or volcanoes happened. Modern religion is the end trail of modern mythology. But there are people who interpret the Bible literally. Literally! I choose not to believe that's the way. And that's what makes America cool, you know?"
Political Views
Back in 1988, Bruce Willis and his then-wife Demi Moore showed support for Democratic Massachusetts Governor Michael Dukakis's Presidential campaign. However, four years later, Willis endorsed President George H. W. Bush for re-election and spoke out against Bill Clinton. He even gave a speech at the 2000 Republican National Convention and showed his support for George W. Bush during the 1996 elections.
In 2006, Willis expressed his belief that the United States should increase its involvement in Colombia as a means to tackle drug trafficking. [5]Today
During various interviews, Bruce Willis has made it clear that he advocates for higher salaries for both teachers and police officers. He has expressed his disappointment with the foster care system in the United States and the way Native Americans are treated. Additionally, Willis has voiced his support for the right to bear arms, saying, "Everyone has a right to bear arms. If you take guns away from legal gun owners, then the only people who have guns are the bad guys." [6]USA Weekend
In February 2006, Willis commented on the Bush Administration saying:
I'm sick of answering this fucking question. I'm a Republican only as far as I want a smaller government, I want less government intrusion. I want them to stop shitting on my money and your money and tax dollars that we give 50 percent of every year. I want them to be fiscally responsible and I want these goddamn lobbyists out of Washington. Do that and I'll say I'm a Republican. I hate the government, OK? I'm apolitical. Write that down. I'm not a Republican."
On August 17, 2006, Bruce Willis's name was included in an advertisement published in the Los Angeles Times, which denounced Hamas and Hezbollah and expressed support for Israel during the 2006 Israel-Lebanon conflict. In 2012, Willis publicly stated that he held unfavorable views toward Mitt Romney. [8]Politico
Bruce Willis is a Republican. [9]Business Insider
Signature/Autograph
Career
Early Career
Upon graduating from high school in 1973, Bruce Willis began working as a security guard at the Salem Nuclear Power Plant and also transported crew members at the DuPont Chambers Works factory located in Deepwater, New Jersey. Later on, he worked as a private investigator before venturing into the world of acting. Upon moving to New York in the early 1980s, Willis took up a job as a bartender at the Manhattan-based art bar called Kamikaze.
Television
Out of 3,000 actors who auditioned, Bruce Willis was selected for the role of David Addison Jr. in the television show Moonlighting, which aired from 1985 to 1989.
Willis's notable work on the show led to him winning an Emmy award in 2000 for Outstanding Guest Actor in a Comedy Series, thanks to his role as the father of Ross Geller's much younger girlfriend (Paul Stevens) on the show Friends.
Film
Bruce Willis made his film debut as a stand-in for David Dukes in the 1980 crime thriller, The First Deadly Sin, starring Frank Sinatra.
He went on to secure his first lead role in the 1987 Blake Edwards film, Blind Date, alongside Kim Basinger and John Larroquette. Edwards later cast him as the cowboy actor Tom Mix in Sunset (1988). However, it was his role as John McClane in Die Hard (1988) that propelled him to stardom as an action hero.
In 1994, he starred in Quentin Tarantino's Pulp Fiction as Butch Coolidge, which further boosted his career.
Willis also starred in the film The Sixth Sense (1999), directed by M. Night Shyamalan in the role of Dr. Malcolm Crowe.
In addition to his live-action work, Willis has also worked on animated movies. He was the executive producer and star of the cartoon Bruno the Kid in 1996, which featured a CGI version of himself. The same year, he starred in Mike Judge's animated film Beavis and Butt-head Do America with his then-wife, Demi Moore. In 2019, Willis made a cameo appearance as himself in the animated film The Lego Movie 2: The Second Part.
As Voice Over Artist
In addition to his on-screen roles, Willis has lent his voice to several films. He played the voice of the talking baby in Look Who's Talking (1989) and its sequel Look Who's Talking Too (1990). He also voiced the character RJ the Raccoon in the 2006 film Over the Hedge. In 1998, he provided his voice and likeness to the character Trey Kincaid in the PlayStation video game Apocalypse.
As a Recording Artist
Bruce Willis began his career with a musical persona named Bruno Radolini in the late 1980s. As Bruno, Willis had some success as a recording artist, producing a pop-blues album called The Return of Bruno in 1987, which included the popular song "Respect Yourself" featuring the Pointer Sisters. He also released a cover of the Drifters' hit song "Under the Boardwalk" as a second single, which reached No. 2 on the UK Singles Chart but did not perform as well in the US.
Broadway
Bruce Willis made his debut on Broadway in 2015 at the Broadhurst Theatre, starring opposite Laurie Metcalf in William Goldman's adaptation of Stephen King's novel, Misery.
As a Businessman
In 2000, together with his business partner Arnold Rifkin, Willis established Cheyenne Enterprises, a motion picture production company. However, after the release of Live Free or Die Hard, Willis stepped down from the company and left it solely in Rifkin's hands. Aside from this, Willis owns several small businesses in Hailey, Idaho, such as The Mint Bar and The Liberty Theater (later donated to Sun Valley Center for the Arts). He was also among the first promoters of Planet Hollywood, a restaurant chain that included actors Arnold Schwarzenegger and Sylvester Stallone. They received payment for their appearances and endorsements through an employee stock ownership plan. In 2009, Willis signed a contract to be the international spokesperson for Sobieski Vodka, a brand owned by Belvedere SA, in exchange for a 3.3% stake in the company.
Retirement
Willis's family announced on March 30, 2022, that he would be retiring due to his diagnosis of aphasia, a condition that is commonly caused by damage to the part of the brain responsible for language comprehension and expression. [10]The Guardian Willis's family announced on February 16, 2023, that he had been diagnosed with frontotemporal dementia. [11]CNN The family issued a statement stating that Willis's condition had "advanced" and that "difficulties with communication are only one of the symptoms of the disease."
Controversies
Selling The Rights To His Face
Bruce Willis was reportedly involved in a deepfake project with Deepcake, a company that specializes in using AI and machine learning to create realistic videos. The project was an advertisement for a Russian telecoms company, Megafon. [12]Forbes Reports circulated that Willis had sold the rights to his face to Deepcake, but Willis later denied these claims. [13]BBC
Award for the Worst Movies of Bruce Willis
Shortly before filming for the movie Out of Death in 2021, the screenwriter was instructed to cut down Bruce Willis's role and dialogue, and the director, Mike Burns, was asked to shoot all of Willis's scenes in one day. This decision was made just days before Willis was scheduled to appear on set. Willis's performances in eight movies released in 2021 were deemed so poor that the Golden Raspberry Awards, an annual award show for the worst films and performances, created a new category specifically for him. However, the Golden Raspberry Awards later withdrew the category, stating that it was inappropriate to award a Golden Raspberry to someone whose performance had been affected by a medical condition. [14]Deadline
Misfired Bullet Shots
According to Hollywood actress Lala Kent, who played Willis's daughter in Hard Kill, he fired a gun at the wrong time twice, leaving her with no time to duck. However, the film's producer and armorer deny that the incident ever occurred. Kent explained in an interview that during the scene, she was supposed to think her life was in danger, and then her on-screen father was meant to save the day by firing his gun. However, she had her back to him and was supposed to duck after he delivered his line but before he fired the gun. [15]Daily Mail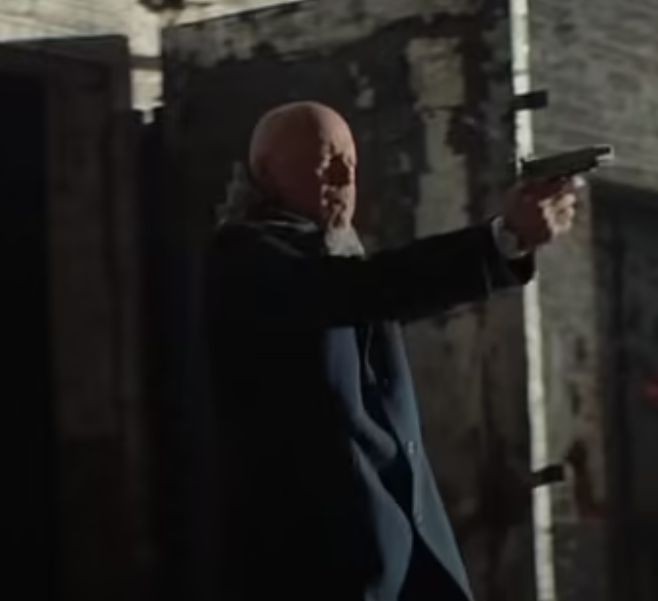 Forgetting Roles
Two crew members from the set of White Elephant in 2021 claimed that during filming, Willis asked them directly, "I know why you're here, and I know why you're here, but why am I here?" Director Jesse V. Johnson also had a brief encounter with Willis before the shooting began in Georgia in April of that year, and he remarked that it was evident that Willis was not the same person he had remembered.
Allegations of Abuse Against Randall Emmett 
Accusations were made that producer Randall Emmett was aware of Bruce Willis' health issues but still pressured him to work. However, in response to these accusations, Bruce Willis' attorney, Martin Singer, said:
"My client continued working after his medical diagnosis because he wanted to work and was able to do so, just like many others diagnosed with aphasia who are capable of continuing to work," Singer, 70, told the Los Angeles Times for an article published on Thursday, June 30. "Because Mr. Willis appeared in those films, they could get financed. That resulted in literally thousands of people having jobs, many during the COVID-19 Pandemic."
Before his retirement, Bruce Willis collaborated with producer Randall Emmett, 51, on several films, including Emmett's directorial debut, Midnight in the Switchgrass. However, according to the Los Angeles Times, Emmett told his then-fiancée Lala Kent that Willis was having difficulties during the movie's production. Kent recalls her ex-fiancé telling her in a phone call overheard by two other witnesses, "I can't do this anymore. It's just so sad. Bruce can't remember any of his lines. He doesn't know where he is." Nevertheless, the Irishman producer denied any knowledge "of any decline in Mr. Willis' health" in a statement to the Los Angeles Times. The alleged phone call to Kent occurred in September 2020, well before Willis' health struggles were made public. However, according to Alicia Haverland, a property master on Midnight in the Switchgrass, the actor's condition was an open secret on the film set. [16]US Magazine
After Bruce Willis announced his retirement due to his aphasia diagnosis, Kevin Smith apologized for his past comments about the actor. In 2011, Smith directed Willis in the film "Cop Out" and described the experience as "soul-crushing". He had also criticized Willis for not participating in a poster shoot and had joked about wanting to harm himself or others during the film's production. In light of Willis's retirement, Smith acknowledged that his remarks were "petty" and expressed regret for any harm caused. [17]Variety Magazine
Awards, Honours, Achievements
Willis won the Emmy Award for Outstanding Lead Actor in a Drama Series for his role in Moonlighting.
His performance in Moonlighting earned him the Golden Globe Award for Best Actor in a Television Series – Musical or Comedy.
In 1987, Willis received the Sour Apple at the Golden Apple Awards.
Maxim magazine ranked the sex scene in Color of Night, in which Willis starred, as the number one sex scene in film history in 1994.
In 2000, Willis was honored with the American Cinematheque Award for his extraordinary contributions to the entertainment industry and his commitment to making a significant contribution to the art of motion pictures.
In 2002, Willis was awarded the Hasty Pudding Man of the Year award from Harvard's Hasty Pudding Theatricals in recognition of his lasting and impressive contribution to the world of entertainment.
In 2005, Willis received the Golden Camera Award for Best International Actor from the Manaki Brothers Film Festival.
The French government honored Willis in 2006 for his contributions to the film industry and appointed him an Officer of the French Order of Arts and Letters in a ceremony in Paris. The French Prime Minister praised him as an actor who epitomizes the strength of American cinema and the power of emotions that he invites us to share on the world's screens.
Willis was inducted into the New Jersey Hall of Fame in 2011.
In 2013, Willis was promoted to the dignity of Commander of the Order of Arts and Letters by French Minister of Culture Aurélie Filippetti.
Bike Collection
2005 Ducati Multistrada 1000DS                                                                                                         
Yamaha dirt bikes (XT 350 and a TW200 Trailway)
1972 Harley-Davidson Sportster Ironhead XLH
Car Collection
1968 Pontiac Firebird 400                                                                                 
1967 Chevrolet Corvette Stingray
1988 Lincoln Limousine                                                               
1955 Chevrolet Bel Air Nomad
2013 Bentley Continental GT Speed Le Mans Edition                 
Audi                                                                                                                   
Salary
Bruce Willis' salary is approximately $20-25 million per movie. [18]The Things
Net Worth
Bruce Willis has a net worth of $250 million as of 2023. [19]Parade
Assets/Properties
Willis owns houses in Los Angeles and Penns Grove, New Jersey. He also rents apartments at Trump Tower [20]Washington Post and in Riverside South, Manhattan. [21]Observer He resides in the Brentwood neighborhood of Los Angeles with his family. [22]Dirt Magazine
Tattoos
Bruce Willis has his daughter's name 'Evelyn Penn' written on his right upper arm.                       
He has a dragon tattoo on the left part of his chest.                                                                   
Greek-themed tattoo on the right side of the chest.                                             
Bruce Willis visited East Side Ink, where he received a new tattoo from Orrin Hurley. Though the tattoo artist was instructed to keep the design under wraps, Hurley revealed that the tattoo was dedicated to Willis's children.
Favourites
Movies: Stanley Kubrick's Dr. Strangelove, The Godfather and The Godfather Part 2, Spartacus, The Bridge on the River Kwai, Bullitt, The Great Escape, On the Waterfront, The Last Picture Show, and Patton
Facts/Trivia
During his youth, Willis struggled with stuttering but found that his stuttering lessened after joining his school's drama club.
His experience as a private investigator in real life influenced his performances in the comedy-drama series Moonlighting and the action-comedy film The Last Boy Scout.
Gary Cooper, Robert De Niro, Steve McQueen, and John Wayne are among the acting role models that have inspired Bruce Willis.
Initially, Willis was offered the role of Terry Benedict in Ocean's Eleven (2001), but he decided to drop out to focus on recording an album. [25]

High Beam Magazine In the sequel film Ocean's Twelve (2004), Willis made a brief appearance as himself.
He has also made several appearances on the Late Show with David Letterman throughout his career, even filling in for the ailing host on February 26, 2003.
Additionally, Willis starred in Japanese Subaru Legacy TV commercials, which led to a limited production of Legacys called "Subaru Legacy Touring Bruce" in his honor.
Before Michael Keaton was cast, Willis was a contender for the role of Bruce Wayne/Batman in the film Batman. [26]

DC Movies Fandom
Comedian Joseph Gordon-Levitt and Bruce Willis' ex-wife Demi Moore roasted Willis on a Comedy Central program aired on July 29, 2018. During the show, Willis ended the long-debated topic of whether Die Hard is a Christmas movie by saying that it is not.
Willis co-starred with Samuel L. Jackson in five films, including National Lampoon's Loaded Weapon 1, Pulp Fiction, Die Hard with a Vengeance, Unbreakable, and Glass.
In 2005, Willis worked with his eldest daughter Rumer in the film Hostage.
Willis made an appearance in the music video for Gorillaz's song "Stylo".
While filming a scene in Die Hard, Willis fired a loud blank from the gun without earplugs, which resulted in him losing about 2/3 of the hearing in his left ear.
In the film The Expendables, Willis played the role of CIA agent "Mr. Church", co-starring with Sylvester Stallone and Arnold Schwarzenegger in their first on-screen appearance together.
On October 12, 2013, Willis hosted Saturday Night Live, with Katy Perry as the musical guest.
Actor Will Smith helped Willis cope with his divorce from Hollywood actress Demi Moore. Despite the divorce, Willis maintained a close friendship with both Moore and her subsequent husband, actor Ashton Kutcher, and even attended their wedding.
Willis married his wife Emma Heming twice. The first ceremony was not legally binding, so the couple wed again in a civil ceremony in Beverly Hills just six days later.
In 1996, he refused to endorse Clinton's Republican opponent Bob Dole after Dole criticized his then-wife, Demi Moore, for her role in the film Striptease.
Coming from a military family, Willis has donated Girl Scout cookies to the United States armed forces. In 2002, Willis's then 8-year-old daughter, Tallulah, suggested that he purchase Girl Scout cookies to send to troops. Willis purchased 12,000 boxes of cookies, which were distributed to sailors aboard USS John F. Kennedy and other troops stationed throughout the Middle East at the time. [28]

Deseret News
As part of the USO tour, Willis sang to the troops with his band, The Accelerators, during his visit to Iraq in 2003.
Grauman's Chinese Theatre in LA features Bruce's hand and footprints.freturnBruce Willis' Hand and Footprints in Grauman's Chinese Theatre
Bruce is an animal lover and owns a pet dog.
"I saw Foster Care as a way for me to serve my country in a system by which shining a little bit of light could benefit a great deal by helping kids who were literally wards of the government."
On October 16, 2006, Bruce Willis was bestowed with a star on the Hollywood Walk of Fame, marking the 2,321st star in its history, located at 6915 Hollywood Boulevard. During the reception, Willis made a statement.
"I used to come down here and look at these stars and I could never quite figure out what you were supposed to do to get one…time has passed and now here I am doing this, and I'm still excited. I'm still excited to be an actor."
It was once believed that Willis offered a reward of US$1 million to anyone who could provide information leading to the capture of terrorist leaders Osama bin Laden, Ayman al-Zawahiri, Abu Musab al-Zarqawi, and even non-combatants. However, in the June 2007 issue of Vanity Fair, he clarified that his statement was only hypothetical and was not intended to be taken literally. Willis has also expressed his disapproval of the media's coverage of the war, stating that they tend to focus more on the negative aspects of the conflict.


I went to Iraq because what I saw when I was over there was soldiers—young kids for the most part—helping people in Iraq; helping getting the power turned back on, helping get hospitals open, helping get the water turned back on and you don't hear any of that on the news. You hear, "X number of people were killed today," which I think does a huge disservice. It's like spitting on these young men and women who are over there fighting to help this country.
According to a leading magazine, at the time of his retirement in March 2022, Bruce Willis had finished filming eleven movies that were yet to be released. [32]

Slate Magazine
For the first Die Hard film, Willis is said to have earned $5 million [33]

The Things while he reportedly received $7.5 million for Die Hard 2, which grossed around $240 million. He is said to have earned $15 million for Die Hard 3, which raked in a massive $360 million in ticket sales.
In 1999, Willis reportedly accepted a pay cut from his regular $20 million fee to receive an upfront salary of $14 million and a share of the back-end profits for his role in The Sixth Sense.
In an interview, Willis stated that he does not have a Twitter account because he does not know how to use it. [34]

Wired – YouTube
According to a rumor, Willis was not paid for his three-episode guest appearance on Friends in Season 6, where he played the father of Ross's college-aged girlfriend, due to a bet he made with Matthew Perry. [35]

Cheat Sheet This rumor has been both confirmed and denied by Willis and Perry, respectively. Willis reportedly donated all the money he earned from Friends to several charities, including The American Foundation for AIDS Research, AIDS Project Los Angeles, the Elizabeth Glaser Pediatric AIDS Foundation, the Rape Treatment Center, and UCLA Unicamp for underprivileged children.
Bruce Willis' rare "Bullitt" edition 1968 Dodge Charger, which had another famous owner in Jamiroquai frontman Jay Kay, was auctioned. Willis' then-wife Demi Moore purchased the car in 1998 and Willis sold it to Jay Kay a decade later. It featured a massive 8.2-liter engine that underwent a $32,000 engine rebuild in 2014.
One of the four cars auctioned at the Petersen Automotive Museum in 2008 was Bruce Willis' 1968 Pontiac Firebird 400.
Bruce Willis sold his 1957 'Vette at the Petersen Automotive Museum auction in 2008. The car, which was part of the first generation (1953-1962), was the first model with an optional "Ramjet" fuel-injection system.
Bruce Willis' 1988 Lincoln limousine, which was not a muscle car, was sold alongside two muscle cars at a 2009 Barrett-Jackson auction. The car was used during the filming of Willis' TV series "Moonlighting" and "Die Hard."
Bruce Willis auctioned off his Le Mans Edition Bentley, which was the first of only 48 produced, in January 2018.
Bruce Willis' body double, Pablo Perillo, bears an uncanny resemblance to the actor.
During the height of "Moonlighting," Bruce Willis was paid $5-7 million over two years to be the pitchman for Seagram's Golden Wine Cooler products. Willis decided not to renew his contract when he stopped drinking alcohol in 1988, although he occasionally drinks wine with his meals. [36]

US Magazine