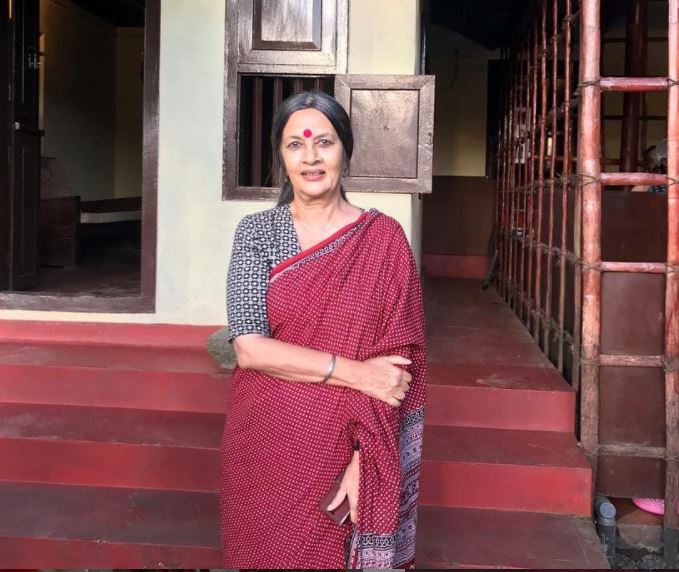 Brinda Karat is a prominent Indian politician who was elected as a member of the Rajya Sabha of the Communist Party of India (Marxist) on 11 April 2005. In the same year, she became the first woman member of CPI(M) Politburo. She was appointed as the general secretary of The All India Democratic Women's Association (AIDWA) from 1993 to 2004, and, later, she was designated as the vice-president of the AIDWA.
Wiki/Biography
Brinda Karat was born on Friday, 17 October 1947 (age 74 years; as of 2020) in Calcutta, West Bengal, India. Her zodiac sign is Libra. Brinda Karat did her school education from Welham Girls' school, Dehradun. [1]Mint In 1967, she obtained a degree in arts from Miranda House, Delhi. [2]Rediff Later, She attended Calcutta University for a MA degree in history and also to gain practical training in politics. [3]Rediff
Physical Appearance
Hair Colour: Salt and Pepper
Eye Colour: Black
Family
Parents & Siblings
Her father's name is Suraj Lal, and he was a port commissioner officer, and later he also worked as a director in reputed companies in the corporate sector. Her mother's name is Oshrukona. She has a sister named Radhika Roy.
The name of her brother's-in-law is Prannoy Roy. A well-known author Arundhati Roy is her relative.  Her nephew Vijay Prashad is a noted Indian historian.
Note: Her one sister and a brother died early. In total, they were three sisters and one brother.
Husband & Children
Brinda Karat got married to an Indian politician Prakash Karat on 7 November 1975.
The couple has no children. [4]India Today An article written on them claimed that,
Two individuals-bound by the same ideology and whose romance was choreographed by Marx-refusing to have children for the sake of the cause."
Address
Block -G, Gyan Goswami Sarani New Alipur, Kolkata.
Signature
Career
In 1967, Brinda left for London after completing her studies at Miranda House Collge, Delhi. At Bond Street in London, she joined Air India as an air hostess and served there for four years. During her tenure in Air India, she campaigned against the mandatory wearing of sarees on flights by the air hostesses. She demanded the option of wearing skirts by the air hostesses on duty. Soon, the demands forwarded by Brinda as leader of the protest were accepted by the Air India headquarters. Ever since any air hostess serving Air India can choose to wear a saree or skirt as her uniform according to her choice. While working with Air Lines in London, Brinda Karat supported the anti-imperialist and anti-war protests during the war crises in Vietnam. During these campaigns, the ideology of Karl Marx was followed by the protesters. Consequently, Brinda also got attracted to the Marxist ideology. In India, Brinda Karat desired to unfurl the Marxist ideology. [5]Rediff In an interview, she revealed the circumstances when she got attracted to Marxist ideology. She narrated,
When I was in London a lot of Indian students were there. They were all studying. I was the only one working. At that time, in all of Europe and across the Atlantic, there was a huge movement against US intervention in Vietnam. I was part of an Indian students group there but I was never part of any institution. My motivation was to bring back home that awareness in the Indian context, which was borne in me abroad."
According to Brinda, Marxist ideology was basically concerned with patronising and welfare orientation,
In those days our education-oriented students with social concerns. We considered poor people as bichare but when I started reading Marx and other books I understood that our whole approach was so patronising and welfare-oriented."
In 1971, Brinda started her political career while joining the CPI(M) party after quitting her air hostess job in London and coming back to India. Initially, she started working as a student activist in the party, and she also got admission at Calcutta University under the guidance of the CPI(M) party. She enrolled herself in Calcutta University for practical training in politics. Campus students, along with Brinda Karat, joined various political rallies organised by the party in the initial years of joining the party. Later, Brinda also worked in a Calcutta's refuge camp during the Bangladesh war. Thereafter, she began writing weekly articles in the magazine of the party. After a short time, she was chosen as the full-time worker of the CPI(M) party. In an interview, Brinda narrated the incident hoe she became a member of CPIM,
The issue of inequality between the rich and poor motivated me the most and inspired me to join the party (CPI-M). Marxism provided lots of answers to me. I returned to Calcutta. I contacted the party. The party suggested I rejoin university and try to understand practical politics."
In 1975, Brinda shifted to Delhi from Calcutta because she wanted to work with the trade unions. In a conversation with a media house, she said that she was accepted by the CPIM party under the leadership of secretary and Comrade P. Sundaraiah. She spelt out,
In 1975 I shifted to Delhi because I wanted to work in the trade unions. At that time our party general secretary was Comrade P. Sundaraiah. He was ahead of his time. He had a clear perspective of the area of work to assign workers. He had a sensitive cadre policy. I was privileged to join the party in Delhi when he was the leader. I was accepted and got my membership."
In the same year, she started working as a member of the trade union at the textile mill in North Delhi along with the workers of the mill. In the 1980s, she earned recognition when she protested to reform rape laws in India. She is often seen participating in movements fighting for the basic rights of women and workers in India. During her tenure in the CPIM party, she raised her voice for women leadership recognition. On 11 April 2005, Brinda was elected from the West Bengal constituency as the Rajya Sabha member of CPI(M). Around the same year, she was designated as the highest decision-making body of the CPIM, and she became the first woman candidate to be chosen for this position. In an interview, she explained her experiences with the party,
It is only the Communist party that can help a person like me, who came from an absolutely non-political background, just driven by ideals and dreams. The party gave me space to think, develop and work."
Apart from politics, Brinda karat also acted in an Indian movie titled Amu in 2005. Shonali Bose was the director and producer of the film. Shonali is also her niece. The plot of the film was based on the 1984 Anti-Sikh riots.
In 2005, she published her book titled 'Survival and Emancipation: Notes from Indian Women's Struggles.' In her book, she incorporated the challenges encountered by the women's movements in India from the perspective of a left politician.
Controversy
In 2020, the former CBI chief and IPS officer Nageswar Rao tweeted,
Indian history had been "distorted" with the "whitewashing" of "bloody Islamic invasions/rule", who "was in charge of Indian mind space" for 20 "out of 30 years (1947-77). Maulana Abul Kalam Azad — 11 years (1947-58)"; "Humayun Kabir, M C Chagla & Fakruddin Ali Ahmed — 4 years (1963-67)"; and, "Nurul Hassan — 5 years (1972-77). Remaining 10 years other Leftists like VKRV Rao."
Brinda criticised and filed a case against the IPS officer with Delhi police soon after the tweets went viral on social media. He was charged under sections 153A and 295A of the Indian Penal Code. In her complaint, she stated that IPS officer Nageswar Rao insulted prominent educationalists of India explicitly related to Muslim communities and Maulana Abul Kalam Azad by using the language against them that was demeaning. She further stated in the complaint that Rao tried to provoke the two communities.
Net Worth
Her net worth is approximately Rs. 1,81,629 (as of 2014).
Immovable Assets
Cash: Rs. 4,500
Deposits in Banks: Rs. 71,175
LIC or other insurance Policies: Rs. 1,05,954 [6]My Neta
Facts/Trivia
In 1975, Brinda and Karat got married on 7 November. According to Brinda, she fell in love with Prakash while working for the party as they both dedicated their lives to the party. She said in an interview that it was not thinkable to marry a person outside the party as the thinking process of the party members were the same – to serve the ideology of the party. She stated,


How can those who do not agree with basic ideas agree? What happened before they exchanged blood – " We both made every vow. Without think of each other, without showing each other. We read it."
She revealed an incident related to her life when she was involved in working with a trade mill in North India, and she was named 'Rita Karat' by her colleague. She narrated,


I was working in the branch of textile mill workers in Delhi. Comrade Sriram, who was in charge of the branch, said they could not call me by the name Brinda It was he who gave me the name Rita. I was Rita till the Emergency was over. Many people did not know Rita Karat and Brinda Karat were one person."
Vijay Prashad, a famous Indian historian, is the nephew of Brinda Karat.
Brinda Karat criticised a Kerala CPI(M) leader 'PN Jayanthan' in 2016 for naming a gang-rape survivor publicly. Soon after the girl was named by the alleged leader, Brinda stated,


Under the present legal framework, we are not to name the victim. So, it was a mistake to have named the victim."
According to Brinda Karat, her father, Suraj Lal, was from Lahore, Pakistan. After the partition of India, he shifted to Calcutta and searched for jobs. Initially, he worked at the port commissioner's office. later, he joined the corporate sector and worked as a director in the companies.
In another interview, Brinda narrated about her siblings. She said in an interview that her brother and a sister died very early. She disclosed,


We are one brother and three sisters. My brother and elder sister have passed away. My father brought us up in a liberal and secular atmosphere. Till I was 12 or 13 I lived in Calcutta. Then I went to Welham. I was 16 when I joined Miranda House."

Brinda added about her father's second marriage,

Many people think that I started my relationship with Kerala through Prakash. That thought is wrong My mother died when I was five, in 1953. My father remarried in 1960. The bride was Susheela Kuruvila from Kottayam who was in Kolkata at the time."
According to Brinda Karat, she is a Bengali, Punjabi and a Keralite. She remarked in an interview,


But I love Kerala as a whole. Don't brand me as a Kannurian though. I am a Bengali, Punjabi, Palakkadan, and a Keralite."
The death penalty ordinance issued by the government of India was opposed by Brinda Karat in 2018.
Brinda Karat stated in a media conference that the Modi government has failed in In India and West Bengal.