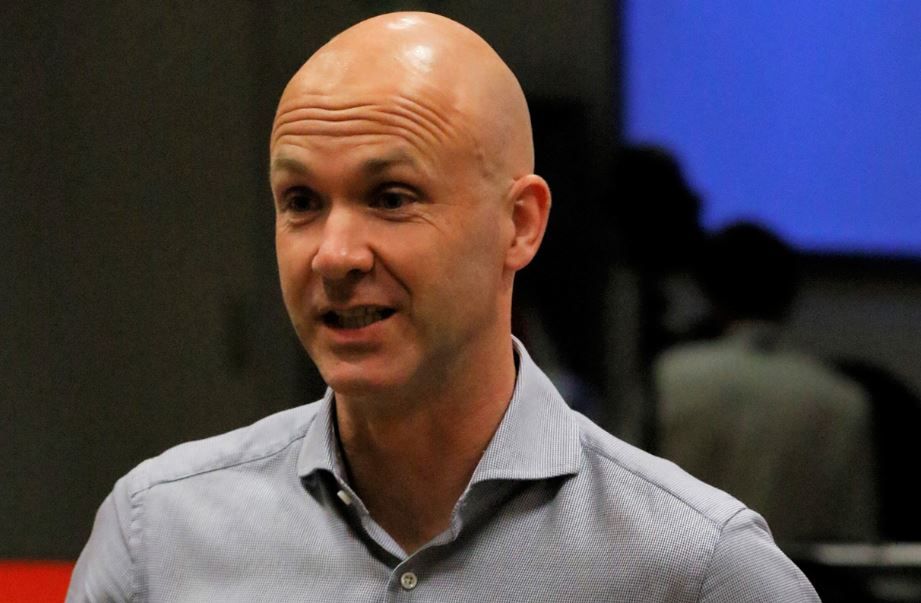 Anthony Taylor is a British football (soccer) referee who has officiated in many international, national, and club-level competitions. He has a refereeing career of more than 15 years. He became viral in June 2023 when he and his family were manhandled by fans of AS Roma FC at Budapest Airport.
Wiki/Biography
Anthony Taylor, also spelt as Anthoni Taylor, was born on Friday, 20 October 1978 (age 44 years; as of 2022) in Wythenshawe, Cheshire, Manchester, England. His zodiac sign is Libra. He completed his schooling at Altrincham Grammar School for Boys situated in Altrincham, Manchester in 1997. He pursued a Master's in Science in sports coaching at Staffordshire University, Staffordshire, England from 2016 to 2018. He later pursued a Master's of Sports Directorship at Manchester Metropolitan University, Machester, England from 2021 to 2023. [1]LinkedIn – Anthony Taylor He worked different jobs while serving as a match referee.
Physical Appearance
Height (approx.): 5′ 10″
Weight (approx.): 75 kg
Hair Colour: Bald
Eye Colour: Blue
Family
He was born into a middle-class family.
Parents & Siblings
He has a sister named Kate who is a doctor.
Wife & Children
His wife's name is Anne Marie who is also a prison officer. The couple has two daughters.
Religion
He follows Christianity.
Career
Other Professions
Before working as a football referee, he worked as a front-office supervisor at Hilton Hotels and Resorts from February 1998 to December 2000. He worked as a prison officer at HM Prison and Probation Service from January 2001 to July 2013. He later resigned from his job as a prison officer to give more time to his job as a match referee.
Match Referee
He played football while growing up and was told about refereeing lessons while playing; however, when he became sure that he would not progress to the professional level, he decided to take referee lessons and become a referee. His mother also played a partial role as whenever Taylor expressed anguish over any referee's decision while playing, his mother asked him to put himself in that referee's shoes which made an impact on him. He started refereeing at the age of sixteen in 1995 in the local Wythenshawe Leagues. In 2001, he became a match referee in the Northern Premier League and in the Conference North in 2004.
He was promoted to the National List of assistant referees in 2005 and was promoted to the National List of Referees in the subsequent season. His first match in League Two was a fixture between Wrexham and Peterborough United in August 2006. He officiated in the finals of the 2010 FA Vase and the 2012 FA Trophy.
His first match in the English Premier League (EPL) was between Fulham and Portsmouth on 3 February 2010. He was later promoted to the List of Select Referees for the 2010-2011 EPL season. He went on to officiate in the finals of the 2015 League Cup, the 2015 FA Community Shield, the 2017 FA Cup, the 2018 EFL Championship Playoffs, and the 2020 FA Cup. On 1 January 2013, he became a FIFA-listed referee.
His decisions have been termed controversial by many, and many referees, players, and club managers have supported his on-field decisions. He officiated in FIFA World Cup 2022 and also officiated in the finals of the 2015 UEFA European Under-19 Championship, the 2020 EURO Qualification Play-Off, the 2021 UEFA Nations League, and the 2023 UEFA Europa League Final.
Facts/Trivia
He is an animal lover and has a pet dog.
In an interview, he mentioned that his favourite referees were Joe Worrall, George Courtney, Pierluigi Collina, and Markus Merk. His mentor was Chris Foy.
In his first match of the 2011-12 EPL season between Middlesbrough and Leeds United, he sent off three players off the field by giving them yellow cards twice. In the 34 matches in that season, he sent off 5 more players off the field. [2]

The Independent
He has had repeated scuffles with former Arsenal manager Arsene Wenger due to Anthony's decision in EPL matches of Arsenal. In January 2017, Wenger was banned for four games from the touchline for a heated conversation with Anthony. When Anthony Taylor was selected as the referee for the 2017 FA Cup final between Arsenal and Chelsea, Arsenal fans became angry and took to Twitter to criticise the decision. Some fans also mockingly congratulated Chelsea in advance when they received the news. [3]

Daily Mirror
Anthony Taylor is a self-proclaimed fan of Altrincham FC. Although he rarely goes to watch their matches in the stadium due to his duties as a FIFA referee, he buys full-season tickets for their matches every year.
He is a proponent of non-league football.
On 12 June 2021, Anthony Taylor became a hero when he took prompt action to save the life of Danish midfielder Christian Eriksen. The match was a UEFA Euro 2020 fixture between Denmark and Finland. Eriksen collapsed on the pitch while playing, and Taylor signalled for medical help within five seconds due to which Eriksen received prompt medical care and became stable later while recovering in the hospital. Fans, players, and celebrities such as Prince William referred to Taylor as a hero. [4]

Manchester Evening News
Before the 2022 FIFA World Cup held in Qatar, he underwent a specially designed fitness program particularly designed for him to acclimatise to high temperatures in Qatar. The program involved running on a treadmill in an environment room. [5]

Manchester Metropolitan University
In the 2023 Europa League final between AS Roma and Sevilla FC on 31 May 2023 in Budapest, Hungary, he gave 14 yellow cards, the highest in any Europa League game. Sevilla won the game 5-4 in penalties after the scores were tied 1-1. AS Roma fans and manager Jose Mourinho blamed Taylor for their loss and manhandled Taylor, his daughter, and his wife when they were at the Budapest airport. Fans threw their drinks, abused them, and one of the fans even threw a chair at them, who was later arrested. Mourinho was also very vocal as he himself hurled abuses at Taylor at the airport parking. [6]

Sky Sports He was later seen