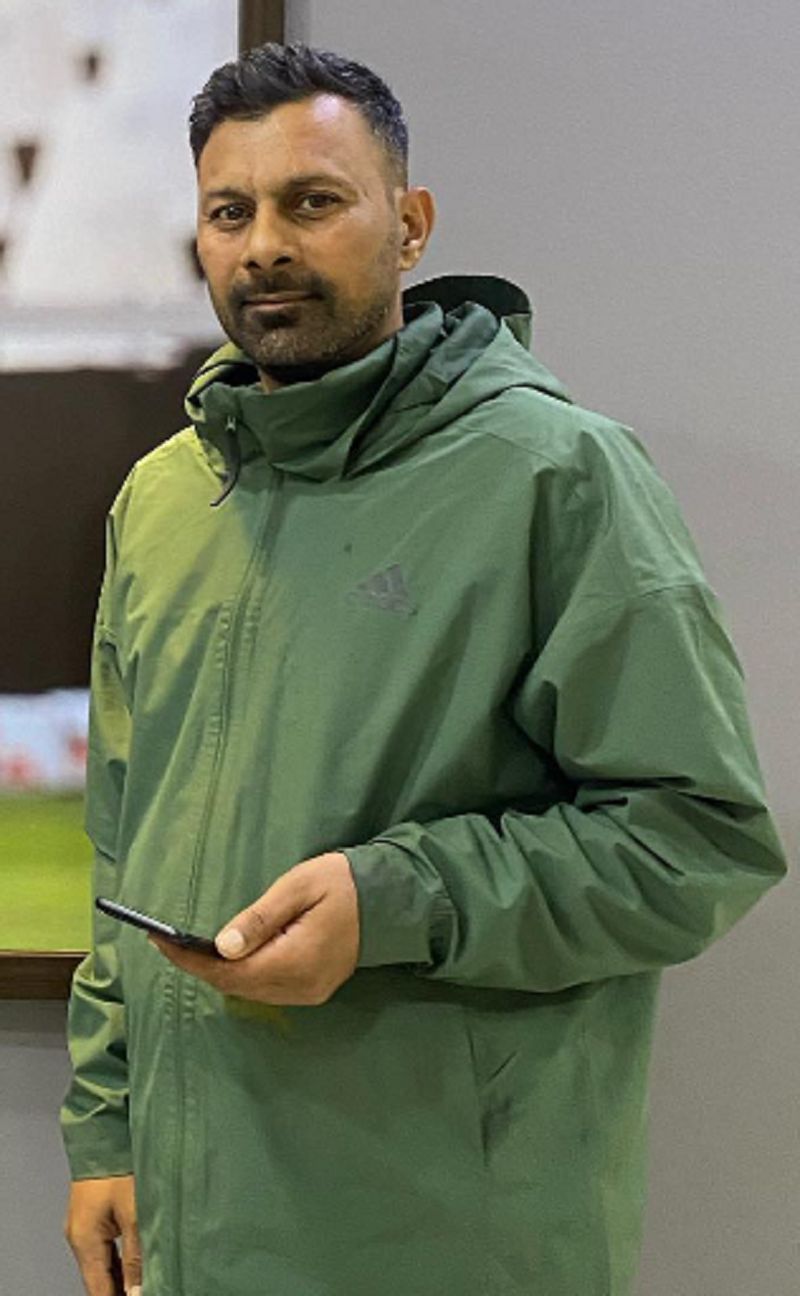 Praveen Kumar is a former Indian cricketer who is known for his ability to generate movement in the ball and maintain precision in his line and length while bowling. He represented India in 68 One Day Internationals (ODIs) and six Test matches, accumulating a total of 104 wickets in international cricket.
Wiki

/Biography

Praveen Kumar was born on Thursday, 2 October 1986 (age 36 years; as of 2022) in Laprana village, Shamli district, Uttar Pradesh. His zodiac sign is Libra. He did his schooling at Meerut Public School, Meerut, Uttar Pradesh. His cricket journey started in the streets and local neighbourhoods of Meerut, particularly in places like Multan Nagar and Kishanpura, where he engaged in matches. Even at the young age of 12, he enthusiastically took part in these informal games, often going the extra mile by cycling long distances around ten to twelve kilometres. When the matches were located farther away, he would depend on public buses, hoping that a generous bus driver would let him travel without paying the fare. From the age of 14 onwards, he opted to play cricket with a leather ball, rather than using tennis or plastic balls. When he was 16 years old, he and three of his friends formed a group and started negotiating with other teams saying if a team paid them Rs. 10,000, they would ensure a victory for that team. He received his training at the Victoria Park Cricket Academy in Meerut. However, he encountered some challenges during his early days at the academy because he had never played on turf before. Transitioning from playing on different surfaces to the turf was a new and unfamiliar experience for him, requiring some adjustment and adaptation. In 2001, he relocated to an Uttar Pradesh sports hostel, which became his new residence. During his time there, he would engage in conversations about cricket with his friends while enjoying numerous cups of tea. Eventually, in 2005, he was selected to play first-class cricket, marking the beginning of his professional cricketing career. During his late teenage years, his talent caught the attention of a local coach named Sanjay Rastogi, who recognized his potential. Rastogi played a pivotal role in introducing him to mainstream club cricket, providing him with the opportunity to showcase his skills in a more competitive environment. By the time Praveen reached the age of 19, he had already made significant strides in his cricketing journey and had successfully transitioned into first-class cricket.
Physical Appearance
Height (approx.): 5′ 11″
Hair Colour: Black
Eye Colour: Black
Family
Parents & Siblings
Praveen's father's name is Sakat Singh Khaiwal, who was a police head constable.
His mother's name is Murti Devi Khaiwal.
His brother's name is Raj Khaiwal.
Wife & Children
Praveen got married to Sapna Choudhary, a national-level shooting player on 18 November 2010.
Together, they have two children, a son, Ranvijay Singh and a daughter, Saya.
Career
Domestic Cricket
During the 2004-05 Vijay Hazare Trophy, he established himself as one of the top wicket-takers in the tournament. He excelled in his bowling performances and ended up sharing the leading wicket-taker position with another player. This achievement helped him gain recognition and showcased his talent on a larger stage. Additionally, he made a name for himself with his impressive performances while representing India Red in the NKP Salve Challenger Trophy in 2007.
In the 2005-06 Ranji Trophy, which was both his debut season and Uttar Pradesh's championship-winning season, he showcased exceptional skills and emerged as the standout performer. He was the player of the year. Praveen claimed 41 wickets throughout the season and also contributed significantly with the bat, scoring 386 runs. His performances included taking five-wicket hauls in an innings, achieving a ten-wicket haul in a match, and scoring three half-centuries with the bat. He became a reliable and go-to player for the Uttar Pradesh (UP) team whenever they faced difficult situations. Notably, he accumulated an impressive tally of 90 wickets in his initial two seasons of first-class cricket, showcasing his talent and catching the attention of the national selectors. When he played for Royal Challengers Bangalore (RCB), he achieved became the sixth bowler in the history of the Indian Premier League (IPL) to take a hat-trick. This impressive feat occurred during a match against the Rajasthan Royals at M. Chinnaswamy Stadium in Bangalore in 2010. In 2008, while representing Royal Challengers Bangalore (RCB) in a match against the Rajasthan Royals, he hit one of the biggest sixes ever seen in the IPL. During that match, he smashed the ball in Yusuf Pathan's over, and the distance covered was measured at 124 meters. These sixes matched the record set by Albie Morkel of the Chennai Super Kings in the same season.
During the IPL 2015 auctions, Sunrisers Hyderabad signed him for an amount of Rs. 220 lakhs.
Due to dengue fever in 2011, Kumar was unable to be a part of India's World Cup victory. As a result, he was not chosen by any team in the 2014 IPL auction. However, Mumbai Indians signed him as a replacement player for the injured Zaheer Khan after he played six games but had to withdraw from the remainder of the IPL 2014 season due to a left latissimus dorsi muscle strain.
International Cricket
He made his ODI debut on 18 November 2007 against Pakistan in Jaipur. He made his Test debut between 20-23 June 2011 against West Indies in Kingston. On 1 February 2008, he made his T20 debut against Australia in Melbourne. In 2008, he was selected to represent India in the tri-nation Commonwealth Bank Series held in Australia. This series featured matches against the Australian and Sri Lankan cricket teams, and his contributions were great in India's win. He played a crucial role in India's victory in the tri-series final, claiming the wickets of esteemed Australian batsmen Adam Gilchrist, Ricky Ponting, and Michael Clarke.
From 2008 to 2010, he established himself as India's premier opening bowler in One Day Internationals (ODIs). He was selected to represent India in the ICC Cricket World Cup 2011. Unfortunately, an injury stopped him from participating in the tournament, and Sreesanth was chosen as his replacement. From 2009 to 2010, Praveen played a pivotal role in India's pace attack, forming a trio alongside Zaheer Khan and Ashish Nehra. Together, these three fast bowlers became the backbone of India's pace battery during that period. Their combined skills, experience, and ability to take wickets were crucial to the team's success.
In 2011, during the last Test series of his career in England, he stood out as the most impressive fast bowler. In 2011, he made his Test debut against the West Indies cricket team in Kingston and had a remarkable performance by taking five wickets in the match.
Controversies
Arguments with his neighbours
In December 2019, he faced allegations from his neighbour Deepak Sharma, who accused him of assaulting him and his seven-year-old son. According to Deepak, he was waiting at a bus stop for his son's return from school when Praveen approached in his car, verbally abused him, and behaved inappropriately with the bus driver. Deepak further claimed that Praveen appeared to be under the influence of alcohol and pushed his son, causing a back injury. When Deepak tried to file a complaint with the police against Praveen, they allegedly refused to register the complaint due to the cricketer's status. Instead, they suggested a compromise, which Deepak refused. Subsequently, Deepak began receiving death threats for not accepting the compromise. [1]The Bridge
Accused of beating a doctor
In 2008, Praveen was accused of physically assaulting a physician named Shantanu, who worked at Subharti Hospital in Civil Lines. According to Shantanu, the incident occurred when he accidentally splashed muddy water on Praveen and his friends, who were standing by the roadside, while going to purchase glass from a shop on P L Sharma Road. When Shantanu entered the shop, Praveen and his friends followed him and allegedly assaulted him, claiming that he had intentionally spilt the water on them. Shantanu further stated that Praveen and his friends were intoxicated and even caused damage to some glasses in the shop. Later, Praveen apologized for his actions. In an interview, Shantanu said,
I am not taking legal action because nation's pride is associated with Praveen as he represent the country in cricket." [2]Hindustan Times
Domestic Team
2008–2010: Royal Challengers Bangalore
2011–2013: Kings XI Punjab
2015: Sunrisers Hyderabad
Jersey Number
# 8 (Royal Challengers Bangalore)
# 19 (Sunrisers Hyderabad)
Facts/Trivia
His coach's name is Sanjay Rastogi.
His batting style is a right-hand bat and his bowling style is right-arm medium.
He follows a non-vegetarian diet.
In an interview, he revealed that in 2020, he experienced a dark period where he contemplated suicide due to feeling forgotten despite his outstanding performances for India. Recounting the incident, he shared that he wore his muffler, picked up a revolver, got into his car and drove to Haridwar. While in the car, he had thoughts of ending his life, questioning the purpose of it all. However, as he glanced at a photo of his children, he realized he couldn't put them through such pain and changed his mind, turning back. Subsequently, he was diagnosed with depression and decided to seek therapy and was advised to do meditation. He told his doctor about feeling lonely after moving from a joint family to his own house in Meerut, where he lacked companionship and felt irritable. During his battle with depression, he lost 15 kg of weight. Retirement in 2018 seemed to worsen his mental state, leading to continuous negative thoughts which he struggled to escape. He used to isolate himself in a room in Meerut and would endlessly watch videos of his bowling and spend nights lying in bed, watching the ceiling fan. Though concerned, his wife and children were unaware of his inner fight as he kept it all to himself.
According to his teammates, he was known for his free-spirited and carefree nature.
In 2008, Manoj Prabhakar described Praveen as a "magician" due to his exceptional bowling style.
During the IPL in 2009, Kevin Pietersen, who was playing for the Royal Challengers Bangalore talked to Kumar at a hotel in South Africa. Pietersen then turned to a journalist who was present and advised Kumar to focus on improving his fitness and increasing his bowling speed by 5 to 10 kmph. In response, Kumar expressed his attachment to his swing bowling style and mentioned that he would feel disappointed if he had to change his game.
In 2012, a video surfaced online showing him engaging in a heated exchange with a fan who was standing behind the Indian net during a match in Australia. According to Praveen, the fan was abusing Rohit Sharma, and he attempted to intervene and put an end to it, but the fan refused to stop.
During the 2013 Corporate Trophy match in Raipur, an incident resulted in Praveen being suspended from the Vijay Hazare Trophy. He was in the process of making a comeback to the Indian team at that time. The incident involved a dispute with the match referee, who allegedly called Praveen "mentally unfit to play." This led to a confrontation, during which it was claimed that Praveen struck a batsman with his bat.
In 2016, he made a political debut by joining the Samajwadi Party ahead of the Uttar Pradesh assembly elections.
In October 2018, he officially announced his retirement from all forms of cricket, marking the end of his professional cricketing career.
In 2019, he became a bowling coach for the U-23 Uttar Pradesh team. However, his stint in that position was relatively short-lived.
According to him, he has been involved in various acts of philanthropy. He has sponsored the education of numerous young children, facilitated the marriages of 10 girls, and provided financial assistance to aspiring young cricketers.
In an interview, he disclosed that he had been partially blind since his playing days, and besides his family, only Rohit Sharma was aware of his visual impairment. In the interview, he added,


I can't see properly with my right eye. I was hit by a ball while playing junior cricket. I underwent treatment at a Delhi hospital. The doctor said they could do a transplant but could not guarantee the return of vision and that things might worsen. If you have noticed my batting dismissals, I often got bowled by slower balls. It's because I couldn't see the ball. I faced the same issue with bouncers. I never had a problem playing length balls."
He expressed his desire to coach young boys without any charge. In an interview, he mentioned that money was never his priority as he had experienced enough fame in his career. His main objective was to return to cricket because it was the only thing he was familiar with and passionate about.
He owns a farmhouse in Barnava village and also has ownership of Praveen Restaurant and Wedding Banquet located in Meerut, situated at the intersection of NH-58 and Rohta Road.
On 5 July 2023, he was involved in an accident in Meerut. He was reportedly travelling with his son in his Land Rover Defender car when they were hit by a truck while returning from the Pandav Nagar area. Both he and his son survived the accident without sustaining any serious injuries. However, their car suffered significant damage. The truck driver was taken into custody by the police. He had experienced a previous accident in 2007 when he fell from a jeep.
In an interview, he said that if he was not a cricketer, he would have been a farmer.
In an interview, he said that the ringtone on his phone is a dialogue from the film Sarkar delivered by Amitabh Bachchan- "Yes, I do what I think is right – whether it is against God, against the law or against the entire system." He said that he used this dialogue as the ringtone because it suited his personality.
He owns four guns and holds licenses for each of them. His collection includes a rifle and a 0.357 Magnum that he carries for personal security during his visits to his farms. He is also interested in shooting and during his free time, he visits the local shooting range to practice his shooting skills.
In 2011, he got into an argument with the umpire Marais Erasmus in Nottingham.
In 2023, he was invited to become part of a boat race in Varanasi, Uttar Pradesh.