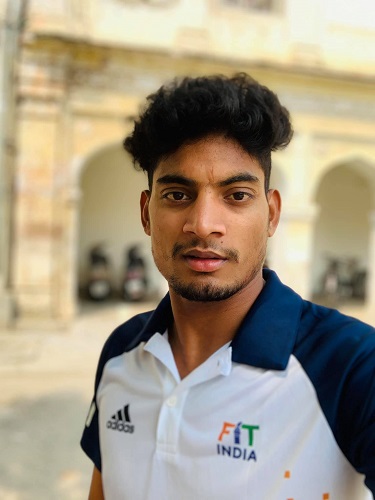 Rohit Yadav is an Indian javelin thrower and Indian Railways employee. In 2022, he qualified for the Commonwealth Games organised at Birmingham, England.
Wiki/Biography
Rohit Yadav was born on Wednesday, 6 June 2001 (age 21 years; as of 2022) in Dabhiya Village, Jaunpur, Uttar Pradesh. His zodiac sign is Gemini. He attended Tilak Dhari P.G. College, Jaunpur, Uttar Pradesh (2019-2022). [1]Instagram- Rohit Yadav
Physical Appearance
Hair Colour: Black
Eye Colour: Black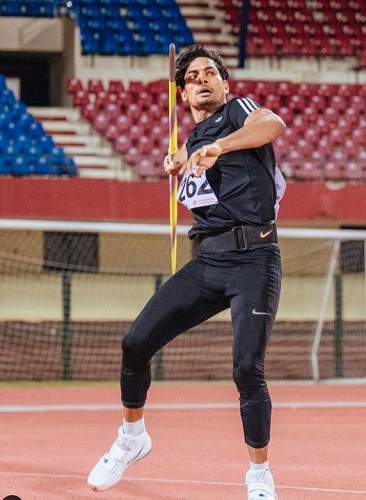 Family
Parents & Siblings
His father, Sabhajeet Yadav, is a farmer and decathlete. His mother's name is Pushpa Devi. He has two brothers named Rahul Yadav (athlete) and Rohan Yadav.
Career
Rohit started participating in various javelin throw competitions in his teens. He won a gold medal in his debut district-level javelin throw competition in 2014. He made a throw of 49m to win a gold medal. He won another gold in July 2016 at the World School Games. He made a throw of 72.57m in the competition. On 10 September 2020, he was appointed at Diesel Locomotive Works, Varanasi.
He then participated in various javelin throw competitions like:
18 August 2021: National Junior Athletics Championships
27 February 2022: Indian Open Throws Competition, Patiala
13 March 2022: Indian Grand Prix, Thiruvananthapuram

3 April 2022: National Federation Cup, CH Muhammed Koya Stadium, Thenhipalam
9 May 2022: Indian Open Javelin Throw Competition, Jamshedpur
24 May 2022: Indian Grand Prix, Bhubaneswar
11 June 2022: National Inter State Senior Athletics Ch., Jawaharlal Nehru Stadium, Chennai
21 July 2022: World Athletics Championships, Oregon 2022, Hayward Field, Eugene, Oregon
He bagged a gold medal with a throw of 81.83m at the National Federation Cup (April 2022) held in Thenhipalam. In June 2022, he made his personal best score of 82.54m at the National Inter State Senior Athletics Championship in Jawaharlal Nehru Stadium of Chennai. His team is Indian Athletics Contingent, and his coaches are Kashinath Naik and Uwe Hohn.
Controversy
Tested Positive for a Dope Test
In May 2017, he failed the anti-dope test conducted by the National Anti-Doping Agency (NADA). It was found that he had consumed the banned substance stanozolol. As a result, he was banned by NADA for a year i.e. from 21 May 2017 to 21 May 2018. [4]The Indian Express During an interview, while talking about the incident, he said,
I thought my career would end. Ever since I found out about the failed test, I was coming to Delhi for hearings of my case. I didn't really think my career would ever continue. I felt I had been given a second chance for a reason. I had to prove myself to the world once again."
Medals
2016: Gold Medal at the World School Games
2017: Silver Medal at the Asian Youth Championships
2019: Gold Medal at the Mokpo International Athletics Throwing Meeting
2021: Gold Medal at the 36th National Junior Athletics Championships
2022: Silver Medal at the National Inter State Senior Athletics Championship
Facts/Trivia
Rohit developed an interest in sports after watching his father, who has won many medals in athletics. Earlier, his family's financial condition was not good, so they were not able to buy javelin sticks. Rohit's father then made javelin sticks out of bamboo. During an interview, Rohit talked about it, he said,


My father had been a sportsperson. He was adamant that I should be a javelin thrower though. But there wasn't enough money to get a proper javelin. So what he did was go to a patch of bamboo that grows near our village and use that. Making a javelin from wild bamboo wasn't easy. You have to take only the top part of the bamboo. Otherwise it becomes too thick. Then you have to sharpen one end so it will fly well. It doesn't last very long. I could probably throw for maybe two or three days before it's completely destroyed. Also you can't throw very far with it because the bamboo is never completely straight. I don't think I've ever thrown more than 30 meters with a baans javelin."

In an interview, his father talked about making javelin sticks out of bamboo. He said,

I made that javelin from bamboo. I had a photo of a javelin to guide me. I did not follow any established specifications about size, weight or anything like that. The crudely made javelin was not good for the hands. Rohit used it for two years. It helped him reach state level-events, where better javelins were available for athletes. We then bought a javelin for Rs 12,000 from Patiala."

His school's principal has gifted him a javelin stick of Rs 12000.
Rohit, along with the Olympic gold medalist Neeraj Chopra, is trained under the same coach Uwe Hohn.
View this post on Instagram
In 2017, the Indian sports consultancy 'Amentum Sports' helped him by providing guidance from the Peru-based javelin coach Michael Musselman through video calls. During an interview, while talking about the coach, Rohit said,


Coach asked me to record my throws from two different angles and then message him the videos over Whatsapp or Facebook. He would analyse them and suggest what changes I had to do."