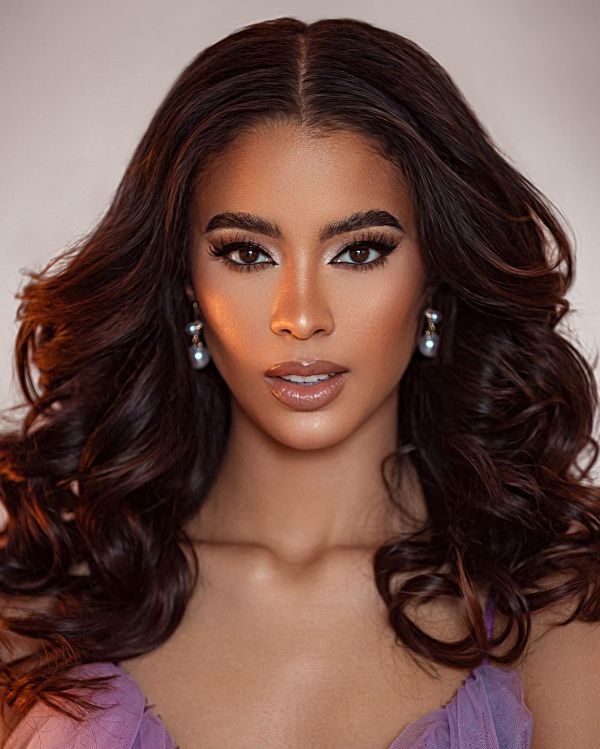 Andreína Martínez Founier is a Dominican-American model, beauty queen, and psychologist who was crowned as the 2nd runner-up at the 71st Miss Universe pageant (2022), held on 14 January 2023. In 2021, she earned the title of Miss Dominican Republic.
Wiki/Biography
Andreína Martínez Founier-Rosado was born on Monday, 22 September 1997 (age 25 years; as of 2022) in Santiago de los Caballeros, Dominican Republic. Her zodiac sign is Virgo. Andreína completed her schooling at Bronx Bridges High School, New York City in 2015. In 2019, she graduated with a bachelor's degree in Psychology from The City College of New York. Here, she also pursued Latino Studies. During college, Andreína was part of several organisations including the Dominican Student Association, Habitat for Humanity, and S.E.E.D.S.
Physical Appearance
Height (approx.): 6′
Weight (approx.): 50 kg
Hair Colour: Brown
Eye Colour: Brown
Figure Measurements (approx.): 30-26-32
Family
Parents & Siblings
Andreína has a brother named Juan Martínez.
Husband & Children
She is unmarried.
Nationality
Since she was born in Santiago de los Caballeros, Dominican Republic in 1997, She had Dominican citizenship. Around the age of 13, she migrated to the United States of America after which she got American citizenship.
Career
In 2018, Andreína Martínez got the opportunity to walk the ramp in New York Fashion Week 2018.
Beauty Pageants
Miss Republica Dominicana 2021
On 7 November 2021, Martínez represented the Dominican community in the United States and won the title of Miss Republica Dominicana 2021. She competed against 14 other candidates at this event, which was held at Salón de Eventos Sambil in Santo Domingo, Dominican Republic.
The 24-year-old Andreína Martínez was supposed to compete at Miss Universe 2021; however, it was later announced that she contracted COVID-19 due to which she had to withdraw her name and go into quarantine. She was then replaced by Miss Republica Dominicana's 2021 first runner-up, Debbie Aflalo, who later represented the Dominican Republic at Miss Universe 2021 in Eilat, Israel on 12 December 2021. Andreína was later designated as Miss Dominican Republic 2022 and was said to compete in the 2022 edition.
Miss Universe 2022
On 15 January 2023, 25-year-old Martínez competed against 83 other candidates and represented the Dominican Republic at Miss Universe 2022, which was held at Ernest N. Morial Convention Center in New Orleans, USA. During the contest, she was asked about the most significant obstacle that women in her country face and what measures should be taken about it. To which, Andreína replied,
 I believe the most significant obstacle women in my country face is access to education. There's a number of women and children in our country that cannot go to school and don't have lack of access to go to them and I believe we should do something about it now. We need to make sure that kids are able to be kids, they want to play, to educate themselves. Not be mothers, not be wives. It is the moment now to take action."
During the final round of Miss Universe 2022, Andreína Martínez was asked how would she work to demonstrate "Miss Universe is an empowering and progressive organisation" if she were to win. She left everyone amazed by saying,
I understand Miss Universe organisation is looking for an ambassador, somebody who is able to communicate a message. I have been working for women's rights for as long as I can remember. I'm here to demonstrate us that no matter where you come from, your background does not define you. your courage and determination is you. And I will show that by working in thie organisation every single day showing my ownership and determination."
She won the title of 2nd runner-up at Miss Universe 2022 while R'Bonney Gabriel of the United States was crowned 71st Miss Universe.
Other works
In 2016, Andreína worked as an academic tutor and taught the Spanish language to foreign students studying at the City University of New York City College until 2020. In 2016, she became an ambassador for America Needs You, which is a non-profit organisation. In 2017, Martínez interned under Senator José Serrano at the New York State Senate for four months. From September 2017 to May 2018, she was a health educator at Peer Health Exchange where she provided health education to high school students from 9th standard to 12th standard. In 2018, Andreína worked as a Capitol Hill Intern for Senator Kirsten E. Gillibrand in Washington D.C. It was at Senator Kristen Gillibrand's office where she found her passion for the preservation of female rights and has become an advocate for public policy that advances women. Later, she worked as legislative and budget intern at the New York City Council. [1]LinkedIn – Andreina Martinez Martínez has been working for women's empowerment and their rights since she was 16 years old. [2]YouTube – Miss Universe Martínez is the program co-ordinator at the Women's Equality Center, which is a non-profit organization based out of Washington, DC. She advocates for women's rights in Latin America and the Caribbean. As a volunteer, Andreína is associated with other organisations including CUNY Caucus Scholar and SEEK.
Favourites
Makeup brand: NARS Cosmetics
Sport(s): Volleyball, Softball, Roller Skating
Miss Universe winner: Amelia Vega (Dominican model)
Book: "The Old Man and the Sea" by Ernest Hemingway
Facts/Trivia
Andreína's gender-specific pronouns are she/her.
While studying in school, Andreína was the captain of the school's Softball team.
In 2016, she was recognised as the
In 2018, she was recognized with during Hispanic Heritage Month as a student making a difference by advancing opportunities in their local communities.
According to Martínez, she is skilled in communication, leadership, Legislative positions, and community outreach.
She follows a non-vegetarian diet and considers Pastelón (Puerto Rican Plantain "Lasagna") to be one of the best dishes she has ever tried. [6]

YouTube – Miss Universe
In an interview, while talking about her favourite childhood memory, Martínez recalled the time when she was young and used to visit her grandmother's house to spend quality time at the beach. She also said that she loved preparing dinner with her grandmother, and also making fresh juice from the trees in their garden. [7]

YouTube – Miss Universe
In her leisure time, Martínez likes to read, and cook food.
When Andreína was studying in school, she learned how to swim.
Martínez's goal is to become the first female ambassador of the Dominican Republic to the United Nations.
She is fluent in languages such as English and Spanish.
Martínez is the winner of Google's Pay it Forward Award, which she received for her dedication to the Dominican community.