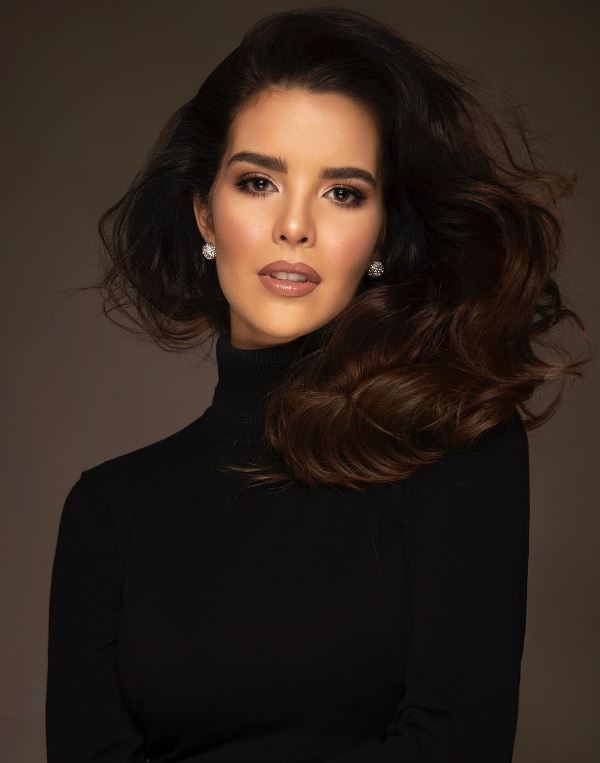 Amanda Dudamel is a Venezuelan fashion designer, model, and philanthropist. In 2021, she won the title of Miss Venezuela. In 2023, she participated in the Miss Universe pageant and became the 1st runner-up.
Wiki/Biography
Amanda Dudamel Newman was born on Tuesday, 19 October 1999 (age 23 years; as of 2022) in Merida, Venezuela. Her zodiac sign is Libra. She spent her childhood and adolescence between Merida and Yaracuy. As her parents moved around a lot due to work, Amanda has lived in many countries including Canada, Chile, South Africa, and Columbia. She studied fashion design in Rome, Italy. [1]Hola!
Physical Appearance
Height (approx.): 5′ 10″
Weight (approx.): 65 kg
Hair Colour: Brown
Eye Colour: Hazel
Figure Measurements (approx.): 30-26-32
Family
She belongs to a  Spanish family in Merida, Venezuela.
Parents & Siblings
Her father, Rafael Dudamel, is a former Venezuelan footballer and football team manager, and her mother, Nahir Newman Torres, is a real estate agent. She has a younger sister named Victoria Dudamel.
Later, her parents got separated, and in 2017, Rafael Dudamel got married to Carolina Duque, an architect. The couple has two children.
Husband 
She is unmarried.
Career
Fashion Designing
After studying fashion design in Italy, she started her own fashion brand 'By Amanda Dudamel.' She is the owner and executive director of 'By Amanda Dudamel.' She co-founded the clothing brand 'Reborn.' On 18 November 2021, she held the first fashion show for her brand 'Reborn.' She is also the director of 'Emprendiendo e Impactando,' a social impact project. She is also the creative director of the accessories brand 'Made in Petare,' which supports the 'Un Par Por Un Sueño' foundation. The development and sales of the products at 'Made in Petare' help the foundation to help people living in Petare, Venezuela; Petare is the biggest slum in Venezuela. The foundation feeds more than 1000 children in different soup kitchens in Petare, helps women by making them a part of the process and training them for job opportunities to make them financially stable and able to support their families. The team of foundation carries out recreational activities with the children together. [2]Miss Venezuela
Modelling
In January 2022, she did a TV commercial for Drene, which is a hair care brand. On 24 May 2022, she walked the runway for the Venezuelan fashion designer Giovanni Scutaro's spring-summer collection titled Canto a Caracas (I sing to Caracas).
Beauty Pageants
Miss Venezuela
On 28 October 2021, Amanda Dudamel was crowned Miss Venezuela. After Ana Griselda Vegas became Miss Venezuela in 1961 and Stefania Fernandez in 2008, she was the third from the state of Merida to win the title of Miss Venezuela.
After she became Miss Venezuela 2021, she started her social project in June 2022 titled 'Dale play al éxito' (play success), which is a training program in which she worked in the agricultural sector with the people of  Petare, Miranda, Venezuela. In an interview, she talked about her project and said,
My goal has always been that my contribution is tangible, promotes activity, and leads to action. This is how 'Dale play al éxito' was born, a training program where we will be working for 6 weeks with a group of wonderful women and men in the La Agricultura sector, Petare." [3]Ultimas Noticias
She owns a digital platform named 'Voice Across The Universe,' where she has interviewed many Miss Universe candidates representing various countries including Argentina, Brazil, India, Korea, Curaçao, Colombia, Spain, Ghana, Panama, Kosovo, Mexico, Honduras, and many more.
Miss Universe
On 15 January 2022, she was crowned the 1st runner-up at the 71st Miss Universe pageant held in New Orleans, Louisiana, United States. R'Bonney Gabriel, Miss USA, was crowned Miss Universe 2022, and Andreina Martinez, Miss Dominican Republic, was named the 2nd runner-up at the event. [4]The Times of India
Favourites
Food: Arepas Reina pepiada (Venezuelan dish)
Film: La vita è bella (1997)
Facts/Trivia
Amanda Dudamel can speak three languages; Spanish, English, and Italian. She learned English when she lived in South Africa. She learned Italian as she studied fashion design in Italy and lived there for many years. She can speak Spanish as it is her native language. [5]

YouTube – Miss Universe
At the age of 8, she began playing tennis; however, at the age of 16, she drifted away from tennis and became interested in fashion design.
She follows a non-vegetarian diet.
In her leisure time, she likes to do photography.
She has an interest in acting.
She often practices yoga and follows a healthy diet.
Her father, Rafael Dudamel, was a goalkeeper in the national football team of Venezuela. On 18 October 2017, he was appointed as the manager of the national football team of Venezuela.
In the Q&A segment of the Miss Universe 2022 pageant, the top 3 contestants were asked if they win the Miss Universe title then how would they demonstrate this as an empowering and progressive organization. She answered the question and said,


If I get to win Miss Universe, I will follow the legacy that many women across the universe have shown to be part of this organization. Because Miss Universe has demonstrated that they choose women who inspire with their messages and transform with their actions. And that's precisely what I would like to do. I'm a fashion designer by profession but I'm a designer of dreams." [6]Metro