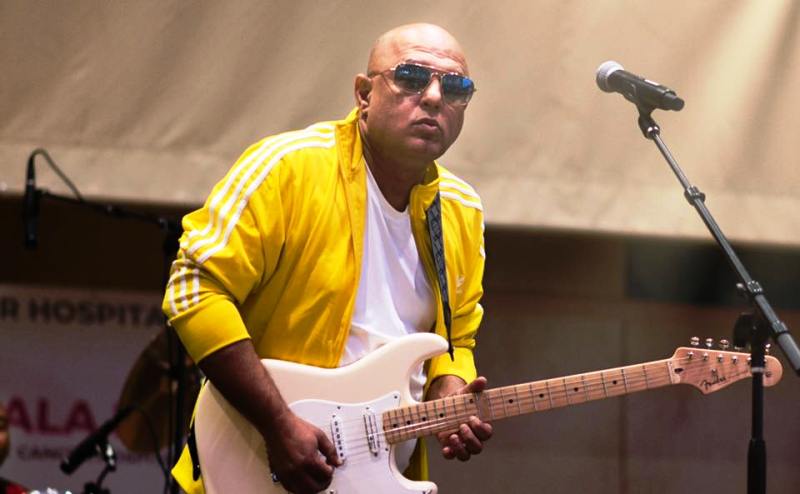 Ali Azmat is a Pakistani singer-songwriter, musician, and actor, who is known for being the lead singer of the influential Sufi Rock band Junoon, the first-ever Pakistani band to perform at the United Nations General Assembly. He is known for the chartbuster songs Sayonee from Junoon's album Azadi (1997) and Ehtesaab from Kashmakash (1995).
Wiki/Biography
Ali Azmat Butt [1]The Express Tribune was born on Monday, 20 April 1970 (age 52 years; as of 2022) in Havelian, Khyber Pakhtunkhwa, Pakistan. His zodiac sign is Taurus. He grew up in the neighbourhoods of Muhammad Nagar and Garhi Shahu in Lahore, Pakistan. He studied in a government school. In an interview, he revealed he was very mischievous as a child, and he got kicked out of a few colleges and even schools when he was young. Further, he added that he grew up in a notorious environment. As a student, he frequently engaged in brawls and was beaten up due to which he started carrying weapons to college. In Class 10, listening to the rock band Pink Floyd is when he recognised his Sufi instincts. His passion for music drove him from Lahore to Karachi. In 1989, he went to Sydney, Australia, where he studied business administration and came back in 1990. [2]OK! Pakistan
Physical Appearance
Height (approx.): 5′ 9″
Hair Colour: Bald
Eye Colour: Black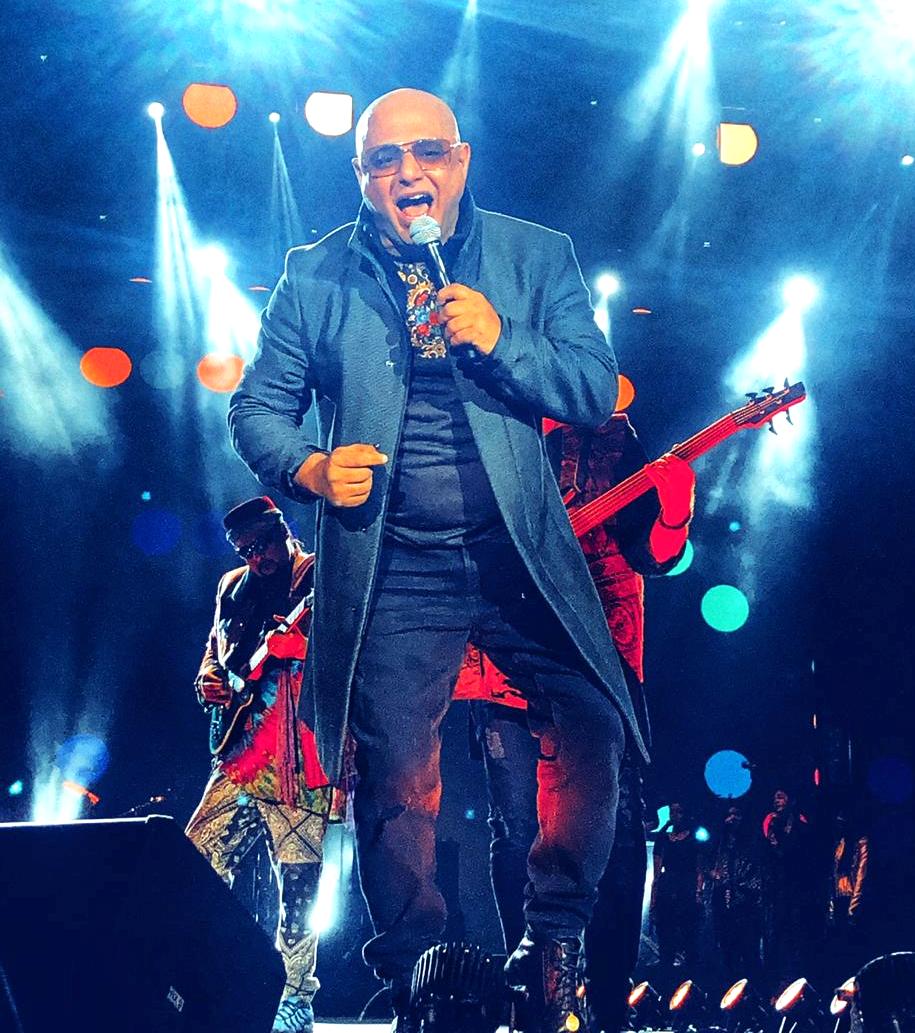 Family
Parents & Siblings
Ali Azmat's grandfather was a station master posted at the Havelian Railway Station. Later, Ali's family moved to Peshawar, where his grandfather completed his last posting. Around 1972-73, they relocated to Lahore, where he spent his childhood in the neighbourhoods of Muhammad Nagar and Garhi Shahu. His maternal grandmother lived at Nisbat Road, Lahore. His father, Nazir Ahmed, popularly known as Butt saheb, was a middle-class businessman. He was suffering from a lung disease and had been on a ventilator for a while before his death in 2013. At the time of the death of Butt saheb, Ali Azmat was scheduled to perform at Karachi Arts Council before the play Aangan Terrha. Although the director of the play Dawar Mehmud planned to call off Ali's performance due to the demise of his father, Ali did not compromise his professionalism and gave the performance. He has a younger sister.
Wife & Children
In 2011, at the age of 41, Ali Azmat got married to television producer Fariha Khan. He has two daughters, Mia Ali Azmat and Ella Azmat.
Relationships/Affairs
In an interview, while talking about his past relationships he said, "Mashallah, I have been a player." He further added that he dated many women before getting married. [3]Rewind with Samina Peerzada- YouTube
Religion/Religious Views
Ali Azmat follows Islam. [4]New Lines Magazine In an interview, while talking about his religion, he said,
I was born Muslim. My family was religious and I started studying the Quran in classes 3 and 4."
Caste
He belongs to a Punjabi-speaking Muslim family of ethnic Kashmiri descent. [5]Rewind with Samina Peerzada
Career
As a Singer
Jupiters
His musical journey began in 1988 when he came into the contact with the Pakistani music band Jupiters. Jupiters' guitarist Tanvir Tafu recognised Azmat's three-octave vocal range when he sang a song by a band called Aha. At the age of 16, he was included in the band and used to perform gigs in Lahore. Ali came into the limelight with Jupiters' hit song "Yaaro Yehi Dosti Hai," his first song. [6]Ali Azmat- Facebook
Jupiters won a cash prize of Rs. 10,000 during a competition at Alhamra Art Center, Lahore. It was at Alhamra that Azmat's parents first witnessed his singing talent and started supporting him. In an interview, he talked about Jupiters and said,
I started back in '88 with a band called Jupiter. It was more of a commercial band that played music in a bar but we didn't have any bars [Laughs] so we played at weddings, birthday parties, school events, fun fairs, etc. I would generally sing English songs. I was 18 and I needed something to do. It was fun and a good way of learning what music is all about, how to play the guitar, what different melodies are, what guitar chords are, etc. I did that for a couple of years then moved to Australia for college. I studied business administration, then came back, started Junoon and was with them for 14 to 15 years."
Junoon
After coming back from Australia, for a while, he pursued a job in a Bank but soon realised that he wasn't compatible for a 9 to 5 job. In 1990, he formed the Sufi rock band Junoon, also known as "U2 of Pakistan," as a vocalist along with the lead guitarist and songwriter Salman Ahmad. They were later joined by bass guitarist Brian O'Connell. In 1991, Junoon released its self-titled debut album following which the band members were signed to the major record label EMI Records.
Their fan base was known as Junoonis. In 1995, the band released their first compilation album, Kashmakash, which featured the controversial song "Ehtesaab" in which they had spoken out against the political corruption in Pakistan. In Ehtesaab's video, a polo horse can be seen eating in a posh restaurant. Many believed that the polo horse was a reflection of the corrupt Pakistani political elite, especially former Prime Minister Benazir Bhutto. [7]The Express Tribune The controversial video ended up being banned, attracting controversy for the band.
However, the song led to 'Ehtesaab' campaign in the country which saw Junoon's historic concert at Nishtar Park, Karachi. The authorities had refused to give the band an NoC for the concert. The sound and light equipment required heavy electricity, but the authorities had already denied the facilities to them. Interestingly, Junoon was aided by the nearby mosque, which lend them a generator. In an interview, Salman recalled the historic concert and said,
I went to a nearby mosque and asked the Imam to give us a power connection. It didn't take the prayer leader long to recognise the band, after he was informed that they were the "Jazba-e-Junoon guys. He said we could use the mosque's generator. The condition was to stop playing when the azaan starts. Around 10,000 screaming Karachiites turned up for the show. They were young and foolish … like us. The entire crowd sang Ehtesab with us in one voice, saying, 'We want accountability now!
After their second album Talaash (1993), the band gained popularity in Pakistan with the release of their third album Inquilaab (1996). The album featured the song Jazba-e-Junoon (spirit of passion) which became the official song of the 1996 World Cup Cricket jointly hosted by India and Pakistan.
Junoon's critically acclaimed album Azadi (1997) introduced the band to India under the British record label EMI/Virgin Records. The album featured the chartbuster song Sayonee which catapulted to Junoon's stardom.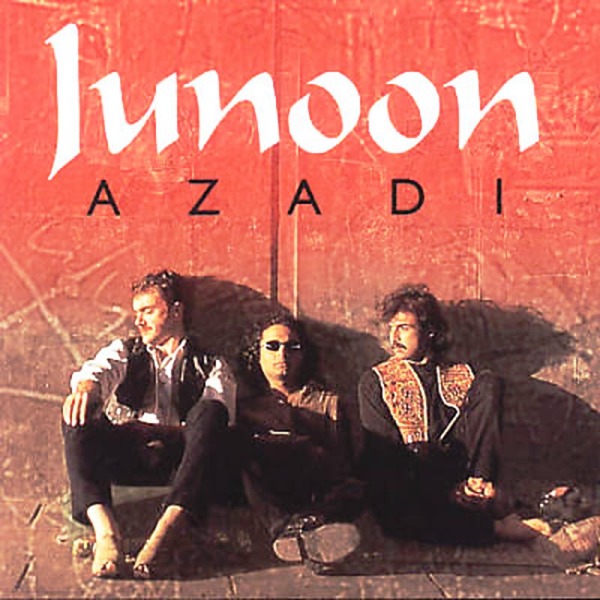 In 1998, the band was banned from performing in Pakistan by Nawaz Sharif's government following Salman Ahmad's comment on the nuclear weapons test at Pokhran. Salman Ahmad during an interview in New Delhi had suggested that the Indian and Pakistani governments should spend more on education and health instead of developing weapons of mass destruction. However, Salman Ahmad attributed the band's ban to the song "Ehtesaab" from Kashmakash.
After their studio album Andaz (2001), Dewaar (2003) was the last studio album released by the band after which Ali Azmat and Brian O'Connell left the band.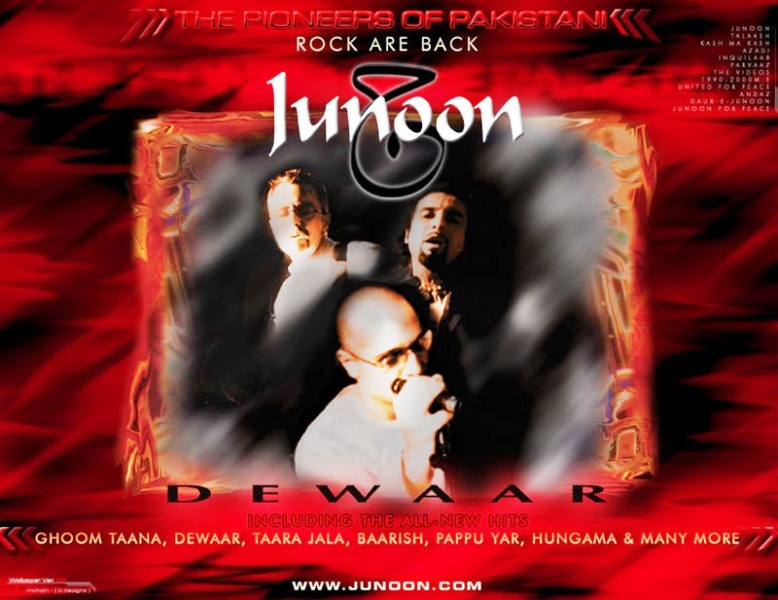 Solo career
In 2005, Azmat released his first solo album Social Circus, which featured the crowd-puller song Na Re Na.
Other albums released by him include Klashinkfolk (2008), Josh-e-Junoon (2010), Bum Phatta (2011), and Chalta Main Jaun (2011). Josh-e-Junoon's title track of the same name became the anthem for Pakistan for the 2011 Cricket World Cup. At the 8th Annual Lux Style Awards (2009), Ali Azmat was nominated in three categories, Best Music Album for Klashinfolk (2008), Best Music Video for Gallan, and Song of the Year for Gallan.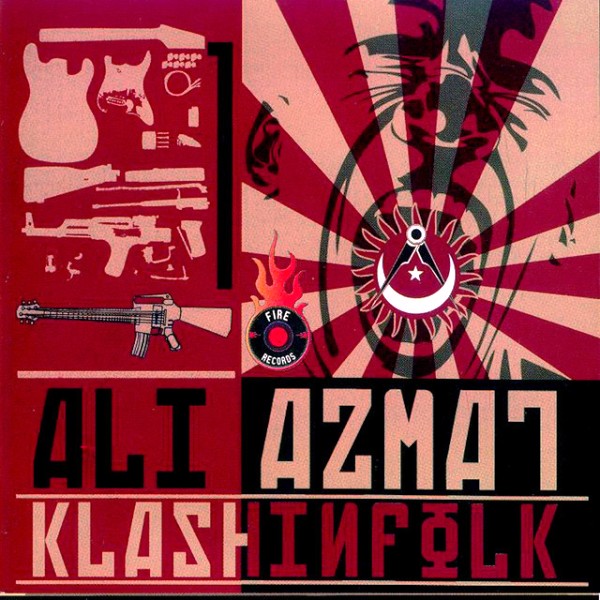 Bollywood
In 2003, Azmat debuted in Bollywood when "Garaj Baras," a track on Junoon's 2003 album Dewaar, featured in the 2003 Indian crime thriller film 'Paap.' In 2012, Azmat worked as a playback singer for the songs 'Yeh Jism Hai Toh Kya' and 'Maula for Bollywood' for the Indian erotic thriller Jism 2.
Others
He has lent his voice to songs featured in the 2013 Pakistani films 'Josh: Independence Through Unity' and 'Waar.' He has also made appearances on various seasons of the Pakistani music television series Coke Studio.
As an Actor 
While working on their second album, the band featured in a Pakistani mini-series Talaash, written by Anwar Maqsood and directed by Atiqa Odho.
In the 2013 Pakistani action-thriller film To Strike (originally titled Waar), he played the role of a politician Ejaz Khan.
In 2022, he starred Pakistani Punjabi-language action drama film 'The Legend of Maula Jatt' as Gogi.
Controversies
Banned by the Pakistani Government
On 14 May 1998, Junoon was in Chandigarh when India tested its nuclear weapons at Pokhran. The following day, while giving interviews to CNN and BBC from their hotel room in New Delhi Salman Ahmad suggested that the Indian and Pakistani governments should spend more on education and health instead of developing weapons of mass destruction. Consequently, the Pakistani Government banned Junoon from performing in the country and imposed bans on the band's music being aired on Pakistani radio or television. [8]The Print Pakistan's Ministry of Information and Culture formally charged Junoon with challenging "the national opinion on the nuclear tests", as well as making comments in India "amounting to sedition and treason". Junoon denied all charges, reminding people of the fact that they had been victimised since the release of "Ehtesaab" because they chose to speak out against political corruption. [9]Gulf News
Slammed For Belittling Noor Jehan
In 2021, Ali Azmat received immense criticism for issuing insensitive remarks about legendary Punjabi playback singer Noor Jehan. [10]BOL News In an interview, Ali Azmat said,
Living in Lahore and playing street cricket in our shorts, we grew up where 11 kids would collect the money to buy a ball, it was obvious for us to completely embrace the cultural invasion by MTV. Our own society and culture weren't really offering anything similar. You put on a show, you would see Noor Jehan draped in a saree, with heavy jewellery and over-the-top makeup. We would get irritated by mai (elderly woman). We would think why would they make us watch this kofta (meatball)."
Pakistani actor and singer Ahmad Ali Butt, the maternal grandson of Noor Jehan, took to his social media to slam Ali Azmat over his derogatory remarks about the iconic singer's appearance saying,
He is one of Pakistan's biggest rock stars, his outspoken attitude has always been his trademark but his recent remarks over Noor Jehan were just in bad taste especially when that person is no longer alive. I'm sure he also knows how big of a legacy Noor Jehan has and 1000 rock bands can't measure up to her 1 song."
Awards, Honours, Achievements
Junoon
'Best International Group' award at the Channel V Awards in New Delhi in 1998
'Best Rock Band' at the Indus Music awards in 2004
Individual
'Best Male Singer Of Pakistan' Award at Indus Style Awards (2006)
'Best Album of the Year' for Social Circus (2005) at Sony Ericsson Lux Style Awards (2006)
'Best Pop Male Artist' at the 3rd Jazz IM Award (2006)
Pisa Rockstar Award (2021)
The Music Awards (T.M.A) (2006)
Best Music Producer Award
Best Album of the Year: Social Circus (2005)
Favourites
Rock Band(s): Queen, Pink Floyd, Dave Matthews Band
Track(s): Decks Dark by Radiohead, Crush by Dave Matthews Band, Why I Am by Dave Matthews Band, Pocketful of Garden by Robert Plant, Elephant Talk by King Crimson
Facts/Trivia
In 1999, the UN recognised Junoon for fostering peace in South Asia. The group was nominated for Best Musical Group at the Lux Style Awards several years in a row.
In an interview, while stating the reasons behind Junoon's disbandment Azmat said that it was Salman Ahmad's constant effort to become the lead singer that led to the end of the group.  Further, he added,


Most people couldn't deal with it and they were like, "Please stop him from singing." Even if I tried, he still thought he was singing really well. And I was like, "Well if you are so cool, then like do it on your own, I don't want to be on stage with you." Also musically, we were growing apart. I would write a song, and he'd be like, "It's great but I don't know if it's for Junoon." So I was like so what is "for Junoon"? So slowly, we drifted apart and he moved to America and that was the last nail in the coffin."

An Eagle dancer tattoo is inked on his left shoulder.
In an interview, he talked about the initial days of his career and said that he used to perform with local bands in schools, colleges, and private events, for which he was paid Rs 500. He said that from Rs 500 he would spend Rs 50 to eat Egg paratha and save the rest. Using the savings, he bought his first bike for Rs 30,000. Meanwhile, he supplemented his income by purchasing flea market goods and selling them at higher rates to his friends. His friends and family, who were unaware of the money he earned from gigs, thought he was a robber when he first purchased a bike. While recalling the same, he said,


Aside from my initial earning from Jupiters, I also purchased products from flea markets and sold them to my rich friends. When I handed the profit to my mother she thought that I had started robbing as well."

Once, in an interview, he revealed that his relatives restricted him from visiting their homes as they did not consider singing a respectable pursuit.