Aleem Dar is a Pakistani cricket umpire and former cricketer. He was the first Pakistani to join the Elite Panel of ICC Umpires and holds the record for officiating in the most test matches and ODIs. In March 2023, he hit the headlines when he stepped down from the Elite Panel after 19 years of service. Dar is also the only Pakistani umpire to have won the ICC Umpire of the Year Award three times in a row.
Wiki/Biography
Aleem Dar was born on Thursday, 6 June 1968 (age 55 years; as of 2023) in Jhang, Punjab, Pakistan. After completing his schooling, Dar pursued a Bachelor of Arts in Humanities at Government Islamia College, Civil Lines, Lahore, Pakistan.
Physical Appearance
Height (approx.): 5′ 10″
Weight (approx.): 75 kg
Hair Colour: Black
Eye Colour: Black
Family
Aleem Dar belongs to a middle-class Muslim family in Punjab, Pakistan.
Parents & Siblings
His father, Sarwar Dar, was an attorney in the Pakistan police and his mother was a homemaker. He has three brothers, Naeem Dar, Waseem Dar, and Azeem Dar. Naeem Dar has served in Pakistan Army and became an entrepreneur after his retirement.
Wife & Children
Aleem is married to Noshaba Banu. The couple has two sons named Hassan Dar and Ali Dar. They had a daughter, Jaweria, who died when she was 6 months old due to epilepsy in 2003. [1]Mid-Day
Religion/Religious Views
Aleem Dar is a follower of Islam.
Signature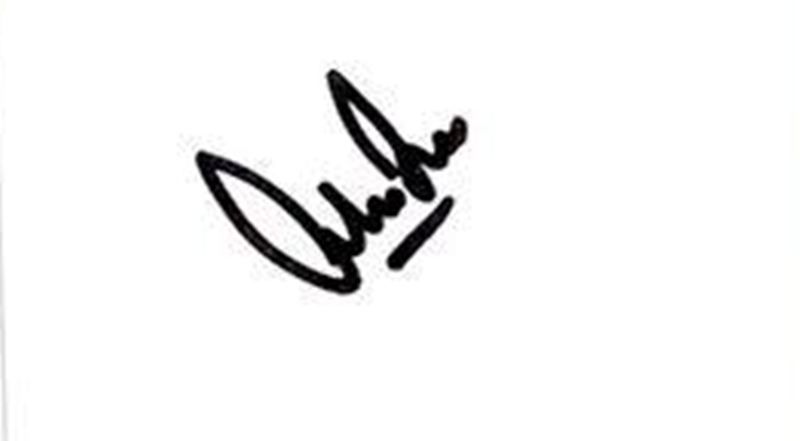 Career
Player
In 1980, Aleem Dar relocated from Jhang to Lahore hoping to become a test cricketer. He began playing first-class cricket for the P & T Gymkhana Club Lahore. He was a leg-spinning all-rounder. He participated in 17 First-Class matches and 18 List-A matches. In FC cricket, he scored a total of 270 runs and took 11 wickets, while in List-A he scored 179 runs and took 15 wickets. Later, he played for many clubs including Pakistan Railways, Gujranwala Cricket Association, and Income Tax Department in the BCCP Patrons Trophy Grade II.
Umpire
In 1996, the Pakistan Cricket Board (PCB) created a group of umpires from first-class cricketers in which Dar got a place too. Aleem Dar supervised his first-class match in 1999 which was played between Sargodha and LCCA. He officiated a total of 19 matches as an umpire in the first season. Seeing his performance, PCB placed him in the international panel just after 15 months of his career.
On February 16, 2000, he made his One-Day International (ODI) umpiring debut in a match between Sri Lanka and Pakistan in Gujranwala. With only one year of experience, he was able to officiate an international match. In 2000, he umpired many domestic national matches and later that year, he was appointed TV umpire in Rawalpindi Test against England.
On 21 October 2003, he umpired his first test match between Bangladesh and England in Dhaka. He made his Twenty20 cricket debut on 7 May 2009, in a match between Australia and Pakistan in Dubai.
In 2002, Aleem Dar's consistent performance earned him a place on the ICC International Panel of Umpires. In 2003, he was selected to umpire the ICC World Cup in South Africa and subsequently became a member of the Elite Panel of ICC Umpires, the first Pakistani to do so. On 17 October 2007, he reached the milestone of umpiring 100 ODI matches in just 7 years, becoming the 10th umpire worldwide and the first Pakistani to achieve this feat.
Aleem umpired in the finals of the 2006 ICC Champions Trophy, 2007 Cricket World Cup, and 2010 ICC World Twenty20. He also officiated matches in the 2011, 2015, and 2019 Cricket World Cups. In March 2023, Aleem Dar stepped down from the Elite Panel of ICC Umpires after officiating a record 444 international matches. As of 2023, Aleem holds the record for officiating the most test matches (145) and ODIs (229). Discussing his career as a member of the Elite panel he said,
It has been a long journey, but I have enjoyed every bit of it. I have had the pleasure and honor of umpiring the world over and what I have achieved is something I did not even dream of when I started in the profession."
Controversy
Suspension from T20 Championship 2007
During the 2007 World Cup final match between Australia and Sri Lanka, umpire Aleem Dar created controversy by allowing Australia to bowl three extra overs in near darkness. This decision was made due to Dar's lack of knowledge about the playing conditions of the Duckworth-Lewis system. As a result of this controversial decision, Dar and other officials including Steve Bucknor, Rudi Koertzen, Billy Bowden and Jeff Crowe were suspended by the International Cricket Council (ICC) from their duties during the 2007 World Twenty20 Championship. [2]The Sydney Morning Herald
Awards, Honours, Achievements
ICC  David Shepherd Trophy: Umpire of the Year 2009, 2010, 2011
Presidential Pride of Performance 2010 by Pakistan Government
Honoured by Pakistan Cricket Board (PCB) for officiating the 2011 World Cup with a 100% track record
Honoured by ICC (International Cricket Council) for officiating in 150 ODIs in 2012
Sitara-e-Imtiaz (Star of Excellence) by Pakistan Government in 2013
Favourites
Idol: Steve Bucknor, Ather Zaidi
Facts/Trivia
Aleem Dar is the first umpire who has officiated in 500 international matches.
He offered free food at his restaurant, Dar's Delighto Lahore, to jobless people during the Covid-19 pandemic. [3]

The Indian Express
Aleem Dar maintains his fitness and health for matches by working out, playing table tennis, and ensuring he gets eight hours of sleep each day.
Disappointed with his performance in cricket, he moved to the USA and started working as a cab driver before becoming an umpire.
The topper of the ACCA (Association of Chartered Certified Accountants) exam 2020, Zara Naeem Dar, is the niece of Aleem Dar. [4]

Lahore Herald
His other niece, Haleema Dar, is a cricketer and played in ICC U-19 Women's World Cup 2023. [5]

ESPNcricinfo
Aleem Dar was nominated for the ICC David Shepherd Trophy in 2005 and 2006.
To honour Aleem Dar, PCB (Pakistan Cricket Board) has named the umpire's room in the Gaddafi Stadium in Karachi after him. [6]

Cricket Country
He dedicated his third consecutive ICC Umpire of the Year award to the flood and dengue disease victims in Pakistan.
Asad Rauf and Aleem Dar both made their ODI debut in the same match in 2000.
In the 2011 World Cup, his performance was outstanding. Every one of the 15 challenges raised by players to his decisions was unsuccessful. Impressed with his performance, Pakistan Cricket Board (PCB) and Pakistan Government honoured him.
In 2005, during a Test match between England and South Africa at Centurion, umpires Aleem Dar and Steve Bucknor received death threats.
In 2015, Aleem was withdrawn by ICC after officiating 3 matches in the India-South Africa 5-matches ODI series. ICC (International Cricket Council) withdrew him citing the fear of security breach as members of Shivsena stormed the Board of Control for Cricket in India (BCCI) offices, and threatened to prevent the umpire from officiating in the fifth ODI.
He is constantly striving to improve conditions for players. In Jowar town, Lahore, Pakistan, he opened the Aleem Dar Cricket Academy (ADCA), where he trains deaf students free of charge. He has also advocated for an increase in umpire salaries in Pakistan to encourage efficient and young players to pursue this career path.