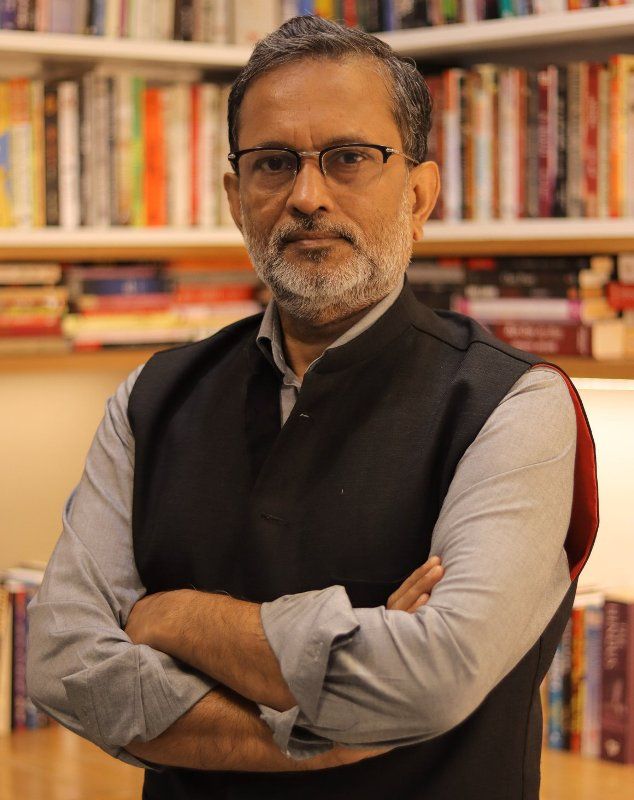 Ajit Anjum is a veteran Indian journalist having over three decades of experience in the field of journalism under his belt. Over the course of his career, he has worked with several leading news media houses in senior roles including India Today, Aaj Tak, and News 24. In the desire to work independently, Ajit started a YouTube channel by his name in March 2020. On his YouTube channel, he uploads videos related to news and ongoing topics with extensive ground reporting.
Wiki/Biography
Ajit Anjum was born on Monday 7 April 1969 (age 52 years; as of 2021) in Begusarai district, Bihar, India. His zodiac sign is Aries. Owing to frequent transfers of his father, Ajit took schooling in different cities. One of the schools that he studied at was Town High School, Hajipur. He passed class 12 from Darbhanga's and thereafter graduated in History honours from Langat Singh College, Muzaffarpur, affiliated to Bihar University.
Family & Caste
Parents & Siblings
His father, Ramsagar Prasad Singh, was a district court judge in Bihar. Ramsagar died because of a heart attack on 20 March 2011.
Wife & Children
Ajit Anjum is married to Geeta Shree, who is also a journalist by profession. They together have a daughter named Jiya.
Career
Print
Ajit developed an interest in reading and writing news while studying in college. His first piece of writing that got published in a newspaper was a letter to the editor that he wrote to the editor of Patliputra Times. It was in 1987. He was in college at that time. To get a better understanding of journalism, he started reading various popular journals and magazines of that time, such as 'Hindustan Dainik' 'Nav Bharat Times'. Simultaneously, collect ground reports about problems in neighbouring cities, write about them, and send the writings to regional and national newspapers in Delhi. Gradually, newspapers started publishing his writings. This strengthened his determination to pursue journalism as a professional career. During his early journalism days, he worked as a freelancer for many regional dailies, such as Dharmyug, Saptahik Hindustan, Dinmaan, and Ravivar. He acquired his first full-time job in 1989 as a news writer at a regional newspaper, Chothi Duniya. At that time, one did not require a journalism degree to get recruited as a journalist. He did ground reporting for Chothi Duniya during the 1989 Indian general election.
In 1990, he moved to Delhi after getting recruited by Amar Ujala. He worked for Amar Ujala as a reporter from 1990 to 1994.
Broadcast
In 1994, he joined BAG films as a freelancer. His job included making investigative documentaries on different subjects for Doordarshan.
After working as a freelancer for three months, he joined BAG films as a permanent employee in 1995. He used to get Rs. 10,000 as his salary when he had joined the job. He joined Aaj Tak news channel in 2002, worked there for a year, and then rejoined BAG films in 2001. He came back to BAG Films because at that time there were many programs being planned for Star News, a subsidiary of BAG Films. In the next few years, he conceptualised several shows on Star News including Pol Khol (started in 2004) Red Alert, and Sansani. In 2007, BAG Films launched News 24 news channel and appointed Ajit Anjum as its managing editor.
Ajit left his job at News 24 and acquired the post of managing director at India TV in 2014.
He left India TV in 2017 and started doing freelance journalism. Later, Associated Broadcasting Company Pvt Ltd (ABCPL) launched its Hindi news channel TV9 Bharatvarsh in March 2019 and appointed Ajit Anjum as its consulting editor.
Within a span of few months, in September 2019, he left TV9 Bharatvarsh owing to some differences with the channel. One of them (as revealed by Ajit himself) was his program on TV9 Bharatvarsh, 'Debate With Ajit Anjum,' being reduced from an hour to half an hour. Ajit told in an interview that the management team of TV9 Bharatvarsh was uncomfortable about him being critical about the current BJP regime in the nation and the way he rigorously questioned people from the ruling party. He also ended his career on Television news channels with his resignation from TV9 Bharatvarsh. Here is a tweet that he posted after the resignation.
इन चंद पंक्तियों के साथ आज मैंने TV9 भारतवर्ष से नाता तोड़ लिया.. pic.twitter.com/sl6d8aPIyF

— Ajit Anjum (@ajitanjum) September 6, 2019
In another tweet, he wrote, "Now I am free. From all the restrictions and limitations. My anger was not allowing it to withstand all this."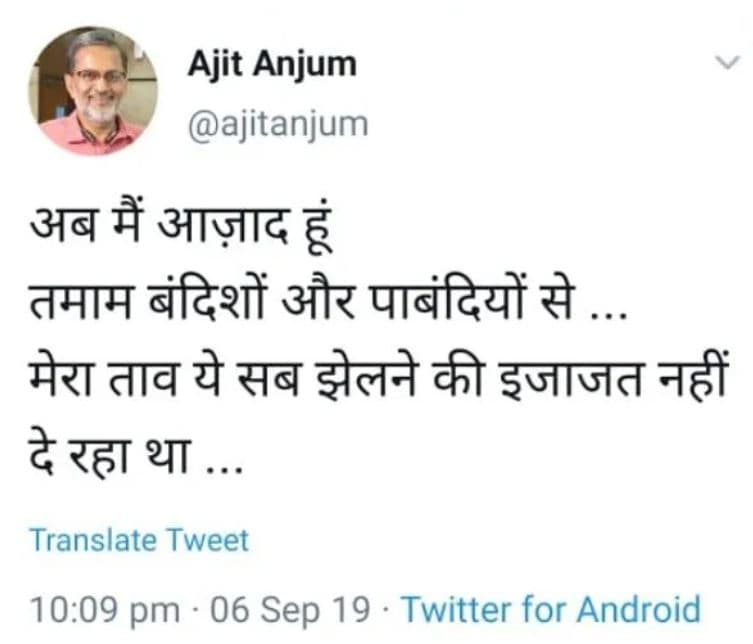 YouTube
As revealed by Ajit Anjum, the restraints that were put on him while he worked in the mainstream media houses were compromising with his journalism ethics, so he decided to continue his journalism career on YouTube. He started a YouTube news channel by his own name, 'Ajit Anjum,' in March 2020.
As per an interview with Kumar Shyam in February 2021, Anjum said that considering the current state of Indian media, he would never like to return to any television news channel. He added that working independently on YouTube has given him immense satisfaction, and he considers it as the golden period of his journalism career. [1]Kumar Shyam YouTube
Awards & Achievements
For his tremendous reporting and coverage during the Bihar floods 2010, he was awarded the prestigious Ramnath Goenka Excellence Award in Journalism.
Considering his endeavour in journalism, he was included in the list of 50 most powerful people of Bihar by Fem magazine in 2016.
He was conferred with National Dushyant Kumar Award in 2017.
Facts/Trivia
Ajit wasn't born with Anjum as his surname. His full name was Ajit Kumar even until the initial days of his career. He changed his surname from 'Kumar' to 'Anjum' as the name Ajit Kumar was quite common among the news writers during those days.
Ajit met his wife, Geeta Shree, while he was working as a reporter for Amar Ujala in the early 90s. Initially, Ajit's family was against their marriage; however, they accepted it after some time.
In his career, he has interviewed many prominent figures from all quarters, including former Pakistani Prime Minister Nawaz Sharif, legendary Indian actor Amitabh Bachchan, and many more.
He enjoys watching old Hindi movies with his favourite actor being Shah Rukh Khan.