Yashica Dutt is one of the leading Indian writers, authors, and journalists, based in New York. She is recognised across the globe for her work on the excruciating set of issues on gender equality, identity, caste, and class.
Wiki/Biography
Yashica Dutt was born on Wednesday, 5 February 1986 (age 36 years; as of 2022) in Ajmer, Rajasthan. [1]The Indian Express
She studied at Sophia Boarding School in Merta City, Nagpur, India, and she then pursued a Bachelor of Science degree at St. Stephen's College, New Delhi, India. [2]Yashica Dutt – LinkedIn Later, she completed a master's degree in Arts and Culture Journalism at Columbia University in New York, United States. [3]Civil Society
Physical Appearance
Height (approx.): 5′ 3″
Hair Colour: Medium Brown
Eye Colour: Dark Brown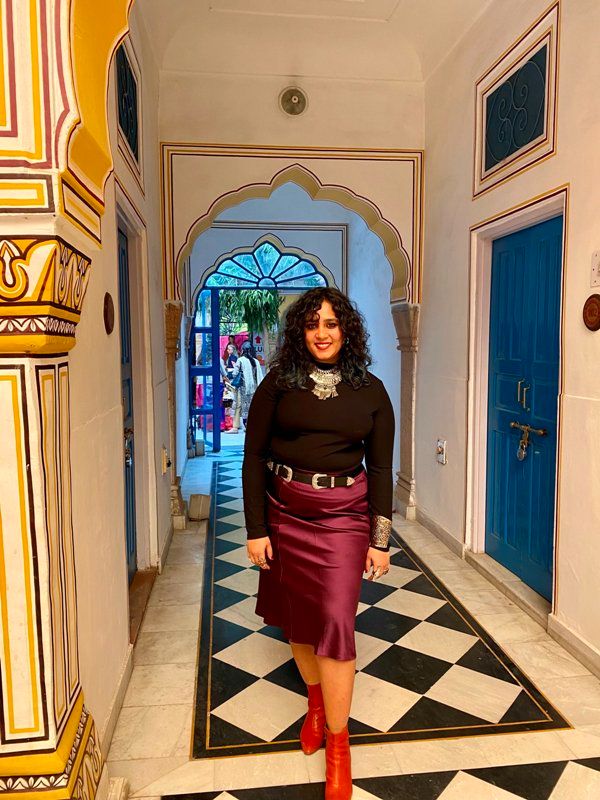 Family
Yashica Dutt belongs to an impoverished family in Rajasthan. [4]The Wire
Parents & Siblings
Yashica Dutt's father was an excise officer, and her mother, Shashi, [5]The Guardian worked at several jobs. [6]Civil Society She has two siblings. [7]The Guardian
Caste
Yashica Dutt grew up in a family belonging to the group which is considered at the bottom of the caste system hierarchy in Indian society, i.e., Dalit, also called untouchable. She grew up learning to conceal her identity as a Dalit. Yashica was seven years old when she joined a boarding school in Merta City, located in the Nagpur district in Rajasthan, India. Her mother, Shashi, was concerned about her admission to a good private school as she was familiar with her financial condition and the discrimination in society based on caste. Yashica's mother advised her to hide her identity of being Dalit and to pretend to be 'upper-caste' to ensure a secure and discrimination-free journey of education in the school. As she was studying in a boarding school, she was living with the girls from the 'upper-caste' which helped her to pretend to be one of them in a better way by observing and adapting their lifestyle. [8]Scroll According to Yashica, while she was studying in a boarding school, she faced discrimination for her dusky skin colour, and she started applying a face pack made by her mother so that she could conceal her dusky skin colour. [9]Scroll.in Being educated from a convent school and having a 'dusky' skin tone, Yashica could easily appear as a non-Dalit. Her family dropped the use of the surname 'Nidaniya' and switched to the surname 'Dutt.' [10]PBS NewsHour Yashica Dutt's first public confession of being 'low-caste' was at the age of 15, when she visited one of her friends' home (like she always did), her friend's mother invited her inside and offered her a glass of water. Yashica was sitting across from her friend's parents when they came up with the question about her caste to which she decided to answer honestly and told them the truth. Right after learning about her caste, they tried to explain themselves as liberal and then asked her to leave. After a few days, when she met her friend and tried to talk to her, her friend told her that her parents have asked her to stop being in touch with her. [11]PBS News Hour
In 2016, in an interview, Yashica Dutt talked about her school and college days when she used to conceal her identity as a Dalit. She revealed that she used to do that with such conviction that people would instantly believe her. She said,
My convent school education, a non-Dalit sounding last name, and a skin color that was 'dusky but still not dirty' eased my passing as a non-Dalit. "Beta, what caste are you from?" "Aunty, Brahmin." A lie I spoke so often and with such conviction, that I not only fooled my friends' mothers but even myself. [12]The Indian Express"
Yashica Dutt kept her caste hidden for more than a decade. [13]PBS News Hour Following the incident of Rohith Vemula, an Indian PhD student at Hyderabad Central University, who committed suicide to protest against the discrimination faced by all Dalits across South Asia including him, declared herself a Dalit in 2016. [14]PBS News Hour She invited the Dalits to write down their stories and share them on Facebook and Tumbler. [15]PBS NewsHour
Career
Journalist
Yashica Dutt has worked as a Principal Correspondent at Brunch, Hindustan Times. [16]The Indian Express She has worked as a freelancer journalist with The Wire, Livemint, HuffPost India, and Scroll.in as well. [17]Apple Podcasts
Writer
Yashica Dutt joined Hindustan Times as a Fashion writer in 2011. She has written many articles and essays such as 'The Spector of Caste in Silicon Valley' (14 July 2020), published in the New York Times, 'The Oscar Nominated Fim That Offers a Masterclass in Journalism' (14 February 2022), published in The Atlantic, 'Feeling Like an Outcaste – An Indian Dalit Reading of Isabel Wilkerson's Bestseller 'Caste' ' (17 September 2020), published in Foreign Policy, 'Long Live Comrade Gail' (12 September 2021), published in Foreign Policy, and 'Indian Matchmaking Exposes the Easy Acceptance of Caste' (1 August 2020), published in The Atlantic. [18]Yashica Dutt
Author
'Coming Out as Dalit: A Memoir' (2019), a book by Yashica Dutt, draws attention to the Indian Racism faced by the Dalits. It reveals her journey as an 'assumed non-Dalit' to pull herself through the social stratum for more than a decade. She has expressed her views on how Dalits have to hide their identity to survive in society. Yashica Dutt in 'Coming Out as Dalit: A Memoir' says,
"We leave behind our food, our songs, our culture and our last names, so we can be 'better' and 'purer', more 'upper' caste and less Dalit. We don't leave our Dalitness behind just so we can blend more easily. We do it because sometimes that's our only option." [19]Yashica Dutt
According to Yashica, the inspiration to write this book came from the experiences of many Dalits that they shared on 'Document of Dalit Discrimination,' a platform launched by Yashica for Dalits to share their stories of caste discrimination; Yashica launched this platform to give a wide space for Dalits to share their experiences which they didn't get in the newsrooms of traditional media houses. 'Coming Out as Dalit: A Memoir' went on to win many awards. [20]Yashica Dutt
Awards
She received the Sahitya Akademi Yuva Puruskar (India's National Letters' Award) in 2020 for her book 'Coming Out as Dalit: A Memoir' (2019).
Favourites
Food: Eggs, Toast, and Seafood [21]Instagram
Facts/Trivia