Urooj Ashfaq is a prominent face among the rising comic stars in India. She is well-known for her dark and absurd humour. She has also worked as a comedy content writer for shows like 'Son of Abish,' 'Die Trying' and, for many videos of All India Bakchod (AIB). Although she is a talented writer, her forte is stand-up comedy. Apart from stand-up and content writing, she has also acted in a few videos, and in a  web series, 'Pushpavalli' (2017).
Wiki/Biography
Urooj Ashfaq was born on Thursday, 24 August 1995 (age 25 years; as in 2020). She grew up in Abu Dhabi and moved to Mumbai when she was twelve years old. She did her schooling from Ryan International School, Mumbai. Later, she went on to do her graduation in psychology from Jai Hind College, Mumbai. She won several stand-up comedy competitions while she was in Mumbai; until she finally made her debut in TLC's Queens of Comedy (2017), India's first-ever female stand up comedy show.
Physical Appearance
Height (approx.): 5'4″
Hair Color: Black
Eye Color: Black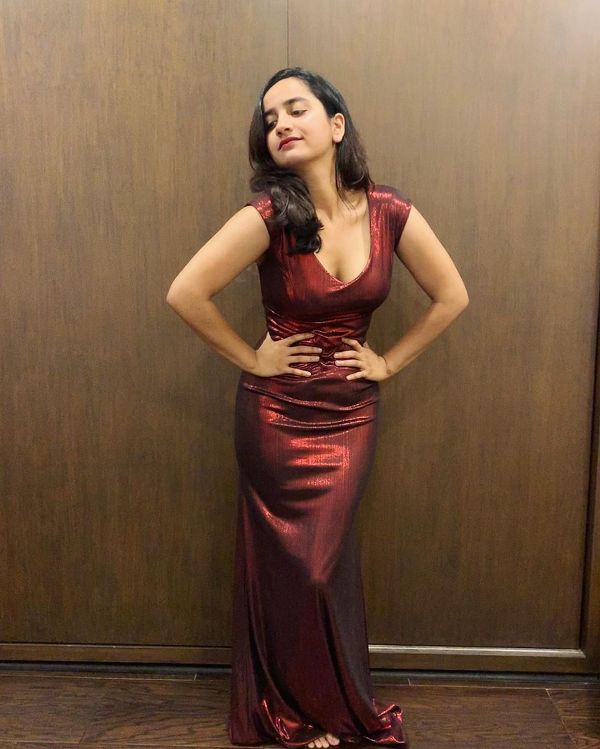 Family & Caste
Urooj was born into a Muslim family [1]YouTube living in Abu Dhabi. The family later moved to Mumbai when Urooj was twelve years old. Despite being born into a Muslim family, Urooj claims to be an atheist [2]Opindia.
Parents
Urooj Ashfaq's mother's name is Rubina Ashfaq. Not much is known about her father. She lives with her parents in Kharghar, Navi Mumbai.
Relationships, Husband & Children
Urooj Asfaq is a young bachelorette.
Career
Television Series
Urooj made her debut in the TLC's 'Queens of Comedy' (2017), India's first-ever female stand-up comedy show. She was among the top 3 contestants, and one of the most loved comics on the show. Her dark and absurd humour was her signature style on the show. 'Queens of Comedy' was the platform which attracted fame for her.
Comedy Content Writer
Urooj Ashfaq started off her career as a comedy content writer in 2014. She worked with Abish Mathew for his show, 'Son of Abish,' a comedy talk show. In 2016, she did two months internship with All India Bakchod (AIB). In 2017, Urooj wrote content for another AIB video 'Honest Engineering Campus Placements.' She has also written content for 'Die Trying (2018),' an Amazon Prime series starring Kenny Sebastian.
YouTube And Web Series
Urooj featured in an AIB video, 'If Apps Were People(2017),' in which she played the role of 'Supriya,' a girl who is trying to avoid distractions caused by the apps on her phone, which went viral.
Urooj Ashfaq played the character of  'Tara' in 'Pushpavalli' (2017), an Indian web television comedy-drama series.
In 2019, she hosted 'Comicstaan,' an Indian stand-up comedy television series that aired on Amazon Prime. Being a professional comedian herself, she also mentored the contestants off-screen.
Urooj Ashfaq also an active YouTuber, and she regularly uploads various stand-up videos on her channel.  In one such video titled  'Casual Relationships' that she uploaded on YouTube in 2020, she took a dig about modern dating issues.
Controversies
Urooj Ashfaq participated in the anti-CAA rally, which was held at the historic August Kranti Maidan in Mumbai. Thousands of protesters had gathered there to protest against the Citizenship Act. Apparently, The Citizenship (Amendment) Act received a lot of criticism for discriminating on the basis of religion, as the protesters believed that CAA was communal and discriminated against the followers of Islam. Urooj uploaded a picture on Instagram, holding a banner with a message for the Prime Minister of the country, Narendra Modi. She was criticised by her fans and followers for behaving like illiterates, and not understanding the amendment.
On 19 March 2018, Urooj was again slammed for being insensitive to Hinduism. She tweeted that beef should be cooked at the 'Yagnya,' a religious Hindu ceremony, which was about to be held at Madhya Pradesh. Hindus consider the cow to be a sacred animal. Hence, the statement triggered their anger. [3]

Opindia
Even after being bashed on social media, she did not agree to apologize for her statement. On contrary, in her consecutive tweet, she had the audacity to say that she would do so more often.

Achievements
Winner, FemaPalooza, in April 2017 at Mumbai.
Urooj was among the top three contestants on the TLC's show 'Queens of Comedy.'
Urooj has won several stand-up competitions in Mumbai.
Favourite Things
Book:  'India After Gandhi' by Ramachandra Guha
Show:  Big Mouth (An American series)
Facts/Trivia
Urooj Ashfaq occasionally consumes alcohol. She often uploads pictures enjoying a drink alongside her food or with her friends on social media platforms.

Urooj began to visit and perform at open mics to optimise her gap year along with her friend Sumaira Shaikh who is also a stand-up comedian. Earlier, Urooj had completed her graduation in psychology and tried to get admission at various colleges for her masters. To her utter disappointment, she wasn't admitted by any of the colleges, and hence, she had a gap year.
Ever since her childhood, Urooj was a funny girl. Her extrovert behaviour and confidence attracted people around her. She cracked jokes to break-the-ice and made friends. In an interview, she said,


I've always been the class clown. It's just my way of making friends. I make a joke, diffuse any tension and make friends"

Stand-up comedy is Urooj's forte. She jokes about all kinds of weird topics, such as cannibalism, burquas, tattoos, psychopaths, waxing, etc.