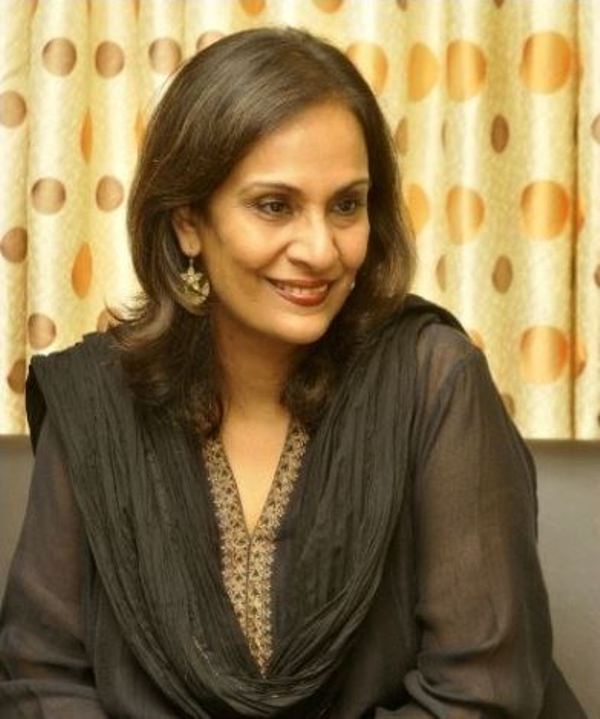 Tina Sani is a Pakistani singer. She is one of the most renowned ghazal singers of Pakistan. She is best known for singing the poetry of Faiz Ahmad Faiz.
Wiki/Biography
Tina Sani was born on Saturday, 20 November 1954 (age 69 years; as of 2023) in Dacca, East Pakistan (present-day Dhaka, Bangladesh). Her zodiac sign is Scorpio. At the age of 11, due to her father's transfer, she moved to Kabul along with her family, she spent her teenage years in Kabul, Afghanistan. During her time in Kabul, she studied in an international American school. Later, she moved to Karachi. She completed her schooling at the Karachi American School. She pursued her graduation in commercial art. Tina's father was a trained Sitar player and encouraged Tina to learn classical music. She started training in classical music from Ustad Nizamuddin Khan, son of Ustad Ramzan Khan of Delhi Gharana, and later improved her skills under the guidance of Ustad Chand Amrohvi. Tina also received special training from ghazal maestro Mehdi Hassan.
Physical Appearance
Height (approx.): 5′ 5″
Hair Colour: Grey
Eye Colour: Black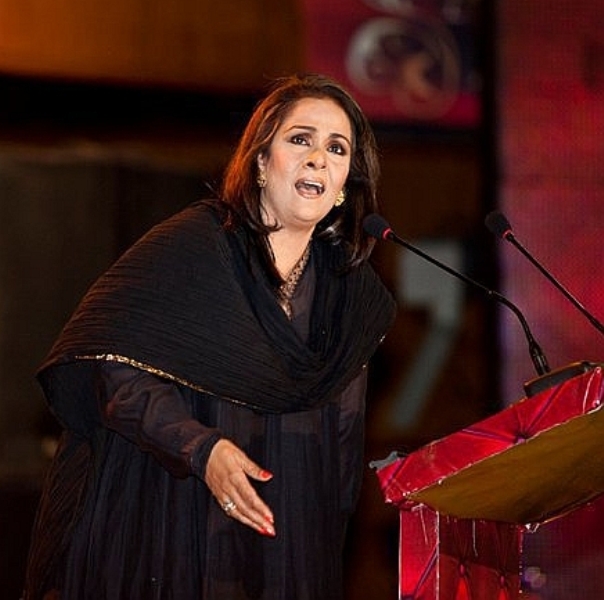 Family
Parents & Siblings
Tina Sani's father, Nisar Sani, worked in an oil company, and her mother was a homemaker.
Husband & Children
Tina Sami is married to a Pakistani banker Tahir and has a son, Nasir Siddiqui, who was born in 1996. Talking about how she met her husband Tina said,
Tahir was a banker and I first met him when he came to our house to meet my dad for some business project. While we took a loan from Tahir's bank for a studio I was putting up, we ended up becoming very good friends. There was no romance involved whatsoever in our relationship. However, that friendship soon turned into a lifelong commitment and a beautiful bond, which continues getting stronger with the passage of time." [1]The News International
Career
In 1980, while Tina Sani training under Ustad Nizamuddin Khan, producer Ishrat Ansari approached Tina to sing in a new television programme he was starting. It was a programme for students. The purpose of the programme was to introduce a new singer every week. Tina took part in the programme and sang a Punjabi song, Akhan chham chham Wassiyan, for which she had been training for a long time. After the programme, Tina Sani became famous, and her singing career took off. Her second song, Khari Neem Kay Neechay, a folk song of Thar, became another big hit. Khari Neem Kay Neechay was an Urdu song that was the title song for a television play. After the success of her second song, Tina got signed up by EMI, a Pakistani recording company. [2]Herald
She was influenced by famous ghazal singers like Mehdi Hassan, Malika Pukhraj, Begum Akhtar, Mukhtar Begum and Farida Khanum but has her own style of singing. According to Tina, she never really was a Ghazal kind of person, and was more influenced by Nazms and Western music, she also said,
For a while I had thought I was going to represent crisp classic music but I evolved myself out of it. Ghazal was never my favourite. It was always nazm. To me, nazm was this perfect blend of a dialogue which I wanted to do. It is almost like a musical narration with just a hint of music."
In 1985, Pakistani actor and music composer Arshad Mehmood offered her to sing a Nazm by Pakistani poet Faiz Ahmad Faiz. She sang one of the famous songs by the poet, Meray Dil Meray Musafir, which became a hit. She became popular after singing poems of Faiz including Bahaar Aayi and Bol ke lab azad hain Terey. After singing the poetry by Faiz, Tina Sami did renditions of many popular poets including Zauq, Ghalib, Mir Taqi Mir, and Jalaluddin Rumi. In 2013, Tina Sani sang Faiz's Mori Araj Suno (Listen to my requests) for Coke Studio Season 3 along with a reading by Arieb Azhar, a Pakistani musician.
Tina Sani has performed her music all across the globe. In 2010, she performed in Ireland, where she sang Allama Iqbal's "Shikwa Jawab- e-Shikwa" alongside Irish musicians. Tina Sani performed alongside Jagjit Singh in many concerts across India to celebrate the life of the Pakistani poet Faiz Ahmad Faiz. In 2016, Tina Sani was a part of the Lahore Music Meet during which she conducted panel discussions, workshops and storytelling sessions. She has sung many songs for the Pakistani TV and film industry including PTV's 'Moorat', Hum TV's Bari Aapa, and ARY Zindagi's 'Bahu Begum'.
Awards & Honours
In 2003, Tina Sani was honoured with the Hasan-e-Persifani Medal by Pervez Musharraf, the tenth president of Pakistan.
In 2011, she was awarded the Outstanding Performance Award by Pratibha Patil, the 12th president of India, during the Faiz Ahmed Faiz centenary celebrations.
In 2004, she was awarded The Pride of Performance Award by the Government of Pakistan.
In 2017, she was awarded the Lifetime Achievement Award at the Lux Style Awards.
Favourites
 Adele, Barbara Streisand
Singer(s): Mehdi Hasan Sahib,  Adele, Barbara Streisand
Facts/Trivia
In an interview, talking about the reason she became a singer, she claimed that she never planned on becoming a singer but her father's love for classical music made her pursue music and  said,


When I started doing music, it was not to become a singer. It was just because I loved music, because my dad loved music and there was this great classical ustad, Nizamuddin Khan sahab, who luckily was around. It is just that I had a good voice and everybody would tell my father that I should learn classical music. My dad loved classical music and I was my dad's pet. I would do anything to please him. But when the ustad came over, I had absolutely no idea what were the etiquettes of learning music. Till then, I would not understand why my father or anyone listening to classical music nodded in praise. It all sounded the same to me. I pretty much grew up on Western music. I was a huge admirer of Barbara Streisand."
In March 2023, Tina Sani was featured on Spotify EQUAL's digital billboard at Times Square, NYC with her song 'Dasht-e-Tanhai' being featured on Spotify's EQUAL Pakistan playlist.
In March 2023, a video of Tina Sani went viral on social media in which she was seen singing Faiz Sahib's ghazal to Shoaib Hashmi, son-in-law of Faiz Ahmad Faiz.
Singer Tina Sani sings Faiz Sahib's ghazal to Shoaib Hashmi(son in law of Faiz Ahmad Faiz )who passed away a few days back. A very poignant moment .😓#فیض_احمد_فیض#ٹیناثانی #شعیب_ہاشمی

💐💕💐💕 pic.twitter.com/otIJHUaJpN

— زاہد مُغل. . 🖋️ Zahid Mughal (@zahidRMirza) May 20, 2023