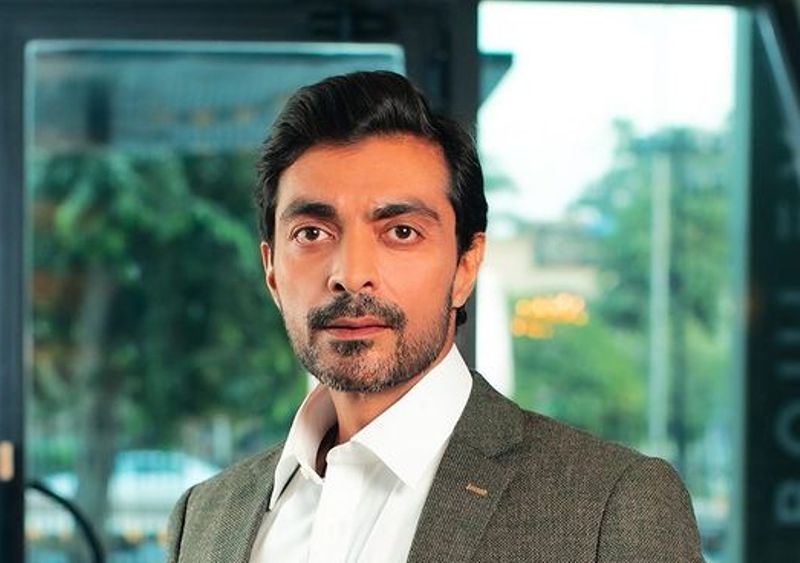 Alyy Khan is a Pakistani-British actor who works in Indian, American, British, and Pakistani films and television series. He is known for his appearance in films like 'A Mighty Heart' (2007) (American), 'Don 2' (2011) (Indian), and 'Actor in Law' (2016) (Pakistani).
Wiki/Biography
Alyy Khan (also spelt as Aly Khan) was born on Friday, 6 December 1968 (age 54 years; as of 2022) in Karachi, Pakistan. His zodiac sign is Sagittarius. According to Alyy, he relocated to the United Kingdom from Pakistan along with his family when he was about 7 years old. He, however, came to Mumbai, India, with his family at the age of 10. Alyy Khan attended the Bombay Scottish School, Mahim, Mumbai. He pursued a diploma in film and television production at Pimlico Academy in London, England. Alyy Khan studied drama under the guidance of Hima Devi, an instructor affiliated with Trinity College, London; his training took place at the Hima Kala Kendra, located in Mumbai.
Physical Appearance
Height (approx.): 5′ 10″
Weight (approx.): 70 kg
Hair Colour: Medium Brown (dyed)
Eye Colour: Brown
Family
Alyy Khan belongs to a Muslim family.
Parents & Siblings
His father's name is Muneer (deceased), and his mother's name is Rasheeda Khan; Rasheeda worked as a receptionist after relocating to the United Kingdom following her divorce from Muneer.
Alyy Khan has an elder sister named Tanya Rehman.
In an interview, Alyy talked about his parents' divorce and recounted a poignant morning in Karachi when he and his sister Tanya were about to leave for school. It was then that their father revealed his and their mother's decision to part ways. Alyy and Tanya were left with the heartbreaking choice of deciding who they wished to live with. While Tanya promptly opted to stay with mother, Alyy decided to live with father; however, by the end of the day, Alyy decided to stay with his mother instead. [1]ARY Zindagi – YouTube
Wife & Children
Alyy Khan got married to Chandni Saigol, a teacher, on 9 October 2005. In an interview, Alyy mentioned that he met Chandni Saigol in Karachi, where he travelled with Jagjit Singh, an Indian composer, musician, and singer, and Farida Khanum, a Pakistani singer, for a show. The chemistry between Alyy and Chandni was instant and irresistible, leading them to exchange vows within just three months of their first meeting. The couple has a daughter named Inaya Khan and a son named Rayaan Khan.
Other Relatives
According to Alyy Khan, Pakistani singer-songwriter Junaid Jamshed is his cousin, which makes him related to Junaid Jamshed's brother Humayun Jamshed and Sherry Jahangir (of Jinnah Se Quaid-i-Azam fame).
Religion
Alyy Khan follows Islam.
Career
Film
Bollywood
Alyy Khan debuted in Bollywood with the film 'Deham' in 2001 in which he appeared as 'Jeetu.'
In 2003, he played the role of 'Major Raghav Seth' in a sports-drama film titled 'Stumped.' Alyy appeared as Satish Chaudhary in the drama film 'Luck by Chance' (2009). He played the role of 'J. K. Diwan' in the 2011 action thriller film 'Don 2.'
Alyy Khan appeared in many other films including 'Sssshhh…' (2003), 'Nazar' (2005), 'Do Paise Ki Dhoop, Chaar Aane Ki Baarish' (2009), and 'Jo Hum Chahein' (2011).
Hollywood
In 2006, Alyy Khan appeared as 'Mohan Singh' in the British TV film 'Sharpe's Challenge,' which was based on English-American writer Bernard Cornwell's historical fiction novels about the British soldier Richard Sharpe during the Napoleonic Wars.
In 2007, he played the role of Sheikh Omar in an American drama film titled 'A Mighty Heart.' He appeared as 'Ahmed Khan' in the 2011 coming-of-age British drama film 'Everywhere and Nowhere.' In 2017, Alyy played the role of 'Neal Kumar' in an American drama film titled 'The Valley.' In the same year, he was nominated for Best Actor in a Feature Film award at the International Filmmaker Festival of World Cinema, Berlin and at the Northeast Film Festival (NEFF), US, for the film The Valley; Alyy was nominated for Best Actor award at International Filmmaker Festival of World Cinema, Milan, as well for the film.
In 2020, Alyy played the role of 'Bashir' in a drama film titled 'Mogul Mowgli,' which premiered in the Panorama section at the 70th Berlin International Film Festival on 21 February 2020. In 2021, Alyy Khan was nominated for the Best Supporting Actor award at British Independent Film Awards (BIFA) for his work in the film 'Mogul Mowgli.'
Lollywood
Alyy Khan has worked in many Pakistani films as well. In 2013, he played the role of 'Wajahat Ali' in a romantic drama telefilm titled 'Anjuman.'
In 2015, he lent his voice to the character young Mangu in the 3D computer-animated adventure film '3 Bahadur,' it was Pakistan's first computer-animated feature-length film. Alyy Khan worked in many other Pakistani films including 'Mah e Mir' (2016), and 'Zindagi Kitni Haseen Hay' (2016).
Television
Indian
Alyy Khan appeared as 'Vikram' in a sitcom titled 'Dekh Bhai Dekh' (1993), which premiered on DD Metro (also known as DD 2). In 1994, he appeared as 'Kabir' in the television drama series 'Banegi Apni Baat,' which aired on the channel Zee TV. Alyy made episodic appearances in the horror thriller television anthology series 'Ssshhhh…Koi Hai' as Rakesh (in the episode 'Talaash' – 2001), Rohan (in the episode 'Chehre Pe Chehra' – 2002), and Ajitabh (in the episode 'Jinnaat' – 2002); the TV series was aired on StarPlus. Alyy Khan appeared in many other Hindi-language television series such as StarPlus' 'K. Street Pali Hill' (2004).
Pakistani
In 2008, Alyy Khan played the role of Jalaal Ahmed in the comedy-drama television series 'Yeh Zindagi Hai,' which aired on Geo Entertainment (also known as Har Pal Geo) channel. In 2012, he hosted a cooking game show titled 'Foodistan' along with Indian actor Ira Dubey; the show was aired on Good Times and Geo Entertainment channels.
Alyy Khan appeared in many other Pakistani television series such as 'Badar Suleman' in Geo Television's 'Saat Pardon Mein' (2012), 'Shah Mir Afandi' in Geo Entertainment's 'Aap Ki Kaneez' (2014), 'Ahsan' in Hum TV's 'Woh Aik Pal' (2017), 'Irfan' in Express Entertainment's 'Kabhi Band Kabhi Baja' (2018), and 'Nafees Ahmed' in ARY Digital's 'Mere Humsafar' (2021).
British
Alyy Khan appeared in a police procedural television series titled 'The Bill' in 2006 as 'Tariq Mustafa-Ali.' The series was aired on ITV. In 2015, he played the role of 'Ramu Sood' in Channel 4's drama television series 'Indian Summers.' Alyy appeared in many other British television series including 'Partners in Crime' (2015).
American
In 2009, Alyy played the role of an Indian Army Commander in the action drama television series 'The Philanthropist' that aired on the channel NBC.
Web Series
British
Alyy Khan played the role of Deputy Superintendent Naranda Nath Tuli in Netflix's 'The Serpent' (2020); the series premiered on BBC One in 2021, and it started streaming on Netflix in April 2021.
Pakistani
He appeared in a ZEE5 exclusive and Zindagi-original web series titled 'Dhoop Ki Deewar' (2021) as Vijay Malhotra.
American
In 2022, he appeared as Qasim Ali in a drama thriller series titled 'Shantaram,' which premiered on Apple TV+. In the same year, he appeared in Disney+'s miniseries 'Ms. Marvel.'
Indian
Alyy Khan played the role of a lawyer named Vishal Chaubey in the Hindi-language legal drama streaming television series 'The Trial' (2023), which premiered on Disney+ Hotstar.
Theatre
Alyy has performed in various theatrical productions. In 2013, he directed a theatrical production titled 'Aapki Soniya' in which Pakistani actors Sajid Hasan and Mehwish Hayat played pivotal roles.
Bike Collection
Alyy Khan owns a Suzuki M800.
Favourites
Food: Chicken Joojeh from Mohsen (an Irani restaurant in London), Dark Chocolate
Holiday Destination: Mauritius
Facts/Trivia
Alyy Khan follows a non-vegetarian diet.
He is actively involved in contributing to society and works closely with several non-profit organizations for various causes.
Khan is an avid animal lover. He has a pet dog named Jools.
Khan is a fitness enthusiast, and he practices various fitness activities including yoga.