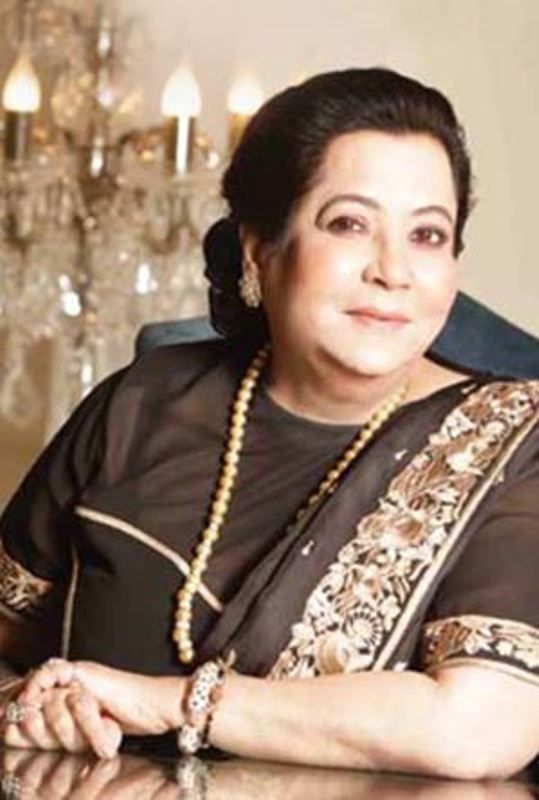 Shobha Kapoor is an Indian producer and entrepreneur known for producing Bollywood films, television shows, and web series.
Wiki/Biography
Shobha Ravi Kapoor [1]Zauba Corp was born on Tuesday, 1 February 1949 (age 73 years; as of 2022). Her zodiac sign is Aquarius.
Physical Appearance
Height (approx.): 5′ 3″
Hair Colour: Black
Eye Colour: Black
Family
Shobha Kapoor belongs to a Sindhi family. [2]The Times of India
Parents & Siblings
Shobha's father's name is Gopal Hasmatrai Sippy. He has a brother, Ramesh Sippy, an Indian film director and producer who is well known for directing the popular movie Sholay.
Husband & Children
On 18 October 1974, Shobha got married to Jeetendra Kapoor, a former Indian actor, at Janki Kutir in Mumbai, in the presence of their immediate family members and friends.
Reportedly, Shobha was just fourteen when Jeetendra saw her for the first time on Marine Drive in Mumbai. Initially, the couple decided to get married on 13 April 1973, but it was called off as Jeetendra's father fell ill. [3]The Times of India The couple has two children, Ekta Kapoor and Tusshar Kapoor. Ekta is an Indian director, producer, venture capitalist, and businesswoman, while Tusshar is an Indian actor and producer.
Other Relatives
Shobha Kapoor is the grandmother to Laksshya Kapoor (born to Tusshar Kapoor via IVF in 2016), and Ravie Kapoor (born to Ekta Kapoor through surrogacy on 27 January 2018).
Jeetendra and Shobha – An inseparable bond
Before getting married to Jeetendra Kapoor, Shobha Kapoor and Jeetendra shared a courtship period of almost 13 years. Being in a relationship with Shobha, Jeetendra, reportedly, was linked up with a few actresses from Bollywood. One such affair of his was with Indian actress Hema Malini.
According to Hema's authorised biography "Hema Malini: Beyond The Dream Girl," Jeetendra had a soft corner for her, but they never wanted to convert their friendship into a romantic relationship. Apart from Jeetendra, Dharmendra and Hema had feelings for each other, but her parents were not in favour of their daughter's marriage to Dharmendra as he was already married. However, Hema's parents convinced her to marry Jeetendra so that she can move on from her relationship with Dharmendra. Both families reached Chennai for the secret wedding ceremony. However, Dharmendra got a hint about the wedding from some media sources, and he, along with Shobha, reached Hema's house in Chennai. Dharmendra, being in a drunk state, refused to leave without Hema. On the other hand, Shobha was completely shaken after Jeetendra announced his decision to marry Hema. Somehow, Jeetendra convinced Hema, and she refused to marry Jeetendra. Later, Shobha got married to Jeetendra on 18 October 1974, and Dharmendra got married to Hema Malini on 21 August 1979. [4]Hindustan Times
Religion
Shobha Kapoor follows Hinduism.
Career
Air Hostess
Before getting married to Jeetendra, Shobha was employed as an air hostess with British Airways. Later, she quit her job to marry him. In an interview, Shobha talked about the challenges she faced as an air hostess and said,
There were people who made passes at me when I was an air-hostess, but that is no reason to shy away from the job. Plus it is a personal choice you make about staying in your limits. There are girls who get involved by choice and they have to face repercussions." [5]DNA
Producer
In 1994, Shobha Kapoor launched her own production house to produce content for one of her friends, who was running TV Asia in London. Later, he sold his channel to Zee TV, and all the content that Shobha produced was put on hold. In an interview, talking about the difficulties she faced to set up her production house in the initial struggling years, Shobha said,
Jeetuji got an offer to do a television show and we asked a friend of ours, who was running TV Asia in London, for his advice. He dissuaded him from acting and instead asked him to produce television content for him. Within two months, we started our production house in 1994. Ekta was 19 then. Our friend soon sold TV Asia to Zee TV and did not need the content anymore. But, I had produced a lot of content and put all my savings into it and had to fend for myself. After struggling for a year, we sold our shows to different channels and, by 1996, we were ruling television.
On 11 November 1994, Shobha registered her company 'Balaji Telefilms Private Limited' in Mumbai, and it was incorporated as a public limited company on 29 February 2000. [6]Money Control In the initial years, she began producing television shows. Later, Shobha founded Balaji Motion Pictures in 2001 to produce and distribute Bollywood films. In February 2023, she stepped down as the head of ALTBalaji along with her daughter Ekta Kapoor.
Designated Partner
Shobha Kapoor serves as a designated partner in two companies in India, Indus Balaji Education Capital Advisors Llp and Balaji Teledevelpors Llp.
Director
Shobha Kapoor serves as a director in 12 companies in India. The companies she is associated with as a director belongs to various industries such as Real Estate, Manufacturing (chemicals and chemical products), Business Services, Construction, Personal and Social Services, and Recreational, Cultural, and Sporting Activities.
Managing Director
Shobha Kapoor serves as the managing director of Balaji Telefilms Limited, an Indian company that produces soap operas, reality television shows, comedy shows, game shows, and entertainment shows in several Indian languages.
Controversies
Backed out as the producer of the television show Jodha Akbar
Jodha Akbar, a television show, which premiered on 18 June 2013 on Zee TV, was produced by Ekta Kapoor and Shobha Kapoor under Balaji Telefilms. As soon as it went on air, a Rajasthan-based organisation, Shri Rajput Karni Sena (SRKS) alleged that the show was manipulating historical facts, and demanded to take the show off-air. Later, another protest was carried out by Rajput Kshatriya Akhil Bharatiya Chatariya Sabha against the serial as they felt that the show was degrading the religious sentiments of the Rajput community. Hence, Ekta and Shobha decided to pull out together as producers of the show. In an interview, Ekta Kapoor made an official statement of backing out as producer from the show and said,
It is true that we have decided to back out as producers for the show as a gesture of goodwill as we have immense love and respect for the Rajput community." [7]Hindustan Times
Issue of an arrest warrant for skipping the court summons
In 2020, Shambhu Kumar, an ex-serviceman and a resident of Begusarai in Bihar filed a complaint against Ekta Kapoor, and her mother, Shobha Kapoor, alleging that the web series 'XXX' (season 2) featured offensive scenes, which insulted soldiers and hurt the sentiments of their family members. The series was based on the concept of erotic comedy, and it was released on 8 February 2020 on ALTBalaji, an OTT platform owned by Ekta Kapoor and Shobha Kapoor. Earlier, in 2020, the court had sent a summon to Ekta Kapoor, and her mother, Shobha Kapoor, and they were asked to appear before the court. However, they skipped the court summon following which the warrant was issued against them on 28 September 2022. [8]The Times of India In an interview, Hrishikesh Pathak, the advocate of Shambhu Kumar, talked about the reason for issuing a warrant against Kapoors and said,
The court had issued summons to them (Kapoors) and asked them to appear before it in connection with the matter. They (Kapoors), however, informed the court that certain scenes in the series were removed after the objection. But they did not appear before the court following which the warrant was issued against them," [9]The Economic Times
Awards
Indian Television Academy Awards
2001: Best Serial (Popular) – Kyunki Saas Bhi Kabhi Bahu Thi
2005: Best Serial (Popular) – Kyunki Saas Bhi Kabhi Bahu Thi
2012: Best Thriller/Horror Serial – Gumrah End of Innocence
2013: Best Historical/Mythological Serial – Jodha Akbar
2016: Best Serial (Popular) – Naagin
2018: Highest Rated Show Award – Naagin
2019: Best Serial (Popular) – Kundali Bhagya
Indian Telly Awards
2002: Best Drama Series – Kahaani Ghar Ghar Kii
2003: Best Daily Serial – Kyunki Saas Bhi Kabhi Bahu Thi
2004: Best Daily Serial – Kahiin To Hoga
2005: Best Continuing TV Programme – Kyunki Saas Bhi Kabhi Bahu Thi
2006: Best Continuing TV Programme – Kyunki Saas Bhi Kabhi Bahu Thi
2006: Best Daily Serial – Kasamh Se
2010: Best Drama Series – Pavitra Rishta
2012: Best Drama Series (Jury) – Bade Achhe Lagte Hain
2014: Best Drama Series (Jury) – Yeh Hai Mohabbatein
2019: Best Drama Series – Kumkum Bhagya
BIG Star Entertainment Awards
2011: Most Entertaining Film – The Dirty Picture
Stardust Awards
2014: Film of The Year – The Dirty Picture
Zee Rishtey Awards
2018: Best Show Across The Channels – Naagin
Zee Gold Awards
2019: Best TV Show (Fiction) – Kundali Bhagya
Salary
As of 2021, Shobha's salary as a managing director of Balaji Telefilms is Rs 1.95 crore per annum. [10]The Free Press Journal
Facts/Trivia
In an interview, on being asked where she got the inspiration to own a business, Shobha replied,


I am a Sindhi and my nana was a fantastic businessman from Karachi. My mother was a working woman. So my working capacity comes from her and the business acumen from him. I have always been a business person in my mind. [12]The Times of India
On 19 April 2000, after listing her company on the Bombay Stock Exchange and National Stock Exchange, Shobha changed her company's name from "Balaji Telefilms Private Limited" to "Balaji Telefilms Ltd." [13]

Money Control
In an interview, Shobha revealed that she operated her first production house from her home's garage and said,


All this happened from the garage of my house (a basement, which was also a car park) from where I ran my office for six years. We then took a loan against our house and made Balaji house and moved here in 2000. [14]The Times of India
Balaji Motion Pictures, founded by Shobha Kapoor, has produced some popular Bollywood films like Kyaa Kool Hai Hum (2005), Once Upon a Time in Mumbaai (2010), The Dirty Picture (2011), Ek Villain — There's one in every love story (2014), and Udta Punjab (2016).
In an interview, Shobha talked about the phase when she faced financial problems because Jeetendra's films were not doing well at the box office. She said,


I was the bread-earner looking after my family and that made me happy. I went through a phase where I did not have the loads of money I was used to and also had to sell some jewellery to raise money, but, emotionally, it did not bother me." [15]The Times of India
During the early 2000s, Shobha Kapoor's production house, Balaji Telefilms, produced some popular television shows like Kyunki Saas Bhi Kabhi Bahu Thi, Kahaani Ghar Ghar Kii, Kaahin Kisii Roz, Kasautii Zindagii Kay, Kahiin to Hoga on Star Plus, Kkusum on Sony TV, and Kasamh Se on Zee TV.
In 2021, Ekta Kapoor made a proposal to the shareholders of Balaji Telefilms to hike the remuneration of the managing director, Shobha Kapoor. On 31 August 2021, during the annual general meeting, the same was rejected by the shareholders. As per the rules, any proposal can be only approved if 75 per cent of the members cast vote in favour of it. [16]

The Free Press Journal
In July 2021, Shobha Kapoor was invited by the Academy of Motion Picture Arts and Sciences to become an academy member and join the 'Class of 2021,' a batch of 395 members from across 50 countries. [17]

Cinema Express
On 6 November 2021, Jeetendra Kapoor and Ekta Kapoor were invited as guests in one of the episodes of The Kapil Sharma Show on Sony TV. In October 1976, on the occasion of Karva Chauth, he was supposed to reach Chennai on the same day by the Indian Airlines Flight 171. Due to some reasons, his flight got delayed, and he went back home to perform the rituals and break her wife's fast. After completing the rituals, Shobha refused to let him go back to the airport. So, he cancelled the plan and decided to leave the next day. Around midnight, he noticed a huge fireball speeding towards the airport. Later, he found out that the same airplane he was supposed to travel in had crashed. He lost his co-star, Rani Chandra, a Malayalam actress, in the flight crash. [18]

Hindustan Times In an interview, he talked about how his wife unknowingly saved him and said,


I was going to Madras to shoot a film. Shobha said that today is Karva Chauth. But I was adamant on leaving and made him understand that it was very important for me to go. The flight was at 7 pm. When I went to the airport, I came to know that the flight is late. I told that the flight will leave at 8 or 9 in the night, then check outside whether the moon is coming out or not. I reached back home. When I came back he didn't let me go. Later it was found that that flight has crashed.