Satish Gujral (1925-2020) was an Indian artist, architect, and writer. In 1999, he was honored with the Padma Vibhushan Award. Satish was known for painting the Partition. He died on 26 March 2020 due to old age-related ailments.
Wiki/Biography
Satish Gujral was born on Friday, 25 December 1925 (age 95 years; at the time of death) in Jhelum City, Punjab Province in British India (now in Pakistan). His zodiac sign was Capricorn. Due to his hearing disability, many schools refused Gujral's admission. Eventually, he discovered his interest in painting, and then in 1939, he enrolled in the Mayo School of Arts in Lahore to study applied arts. In 1944, he moved to Bombay and enrolled in the Sir JJ School of Art. He had to drop school and leave Bombay in 1947 due to a chronic illness. Later in 1952, Satish was offered a scholarship to study at the Palacio de Bellas Artes in Mexico City for an indentureship under renowned artists Diego Rivera and David Alfaro Siquerios.
Physical Appearance
Height (approx.): 5′ 7″
Hair Colour: Grey
Eye Colour: Hazel Brown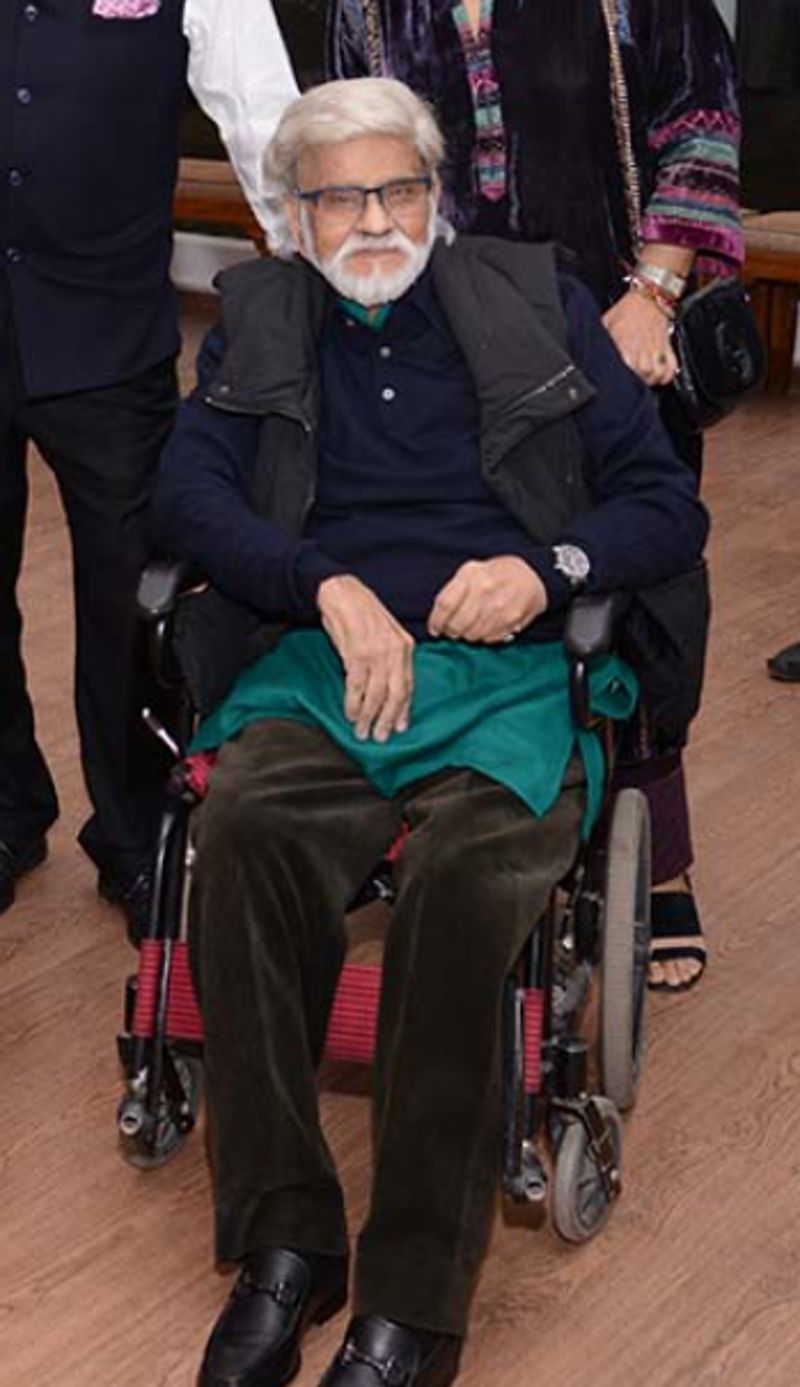 Family
He belonged to a Punjabi Hindu Khatri family.
Parents & Siblings
Satish's father, Avtar Narain Gujral, was an Indian politician, and his mother, Pushpa Gujral, was a homemaker. Satish had a brother named I.K. Gujral, who was the 12th Prime Minister of India. His sister-in-law, Shiela Gujral, was a known Hindi poet, and his nephew, Naresh Gujral, was also a politician.
Wife & Children
Satish was married to Kiran. The couple had a son, Mohit Gujral, who is an architect and is married to Feroze Gujral, a former model. Satish and Kiran had two daughters, Alpana Gujral, and Raseel Gujral. Alpana is a jewelry designer, and Raseel is an interior designer who owns a luxury store named the Casa Paradox and Casa Pop.
Religion
He followed Hinduism.
Signature/Autograph
Career
Painter
Art Works
Satish Gujral created his works with depth and meaning of politics and family. During the early stages of his career, his work was heavily impacted by the misery of individuals who had lost their homes and family due to the country's partition. He couldn't help but infuse his personal experience in his creations after witnessing the horrific event. Later, he recognized that people would not love the same type of art over and over again; therefore he began to adapt his artistic style. Satish gradually began varying the materials he used for his sculptures by using machined manufactured things made of steel, copper, glass, etc. He also brought life to sculptures by using trash.
Solo Shows
From 1952 to 1974, Satish Gujral organized solo shows all over the world, depicting his sculptures, paintings, and graphics. He covered cities including Mexico City, New York, New Delhi, Bombay, Calcutta, Montreal, Rome, Berlin, Tokyo, Buenos Aires, and Stockholm. His paintings and sculptures showed a greater evolution in terms of materials and concepts. He started making large paintings using mosaic and ceramic tiles and later replaced them with machined steel elements. He made. The burned wood sculptures by Satish Gujral seem to expose the human and other forms viscerally.
Architecture
In an interview, Satish claimed his boredom with art as he felt that he felt that he had worked in almost every aspect of art. As a result, despite having no formal architectural education, he opted to pursue a profession in architecture in 1968. Soon, he was approached by the Belgium diplomats for constructing their embassy in India. In 1984, he completed his design of the Belgium Embassy in New Delhi, which was selected as one of the finest buildings built in the 20th century by the international forum of Architects. He then went on to build signature buildings like the 'summer palace of Saudi Arabia' in Riyadh, the 'CMC research center' in Hyderabad, and the Goa University. Later, Satish shifted back his focus to painting. In an interview, he shared his experience in designing the Belgium Embassy and said,
I had not thought of architecture in intellectual terms, I just designed it through some kind of instinct, and when I had finished I still did not know what I had done. As always with creative work, an artist is himself surprised by what he had produced." [1]The New York Times
Publications
Satish wrote his first book in 1993 titled "The World of Satish Gujral in his own words." The book reflected his struggle, youth, and creative artwork. Satish wrote an autobiography titled "A Brush with Life: An Autobiography" in 1996. In 2001, he wrote sequential books called the 'Pocket Art Series,' including "Drawings and Collages," Where the silence speaks Painting," and "Sculptures."
Exhibition at the India Art Fair
Satish Gujral decided to display some of his personal artwork collections from the 1950s to 2013. In 2014, he exhibited about 26 paintings and sculptures at the 'India Art Fair.'
Awards, Honours, Achievements
In 1972 and 1974, Satish won 'National Award for Sculpture
He was honored as the 'State Honour' by the Government of Punjab in 1979
In 1983, he achieved an 'Order of the Crown' in Belgium
In 1989, he was awarded the 'Leonardo Da Vinci Award'
In 1989, Satish achieved 'Desikottama' by Santiniketan
In 1998, he was honored with the 'Honorary Doctorate' by Vishakapatnam University
Satish Gujral earned the 'Padma Vibhushan Award,' second highest civilian award in India, in 1999
In 1998, Gujral achieved the International Award for 'Life Time Achievements' in Mexico
He received the 'Lalit Kala Ratna Puraskar' in 2004
Gujral was honored at the Golden Jubilee Celebration of the National Gallery of Modern Art in 2005
In 2010, he received an 'Amity Lifetime Achievement Award for art from the Amity School of Fine Arts
Net Worth
His net worth is 1 million.
Death
On 26 March 2020, Satish Gujral, at the age of 95, took his last breath of old age at his house in Delhi.
Facts/Trivia
His name is written in the "International Dictionary of Art" published by Macmillan, U.K.
Satish Gujral criticized fellow artist M.F. Husain for being fixated on Hindu deities. [2]

India Today
Many documentaries were made on Satish Gujral one of which was based on his autobiography, 'A Brush with Life,' released on 15 February 2012.
Satish was a part of the telefilm 'Partition: The Day India Burned', released by BBC.