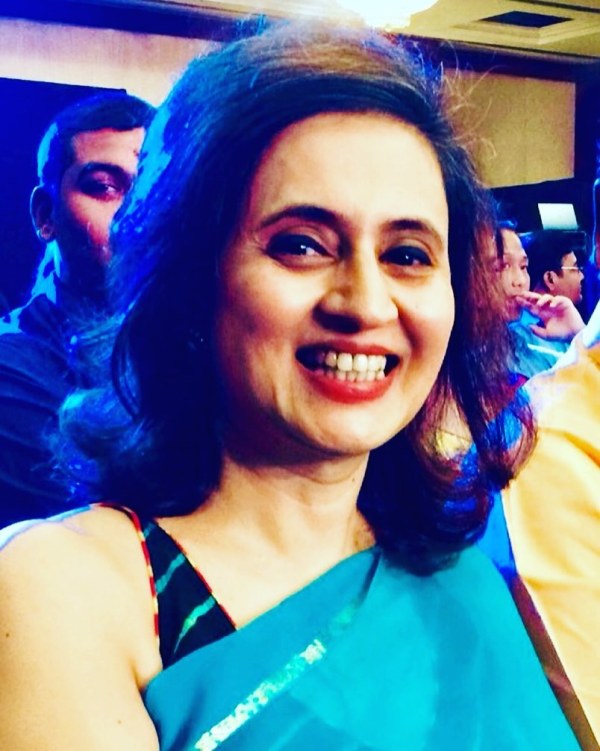 Sagarika Ghose is a renowned Indian journalist. She is also a famous author and columnist. She was also known for anchoring on the Question Time India at BBC World.
Wiki/Biography
Sagarika Ghose was born on Sunday, 8 November 1964 (age 59 years; as of 2023) in New Delhi, India. Her zodiac sign is Scorpio. She earned her Bachelor degree in History from St. Stephen's College, Delhi. [1]Sagarika's LinkedIn Profile Later, she attended Magdalen College, Oxford for pursuing her master's degree in Modern History. She obtained an MPhil. at St. Antony's College, Oxford. [2]Harper Collins
Physical Appearance
Height (approx.): 5' 4"
Weight (approx.): 58 kg
Hair Colour: Salt and Pepper
Eye Colour: Black
Family
Parents & Siblings
Her father's name is Bhaskar Ghose, and he is a retired Indian, former Secretary, Ministry of Information and Broadcasting and an erstwhile Director-General of Doordarshan. Her mother's name is Chitralekha Ghose.
Her father-in-law is Dilip Sardesai, and he was a former Indian international cricketer.
Arundhati Ghose, an Indian diplomat, and Ruma Pal, a former judge of the Supreme Court of India are her aunts.
Husband & Children
She was married to Rajdeep Sardesai in 1994.
She has a son named Ishan, and he is an ENT surgeon. Her daughter's name is Tarini.
Career
Sagarika Ghose began her journalism career in 1992. At the beginning of her career, she provided her services for various Indian print media channels including The Times Of India, Outlook magazine and The Indian Express. Later, she started working in broadcast media, and initially, she was designated at the news network CNN-IBN as the deputy editor and a prime time anchor.
As an author, she has published two novels – 'The Gin Drinkers' published in 1998 and 'Blind Faith' in 2004.
Sagarika Ghose left the job at CNN-IBN as deputy editor in July 2014 following the news channel was taken over by Reliance Industries Limited, a Mukesh Ambani venture. Soon, she started working at The Times of India as a consulting editor. In 2013, she was popular in the news when she interviewed the Aam Aadmi Party candidate Arvind Kejriwal on a social media platform. It happened for the first time in the Indian elections when a prospective political candidate was interviewed on social media just before the general elections. In 2017, she released her book on Indira Gandhi titled 'Indira: India's Most Powerful Prime Minister,' which was the biography of Indira Gandhi.
Sagarika Ghose mentioned in her book 'Indira: India's Most Powerful Prime Minister' that Indira remained unhappy for most of her life. She penned,
She was surprised to find out that her relationship with her father was not a close one. Indira was born when the eldest child was expected to be a male. Indira was the scion of the Nehru family. Her father expected her to be fit, brilliant, horse ride, ski and do yoga. His expectations were high, and she was constantly failing him."
She further added the relations between Indira and her father Jawaharlal Nehru,
After failing out of Oxford, Indira married a man her father hated. She was unhappy throughout her life personally. Her relationships with her family were fractious — with her sons, father and her husband."
Sagarika Ghose mentioned herself as a liberal who follows the laws and rules with personal liberty and who believes in the democratic government and strong institutions in her non-fiction book titled 'Why I Am A Liberal: A Manifesto For Indians Who Believe in Individual Freedom'. Few lines from the book,
Although the republic of India was founded as a liberal democracy in 1947, subsequent Indian governments throughout the post-Independence period have sought to attack individual liberty and vastly increase the powers of the government, or the powers of what she calls the Indian 'Big State."
Awards, Honours, Achievements
She is awarded the Excellence in Journalism Award (Aparajita Award) from FICCI Ladies Organisation in 2005.
She received the Gr8-ITA Award for Excellence in Journalism in 2009.
In 2012, Sagarika Ghosh earned the CF Andrews Award for Distinguished Alumnus from St. Stephen's College.
In 2013, she was awarded the ITA Best Anchor Award from the Indian Television Academy (ITA).
Ghosh was listed on the list of 13 famous women Rhodes Scholars by the Rhodes Project in 2014.
In 2017, Sagarika Ghose received the C.H.Mohammed Koya National Award in journalism.
Controversy
Sagarika Ghose interviewed Hindu spiritual leader Sri Sri Ravi Shankar on her show titled "joining us tonight" on 9 November 2011 on the topic "Should spiritual leaders participate in the anti-corruption campaign?" She questioned him about various issues during the show and in return, criticised and contradicted his responses. The "CNN-IBN Live" show was aired on the video feed when Ravi Shankar was on screen. He was also interviewed a day before the actual interview and his statements were edited and telecasted as the answers to Ghose's live questions. Later, this was criticised and Ghose, along with the CNN-IBN, gave a formal apology citing that it was due to "technical issues." [3]Hindu Vivek Kendra
Facts/Trivia
Sagarika shared her picture with the former President of America, Barack Obama, on her social media account in 2017.
Sagarika posted her picture with the former king of Bhutan HE Jigme Singye in 2018 on her social media account.
Several Indian literature festival events have been often attended by Sagarika Ghose.