Saeed Anwar is a former Pakistani cricketer. He is considered one of the best opening batsmen. He also captained the Pakistan team for a brief period. His timing, stylish batting, and shot placement are applauded by cricket lovers all over the world. He now works as a preacher of Islam and is an active member of the Tablighi Jamaat in Pakistan.
Wiki/Biography
Saeed Anwar was born on Thursday, 12 December 1968 (age 54 years; as of 2023) in Burewala, Punjab, Pakistan. [1]Pakistan Cricket Board His Zodiac sign is Sagittarius. At the age of 5, he moved to Iran and later to Saudi Arabia with his parents. His father sent him back to Karachi when he was 9 years old, where he lived with his grandparents. Squash players Jahangir Khan and Jansher Khan became his childhood heroes, and he started playing squash and table tennis. He completed his high school education at Government Degree Science College, Malir Cantt. He joined Malir Gymkhana Club as a spin bowler and started practising batting with his friend Rashid Latif bowling to him, who also became a renowned wicketkeeper-batsman later.
He received a bachelor's degree in Computer System Engineering from the NED University of Engineering and Technology in Karachi, Pakistan in 1989. Later, he started playing cricket for Pakistan and did not pursue a master's degree [2]MensXP
Physical Appearance
Height (approx.): 5′ 7″
Hair Colour: Black
Eye Colour: Black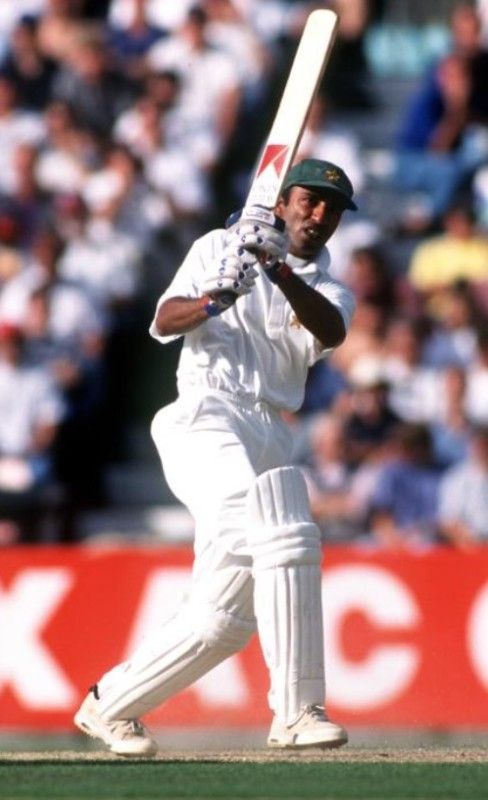 Family
He belonged to a Muslim family.
Parents & Siblings
Saeed Anwar's father was an engineer and a club cricketer. He worked initially in Tehran, Iran from 1973 to 1977, and and he then moved to Saudi Arabia. He has a brother, Javed Anwar, who also played in the domestic circuit in Pakistan.
Wife & Children
He married his cousin Lubna Anwar, a doctor by profession in March 1996. The couple had a daughter Bismah Anwar, who passed away in September 2001. He has a son named Khuzima Saeed, who was born on 4 June 2003 at PNS Shifa Hospital, Karachi, Pakistan. [3]Dawn
Religion
He follows Islam
Autograph
Career
Domestic
He played for Pakistan A, Water and Power Development Authority, Baluchistan Bears, Rest of Punjab, Mohammad Hafeez's XI, Multan Tigers, and Multan A Under-19 before he was inducted into the national cricket team of Pakistan. [4]Pakistan Cricket Board
International
Test
He played his debut test match on 23 November 1990 against West Indies at Iqbal Stadium, Faisalabad, Pakistan. In his debut match, he got out for a duck in both innings and was dropped from the national team until 1994. He became the first Pakistani batsman to get a pair (bowled on zero in both innings of a debut match). In the 1994 series against New Zealand, he scored 261 runs in 3 matches. He was the second-highest run scorer for the team in the series and scored 169 runs in the first innings of the second test, the highest score by a batsman for both teams in the series. In 1994, he played against Sri Lanka and scored 261 runs, the highest run-scorer for both teams in the series and scored 94 and 136 runs in the first and second innings of the first match respectively. His 136 runs was the highest score for a batsman in the series. In the 1996 series against England, he scored 362 runs in 3 matches. He was the leading run-scorer for Pakistan in the series. In the first innings of the third test, he scored 176 runs, the highest score by any batsman for both teams in the series. In the 1998 series against Australia, he scored 290 runs in 2 matches and scored a century in each match. He was the leading run-scorer for his team in the series. In 1999, he played in the Asian Championship against India and Sri Lanka and scored 290 runs in 3 matches. He scored his highest score of 188 runs not out in the second innings of the first match against India; he opened the innings for Pakistan and remained not out throughout the innings. His average against India, Australia, New Zealand, and Sri Lanka is above 50. He won 2 Man of the Match awards in his career. He played his last test match on 29 August 2001 against Bangladesh at Multan Cricket Stadium, Multan, Pakistan.
ODI
He played his debut ODI match on 1 January 1989 against West Indies at WACA ground, Perth, Australia, and he is considered one of the best Pakistani ODI openers ever. He scored his first century in his 12th match. He scored 126 runs off 99 balls against Sri Lanka in the 1989-1990 Benson & Hedges World Series played in Australia. In the 1992-1993 Wills trophy played between Pakistan, Zimbabwe, and Sri Lanka, he was the highest scorer for his team with 191 runs and scored 110 runs in the final match to help Pakistan clinch the trophy. He put on a partnership of 204 runs for the first wicket with Ramiz Raja. It was the highest-opening partnership for Pakistan at that time, and he was given the Man of the Match award for his stellar performance. In the 1993-1994 Pepsi Champions Trophy played between Pakistan, Sri Lanka, and West Indies, he again became the highest run scorer for his team with 387 runs, which included 3 centuries. In the 1994-1995 Wills Triangular Series played between Pakistan, Australia, and South Africa, he scored 202 runs with the highest score of 104 runs not out in a match against Australia. In the 1995-1996 Wills World Cup, he again emerged as the highest run-scorer for his team and scored 329 runs in the tournament at an average of 82.25. In the 1997-1998 Silver Jubilee Independence Cup played between Pakistan, India, and Bangladesh, he topped the run-scorer chart for his team and scored 315 runs at an average of 78.75. He scored 194 runs in a match, the highest individual ODI score at that time. In the 1999 ICC World Cup, he scored 368 runs and became the highest run-scorer for his team again. In the semifinal against New Zealand, he scored 113 runs not out to help his team win the match and enter the final. Pakistan lost the final to Australia as he got out on 15 runs. In the final match of the 1999-2000 Asia Cup, he scored 82 runs in the final match to help Pakistan win the tournament. In the 2000-2001 ARY Gold Cup played between India, Pakistan, Sri Lanka, and Bangladesh, he scored 329 runs at an average of 89.65, again emerging as the leading runscorer. In the 2003 ICC World Cup, he was the leading run-scorer for his team with 218 runs at an average of 54.50. He won 27 Man of the Match awards in his career. He played his last ODI match on 04 April 2003 against Zimbabwe at Queens Sports Club Stadium, Bulawayo, Zimbabwe.
Captaincy
Saeed Anwar captained the Pakistani team in 7 test matches and 11 ODI matches. After giving up the captaincy, he said in an interview,
"I enjoyed every bit of the captaincy, it was a great experience and I felt proud to have been selected to lead the country. However, it has to be stressed that it was a stop gap arrangement, and now that Wasim Akram, our real leader and one of the best all rounders in cricket today, has taken back the captaincy, I have no regrets. In fact, now that the pressure, the burden of captaincy has been removed, I can properly concentrate on my batting. As long as I get runs for my team, I am more than happy." [5]Rediff
Stats
Batting Stats
Test Cricket
Highest Score: 188 not out
ODI Cricket
Fielding and Bowling Stats
Test Cricket
Most catches in an innings: 2
Most catches in a match:  2
ODI Cricket
Most catches in a match: 3
Best bowling figures in a match:  2 wickets for 9 runs
Injury
He suffered from an unknown stomach disease throughout his career. [6]Dawn In 1999, he suffered a  knee injury, which he ignored and kept on playing, but it turned into a serious problem, and he had to undergo knee surgery in 2000. He was out of action for one year. [7]Arab News In October 2001, he suffered an injury in his hand and started training after 6 weeks; however, the injury intensified. In December 2001, he suffered a stress fracture in his left hand, which took 3 months to heal. [8]Dawn
Controversies
Match Fixing Controversy
After the match-fixing scandals emerged in the 2000s, Pakistan Cricket Board formed the Qayyum commission, led by Justice Mohammad Malik Qayyum. They investigated Saeed for his involvement in match-fixing during the match against Australia in the Singer Cup 1994. In that game, he retired hurt in the middle of the game and returned later in the match. There were accusations that he was asked to get out, which he denied and said that the messages were to be careful while batting. He was acquitted of any charges as the commission found no concrete against him; however, he was fined 1 Lakh (Pakistani rupee) as the commission was suspicious that Anwar had information about other accused related to the controversy. [9]Pakistan Cricket Board – Qayyum Report
Turning Point in Life – Death of His Daughter
Saeed Anwar was playing in a test match against Bangladesh when the tragic news of the demise of his daughter, Bismah, came out. She was three and a half years old and died after a prolonged illness. He took a break of around 8-9 months from cricket, and when he returned, people were shocked to see him in a beard. He became a staunch follower of Islam following his daughter's death; he started praying regularly, became a member of Tableeghi Jamaat, and grew his beard. Saeed was joined at his daughter's funeral held at Cavalary ground, Lahore, Pakistan by PCB officials and cricketers. He said in an interview,
"Then in September 2001, Bisma died. For a father, a daughter is very special. Mine was so extraordinary. I was barely conscious for eight or nine months. People were very surprised to see me. But I was numb with pain because only recently, I had lost my daughter Bisma. I did not like anything. I felt very empty but I was surprised by people's reaction. They came up to me and started asking me about the beard, about who I was. Also, I was respected more than ever before. Australian cricketers are famous for their rudeness and bad language. On a tour last June, the fast bowler Glenn McGrath collided with me. Normally he would hurl some abuse at me but instead he put his arms around my shoulders, and said, 'It's my fault, I'm sorry.' The beard has had a strange spiritual effect on me which I cannot describe. When you wear a sweater it gives you warmth inside. Also, my beard has affected the people around me. They never utter a filthy word in my presence. So my five senses are protected from exposure to bad things." [10]Arab News
Awards
He won the Wisden Cricketer of the Year award in 1997.
He won Presidential Pride of Performance in 2000.
Facts/Trivia
He is the first Pakistan Batsman to score a century in his last test match.
On 21 May 1997, he scored 194 runs in an ODI match against India at MA Chidambaram Stadium, Chennai, India. It was the highest ODI score at that time and was broken after 13 years on 24 February 2010 by Sachin Tendulkar who scored 200 runs not out against South Africa. Interestingly, Sachin bowled him out when he was batting on 194.
He scored the most ODI runs (1595 runs) by any Pakistani Batsman in a calendar year.
He has the highest number of ODI centuries (20) by any Pakistani Batsman.
Former Pakistani captain Mohammad Yousuf cited Saeed Anwar as his inspiration for adopting Islam. Mohammad Yousuf was earlier known as Yousuf Yohana and followed Christianity. He credited Saeed's family environment with the factor behind adopting Islam in 2005. He said in an interview,


"Anwar became more religious after the death of his daughter. Seeing him also inspired me to accept Islam." [11]CNN-News18
In December 2016, an airplane of Pakistan International Airlines took off from Chitral to Islamabad, but it crashed near Havelian in the Abbottabad district in Khyber Pakhtunkhwa. Saeed Anwar was expected to board the flight; however, he changed his mind at the last moment and decided to stay at Chitral.
A family member of Saeed Anwar has confirmed Saeed was due to return on the PIA flight that crashed but instead he stayed back in Chitral

— Saj Sadiq (@SajSadiqCricket) December 7, 2016
He usually stays away from the limelight; however, when BCCI denied sending Indian players to play in Pakistan, he openly criticized the decision and said that PCB should also not send Pakistani players to India. He tweeted,
When all international teams and international cricketers come to Pakistan for @OfficialPSL, what is @BCCI's problem. If BCCI is willing to go to a neutral venue, then @TheRealPCB should also be willing to go to a neutral venue for the WC in India next year.#PAKvIND #Cricket

— Saeed Anwar (@ImSaeedAnwar) October 18, 2022
In October 2000, he was among the seven senior players including captain Moin Khan and vice-captain Wasim Akram who revolted against the head coach Javed Miandad. [13]

The Telegraph