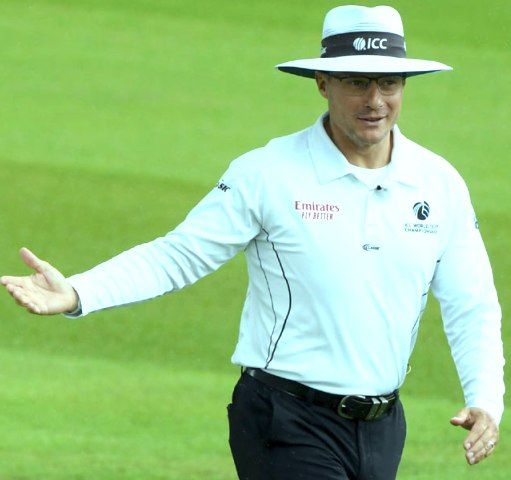 Richard Kettleborough is an English international cricket umpire. He is a former first-class cricketer who played for Yorkshire and Middlesex teams in domestic cricket.
Wiki/Biography
Richard Kettleborough was born on Thursday, 15 March 1973 (age 50 years; as of 2023) in Sheffield, Yorkshire, England. His zodiac sign is Pisces. He studied at Worksop College Nottinghamshire, England, and Airedale and Wharfedale College, Leeds, England.
Physical Appearance
Height (approx.): 5′ 10″
Weight (approx.): 70 kg
Hair Colour: Blonde
Eye Colour: Black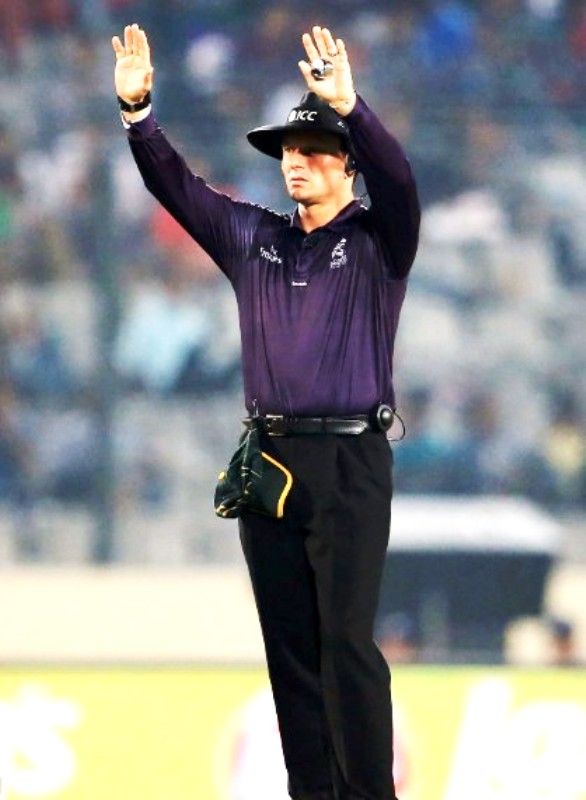 Family
Parents & Siblings
His father's name is Allan Kettleborough. There is not much information about Richard's mother and siblings.
Wife & Children
Richard is married. He has 3 children; his son's name is Jack Kettleborough. [1]Facebook – Richard Kettleborough
Cricket
Player
Richard Kettleborough made his first-class cricket debut in the Britannic Assurance County Championship for Yorkshire in 1994; the match was against Northamptonshire at Wardown Park, Luton. He bowled 6 overs, including 2 maiden overs, and scored 25 runs not out. He played for Yorkshire from 1994 to 1997 and Middlesex from 1998 to 1999.
In 2000, Richard Kettleborough made his List-A (one-day) cricket debut for the Yorkshire Cricket Board. He also helped his club, Sheffield Collegiate, win the Yorkshire ECB County Premier League and the National Club Championship.
He played 33 First-class (test matches) and 21 List A (One Day) matches, scoring 1500 and 507 runs, respectively. In 1996, he scored his first and last century of all formats against Essex.
Umpire
Richard Kettleborough began his career as an umpire in April 2002; he umpired in a first-class match between Durham and Durham UCCE. In 2004, he was an on-field umpire in a County Championship match between Durham and Essex. In 2006, he became a member of the ECB (England and Wales Cricket Board) First-Class list of umpires after which he umpired in many domestic matches.
In 2009, he was appointed as a TV umpire in the ICC International Panel by the ECB. He made his debut in International T20 cricket in a match between Australia and England in Manchester and in ODI cricket in a match between Australia and England in Nottingham. Later that year, he was promoted to on-field status and umpired his first international test match between Sri Lanka and West Indies at Galle in November 2010. In 2011, he was promoted to the Elite Panel of ICC umpires.
He was selected as an on-field umpire in matches during the 2015 Cricket World Cup and umpired in the Final match played between Australia and New Zealand at the MCG (Melbourne Cricket Ground) on 29 March 2015. During the 2017 ICC Champions Trophy held in England and Wales, he umpired in the semi-final match between Bangladesh and India at the Edgbaston Cricket Ground in Birmingham on 15 June 2017.
He also umpired the 2017 ICC Champions Trophy Final between India and Pakistan at The Oval in London on 18 June 2017. In April 2019, he was named to stand in matches during the 2019 Cricket World Cup. In July 2019, he was named as one of the two on-field umpires for the first semi-final match between India and New Zealand. In June 2021, Kettleborough was named as the TV (third) umpire for the 2021-2023 ICC World Test Championship Final.
Kettleborough was appointed as the on-field umpire along with Richard Illingworth for the India vs Australia World Cup 2023 final, held at the Narendra Modi Stadium in Ahmedabad, Gujarat, in November 2023.
Controversies
Wore a smartwatch
In the 2020 Rose Bowl Test between England and Pakistan, Kettleborough wore a smartwatch during the opening round. As soon as he realised his mistake, he removed it and didn't use it. The ICC's anti-corruption unit (ACU) was then informed about it. Kettleborough was informed of the error and his responsibilities under the Player and Match Officials Area Regulations (PMOA) by the ACU during their conversation. This rule violation attracted criticism from the cricket community. [2]India Today
Shout at Stuart
The incident took place on the day of the final Test match when Stuart Broad went to complain about short balls bowled to him by Jasprit Bumrah. However, Kettleborough quickly shut down Broad's complaints, with his comments getting picked up by the stump mic, he said
Let us do the umpiring – you do the batting, alright? Otherwise, you're going to get into trouble again. One for the over. Broady! Broady! Get on with the batting and shut up." [3]Times of Sports
Controversial decision at WTC 2023
In Australia vs India World Test Championship 2023, Australian fielder Cameron Green caught a ball hit by Shubman Gill while diving, but there was uncertainty about whether the ball touched the ground before Green completed his dive. Third umpire Kettleborough reviewed the catch from multiple angles before controversially declaring Gill out. This decision angered Indian fans and experts who expressed their displeasure in the stands and on social media. [4]Hindustan Times
A huge moment in the #WTC23 Final was decided without an initial 'soft signal' for the third umpire 👀

More on the recent changes to the playing conditions, and the wording of the catch law 👇https://t.co/eOE9lBDNB2

— ICC (@ICC) June 11, 2023
Awards, Honours, Achievements
David Shepherd Award for ICC Umpire of the Year in 2013, 2014 and 2015
He won the David Shepherd Award for ICC Umpire of the Year in 2013, 2014 and 2015 – Happy Birthday to Richard Kettleborough! pic.twitter.com/KTuXc7WO2m

— ICC (@ICC) March 15, 2017
Facts/Trivia
Discussing his personal and professional life, Richard said in an interview,


My wife and in-laws are very supportive and understanding and it's because of them I can continue as an umpire. Being an umpire, we need to be attentive for 6-7 hours we cannot afford to miss even a single ball. We are on tour for 200 days a year which is more than the players." [6]YouTube – Allan Biggs
Indian fans have a dislike for Kettleborough as they believe he is a bad omen for the Indian cricket team. This is because Kettleborough was the on-field umpire in many of India's knockout matches in ICC tournaments that they lost since 2014.