Nassar is an Indian film actor, director, producer, dubbing artist, singer, and politician. He mainly works in South Indian films. On 18 October 2015, he was elected as the president of 'The Nadigar Sangam' officially known as the South Indian Artistes' Association (SIAA). He is known for playing the role of Pingalathevan in the popular Telugu-Tamil film 'Baahubali: The Beginning' (2015) and 'Baahubali 2: The Conclusion' (2017).
Wiki/Biography
Nassar aka M. Nassar was born as Muhammad Hanif on Wednesday, 5 March 1958 (age 65 years; as of 2023) in Palur, Chengalpattu, Madras State. His zodiac sign is Pisces. He did his schooling at St. Joseph's Higher Secondary School, Chengalpattu, Chennai. He then did his pre-university at Madras Christian College, Chennai. While studying there, he joined a dramatic society. Later, he did his training in acting at the South Indian Film Chamber of Commerce's Film Institute and the Tamil Nadu Institute for Film and Television Technology. [1]The Times of India
Physical Appearance
Height (approx.): 5′ 8″
Hair Colour: Salt & Pepper
Eye Colour: Brown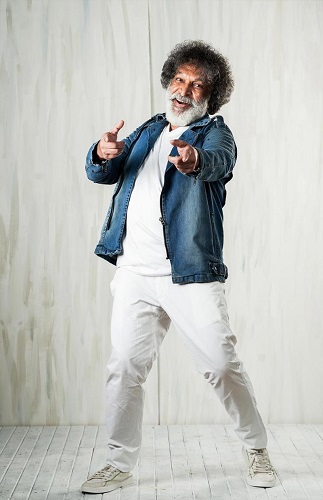 Family
He belongs to a Muslim family. [2]The Hindu
Parents & Siblings
His father's name is Mehaboob Basha, and his mother's name is Mumtaz. He has two younger brothers. One of his younger brothers' names is Jawahar, who is an actor too. His other brother is mentally ill.
Wife & Children
His wife, Kameela Nassar, is a producer-turned-politician. The couple has three sons. His eldest son, Noorul Hassan Faizal met with an accident in 2014 after which Faizal lost his memory. [3]Mathrubhumi His other sons Luthfudeen and Abi Hassan (youngest) are actors.
Career
Jobs
After completing his pre-university, he joined the Indian Air Force for which he used to earn a monthly stipend of Rs 260. [4]The Hindu However, his father wanted him to become an actor rather than join the defence services. Later, he did a few odd jobs like working at a five-star hotel and working as a security guard.
Actor
Film
Tamil
In 1985, he made his Tamil film debut with 'Kalyana Agathigal' in which he played the role of Kannayiram.
He came into the limelight with the film 'Nayakan' (1987) as an assistant commissioner.
He has appeared in more than 550 Tamil films including 'Aavarampoo' (1992), 'Thamizh' (2002), 'Poi Solla Porom' (2008), 'Deiva Thirumagal' (2011), 'Baahubali: The Beginning' (2015), and 'Ponniyin Selvan: I' (2021).
Nassar has collaborated with the Indian actor Kamal Haasan and Indian film director Mani Ratnam in various Tamil films like 'Thevar Magan' (1992), 'Magalir Mattum' (1994), and 'Anbe Sivam' (2003).
In 2022, he appeared in his 550th Tamil film 'Hostel' in which he played the role of Father Kuriakose.
Telugu
In 1989, he made his Telugu film debut with 'Kokila' in a supporting role.
He has appeared in many Telugu films including 'Dharma Kshetram' (1995), 'Moodu Mukkalaata' (2000), 'Nayakudu' (2005), 'N.T.R: Kathanayakudu' (2019), and 'Waltair Veerayya' (2023).
Bengali
In 2019, he made his Bengali film debut with 'Sitara' in which he played the role of Kabir Mahajaan.
Malayalam
Nassar played the role of Narendran in his Malayalam debut film 'Mukham' (1990).
Some of his other Malayalam films are 'Rakthasakshikal Sindabad' (1998), 'Pachamarathanalil' (2008), 'Aadupuliyattam' (2016), 'Aabhaasam' (2018), and 'Pathonpatham Noottandu' (2022).
Kannada
In 1985, he made his Kannada film debut with 'Veera Bhadra' in a supporting role.
Nassar has also acted in various Kannada films like 'Dhumm' (2002), 'Bindaas' (2008), 'Olave Mandara' (2011), 'Brahma' (2014), and 'Victory 2' (2018).
Hindi
In 1995, he made his Hindi film debut with 'Angrakshak' as Deva.
He has acted in many popular Hindi films like 'Chachi 420' (1997), 'Hey Ram' (2000), 'Rowdy Rathore' (2012), 'Ramaiya Vastavaiya' (2013),' and 'Ram Setu' (2022).
English
Nassar has also appeared in various English films such as 'Tales of The Kama Sutra: The Perfumed Garden' (2000), 'Nothing But Life' (2004), 'Morning Raga' (2004), and 'Fair Game' (2010).
Television
At the beginning of his career, he worked in television serials for which he got Rs 75 per episode. [5]The Hindu He has appeared in Sun TV's serials like 'Chinna Chinna Aasai' (1997), 'Boom Boom Shakalaka' (2000), and 'Jothi' (2021).
Web Series
In 2022, he played the role of Mottai Maadi Siddhar in the SonyLIV web series 'Victim.'
In the same year, he acted in 'Vadhandhi: The Fable of Velonie,' which streamed on Amazon Prime Video.
Director
Apart from acting, he has also worked as a director in various Tamil films like 'Avatharam' (1995), 'Devathai' (1997), 'Maayan' (2001), 'Pop Corn' (2003), and 'Sun Sun Thatha' (2012).
Dubbing Artist
Film
Nassar has dubbed films in various languages which includes 'Manathil Urudhi Vendum' (1987), 'Evana Irundha Enakenna' (1993), 'Aalavandhan' (2001), 'Prince of Persia' (2012), and 'Vikram Vedha' (2017).
Web Series
In 2021, he dubbed the Netflix South Korean web series 'Squid Games' for the actor O Yeong-su. In 2023, he lent his voice to Amazon Prime Video's web series 'Farzi' for the actor Amol Palekar.
Singer
In 1998, he sang the song "Kaalathuketha Oru Gana" from the Tamil film 'Velai.' Some of his other songs are "Meghame" from 'Madrasapattinam' (2010) and "Andhaadhi" from '96' (2018).
Politics
In 2018, he joined Makkal Needhi Maiam, a political party of the famous Indian actor Kamal Haasan. [6]Cinestaan
Other Work
He has appeared in TV commercials for various brands such as Volgatech Water Tank, Agni Steel, and Bandwagon.
He has also produced a few Tamil films.
Controversy
Allegations of Ignoring His Parents
In 2019, Nassar's brother held a press conference where he shared that Nassar had neglected his elderly parents and mentally ill brother. Jawahar also accused his sister-in-law Kameela of causing harm to the family. Reportedly, this information was even used to influence people to vote against Nassar's wife, Kameela Nassar. Later, Nassar released a press statement addressing the situation. He stated that videos and news about his family had been manipulated by political influencers to defame Kameela. He described her as an independent individual with her own talents and capabilities. Nassar mentioned that he could explain his side and share his 40 years of life story, but he believed it should be done at the right time and to the right person. He believed that the current situation was an attempt to smear his candidacy and he promised to address and discuss the matter after the elections. Nassar expressed his disappointment that his family was being dragged into the streets just to discourage people from voting for Kameela Nassar. He emphasized that Kameela had not lived in his shadow and had her own individuality and talents, just like him. Nassar also said that their contributions would be evident from their public life and that they would not disappear after the elections. Despite facing hindrances in fulfilling his duties due to instigation from one family member, Nassar assured that he was still carrying out his responsibilities. [7]The News Minute
Awards
Tamil Nadu State Film Awards
1992: Special Prize for the Tamil film Aavarampoo
2002: Best Villain for the Tamil film Thamizh
2006: Best Character Artiste (Male) for the Tamil film Em Magan
2011: Best Character Artiste (Male) for the Tamil film Deiva Thirumagal
2014: Best Character Artiste (Male) for the Tamil film Kaaviya Thalaivan
Ananda Vikatan Cinema Awards
2008: Ananda Vikatan Cinema Award for Best Comedian for the Tamil film Poi Solla Porom
Norway Tamil Film Festival Awards
2014: Norway Tamil Film Festival Award for Best Supporting Actor for the Tamil film Kaaviya Thalaivan
Nandi Awards
1993: Nandi Award for Best Villain for Telugu film Chanti
Other Awards
2017: Lifetime Achievement Award by Magudam Awards
He has also received Behindwoods Gold Medal.
In 2022, he received Golden Visa from the UAE government.
Car Collection
Assets & Properties
Non-Agricultural Land: Rs 1,50,00,000 (approx)
Residential Buildings: Rs 76,00,000 (approx)
Note: The given estimates of movable and immovable assets are according to the year 2019. [9]My Neta
Income
In 2018, his income was around Rs 1,30,00,000. [10]My Neta
Favourites
Film(s): The Lunchbox (2013), Kaaka Muttai (2014), Jigarthanda (2014), Piku (2015)
Sport Person: Dhanraj Pillai
Facts/Trivia
Nassar, previously known as Muhammad Hanif, decided to change his real name to Nassar as a tribute to his idol, Egyptian President Gamal Abdel Nasser.
He had once shared that during the early days of his career, he faced multiple rejections in auditions due to his physical appearance, particularly his nose. People often considered him too thin and criticized his prominent forehead, comparing his nose to that of a parrot's beak. Some even suggested that he should pursue stunt work or play the role of a henchman in movies. [13]

The Hindu
In an interview, he shared that there was a phase in his life when he had to struggle to have two meals a day. However, he acknowledged that many fellow Indians also faced similar hardships. While he occasionally faced religious discrimination, he recalled a time when he was a struggling actor and didn't have a place to sleep. A Hindu friend of his offered him shelter in his puja room. He considered these experiences not as his personal struggles but rather as obstacles that he overcame. The real struggle, he believed, was to become a skilled actor, which required immense dedication and hard work. [14]

The Hindu
Nasser served as the Ambassador for UNICEF, focusing on sanitation issues. He actively campaigned against open defecation and participated in initiatives related to Water, Sanitation, and Hygiene (WASH) campaigns. He visited schools as part of these campaigns, engaging with students and having discussions about the challenges associated with open defecation and the importance of sanitation.
During his leisure time, Nasser loves reading books, travelling, and writing poems.
Additionally, Nasser is actively involved in running a Centre for Tamil Arts called Adavu. The centre provides training in various subjects, including folk arts, storytelling, research, and documentary filmmaking.
In 2014, his elder son Noorul Hassan Faizal designed a game for the film "Saivam." During the same year, Faizal had a major accident. In an interview, Nassar shared that his eldest son, Faizal, had met a terrible road accident that caused serious internal injuries. While Nassar stayed by Faizal's side, the grief and helplessness took a toll on him. During this difficult time, Nassar made the decision to return to the film set. In an interview, while remembering the incident, he said


The day I went back, Kamal shot a scene just because I was there. If not for his support and that of my friends and family, it wouldn't have been possible for me to face it."

On the film sets, Nassar encountered one of the toughest challenges in his career. He had to perform comedy scenes with Kamal Haasan a few days after his son's accident. To prepare for the role, Nassar had to lie down with his eyes closed for three hours for the makeup. [16]The Hindu
He is a polyglot who can fluently speak languages like Hindi, Tamil, Urdu, English, Arabic, Telugu, Kannada, and Malayalam.
He has been organizing theatre and acting workshops at various schools and colleges.
In 2022, there were rumours that he was planning to retire from acting due to health issues. However, Nassar addressed these rumours and ended them by making a statement. Since he is not active on social media, he sought assistance from his spokesperson to respond to the circulating reports about his last film. In the statement, Nassar confirmed that he intends to continue acting until his last breath and cautioned his fans about believing in such rumours. [17]

The Times of India