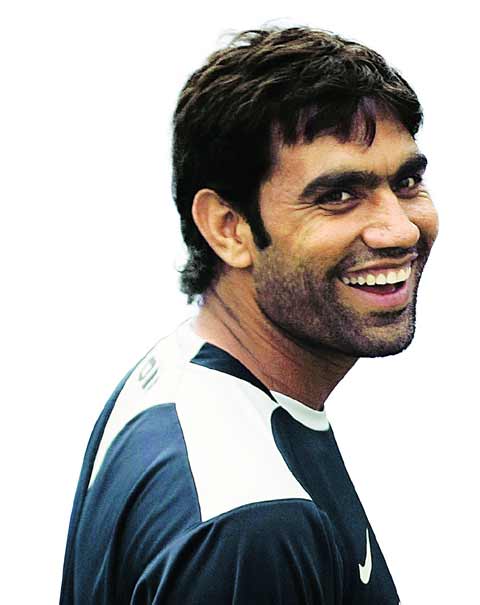 Munaf Patel is a former Indian cricketer who played the role of a fast bowler in domestic as well as in international formats. He is known for his tall physique with a nice control over his line & length. He could swing the ball both ways and get that reverse swing when the ball gets old. He can also execute yorkers and leg cutters to good effect.
Wiki/Biography
Munaf Patel was born on Tuesday, 12 July 1983 (age 38 years; as of 2021) in Ikhar village in Bharuch district in Gujarat. His zodiac sign is Cancer.
He started playing cricket in his childhood. However, he had to quit cricket to help his father in running their house expenses. As his school teacher get to know that Munaf is doing his job during his vacations, he told him to focus on his studies and sports. From thereon, his focus shifted from the job where he was working as the tile laborer in a marble factory and as time went by, he was becoming a much-improved pacer than before. Seeing his talent, former India's wicketkeeper Kiran More took him to MRF pace foundation in Chennai where he was being trained by MRF's director and former Australian fast bowler; Dennis Lillee. After all those hardships, Munaf made his international debut in 2006 against England where he was impressed with six wickets in a test match.
He was also part of the Indian squad for both the 2007 ODI and T20 World Cups. His best performance came in the 2011 World Cup where he took 11 wickets and emerged as the third-highest wicket-taker behind Zaheer Khan and Yuvraj Singh. He had a constant battle with injuries due to which, he cannot become a permanent member of the team. In 2018, he retired from international cricket, and in November 2021, he retired from all forms of the game. Post-retirement, he worked as the coach to nurture young talents across India.
Physical Appearance
Height (approx.): 6′ 3″
Weight (approx.): 70 kg
Hair Colour: Natural Black
Eye Colour: Hazel
Family
Munaf Patel belongs to a Gujarati family.
Parents & Siblings
His father's name is Musa Patel and he is a farmer. His mother's name is Saeeda Patel and she is a homemaker. He has one sister named Noorjahan Patel.
Wife & Children
He got married to a local girl in his village named Taslima in a private ceremony in 2010 where only close relatives and friends were called.
A few years later, the couple was blessed with a baby boy.
Signature/Autograph
Career
International Debut
T20I
He made his T20I debut on 9 January 2011 against South Africa at Kingsmead Stadium in Durban (South Africa)
ODI
He made his ODI debut on 3 April 2006 against England at Jawaharlal Nehru Stadium in Margao (Goa)
Test
He made his test debut on 9 March 2006 against England at Punjab Cricket Association Stadium in Mohali
Domestic/State Teams
Indian Board President's XI
Kandy Tuskers (Lanka Premier League)
His career gained the limelight during the World Cup match between India and England on 27 February 2011. In this match, he bowled the last over of England's inning when they required 14 runs to win. Munaf's first three deliveries went for nine runs in three balls and the match was looking in England's hand. In the last ball, when their team needed two runs, Munaf bowled a full-length delivery and finished a match in a tie.
As he was from a poor background, he had to quit cricket to support his father in dealing with the exorbitant household expenses. He then started working in a marble factory during vacations as a tile laborer, where his job was to select the "best quality" tiles and pack them in boxes. He would get 35 INR for a day. In an interview, recalls,
"It was a hard life, but it had become a habit. There wasn't enough money, but what could we do? Father was the only one earning, and we were in school."
Seeing all his passion for the sport and the hardship he was going through, former Indian cricketer Yusuf Pathan took him to Baroda and enrolled him at a cricket club. Recalling those days, Munaf told,
"He bought me Rs 400-worth shoes, and introduced me to a cricket club. Ehsaan rahega zindagi bhar." (Even today, whenever Yusuf comes down from UK, Munaf hops over to his house. "Kuch bhi kaam hai toh bata dena, bhai."
However, his father wasn't happy with his son playing cricket. Every day, at dinner, young Munaf was asked to quit cricket and focus on his father's work. Munaf further told,
"I would just stay silent; my mother would tell him to let me play." For Ikhar, a village of poor cotton farmers, Africa was the passport out of poverty. Every year, a youngster or two would land up at a friend, relative, or acquaintance's house in Zambia, Mozambique, South Africa, or Zimbabwe to find work in a factory or a shop. Patel had an uncle in Zambia and so his future seemed set in stone. "You can't blame my father. No one here really knew that cricket had this kind of scope. That I can even earn money from this."
In 2002, he gained the spotlight when he impressed everyone with his pace. However, he would often lose control once hit by boundaries. This prompted the selectors not to throw him onto the international stage. Munaf was told to focus on his domestic cricket and work towards his weak points in order to get into the Indian side. He started working hard and in 2006, news came where he was being selected for a Test series against England. He didn't get the chance in the first game but in the second game, he not only opened the bowling but also took three important wickets of Kevin Peterson, Andrew Flintoff, and Liam Plunkett.
But his best was about to come in that match. In the second inning, he dismissed four of their crucial batters which include the key wicket of their star opener Alastair Cook. He finished his bowling tally with 7 for 97 in 38 overs. He credits his state team Maharashtra for helping him out in working on his key skills to get into an Indian squad. Further, he said,
"Maharashtra supported me. Chandrakant Pandit also encouraged me all the way. He taught me many things."
In August 2005, during a tour match between Board President's XI and England, he took 10 wickets. After which, he got transferred to Maharashtra. The same year during a match against West Indies, he caught the limelight when he clocked express speeds on a regular basis. But in the series, he was struck for 6 boundaries in an over by Ramnaresh Sarwan.
During the first season of IPL, he played for Rajasthan Royals and took 14 wickets. Likewise, he also played the next season for the Rajasthan team. In the latter four seasons, he played for Mumbai Indians. In the IPL 2014, he went unsold but in 2015, he was bought by Gujarat Lions for 30 Lakhs.
Soon, in 2006, he played an ODI match against Australia on 16 September 2006 where he took three wickets after conceding 54 runs. The dismissed batters were Phil Jaques, Stuart Clark, and Michael Clarke. In the final game of the same tournament, he took the wicket of captain Ricky Ponting just four runs and ended his spell with 32 for one in nine overs. In October 2006, in a match against England during the Champions Trophy, he took three wickets and won the 'Player of the Match' award. After that performance, he was included in the Indian squad for the 2007 Cricket World Cup in a fifty-overs format where India failed to make it to the super-8 stage. In August 2007, he played two matches against England where he took four wickets and was later omitted from the squad during to injury. Owing to injury, he was also left out from the national squad against Pakistan in November in limited-overs format but later recalled to the Test squad when fast bowlers Rudra Pratap Singh and S. Sreesanth got injured.
During the India tour of Sri Lanka, he went wicketless and conceded 32 runs in five overs in the first match. But before the second match, he suffered from a groin injury and was later, left out from the remaining matches. Munaf lost his pace and struggled to make it in the Indian squad as the spearhead bowler. He became the back-up seamer by then. He lost his place in the test side despite his decent performance in the limited-overs format. The 2011 Cricket World Cup was starting on 19 February and Munaf was given a chance to feature in the squad in the place of injured Praveen Kumar. This team is led by MS Dhoni. Their first match was against the co-host Bangladesh.
India after batting first posted 370 runs on the board. Bangladesh though had a decent start, but in the seventh over, they lost their opener, Imrul Kayes, when the team's score was 56. After that, its been a steady partnership between Tamim and Junaid. but they cannot take their partnership beyond 129 runs when Tamim got out slogging a length delivery towards long-on into the safe hands of Yuvraj Singh. India won this match by 87 runs with Munaf conceding 48 runs and taking four crucial wickets. Though Virender Sehwag was awarded the player of the match yet it was Munaf who played a key role in wrapping up the Bangladeshi innings.
Their next match was against England in Bengaluru. After posting India 338 runs on the board, England started off in a decent fashion after 60 runs in nine overs. In the next over, Munaf dismissed Peterson; caught and bowled yet again. His next victim was Michael Yardy in the 48th over. This wicket fell, when Yardy was trying to whip the slower delivery towards fine leg, where Sehwag was placed who took a fine catch to dismiss Yardy.
Munaf then only played against Ireland and took one wicket. India won both these games. In the next game, India lost to Proteas, and where Munaf took two wickets for 65 runs in ten overs. In the next game, they beat Australia in the quarter-finals and qualified for the semi-finals where they will be facing Pakistan at Punjab Cricket Association Stadium in Mohali near Chandigarh. India needs to defend 260 runs in order to go through the finals. Munaf dismissed their opener, Mohammad Hafeez, on the score of 43. Hafeez was trying the paddle scoop and ended up edging the ball towards keeper Dhoni. India won this match by 29 runs.
The final match between India and Sri Lanka took place on 2 April 2011 which was won by India. It was the second time in the history of cricket, India won the World Cup after 28 years.
However, Munaf was wicketless after conceding 41 runs in nine overs. He got eleven wickets in ten games he played in the 2011 World Cup.
A few days before the World Cup, a preparatory tournament was played between India and South Africa in their homeland. India lost their first match. The second match saw Munaf taking four wickets after conceding 29 runs in nine overs. He bowled the last over and helped India to scalp the last wicket of Wayne Parnell and script an emphatic win by one run. Later after the World Cup, he got fewer matches to play and in 2018 he retired from international cricket. He has played 13 test matches and took 35 wickets with a bowling average of 38.54 runs per wicket. His best bowling performance of 6 for 97 runs came against England in 2006. Overall, he has bowled 443 overs and conceded 1349 runs with an economy of 3.04.
He also played 70 ODIs and took 86 wickets with a bowling average of 30.26 runs per wicket. Overall, he has bowled 525.4 overs and conceded 2603 runs with an economy of 4.95 in ODI cricket. His best bowling of 4 for 29 runs came against South Africa. Besides, Test and ODIs, he has played 3 T20I and taken four wickets with an average and economy of 21.5 and 8.6 respectively.
Controversies
Rehnuma Bhati Rape Case


This controversy rosed in November 2021, when Rehnuma Bhati; the wife of Dawood Ibrahim's subordinate professed a rape charge on Munaf including Indian cricketer Hardik Pandya and BCCI vice-president Rajeev Shukla. She alleged that she was compelled to sleep with Munaf and Hardik in a shocking revelation from the world of cricket. She further told that when she refused to sleep with Rajeev Shukla, she was physically harassed by Shukla and his mates. She was also forced to dance without clothes in front of them and then raped.
Bogus Documents Scandal

This controversy took place in 2020 when Munaf was charged as the mastermind behind the investigation where it was found that Baroda Cricket Association (BCA) was admitting those students also who are not from Gujarat. The Speculation rose when it was found that the student with the fraudulent document hails from Munaf's village.
Match Fixing Scandal

In 2018, Munaf was arrested by the Rajasthan police after he was allegedly spotted on the sidelines of the Rajputana Premier League, which saw some suspicious passages of play. Terming all these allegations as a frill, Munaf told in a telephonic interview,

"I don't know why this kind of news is surfacing now after a year. I have never been questioned relating to the league earlier. I have no idea what is going on. I did go to the opening ceremony of the event along with two other people. I was there on the field for over four hours. I also answered a few questions related to the promotion of cricket. I was invited by Mohammad Aslam, a former Ranji player from Rajasthan, and the organizer of the Rajputana Premier League."

Cheque Bounce Case


In September 2017, it was alleged that Munaf Patel who is also the director of a Delhi-based real estate company was involved in a fraud where the funds earned from the company were ill-used in cricket betting and match-fixing. Due to this, Munaf was rebuked by the Delhi court. In a hearing the court said,

"There is sufficient material on record to summon all the accused persons. Therefore, a prima facie case punishable under Section 138 of the Negotiable Instruments Act is made out against them. This court, therefore, takes cognizance of offense."
Car Collection
Jaguar XF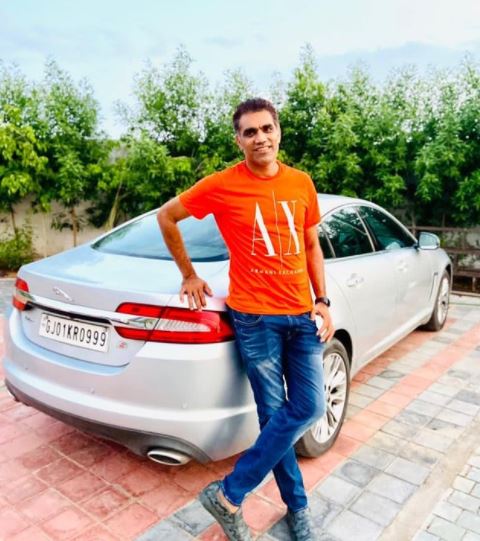 Facts/Trivia
His jersey number was 13 when he played for India and in IPL.
His weakness in English proved an obstacle in his career as it was difficult for him to communicate with foreign players. In an interview, he revealed that he would often leave the practice early in order to prevent himself to talk with them. He further added,


"Gora tha (He was white), left-handed and the pitches were fast then. I bowled four-five bouncers; one hit his shoulder, one his helmet and other his gloves. He started to come towards me, saying something in English. Mujhe toh English aati nahi tab. But I see that he is angry. So I slip away quickly and dive into the swimming pool. I thought he will complain to Sir, who will throw me out of the academy!"

After entering the limelight with some fine performances, the first thing that he did is to put an end to his father's labor job. He did it by making a house in his village as his family members aren't willing to shift to the city. In an interview, he told that he loves staying in the village. Interestingly, even after winning the 2011 World Cup, he hasn't left his hometown, unlike other Indian cricketers.
In his early cricket days, he had injury concerns due to which India-A coach Sandeep Patil alleged that he isn't coping up with injuries and therefore suffering from a mental disorder. Later, he was sent to the Australian Institute of Sport for biomechanical analysis to improve his accuracy in bowling.
Expressing his decision behind retiring from international cricket, he told,


"There is no regret; after all, the cricketers I played with have retired. Only (MS) Dhoni is left! So, there is no sadness as such. Everyone's time is up; I would have been sad had others been playing and I had quit."

Adding further, he said,

"There is no special reason (to retire). Age is not on my side, fitness is not the same. Youngsters are there waiting for chances and it doesn't look nice if I keep hanging on. The main thing is there is no motivation left. I was part of the World Cup-winning team in 2011; there can't be a greater high than that. I still can't believe I am quitting cricket as I don't know anything else. I understand only cricket."

Munaf was often criticized for his preppy choices in a dressing room. A confusion broke up once it was found that Munaf hasn't tucked his shirt during fielding. This created differences in the dressing room. To end the controversy, team captain Rahul Dravid advised Munaf to tuck the shirt. Many of his teammates like Virender Sehwag, Yuvraj Singh, and Harbhajan Singh came in support of him and said,


"Chodna yaar, hum bhi tuck in nahin karenge kal sey! ( We also won't tuck our shirts in)"

After team India lost its place in the super-8 stage of the 2007 ODI World Cup, many of the star cricketer's houses were destroyed by the mob. Some houses were set ablaze while other was being pelted by stones. These cricketers include Sachin Tendulkar, Zaheer Khan, Sourav Ganguly, and MS Dhoni. Tendulkar asked Munaf,


"Something or other is happening at everyone's house. What's on at your home, Munna?"

To which, he replied,

"Paaji, jahan main rahta hoon na, udhar aath hazaar log hai and 8,000 mera security hai! (There are 8,000 people where I stay, and those are my security.)

Tendulkar then said while laughing,

"We might all have to come to your home from here."

Talking about Virat Kohli's decision to give up captaincy after the 2021 Cricket World Cup, Munaf tweeted,


🤔🤔🤔
💔💔💔@imVkohli we are with you in your Decision. I am sure we will win this #worldcup under your captaincy.
Wish you All the best.#captaincy https://t.co/ynX37TrO0z

— Munaf Patel (@munafpa99881129) September 16, 2021

Munaf opened a COVID-19 facility in his village in July 2020 as this village witnessed five new positive cases.