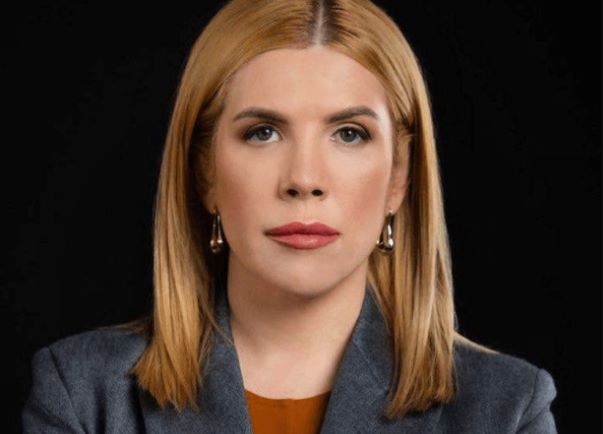 Kira Rudik is a Ukrainian political leader. She contested the Ukrainian parliamentary election in August 2019 and was elected as a member of the Ukrainian parliament on the ticket of the Ukrainian political party 'Voice.' She has worked with various top IT companies in Ukraine and the United States as a software engineer before venturing into politics.
Wiki/Biography
Kira Rudik was born on Monday, 14 October 1985 (age 36 years; as of 2021) in Uzhhorod, Ukrainian SSR, Soviet Union. Her zodiac sign is Libra. In 2006, she earned a bachelor's degree in Computer Science from the National University of Kyiv-Mohyla Academy. [1]Kira's LinkedIn Account In 2008, she received a master's degree in Information Control Systems and Technologies from the Faculty of Informatics of the National University of Kyiv-Mohyla Academy. [2]LIGA News In 2018, she joined Stanford University and earned a Women Leaders Executive Training for Women Leaders. [3]Kira's LinkedIn Account
Physical Appearance
Height (approx.): 5′ 6″
Weight (approx.): 60 kg
Hair Colour: Blonde
Eye Colour: Dark Brown
Family
Parents & Siblings
The names of her parents are not known.
She has a sister named Sarah Littmann.
Husband & Children
Kira Rudik is married to Taras Rudik.
The couple has two children.
Career
Software Engineer
Kira Rudik worked as a QA manager at TAIN Ukraine for six years from 2006 to 2012. From 2010 to 2013, she was associated with MiMedia, Brooklyn, New York. At Open Influence company in Greater Los Angeles, she started working in 2015 as a Project Manager and Product Manager and served the position till the mid of 2016. In March 2013, an IT company TechTeamLabs was cofounded by Kira Rudik. In this company, she was desiganated as Head of Project Management for three years and seven months. Kira Rudik then appointed as the Chief Operating Officer (COO) of Ring Ukraine in September 2016, and she worked at Ring for three years and one month. At Ring, she was given the responibility of the research, finance, PR, HR departments, and operational tasks. In 2018, this company was a renowend security systems manufacturer company that sold smart doorbells and was later purchased by Amazon for $1 billion. During her career as a software engineer, she was associated with various well known civic and business organizations. Kira frequently represents her party at various conferences and delegations in Ukraine. Kira Rudik is on the panel board of the Ukraine House of Davos along with several other global leaders. 
Specializations
Kira Rudik received specialised training in Budgeting and Scheduling Projects, Managing Project Risks and Changes, and Initiating and Planning Projects in 2015. She then earned a specialization in Introduction to Project Management Principles and Practices in 2016.
Volunteer
Kira Rudik voluntarily worked at HappyPaw, an animal welfare organisation, from January 2008 to September 2010.
Politics
Kira Rudik joined politics in 2019 when she contested and won the Ukrainian parliamentary elections. Soon, she was appointed as the Member of Parliament at Verhovna Rada of Ukraine. On the selected candidates' list of Voice Party, Kira Rudik was on the third number. Kira replaced Svyatoslav Vakarchuk after he stepped down as the leader of the Voice Party. Kira Rudik serves as a board member of the American Chamber of Commerce in Ukraine and IT Ukraine Association. On 11 March 2020, the Golos Party Congress of Ukraine appointed Kira Rudik at the post of 'People's Deputy.'
Facts/Trivia
Kira Rudik follows a non-vegetarian diet.
The seven members of the Voice Party were terminated from the party two years after Kira joined the Voice Party, and on 29 July 2021, the five members out of these seven mentioned in their statements that they were not happy with the working procedure of Kira and were deciding to resign from the party. [4]

Pravda According to them,


The "Voice" congress is "another profanation of the leadership and cementing of Kira Rudyk's control over the party."
In March 2022, Kira Rudik shared a picture on one of her social media accounts, which went viral on various news channels. In the picture, she was seen holding a Kalashnikov, an assault rifle, amid the Ukraine and Russia war, and she wrote a caption along with the picture in which she stated that Ukrainian women would protect their motherland likewise the Ukrainian men did. She wrote,


I learn to use #Kalashnikov and prepare to bear arms. It sounds surreal, as just a few days ago it would never come to my mind. Our #women will protect our soil the same way as our #men."

Later, while talking to a media house, she stated that these arms gave her the courage to fight for her country against Russia. Kira Rudik further added that she would protect her country from the Russian invasion, and she affirmed that Ukraine would always remain an independent country. She said,

I am protecting my family and I am organising the resistance group that is fighting Russians on our streets because they need to go back to where they came from our soil because we are an independent country and will protect our sovereignty no matter what, because I want my children to live in Ukraine that I'm building for them not some Vladimir Putin."
Kira Rudik is listed among the top 100 successful women in Ukraine.
In March 2022, Kira Rudik was on official duty at Kyiv where she voluntarily posted to help and protect the country during the Russia and Ukraine war.
Kira Rudik is an avid cat lover. She regularly posts pictures of her pet cat on social media.
Kira Rudik is a fitness fanatic. She does physical exercises at home and often shares pictures and videos of her exercise sessions on social media.
Kira Rudik is often featured by various well-known magazines and tabloids on their front cover.
Kira Rudik enjoys alcoholic beverages occasionally.
Various prominent global news channels often invite Kira Rudik to their debate talk shows.
According to Kira Rudik, she had transformed her shoe cupboard into an underground bunker amid the Ukraine-Russia war in 2022. In an interview with a media house, she stated that the sirens of bombs forced her family to underground on their bellies, and she often played turtle games with her children. She further added that in the turtle game, she suggested that her children close their eyes and pretend to be turtles. [5]

India Today
Kira Rudik stated in a conversation with a media house that at least 3 to 4 times a day, she and her family members hid underground in their home during the airstrikes amid the Russia-Ukraine war in 2022. She added,


While we wait for the airstrikes to pass, we pray, sing the songs, or imagine, what the life would look like when the war is over."
On various social media platforms, Kira Rudik remains very active as she is followed by over 37k people on Instagram. She is followed by more than 136k people on Twitter.
She is often featured in various newspapers.