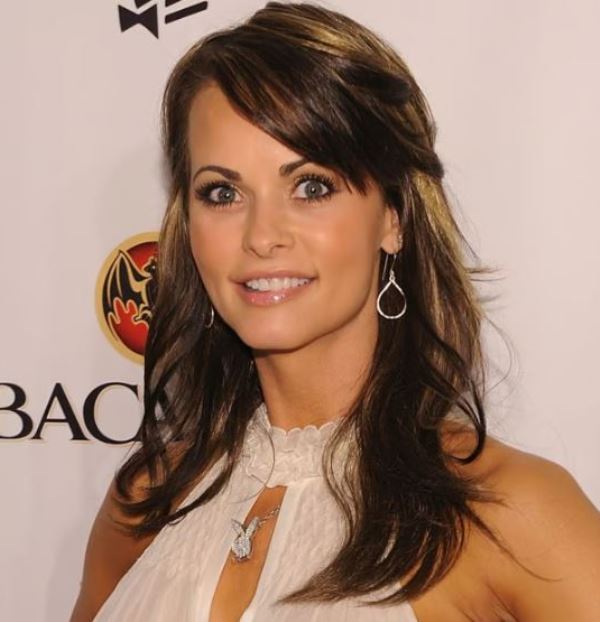 Karen McDougal is an American actress and model. She is known for appearing in Playboy magazines. She came into the limelight in 2016 when it was revealed that she had an alleged 9-month-long relationship with the former President of the United States Donald Trump in 2006.
Wiki/Biography
Karen McDougal was born on Tuesday, 23 March 1971 (age 52 years; as of 2023) in Merrillville, Indiana, United States. Her zodiac sign is Aries. She did her schooling at River Valley High School in Michigan, United States. She learned ballet and tap dance in childhood. Before teaching and modelling, her childhood dream was to become a ballerina. While studying in school, she was a cheerleader, a member of a marching band and a colour guard team.
She played volleyball and softball in school. In high school, she used to play the clarinet, a single-reed musical instrument and was a four-time Michigan state champion clarinet player. In 1989, she completed her high school studies. Later, she majored in elementary education at Ferris State University in Big Rapids, Michigan.
Physical Appearance
Height (approx.): 5′ 8″
Weight (approx.): 60 kg
Hair Colour: Dark Ash Blonde
Eye Colour: Lavender Gray
Figure Measurements (approx.): 34-24-34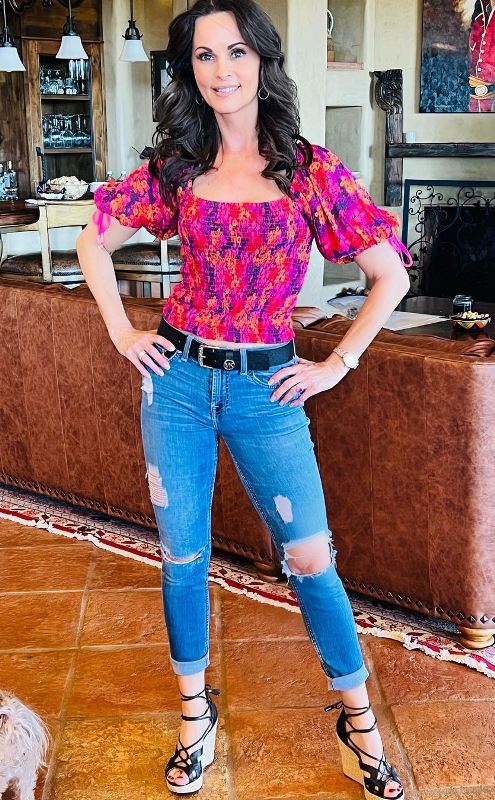 Family
She belongs to a family of Cherokee, Scottish, and Irish descent in Michigan, United States.
Parents & Siblings
Her step-father's name is Frank Greene, and her mother's name is Carol Greene.
She has three elder brothers named Bob, Dave, and Jeff and a younger step-sister named Tina McBain.
When she was Karen was nine years old, her mother remarried and moved to Sawyer, Michigan.
Wife & Children
She is not married.
Relationships/Affairs
From 2006 to 2007, she was in a relationship with Donald Trump, the former President of the United States.
While dating Donald Trump, she also had an affair with the Hollywood actor Bruce Willis from 2006 to 2007. [1]MEAWW
Reportedly, she dated Robert Jackson Williams, the founder of the media company Young Hollywood. [2]The Sun
Signature/Autograph

Career
Teacher
After studying for two years in college, she taught in a pre-kindergarten school in Detroit. It was one of her goals to open an education centre for children.
Model
While she was teaching at kindergarten school, a friend of hers recommended her to participate in a swimsuit competition, the Venus Swimwear International Model Search. She won the contest and became a Venus swimsuit model. The first modelling job that she bagged was for a Harley-Davidson bike show in Detroit in which she worked as a promotional model.
Playboy Model
In 1997, after she won the international final of the Venus Swimwear International Model Search held in Florida, she was scouted by the Playboy photographer David Mecey. Later, she was contacted by Playboy for a test shoot at Playboy Studio West in California in which she was selected. After the test shoot, she was called for a complete photo and video shoot and won the title of Miss December 1997. Soon after she appeared on the cover of Playboy magazine, and her video, 'Playmate Profile,' appeared on Playboy TV. In May 1998, Hugh Hefner, founder and chief-in-editor, and her fans chose her as the Playmate of the Year (PMOY). She won $100,000, a special edition of the Shelby Series 1 convertible Mustang car, and a customized Michigan license plate 'PMOY 98.' In July 1998, she was featured on the cover of Playboy as PMOY.
While having an online chat in 2002, she revealed that she would like to pose nude for Playboy again if she was offered to do so. In 2002, Playboy released a limited edition of the Playboy Collectors' Figure Series and her figurine was the first one to be released; however, due to some changes to be made in the figurine design, the release date was delayed. In 2005, she appeared in 'Playboy: Playmates at Play at the Playboy Mansion' swimsuit calendar and became the calendar girl of July 2005. All the other Playmates wore bikinis during the photoshoot for the calender while Karen McDougal and Hiromi Oshima had only body paint on their bodies.
Fitness Model
In 1999, she appeared on the cover of Men's Fitness magazine and became the first woman to do so. She appeared in many fitness magazines such as Muscle & Fitness (January 2000), Physical (June 2004), and Iron Man (October 2005, January 2006, June 2007, and November 2009. She was featured on the cover of the October 2005 and June 2007 issues of Iron Man magazine.
In January 2006, she was featured in a 10-page pictorial as 'Hardbody' of the month in Iron Man magazine. In November 2009, she was again featured as 'Hardbody' of the month in Iron Man magazine along with another Playboy model Katie Lohmann.
Other
In 2003, she collaborated with Bill Toma, a fantasy sculptor, and posed for Bill to create a limited edition bronze figurine named 'Warrior Princess.' In 2004, she posed with other Playmates named Pamela Anderson, Audra Lynn, and Tishara Cousino to appear in Vogue magazine's Italian edition. In May 2004, she visited Japan to attend a wrestling match between Scott Hall and Kevin Nash in Yokohama, where she appeared as one of the eye candies. In November 2006, she, along with Playmates Tina Marie Jordan and Katie Lohmann, was featured in Splat magazine's 'Celebrity Playmate Gift Guide' pictorial. In 2004, she participated in WWE Diva Search, an American talent competition held in New York; however, she was eliminated in the last round.
Television
She has appeared in many TV commercials for XFL, the American football league, on NBC and UPN. In 2002, she was one of the 12 contestants on E!'s reality TV series 'Wild On!' in which they search for a host to experience the food, culture, and nightlife of a particular region. She has appeared as a guest host on E!'s reality TV series 'Wild On!' (2002). She has appeared in many TV shows and series such as the Playmate edition of 'Russian Roulette' (2002-2003) on Game Show Network, Lifetime Television's 'Lovespring International' (2006), and FX's 'Anger Management' (2012).
Film
In 2000, she made her acting debut with the popular American film 'Charlie's Angles' in which she appeared in a supporting role as Roger Corwin's girlfriend.
In 2001, she played the role of a slave girl named Jessemina in the direct-to-film 'The Arena,' which was a remake of the 1974 film 'The Arena.'
She played a cameo role in the American comedy films 'Joe Dirt' (2001), 'Grind' (2003), and 'The Girl Next Door' (2004).
Business
In 2010, she ventured into business and co-founded Pharmore Alternatives, which is a health and wellness supplements company. In January 2011, she attended AVN Adult Entertainment Expo to promote its products.
Controversies
Affair With Donald Trump
In November 2016, an American media house revealed that Karen McDougal was in a relationship with Donald Trump, who was married at that time. Reportedly, American Media Inc. (AMI), the owner of National Enquirer, an American tabloid newspaper, paid $150,000 to Karen for purchasing exclusive rights to her story; however, he never published it. National Enquirer endorsed Donald Trump during the 2016 United States presidential election. Hope Hicks, an American Public relations executive and political advisor, who served in Donald Trump's administration, while talking in Donald Trump's 2016 presidential campaign said that Donald and Karen did not have an affair. In June 2006, Karen met Donald at the Playboy Mansion by Hugh Hefner. They contacted each other after the party, and reportedly, they had sexual intercourse on their first date, while Donald Trump was married to Melania Trump. Allegedly, he promised her that he would buy an apartment for her in New York. He paid for her flights and hotel whenever she came to meet him. In April 2007, he broke up with him as she was feeling guilty for sleeping with Donald Trump, who was married at that time. On 22 March 2018, Anderson Cooper, an American journalist, interviewed her where she talked about the affair in detail and apologised to Melania Trump.
In the interview, she talked about her first date with him at a private bungalow in Beverly Hills. She was impressed by him. She said,
I was so nervous! I was into his intelligence and charm. Such a polite man. We talked for a couple of hours and then, it was "ON." We got naked and had sex. After, we got dressed (to leave). He offered me money. I looked at him and felt sad and said, 'No thanks – I'm not 'that girl.' I slept with you because I like you – NOT for money.' He told me 'You are special.'" [3]The New Yorker
In August 2018, Michael Cohen, Trump's personal lawyer, was found guilty of admitting that he paid $130,000 and $150,000 as hush money on the order of Donald Trump to adult film actress Stormy Daniels and Karen McDougal for not revealing the details about their affairs with him.
According to sources, Stormy Daniels also had an affair with him in 2006, while he was dating Karen. [4]The Guardian In May 2019, the Southern District of New York began to investigate the involvement of Trump and others regarding the hush money payments. In June 2021, the Federal Election Commission (FEC) revealed that National Enquirer violated the election laws of the United States and AMI $150,000 to Karen, which was considered as an illegal campaign contribution. In March 2023, Donald Trump had to appear before a grand jury on the order of the Manhattan district attorney for investigation. In an interview, he said that he had no connections with Stormy Daniels and Karen McDougal. He called the investigation a political witch-hunt for trying to take down the most powerful candidate, by far, in the Republican Party. He said,
I did absolutely nothing wrong, I never had an affair with Stormy Daniels, nor would I have wanted to have an affair with Stormy Daniels. This is a political Witch-Hunt, trying to take down the leading candidate, by far, in the Republican Party while at the same time also leading all Democrats in the polls. It is appalling that the Democrats would play this card and only means that they are certain that they cannot win at the voter booth." [5]Newsweek
Defamation Lawsuit Against Tucker Carlson
On 5 December 2019, she filed a case against Fox News for defaming her. Tucker Carlson, an American television host, who hosts the political talk show 'Tucker Carlson Tonight,' accused her of demanding hush money from Donald Trump, which she received in 2016. On 24 September 2020, Mary Kay Vyskocil, Manhattan U.S. District Court Judge, who was appointed by Donald Trump, dismissed the case by saying,
The statements are rhetorical hyperbole and opinion commentary intended to frame a political debate, and, as such, are not actionable as defamation. The 'general tenor' of the show should then inform a viewer that Carlson is not 'stating actual facts' about the topics he discusses and is instead engaging in 'exaggeration' and 'non-literal commentary.'" [6]NPR
Bike Collection
She purchased a pink-coloured custom motorcycle in 2004. In the same year, she participated in a motorcycle competition in Pomona, California. In the competition, she won the Best Radical Custom award.
Car Collection
In 1998, she received a Shelby series Mustang, after she was chosen as the Playmate of the Year.
Facts/Trivia
Her parents did not want her to pose for Playboy; however, later, her mother made an appearance in Karen's Playmate of the Year – Video Centerfold's interview segments.
She likes listening to music and eating junk food. She considers herself a chocoholic.
She is a fitness enthusiast and regularly works out in the gym. She works out five days a week.
Karen has posed as a swimsuit model for many photoshoots; however, she is aquaphobic and is not a skilled swimmer.
She is an avid animal lover and had two pet cats named Brittany and Brandy.
She got a tattoo of a cat inked on the second toe of her right foot and a tattoo of a Christian cross inked on the back of her right ear. She also got a tattoo inked on her left hand's wrist.
In March 2008, she posed topless for Interviu, a Spanish-language weekly magazine. She also appeared in an interview with the magazine, where she talked about her relationship with Hollywood actor Bruce Willis.
She is a promoter of breast cancer awareness as her family has a breast cancer history. She is also a national advocate for Breast Implant Illness (BII).
She had breast implant surgery when she was a Playboy model. In January 2017, she got the implants removed through surgery because her vision got so blurry that she was bedridden. In an interview, she said that due to implants she would often pass out at any time and had severe migraines.
In 2018, she announced that she was a supporter of the Republican Party.
She follows a non-vegetarian diet.