Harman Singha is an Indian actor, host, producer, and writer. He is the elder brother of Rannvijay Singha, who is a VJ, actor, television host, and anchor. In February 2023, Harman played the role of Dhruv Shastri in the sequel of the web series Potluck on SonyLIV.
Wiki/Biography
Harmanjeet Singh Singha [1]Zauba Corp, or Harmanjeet Singha [2]LinkedIn was born on Tuesday, 5 April 1988 (age 35 years; as of 2023) in Jalandhar, Punjab, India. His zodiac sign is Aries. Due to his father's transferable army job, Harman changed around seven different schools and completed the rest of his schooling at Army Public School, Pune. In 2005, he enrolled himself at the Indira Gandhi National Open University, New Delhi, where he pursued Bachelor of Science (B.Sc) in Nautical Science. [3]LinkedIn Harman attended the International Maritime Institute in Greater Noida, Uttar Pradesh, India. [4]Harman Singha – Facebook
Physical Appearance
Height (approx.): 6′
Weight (approx.): 75 kg
Hair Colour: Black
Eye Colour: Dark Brown
Body Measurements (approx.): Chest 40″, Waist 32″, Biceps 15″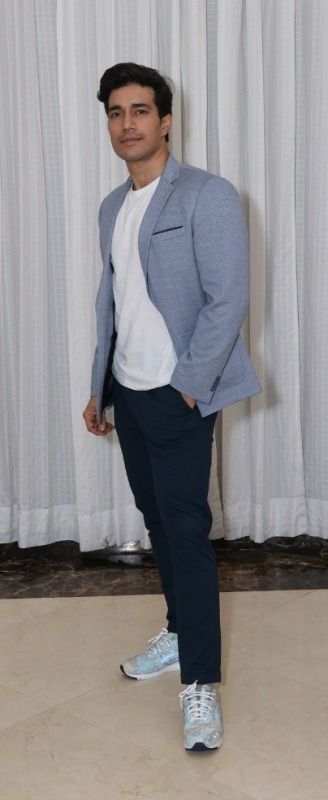 Family
Harman Singha belongs to a Punjabi Sikh family. For the past six generations, his family has served in the Indian Army.
Parents & Siblings
His father, Iqbal Singh Singha, retired as a Lieutenant general from the Indian Army. His mother, Baljeet Kaur, belongs to an army background. His elder brother, Rannvijay Singha, is a well-known VJ, television host, actor, and anchor.
Wife
Harman Singha is unmarried.
Relationships/Affairs
Harman Singha was in a relationship with Reann Moradian, a costume designer and stylist.
Career
Hailing from an army background, Harman began his career as a Merchant Navy cadet. Within three years of joining, he realised his passion for writing and acting, and consequently, he left his job as a Merchant Navy cadet and followed in the footsteps of his elder brother, Rannvijay Singha, to pursue his career in the entertainment industry. Harman came to Mumbai and often visited shooting sets with Rannvijay to acquire any acting opportunity. At the beginning of his career, Harman started assisting film directors. Additionally, he also assisted the director of the competitive cooking reality show MasterChef India. In August 2008, Harman joined as an associate creative director at Colosceum Media Pvt Ltd, a film, television and web series production house, based in Mumbai, and served there till October 2011. He joined SIC Productions, a media house based in Mumbai, in January 2012 and rose to the post of chief assistant director; he served in this capacity till July 2012. In March 2012, Harman started working as a freelance writer at Open Canvas Pvt. Ltd in Mumbai. In January 2013, he was elevated to the post of film director in the same company and worked there till November 2013. Harman worked as head writer at Applause Entertainment in Mumbai from January 2018 to June 2018. Since July 2019, he has been serving as a creative consultant for the Medium Rare Productions in Mumbai.
Television
In December 2016, Harman made his television debut with the television series The Trip in which he played the role of Marco on Bindass.
In 2018, he appeared in the television series Breaking Point: Indian Submariners on Discovery, which showcased and explored the life of an Indian Navy Submariner.
In the same year, Harman acted in Trip 2, the sequel of the web series Trip on Bindass.
Host
After trying his hand at acting, Harman got the opportunity to work as a host, and he started hosting National Basketball Association (NBA) matches for Indian audiences. In 2019, Harman hosted the NBA India Games, which were held in Mumbai.
The same year, he appeared as a red-carpet host at the Zee Cine Awards.
In 2022, Harman appeared as an anchor for the documentary 'Lakshya 1971: Vayu Sena Ke Veer Yoddha' on Epic TV. In January 2023, Harman, along with his co-host Simaran Kaur, hosted the travel show, titled India's Best Resorts on Zee Zest in which they explored and showcased eight luxurious resorts in India.
Web Series
Harman made his digital debut with the series 101 Varanasi, which was uploaded on the YouTube channel 101 India in October 2015.
In the same year, he was featured in the web series Tap That on the YouTube channel 101 India. In 2016, Harman's performance as Sam was immensely appreciated by the viewers for his performance in the web series A.I.SHA on Arre. Additionally, Harman co-created and wrote the script of the web series, which won the Best Series Award at various fests such as South Florida Web Fest, LA Web Fest, and Asia Web Fest.
In August 2018, Harman appeared on the web series The General and His Son, along with his father Iqbal Singh Singha, which premiered on the YouTube channel "Veer by Discovery." In February 2020, Harman acted in the web series It Happened In Calcutta in which he played the role of Ratan Bagcchi on ALT Balaji.
In September 2021, Harman shot to fame with his performance in the web series Potluck in which he played the role of Dhruv Shastri on SonyLIV.
In July 2022, Harman played the role of Dev in the web series Shoorveer on Disney+ Hotstar. In February 2023, he appeared in the sequel of the web series Potluck on SonyLIV.
Favourites
Sport(s): Cricket, Basketball
Resort: Khyber Himalayan Resort & Spa in Gulmarg, Kashmir
Travel Destination(s): Varanasi, Zanskar Valley, Backwaters in Kerala, Ziro in Arunachal Pradesh, Goa
Facts/Trivia
Harman is fluent in English, Hindi, and Punjabi languages.
In 2013, Harman wrote a film script with Rannvijay as the lead actor, but the film got shelved and was not released in theatres.
In 2014, Harman was roped in to play the role of Vicky in the Bollywood film Mango, which would have been his debut film in Bollywood, but the film got shelved midway.
Harman assisted the Indian film director Nagesh Kukunoor in his film Lakshmi (2014) as an assistant director.
In 2016, Harman, for the first time, appeared as a stage announcer at the Yoddha Fighting Championship (YFC), which is a Mixed Martial Arts (MMA) competition.
Harman, being a fitness enthusiast, often practices yoga on a regular basis. He regularly workouts at the gym and shares his pictures on social media.
 In an interview, Harman talked about the reasons, which led him to switch his career from a Merchant Navy cadet to a writer and actor and said,


I imagined travelling to new places and having amazing adventures at sea, but it turned out to be a very mundane and repetitive. The captain on my ship then told me one day, 'If there is anything else you want to do in life, now is the time to try it out'. I went by what he said. I come from a family where either you join the Army or you become a farmer. Rannvijay was the first one to break out into the media from our entire family, watching him gave me the confidence to try it out too but behind the camera initially."
In an interview, Harman stated that training with the special forces of the Indian Navy and learning the aspects of sailing a submarine were the most adventurous things he experienced while working as a travel host.
The entire family of Harman was fond of playing basketball. His mother played national-level basketball from Punjab, his father played basketball while serving in the Indian Army, his brother Rannvijay played the national from Delhi, and Harman represented his school in the junior national basketball championships.
In an interview, Harman stated that the popularity of his brother didn't help him gain his first opportunity in the entertainment industry and said,


My brother couldn't help me as that kind of nepotism only works if your family has been a part of the industry for generations."
In 2017, Harman was featured in the print advertisement for the Indian e-commerce company Flipkart.
In July 2017, Harman launched a production house, Northern Lights Creations in Mumbai.
In December 2017, Harman was invited as a guest speaker at the TEDx event, held at Jain University in Bengaluru.
Since October 2018, Harman has been working as a panellist on Sony Sports Network, where he presents the highlights of the NBA matches to the Indian audience.
At the age of 23, Harman weighed around 125 kg and was diagnosed with a blood pressure problem. After dedicating around two years to his fitness, Harman shed around 40 kg of his body weight and transformed himself into a fit and healthy person.
Harman never aspired to become an actor or writer as he belonged to an army background, and he was inclined towards serving the Indian Army since his childhood. However, after his brother Rannvijay stepped into the entertainment industry, Harman discovered his interest in writing and acting.
According to Harman, had he not become an actor or writer, he would be an author.
Harman is fond of trekking, reading novels, and exploring new places.
Harman occasionally enjoys consuming alcoholic beverages.
In 2019, Harman conceptualized the music video You For Sure, which was uploaded on the YouTube channel Sterling Reserve Music Project.
In March 2021, Harman directed and wrote the Hindi song DNA Mein Dance, starring Hrithik Roshan.
In May 2022, Harman was featured in the music video Mann Mere on the YouTube channel Sehrandom.
Harman has two pet cats, Steve and Bill.
In June 2022, Harman wrote the script for the web series Bravehearts, which premiered on the YouTube channel Dice Media.