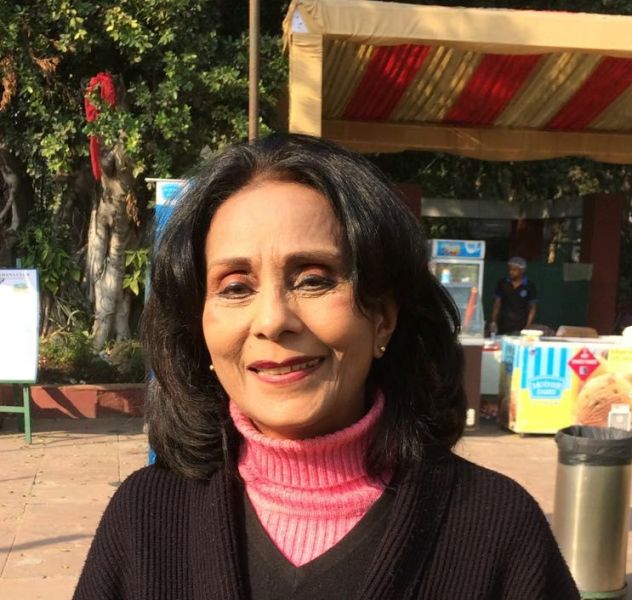 Gitanjali Aiyar (1947-2023) was a veteran Indian news anchor who left an indelible mark on the Indian media during her tenure of over three decades with the esteemed public broadcaster Doordarshan. She was one of India's first English female news presenters on Doordarshan. Gitanjali passed away in June 2023 due to a brain haemorrhage.
Wiki/Biography
Gitanjali Aiyar was born on Wednesday, 29 January 1947 (age 76 years; at the time of death). [1]The Tribune She grew up in Delhi. She studied at the Cathedral & John Connon School. Gitanjali Aiyar graduated from Loreto College in Kolkata, West Bengal. She earned a diploma from the National School of Drama (NSD), New Delhi.
Family
Parents & Siblings
There is not much information about her parents and siblings.
Husband & Children
Gitanjali Aiyar was married to Swaminathan S. Anklesaria Aiyar, an Indian economist, journalist, and columnist. The couple, however, got separated later.
She is survived by two children, a daughter named Pallavi Aiyar, and a son named Shekhar Aiyar. Pallavi Aiyar is an award-winning foreign correspondent and author. She has reported from across China, Europe, Indonesia, and Japan. Shekhar Aiyar, on the other hand, works at International Monetary Fund in the United States.
Career
From Doordarshan to British High Commission
Gitanjali Aiyar joined Doordarshan in 1971. She read the prime-time news in English at 9:00 pm, a few days a week for over a decade. In addition to her news anchoring, she hosted various popular shows including 'A Date With You,' a show dedicated to playing English song requests on All India Radio every Friday night. In 1978, when All India Radio and Doordarshan became separate organisations, Aiyar chose to continue working with Doordarshan; she left Doordarshan in 2002. [2]Gitanjali Aiyar – LinkedIn
Apart from working at Doordarshan, Gitanjali held some significant posts at various renowned organisations. She worked as a sales and public relations manager at Taj Hotels Resorts and Palaces in Delhi from October 1982 to October 1983. She served as the vice president at Damlia Group and Corporate Voice Shandwick PR's corporate communications and public relations department in New Delhi (1994-1998). Gitanjali was appointed as the deputy head of the Press and Public Affairs department at the British High Commission, New Delhi, in 1998; she served in this position till 2001. [3]Gitanjali Aiyar – LinkedIn
Corporate and Marketing
After a decades-long career in the news industry at Doordarshan, Gitanjali dabbled in corporate communications, government liaison, and marketing. She served as the vice president of Yash Birla Group's public affairs department in New Delhi (2001-2005). Gitanjali held the position of director of the international sales department at The Oberoi Group in New Delhi from 2005 to 2007. In 2007, she joined the Confederation of Indian Industry (CII) as a consultant and continued till 2010. In 2011, she joined the World Wildlife Fund (WWF), India and became the head of its Major Donors Hub. [4]Gitanjali Aiyar – LinkedIn
Advertisement, Theatre, and Television
Gitanjali Aiyar had a passion for the realm of theatre. She performed in many theatrical productions. Gitanjali even acted in Doordarshan's television series 'Khandaan' (1985), which was directed by Shreedhar Ksheersagar. Beyond her television endeavours, Gitanjali made appearances in various print advertisements, adding another dimension to her versatile career.
Awards
In 1989, Gitanjali Aiyar won Indira Gandhi Priyadarshini Award for Outstanding Women. She was awarded the best anchor four times during her tenure at Doordarshan.
Death
Gitanjali Aiyar, who had been battling Parkinson's disease, experienced a sudden collapse upon returning home from a walk on 7 June 2023. She was immediately taken to a nearby hospital in New Delhi by the house helpers; however, she was declared brought dead. The cause of her death was determined to be a brain haemorrhage. [5]The Tribune
Facts/Trivia
According to sources, Aiyar grew up observing people like Surojit Sen and Pamela Singh reading news on the radio and was greatly influenced by them. These personalities significantly shaped her own approach and style towards news presentation. She wanted to become a news anchor since she was 6.
In an interview, Gitanjali talked about a slew of fan mails and letters she used to receive during her tenure as an anchor. It wasn't just her anchoring skills that drew admiration, but also her distinctive hairstyle and the unique cut of her saree blouse. Gitanjali shared that her style had such a profound influence that she was often stopped on the street by people eager to replicate her look. They would ask her for details about her hairdresser and tailor to achieve the same hairstyle and attire. [6]

NDTV India – YouTube
Gitanjali, in an interview, shared some interesting anecdotes from her tenure with Doordarshan in its early days, including several amusing incidents. She described a winter day when, upon arriving at the studio, she took off her coat and draped it over a chair to start her workday. When she picked up her coat at day's end, she discovered a mouse had made a home in her pocket. Gitanjali further recounted an instance when a live broadcast was interrupted by a cat casually strolling across her table. Another amusing instance Gitanjali recollected involved a peculiar tug-of-war that occurred while she was on air. As she was reading the news, she realized someone was pulling on her microphone wire. Instead of panicking, Gitanjali continued reading the news while subtly engaging in a tug-of-war that lasted until the end of the show. She later traced the wire to its source, discovering a man from the crew at the other end. He had been pulling on it, under the impression that it had been trapped under a table leg. [7]

NDTV India – YouTube
Gitanjali Aiyar, in an interview, painted a vivid picture of her early days as an anchor during a time when technological aids like teleprompters were not yet available. As anchors, they had to balance reading from physical scripts or papers, which were hand-rolled, while maintaining their composure and focus on the camera. Reflecting on the challenges of those times, Aiyar said,


We didn't have teleprompters. There was someone who was manually rolling the script for us. It was very difficult to look at the camera and look down at what you were reading all at the same time. We also had to be agile at all times because a person standing near the camera would suddenly gesture and ask you to go faster or slower depending on what was appropriate."

Aiyar garnered immense admiration from the audience, being regarded as a heroic figure in her role as a news anchor. In an interview, she revealed that her influence extended beyond the newsroom as people often approached her for assistance regarding various societal matters. Aiyar fondly recounted an incident when an auto driver, after dropping her off at her son Shekhar's school, refused to accept payment for his services. [8]

The Quint While talking about this, Gitanjali said,


Once a man came and rang the doorbell to ask me to do something about bringing electricity to the chawl he was living in. Another time, an auto driver in Dehradun would not take any money after dropping me to the school where my son was studying. Many felt we were doing a lot for the nation. It was all very touching."