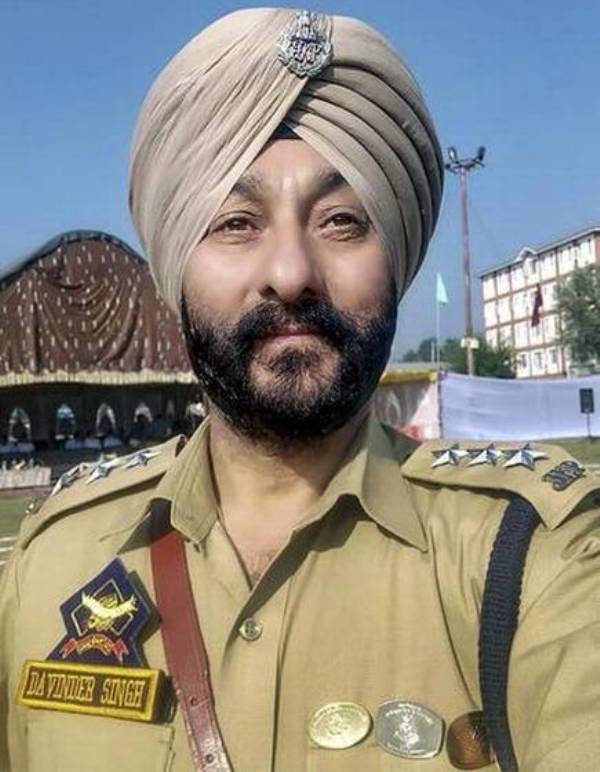 Davinder Singh is a former Deputy Superintendent of Police (DSP) in Jammu and Kashmir who was arrested along with "most wanted" militants in South Kashmir's Kulgam town (Mir Bazar) on 11 January 2020.
Who is Davinder Singh?
Davinder Singh is a former Indian Police officer who was posted as Deputy Superintendent of Police (DSP) with the Jammu and Kashmir Police's anti-hijacking unit at Srinagar Airport. On the afternoon of 11 January 2020, he was arrested in the Mir Bazar area of Kulgam Town in South Kashmir while accompanying two militants from Srinagar to New Delhi in a private vehicle. Davinder Singh had been on the police's radar for several weeks before his arrest. Davinder Singh comes from Tral, known for being the home of Burhan Wani, the celebrated Hizbul Mujahideen Commander who had become a household name in Kashmir before he was killed in 2016. Singh's family owns orchards in Tral, and his parents live with his brother Naseeb Singh in Delhi. Singh has served the Jammu and Kashmir Police as inspector and deputy superintendent for over 25 years. After completing his graduation from Amar Singh College in Srinagar, he joined the police as a sub-inspector in 1990. Reportedly, Singh is married, and his wife is a teacher. Singh has three children, his two daughters have pursued MBBS in Bangladesh, and his son attended Kashmir's premier Burn Hall School. According to sources, he was popular as 'Shanty Singh' among his friends and close ones. He built a lavish mansion in Indira Nagar, a secure zone in Srinagar. The mansion shared a wall with the headquarters of the 15 Corps.
The police recovered grenades and AK 47 rifles during a search at the residence of one of Singh's relatives in Srinagar, where he had been living for the previous few years before his arrest.
No Less than a Militant
After Singh's arrest, preliminary investigations suggested that he was acting as a "carrier" for the militants. A police official said,
The plan was that nobody would stop or check a vehicle in which a DSP was travelling."
At the press conference, held on 12 January 2020, Inspector General Vijay Kumar said that Singh's involvement in a number of anti-militancy operations was a heinous crime and he will be treated no less than a militant. Mr. Kumar said,
The situation in which he was caught yesterday, driving a militant in a vehicle to Jammu, it's a heinous crime and we are treating him the same way we treat a militant."
Turn of Events that Led to His Arrest
According to a police official in South Kashmir, the vehicle (a Hyundai i10 car), in which the militants, along with the DSP Davinder Singh, were travelling, was intercepted on the basis of a specific input. In the input, there was a mention that a top militant was travelling in the car. However, the input had no mention of a police officer accompanying the militants in the car. The police official said,
The security personnel didn't expect the presence of a police officer along with the militants."
Reportedly, Atul Goel, Deputy Inspector General of Police, South Kashmir, was personally supervising the checkpoints and slapped Singh several times for accompanying the militants. According to another police official, had they crossed the Jawahar Tunnel, it would have been difficult to arrest them.
The Militants
On the afternoon of 11 January 2020, when a private vehicle with four men was flagged down at a police checkpoint on the Jammu-Srinagar Highway in South Kashmir, DSP Davinder Singh was arrested accompanying two militants and a suspicious driver. The two militants were identified as Naveed Babu and Rafi Ahmed Rather who were Hizbul Mujahideen militants, while the driver was identified as Irfan Shafi, a former lawyer from Diaroo in South Kashmir's Shopian district. Syed Naveed Mushtaq alias Naveed Babu is a policeman-turned-militant. According to Inspector General of Police, Kashmir Vijay Kumar, Naveed was a senior commander of the Hizbul Mujahideen; second only to its operations chief Riyaz Naikoo. Kumar also said that Naveed was a police constable in 2017 and fled from Budgam along with four rifles. Since then, Naveed's name has surfaced in the killings of civilians, policemen, and truck drivers. IGP Kashmir, Vijay Kumar said,
In 2019, a lot of orchards were damaged and people were threatened by Naveed Babu. Until today, 17 FIRs are registered against him. He was the most wanted for us and was the district commander of Shopian."
According to another police officer, Naveed Mushtaq comes from the Nazneenpora village of Shopian's Imam Sahib area. The police officer said,
In at least five killings of non-local truckers and traders in Shopian, Naveed had a cent percent role."
According to sources, another Hizbul Mujahideen militant arrested was Rafi Ahmed Rather who comes from Batapora village in Imam Sahib. The third person accompanying Davinder Singh in the car, Irfan Shafi, was identified as the overground worker. Reportedly, Shafi drove the car, while Singh was sitting next to him. According to officials, Shafi had been questioned in the past. A police officer, on the condition of anonymity, said,
There were complaints against him that he had taken money from people to send their kids for studies to Pakistan."
Reportedly, Shafi was once also held in Jammu's Satwari area, but his name did not appear on the militancy radar until his arrest on 11 January 2020.
A Decorated Police Officer
Davinder Singh had a robust record in anti-militancy operations and had been honoured with the gallantry award in 2017. Reportedly, he was one of the 76 policemen from Jammu and Kashmir to be awarded the President's Police Medal on India's Independence Day in 2019. However, the Ministry of Home Affairs later refuted this claim. Singh was photographed with foreign diplomats, who visited Kashmir in January 2020 as he was part of the official team responsible for welcoming them.
Involvement in Counterinsurgency Operations
During his tenure in the police service, Davinder Singh earned laurels for his involvement in the counter-terrorism operations that he had planned and executed with the Special Operations Group of the J&K Police. For years, he had been living in Srinagar's Indra Nagar locality, near the army's Badami Bagh cantonment. Reportedly, he had voluntarily joined the police's counterinsurgency wing in the 1990s.
A Controversial Career
Parallel to his decorated police career, Singh courted controversy throughout his career. The first such instance occurred twenty years back after his arrest when a group of five gunmen hijacked a truck from the Athwajan periphery of Srinagar. They looted its load of merchandise, which belonged to a close relative of the then in-charge, the acting Chief Minister of Jammu and Kashmir, Ghulam Mohiuddin Shah. Later, Shah reported to the then Director General of Police of Jammu and Kashmir that the hijackers were counter-insurgents who had received AK-47 rifles from none other than Davinder Singh. However, no action was taken against Singh at that time. In another case, an FIR for 'extortion' was lodged against Singh over the complaint of a businessman; however, the investigation was never taken to its logical conclusion. Davinder Singh's name again made headlines back in 2001, during his tenure as deputy superintendent of the special operations group in Central Kashmir's Budgam district. He was transferred after massive public protests against custodial deaths. In 2015, Singh's name appeared in an FIR for allegedly extorting money from common people and falsely implicating them in police cases.
The Afzal Guru Connection
In a letter written in 2004 to his lawyer Sushil Kumar, Afzal Guru, who was lodged in Tihar Jail for his involvement in the Parliament attack at that time, had said that DSP Davinder Singh, then posted with Jammu and Kashmir Police's Special Operations Group at Humhama, had tortured him and asked him to take Mohammad, a Pakistani national who was later identified as one of those who had carried out the Parliament attack, to Delhi, rent a flat for his stay, and purchase a car for him. While mentioning his torture in the letter, Afzal Guru wrote,
Then they took me to Humhama STF camp where DSP Davinder Singh also tortured me. One of his torture inspectors as they called him Shanty Singh electrified me naked for 3 hours and made me drink water while giving electric shocks through telephone instruments. Ultimately I accepted to pay them Rs. 1000000 for which my family sold the gold of my wife. Even after this, they could manage only Rs. 80000. Then, they took the scooter too which was just 2-3 months old which I bought for Rs. 24000."
Afzal Guru had taught the children of one Altaf Hussain, the brother-in-law of a senior police officer, who then took him back to Davinder Singh. Guru wrote further in his letter,
One day Altaf took me to Davinder Singh (DSP). DS told me that I had to do a small job for him that has to took one man to Delhi as I was well aware about Delhi and has to manage a rented house for him. Since I was not knowing the man but I suspected that this man is not Kashmiri as he did not speak in Kashmiri but I was helpless to do what Dravinder told me. I took him to Delhi."
Although several political parties had demanded a probe into the matter, after Afzal Guru was hanged in 2013, no action has been taken against Singh so far. In a press conference in January 2020, when Inspector General Vijay Kumar was asked about Davinder Singh's alleged involvement in the Parliament attacks, he said,
There is nothing as such in our records nor do I know anything about it… We will question him on this."