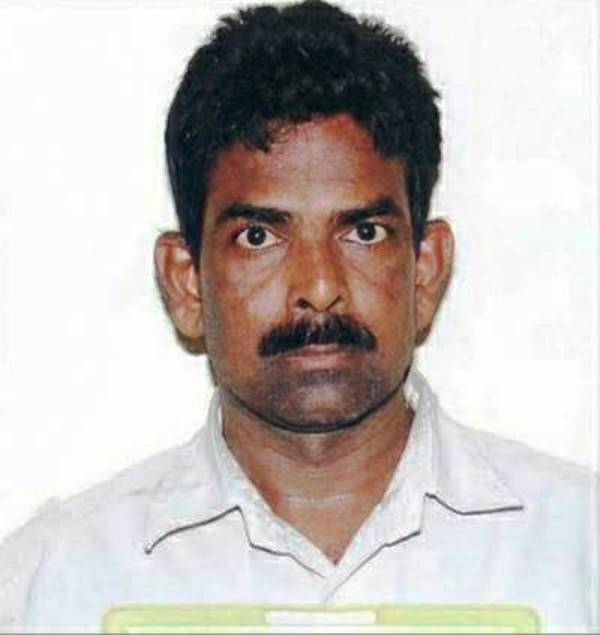 Mohan Kumar is an Indian teacher and a convicted serial rapist and a killer, who is notorious for admitting to having killed 32 women in Karnataka. He has been found guilty of murdering twenty women in Karnataka. For using cyanide as a method of killing his victims, Mohan Kumar is notoriously known as Cyanide Mohan. In 2023, a web series titled Dahaad was released, which is based on Mohan Kumar's exploits.
Wiki/Biography
Mohan Kumar Vivekanand was born on Wednesday, 6 April 1963 (age 60 years; as of 2023) in Kanyana Village, Dakshina Kannada district, Karnataka. His zodiac sign is Aries. After completing his schooling at a government school in Karnataka, Mohan Kumar enrolled at the Government First Grade College Uppinangady in Dakshina Kannada, Karnataka, where he pursued a bachelor's degree in arts in physical education. [1]The Indian Express
Physical Appearance
Height (approx.): 5′ 6″
Hair Colour: Black
Eye Colour: Dark Brown
Family & Caste
Mohan Kumar belongs to a lower middle-class Hindu Dalit (Scheduled Castes) family in Karnataka. [2]The Indian Express
Parents & Siblings
His father, Maielappa Mogera, was a daily wage labourer. He abandoned the family when Mohan was a child. His mother, Tukru, was a daily wage labourer. He has three siblings, two brothers, and a sister. One of his brothers, Ramesh Kumar, worked as a daily wage labourer. His other brother worked as a conductor in the Karnataka State Road Transport Corporation (KSRTC). His sister retired from the postal department.
Wife & Children
His first wife's name is Mary to whom he got married in 1987. They got divorced after she refused to leave Christianity and convert to Hinduism. In 1992, he entered into an arranged marriage with Manjula. While being married to Manjula, Kumar married Sridevi, who works in a financial firm in Mangaluru. Mohan has six kids, two from each of his wives. According to sources, Manjula and Sridevi discovered Mohan's dual marriages only after his arrest in 2009. Sridevi later left him after she fell in love with an inmate with whom she came in contact while she visited Mohan in jail.
Relationship/Affairs
According to sources, Mohan met his first wife, Mary, when she was studying at Shirdi Primary School, where he used to teach her. When Mary was in 7th standard, the duo fell in love with each other and began dating. Mohan married Mary when she turned 18 years old.
Religion
Mohan Kumar follows Hinduism.
Teaching
In November 1984, Mohan Kumar started working as a government teacher at Shiradi Primary School in Kanyana, Karnataka, on a contract basis. According to Mohan's friends, he was able to land a job as a government teacher without earning a Diploma in Education (D.Ed) as he belonged to the Dalit Community for whom the state government had reserved a few seats, hence, allowing them to become government teachers without earning a D.Ed. One of Kumar's friends talked about it, in an interview, and said,
Kumar entered government service as a primary school teacher on a contractual basis right after his graduation, even though he didn't have a teaching diploma. In those days, reservation for the Dalits ensured a direct entry into teaching service without a diploma (D.Ed)."
He later taught at various government schools. As a teacher, he was suspended from service numerous times because of irregular attendance and misbehaviour. According to some sources, he was thrown out of service in 2003 after he was jailed for a month for the attempted murder of a woman by throwing her into a river. He, however, refuted the claims and said that the woman jumped into the river after Mohan refused her marriage proposal. Talking about it, in an interview, he said,
There was a woman who wanted to marry me but when I refused; she started arguing with me and fell in the river Netravathi. But some fisherfolks nearby thought I had pushed her and registered a complaint against me."
Becoming A Notorious Murderer
Modus Operandi
According to a report from the Karnataka Police, Mohan Kumar admitted to having killed more than 32 women from 2005 to 2009 in a similar way, i.e., by feeding them cyanide. The report, while disclosing the murder methodology of Mohan, revealed that he frequently visited public places such as bus stands and restaurants to scout for potential victims, who were women well past the ideal marriageable age, i.e., in their mid-20s and early 30s, and belonged to poor families. After zeroing in on his victims, he would try to converse with them by posing himself as a well-to-do man looking for a suitable bride and would exchange phone numbers. Police Officer Purusha talked about it, in an interview, and said,
He targeted unmarried women who belonged to poor and destitute families, especially those who looked past the age of marriage. He would introduce himself mostly as a government officer and strike up conversations with them. If he got a positive response, he would move on to exchanging phone numbers and building a relationship."
With the intent of persuading the victims to marry him, Kumar not only spoke to the victims but also their families, impressing them into thinking that he was serious about marriage. After having a few conversations with the victims, Mohan would select a venue (far off from the victim's native place) for marriage and ask his victims to carry their jewellery to the wedding venue. He would also convince the families of his victims to not tell anyone about the marriage until it was done and that nobody from the victim's family should accompany her to the marriage. Once the girl reached the location, Mohan would pick her up and take her to a lodge, where they would stay overnight and indulge in an intimate act. The next day, while going to the marriage venue, Mohan would persuade the victims to leave their jewellery and other valuable items at the lodge and consume a contraceptive pill laced with cyanide, which he had gotten from a friend who was a jeweller; he asked his victims to take the pill in a restroom at the bus station as they might feel nauseatic after consuming it. After dropping the victims at the bus stop, he would wait for a while and then rush back to the lodge, where they both had stayed, to collect her jewellery and run away. To avoid suspicion from the family of the victims, Kumar would continue to talk to them after the murder and assure them that the victim was fine and happily married. A police officer talked about it, in an interview, and said,
The family may file a complaint when she goes missing, but once they realise that she has run away and is safe, they don't bother proceeding with the complaint. They forget about it and move on."
The Police Chase
As per the police, Kumar murdered his first victim in 2004; he went on to murder three victims in 2005, four victims in 2006, three victims in 2007, two victims in 2008 and nine victims in 2009. Every time he committed a murder, the Karnataka Police registered a case of unidentified death (UDR). The cops were lambasted for adopting a lackluster attitude while dealing with the cases as they often delayed the conducting of post-mortem of the body as a result of which the exact reason for the death could not get established. The cops had to step up their investigation in 2009 when a girl named Anitha Mulya went missing in October after which many right-wing organisations suspected it to be a case of "love jihad" and one of the organisations even sieged a police station. The Bantwal Police assembled a team of police officers to investigate the disappearance in 2009. The team found the girl's dead body in a restroom at a bus stand; she was murdered in the same way Mohan had killed his previous victims. Thereafter, the cops pulled out Anitha's call records and zeroed in on a number belonging to Sridhar from Madikeri. When the cops reached his house, Sridhar revealed that the number belonged to her sister Kaveri who went missing on 17 March 2009. Later, when the cops analyzed Kaveri's call records it led them to Vinutha from Puttur and Pushpa from Kasaragod, Kerala, who were missing as well. After discovering the trail of missing women, the cops requested all the police stations from the nearby districts to share the details of complaints registered regarding missing women from their districts. After receiving the reports, the cops conducted a thorough examination of the victims' call records and zeroed in on a single phone with the same IMEI number that was used to contact many women. Later, when the police found out the information about the owner of the phone and reached the owner's location, it was revealed that the phone was registered in the name of Mohan Kumar's uncle who had given the phone to Mohan. A police officer, in an interview, said,
The owner of the cell phone admitted that it was his hand-set, but added that he had given it to his nephew by the name of Mohan Kumar, a teacher."
Nabbing The Culprit
With Mohan Kumar now at the centre of the investigation, the cops started investigating the issue in a new way. In October 2009, a Deralakatte-based woman tailor named Sumithra approached the cops and revealed that she witnessed Anitha and Mohan leaving on a bus for Hassan, Karnataka. Sumithra also told the police that Mohan had approached her with a marriage proposal in 2005; however, she declined the offer. The cops later asked Sumithra to call and ask Mohan to meet her at the bus stop in Dakshina Kannada. Mohan was taken into custody on 21 October 2009 after he arrived at the bus stop to meet Sumithra. Police Officer Purusha, while giving an interview, said,
We placed a call from Sumithra's SIM card to him and laid a trap for him at the local bus stand. When he arrived, we arrested him."
The Custodial Investigations and the Court Battle
Following his arrest, Mohan Kumar, during an interrogation session, revealed that he had killed 32 women in the past. The cops even raided his wife Sridevi's house, where they found cyanide powder, counterfeit government seals, visiting cards, and receipts from gold financing firms where the victims' jewellery was sold. Despite his claims of murdering 32 women, the cops were able to gather evidence regarding the rape and murder of 20 women. A trial on Mohan started at the Special Trial Court in Mangalore in 2009. He was convicted and given the death penalty under IPC Section 302 for the rape and murder of Anita Barimar, Lilavati Mistry, and Sunanda Pujari in December 2013 by the Fourth Additional District and Sessions Court in Mangaluru. The Court also sentenced him to five years imprisonment and a fine of Rs 5000 for kidnapping, eight years imprisonment and a fine of Rs 5000 for rape, and three years jail and a fine of Rs 1000 under section 328 for administering poison to his victims. As per sources, Kumar fought his case by himself in court and also managed to pinpoint several discrepancies found in the chargesheet filed by the police against him. In 2017, he appealed against the Fourth Additional District and Sessions Court's death penalty at the Karnataka High Court, which commuted his death sentence to life imprisonment.
In 2020, a local court in Karnataka found Mohan Kumar guilty of murdering a 25-year-old woman, his last known victim, from Kasaragod and awarded him life imprisonment. Mohan has been awarded the death penalty in four cases and life imprisonment in fifteen cases. [3]The Quint
Facts/Trivia
During childhood, Mohan was an average student. He, however, took a keen interest in cricket and kabaddi.
According to Mohan Kumar's brother Ramesh, he was very shy and reserved as a child and avoided social interactions.
Actor Vijay Varma portrayed Mohan Kumar in the 2023 Hindi web series Dahaad.