Anil Sharma is an Indian businessman. He is the founder of 'Amrapali Group,' a real estate and construction company in India, and serves as the company's Chief Managing Director (CMD).
Wiki/Biography
Dr Anil Kumar Sharma [1]News 18 was born on Wednesday, 15 January 1964 (age 59 years; as of 2023). In 1983, he pursued a Bachelor of Technology in Civil Engineering at the National Institute of Technology (NIT) Calicut in Kozhikode, Kerala. In 1985, he earned a Master of Technology degree in Structure Engineering from the Indian Institute of Technology (IIT) Kharagpur in West Bengal. Anil holds a Bachelor of Legislative Law (LLB) degree (1987) and a Master of Business Administration (MBA) degree (1989). [2]India's Real Estate Forum
Physical Appearance
Hair Colour: Black
Eye Colour: Black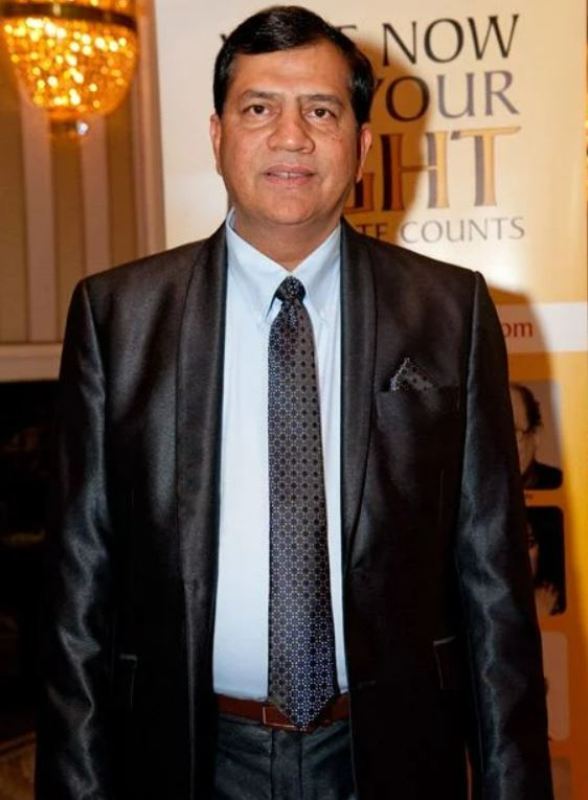 Family
Parents 
His father's name is Madan Mohan Sharma.
Wife & Children
In 1998, Anil Sharma got married to Pallavi Mishra.
He has two daughters. His elder daughter, Swapnil, is a doctor.
Address
Residential Address: 83 AGCR Enclave, New Delhi
Official Address: C – 56/40, Sector – 62, Noida, Uttar Pradesh
Career
Business
Amarpali Group
Reportedly, Anil Sharma moved to Delhi from Bihar in 2002 to try his hands at the real estate market. In 2003, he founded 'Amarpali Group,' a real estate and construction company in India. He got his first project in 2003 in Noida, Uttar Pradesh. Over time, the company expanded to various fields including education (Amrapali Institute of Technology, Lakhisarai and Amrapali Institute of Hotel Management, Noida) and food process (Brand of products marketed with the brand name Mum's). [3]ThePrint
Politics
In 2014, Anil contested the Lok Sabha election on a Janata Dal United JD(U) ticket from Jehanabad, Bihar but faced a massive defeat. He even tried to enter Rajya Sabha but failed. [4]News 18
Controversy
Booked on a Murder Charge
Reportedly, in 2023, Anil Sharma, the managing director of the Amrapali Group, was one of six people to be charged with a murder case of a former secretary of a renowned educational institute in Bihar. In August 2014, Dr Sharad Chandra, a secretary of Balika Vidyapeeth in Lakhisarai, was shot dead at his home in the university campus while he was reading a newspaper in the balcony. According to the Central Bureau of Investigation, the motive behind the crime was to seize the educational institution's assets and land. According to some reports, Chandra was fired from his position after Anil Sharma and a few others seized the institution's property and assets. The agency claimed,
Anil Sharma, MD of Amrapali Group, had usurped the trust of Balika Vidyapeeth with the help of Rajendra Prasad Singhania, Dr Praveen Kumar Sinha, Shyam Sunder Prasad and Shambhu Sharan Singh." [5]NDTV
Awards & Honours
National Awards
2005
Received Rashtriya Nirman Rattan Award presented by All India Achievers Conference, a non-profit organisation which reckons & highlights individual achievements of people from various walks of life and arranges conferences, seminars, and formal and informal discussions amongst such achievers for their benefit at large.
Received Arch Of Excellence (business) Award from All India Achievers Conference
Hind Gaurav Award by All India Achievers Conference
Received Lifetime Achievement Award by the Institute for Environment, Yoga & Social Development
2006
Received the Gold Star Award presented by the Institute of Economic Studies
National Builder's Leadership Award by the Indian Economic Development & Research Association (IEDRA), an organisation involved in the study, growth, and analysis of the Indian economy.
Bharat Nirman Rattan Award by the World Economic Progress Society
Global Excellence Award by the Global India Foundation
Honoured with the Bhartiya Nirman Shiromani Puraskar by the Institute of Economic Studies
Received Excellence in National Infrastructure Development Award from the Indian Economic Development & Research Association
Business Initiative Development Award for Excellence
2007
Received Lok Nirman Rattan Award from the Indian organisation for Business Research & Development
Conferred with the National Achievement Award for quality construction by the Intellectual People and Economic Growth Association
Rashtriya Rattan Award for meritorious accomplishments in diverse fields of activities by the Global Economic Council
Received Rattan Jyoti Award with a medal from the Economic Growth Society of India
Received Udyog Bharti Award from the Indian Achievers Forum in April
Quality Construction Achievers Award by All India Business and Community Foundation
Received the Best Economy Real Estate Brand Award presented by real estate watch on the occasion of the 1st anniversary of real estate watch monthly magazine in May 2007
Received Quality Excellence Award from All India Achiever foundation in May 2007
Accorded with the 21st-century Corporate Leadership Award and gold medal by the Indian Society for Industry & Intellectual Development in May 2007
Honoured with Mother India Award for Udyog Pratibha and medal by Indian Organisation for Commerce and Industry in May 2007
Received Lifetime Achievement and Indira Gandhi Memorial Award from the All India Achievers Conference in May 2007
Outstanding National Citizen Award by National Citizen Guild (May 2007)
Bharat Shiromani Award by the Shiromani Institute (May 2007)
Received Builder of the Year Award by the Economic for Health and Educational Growth in August 2007
National Achievement Award for Real Estate Development by All India Business Development Association (August 2007)
Received Lifetime Construction Excellence Award presented by the Economic and Human Resource Development Association in August 2007
Rajiv Gandhi Shiromani Award for outstanding individual achievements and distinguished service to the nation by National Integration and Economic Council (August 2007)
Received Lifetime Achievement Award presented by the Institute for Environment Yoga and Social Security in August 2007
Awarded for being the most respected and no.1 Builder in quality of the architecture of all projects by Business Sphere
Received National Business Development and Construction Industry Leadership Award by Business Development Foundation in September 2007
Building Industry Leadership Award for the fastest growing group (October 2007)
India Property Awards 2007 Delhi for brilliance as a fastest growing group at the national level
2008
Received Bharat Gaurav Award for meritorious services and outstanding performance in promoting the honour & prestige of India from India International Friendship Society in January 2008
Pride of India Award (April 2008)
Indian Achievers Award for Industrial Development presented by the Association of Industrial Development in May 2008
Indian Achievers Podium, Delhi
2009
Received Economic Growth Society of India's Business Development Award
Amity Corporate Excellence Award by Amity International Business School, Noida
Icon and change agent – Bihar Conclave 2009 of Bihar
Received Lifetime Achievement Award presented by India International Friendship Society
2010
Received Certificate of Excellence by Multinational Business Academy, India on 27 January
International Awards 
2007
Received International Gold Star Millennium Award presented by the Citizens Integration Peace Society, Nepal
Received Indian Achiever – Pinnacle Award for the Year 2006 by NRI Institute in July 2007, United Kingdom
The Glory of India Award by India International Friendship Society (July 2007), United Kingdom
Received Bib Reality Awards in Dubai
International Award for Leader in Prestige & Quality by Actualidad, Madrid, Spain (November 2007)
Received Doha Bank Achievers Excellence Award in Doha, Qatar
Assets & Properties
Movable Assets
Bank Deposits: Rs. 6,20,95,855
Shares in companies: Rs. 7,88,53,91,830
NSS, Postal Savings, etc.: Rs. 32,08,137
LIC or other insurance policies: Rs. 1,89,60,426
Personal loans/advance loans: Rs. 7,12,69,557
Motor Vehicles: Rs. 5,75,000
Jewellery: Rs. 3,11,15,048
Other Assets: Rs. 5,75,00,000
Immovable Assets
Agricultural Land: Rs. 6,00,00,000
Non-Agricultural Land: Rs. 48,00,000
Commercial Buildings: Rs. 3,80,00,000
Residential Buildings: Rs. 22,45,00,000
Note: The given estimates of movable and immovable assets are according to 2013. It excludes the assets owned by his wife and dependents (minor). [6]MyNeta
Net Worth
Anil Sharma's net worth for the financial year 2012-2013 was estimated to be Rs. 730 crores. [7]MyNeta
Facts/Trivia
Anil Sharma visited Spain to observe and understand the architecture and technology used there in the construction of buildings to apply the same technique to his projects in India. [8]

India's Real Estate Forum
From 1985-1990, Anil Sharma worked as a Senior Executive at the National Thermal Power Corporation and the National Project Construction Corporation (Government of India Undertakings). [9]

India's Real Estate Forum
In 2013, Anil was appointed as the president of the Confederation of Real Estate Developers Associations of India (CREDAI) NCR, an apex body of builders and developers in India. [10]

MillenniumPost
He has served as the Chief Administrator of Balika Vidyapeeth, a residential school in Lakhisarai, Bihar.
Anil Sharma often contributes to the welfare of society. He once contributed an amount of Rs. 21 lacs in cash and donated a huge quantity of relief materials worth more than 30 lacs to the CM relief fund for victims of floods in Bihar. In 2010, he distributed around 5000 blankets to people in need during the peak of the winter season. [12]

India's Real Estate Forum
He is associated with many non-profit organisations and works on providing aid to dependent children and families. He has organised many events for social welfare including donation camps. [13]

India's Real Estate Forum
Anil is associated with a fortnightly magazine (Saamajikl and Aarthik Reform) which aims to create awareness towards Governance and Government policies in India.
Reportedly, he took over a school for girl education in a rural area of Bihar, providing quality education to more than 1000 dependent children. He also started a technical college for deprived children in the same area. [14]

India's Real Estate Forum
Anil has worked on increasing the number of educational institutions in some of the rural parts of Sikkim, Bihar, Madhya Pradesh, and Chattisgarh.
Anil Sharma was a member of the Indian delegation to China, Taiwan, Dubai, Spain, the United Kingdom, and Mauritius; moreover, he served as a delegate of the Government of Uttar Pradesh in the field of Building Construction Township Development and Commercial Building. [15]

India's Real Estate Forum