Andrea Meza is a Mexican model and winner of the '69th Miss Universe' title held on 16 May 2021 at the Seminole Hard Rock Hotel & Casino in Hollywood, Florida.

Wiki/Biography
Alma Andrea Meza Carmona [1]Wikipedia was born on Saturday, August 13, 1994 (age 27 years; as of 2021) in Chihuahua City, Mexico. Her zodiac sign is Leo. She studied software engineering at the Autonomous University of Chihuahua. [2]Miss World

Physical Appearance
Weight (approx.): 60 kg
Figure Measurements (approx.): 32-28-34
[4]Wikipedia Eye Colour: Hazel 
[5]Wikipedia Hair Colour: Brown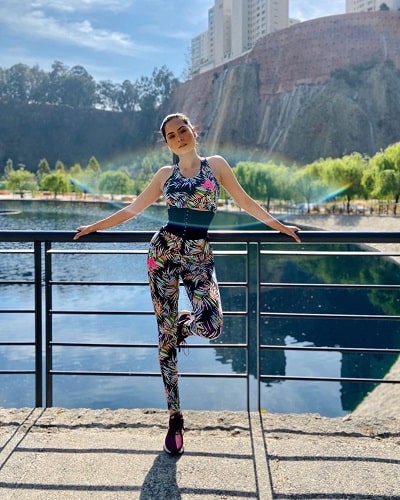 Family & Caste
She was born in a Chinese-Mexican family. [6]Wikipedia

Parents & Siblings
Her father's name is Santiago Meza, and her mother's name is Alma Carmona. She has two younger sisters, Mariana Meza Carmona, and Karen Meza
Career
After completing graduation in 2017, she started working as a software engineer in a company in Mexico, and simultaneously, she started working as a model.
Miss Mexico 2017
In 2016, she represented Chihuahua in the beauty pageant 'Miss World Mexico.' She was the first one to win the title after Neustra Belleza Mexico rejected to participate in the competition. Neustra Belleza Mexico had declared, 
In response to questions about the participation of Nuestra Belleza Mexico in Miss World, we inform you that our company Televisa decided not to continue with the license of this contest, so this year the organization will not be sent to a Mexican representative to that international competition."
In the event two winners were declared first was Ana Girault of Ciudad de México as Miss Mexico 2016 and the second was Andrea Meza of Chihuahua, who was crowned Miss Mexico 2017.

Miss World 2017
She then represented Mexico at Sanya City Arena in Sanya, China on 18 November 2017 in the Miss World competition. She was first selected in the top fifteen contestants, than in the top ten, and later, she was selected among the top five contestants. In the contest, she won the first runner-up title, and Manushi Chhillar from India was declared as the winner. Andrea also won Miss World Americas and Miss World Continental Queens of Beauty title in the contest.
Mexicana Universal 2020
She was crowned Mexicana Universal Chihuahua on 29 November 2020 in Querétaro City. She won six challenges in the contest.
Miss Universe 2020
She represented Mexico at the beauty pageant 'Miss Universe 2020' held on 16 May 2021 at the Seminole Hard Rock Hotel & Casino in Hollywood, Florida. The contest was postponed from 2020 to May 2021 due to the coronavirus pandemic. She won the contest and became the 69th Miss Universe. She became the third women from Mexico to win the Miss Universe title following Lupita Jones and Ximena Navarrete.
In the final round of the contest, she was asked by the judges to give her views on the changing beauty standards, she replied, 
We live in a society that more and more is more than advanced, and as we advance as a society, we've also advanced with stereotypes." "Nowadays beauty isn't only the way we look. For me, beauty radiates not only in our spirit but in our hearts and the way that we conduct ourselves. Never permit someone to tell you that you're not valuable."
She was further asked, how she would handle the COVID-19 pandemic if she was the leader of her country, she said,
I believe there is not a perfect way to handle this hard situation such as COVID-19. However, I believe what I would have done is create the lockdown even before everything was that big because we lost so many lives and we cannot afford that. We have to take care of our people. That's why I would have taken care of them since the beginning."
Facts/Trivia
In an interview, while talking about her future goals, she said that she would open her software company or Health and Fitness Club.
She is a sports enthusiast and regularly practices cross fits.
Andrea has been appointed as the Chihuahua Tourism Ambassador.
During an interview, she shared her motto in life. She said,

The mind that opens to a new idea never returns to its original size."
She is an animal lover and has a pet dog named Mia.
Her hobbies are travelling, riding ATVs, and doing extreme sports activities.
During an interview, when asked how did she achieve her goals? She replied,

I am working with the coach Lili Campuzano and I recommend that when we get up, before thinking about the pending issues and problems, we give our life a purpose; I use phrases like "today I am going to be happy and I am on my way to my goal", which in this case is to obtain the Miss Universe crown. I give my day a purpose so that little by little I enjoy the process because of course, it can be very overwhelming."
Talking about her guilty tastes, in an interview, she said,
I am vegan, but sometimes I crave milk chocolates and occasionally I have one."
In her leisure time, she loves to sing and read books. One of her favourite books is The Four Agreements by Miguel Ángel Ruiz Macías.

In an interview, she talked about her biggest flaw. She said,
I push myself too hard and I can get to the point where I don't enjoy what I'm doing forever pushing myself more, and that's a situation that I keep working on."