Ali Akbar is an Indian film director. He works in the Malayalam film industry. Ali Akbar is a prominent screenwriter and lyricist. He has directed over twenty Malayalam movies including Pai Brothers (1995), Junior Mandrake (1997), Grama Panchayath (1998), Kudumba Vaarthakal (1998), and Bamboo Boys (2002). In December 2021, he was in news for converting his religion from Islam to Hinduism after the death news of General Bipin Rawat was trolled with smiling emoticons by a particular section of the community on social media. [1]OP India
Wiki/Biography
Ali Akbar was born on Wednesday, 20 February 1963 (age 58 years; as of 2021) in Wayanad, Kerala, India. His Zodiac sign is Pisces. He received his school education at Government High School, Meenangadi, Kerala. Later, he went to St. Mary's College in Sultan Bathery, Kerala to earn a degree in Bachelor of Commerce. [2]Ali Akbar's Facebook Profile
Physical Appearance
Hair Colour: Salt and Pepper
Eye Colour: Black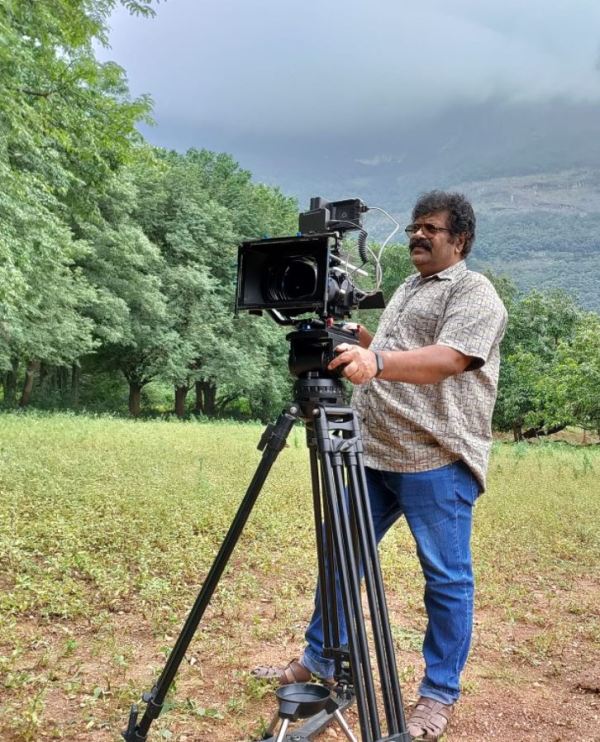 Family
Parents & Siblings
His parents' names are not known.
Wife & Children
Ali Akbar got married to Lucyamma on 15 August 1987.
The couple has two daughters.
Religion/Religious Views
In a conversation with a television media house, Ali Akbar stated publicly that he was renouncing his religion from Islam to Hinduism after the majority of smiling reactions to Bipan Rawat's death's post were from the Islamists social media users. [3]Republic World He said,
Unfortunately, 99% (of defamatory posts) were from my religion. So I took the decision to leave the religion. I was ashamed of being a Muslim after many hate and offensive tweets on General Bipin Rawat were seen. All Muslims are not jihadists but all jihadists are Muslims. I can't change them but I can change myself so I am leaving my religion, there are so many leaders in Muslim religion but they did not speak a single word against them. They will quarrel because of Waqf board appointment but didn't say anything against anti-Indian guys."
Career
Director
Ali Akbar started working as a director in 1988 with the movie Mamalakalkkappurathu (means beyond the mountains). In 2002, he began writing songs for the Malayalam movies such as Bamboo Boys and Senior Mandrake. In 2020, the movie titled '1921: Puzha Muthal Puzha Vare' which was directed by Ali Akbar was widely appreciated. This movie was based on a real incident of 'the Malabar Rebellion' that occurred in Northern Kerala in 1921. The speciality of this movie was that it was made out of crowdfunding.
Ali Akbar has his own production company 'Mama Dharma' that he established in August 2020. This production house was inaugurated by Swami Chidanandapuri who is the head of Kolathur Advaithasramam, an ashram in Kerala.
Politics
Ali Akbar entered into politics in 2014 when he contested as a candidate of the Aam Aadmi Party and contested the elections from the Koduvally constituency. He did not succeed in these elections and shifted to the Bhartiya Janata Party candidature. Around the same time, he was elected as the committee member when he contested from Kozhikode Corporation in the municipal corporation elections. This position was left by Ali Akbar in October 2021 due to some disagreements with the party members.
Awards, Honours, Achievements
Ali Akbar earned 'The Kerala State Film Award' for Best Debut Director in 1988.
He received the '44th National Film Award for Best Educational/Motivational/Instructional Film titled 'Rabia Chalikkunnu' in 1996.
Facts/Trivia
According to Ali Akbar, he was the victim of child abuse in childhood when he was a student at a madrasa in Meenangadi in Wayanad, Kerala. His teacher molested him at school when he was eight years old.
Ali Akbar is often featured in the articles of renowned Indian newspapers.
Ali Akbar is a social media influencer. He often posts his pictures on his social media account while directing the films. He is followed by more than 173k people on his Facebook account.
Ali Akbar is a compassionate animal lover. He has a pet dog, and he regularly shares pictures of his pet dog on his social media.
In December 2021, Ali Akbar, along with his wife Lucyamma, converted his religion from Islam to Hinduism as a protest against those Islamists social media users who reacted with smiling emoticons on General Bipin Rawat's death. Bipin Rawat died on 8 November 2021 in a helicopter crash in Nilgiris. He narrated that he changed his name from Ali Akbar to Ram Singh and also slammed those anti-national social media users who were celebrating the death of Bipin Rawat. He wrote on his Facebook account,


I am not a Muslim from today onwards. I am an Indian.  I could not stand with the anti-nationals anymore. Today, I am throwing away an attire I received by birth. Ramasimhan is a person who was killed while adhering to the culture of Kerala… Now Ali Akbar will be called Ram Singh. That's the best name."

He continued that he wanted the answers from those religious leaders who were not correcting their followers on such an ashamed gesture. He said,

It's a protest against those who were putting smileys on posts related to the death of CDS General Bipin Rawat. Why are religious leaders not correcting them?"
இன்று முதல் நான் முஸ்லிம் அல்ல பாரதியன் நானும் என் குடும்பமும் He was known as Ali Akbar. A Muslim by birth.

On the death of Gen.Bipin Rawat, many people made celebrations in Kerala on social platforms.

By being deeply hurt with the facts pic.twitter.com/vJ2wvCdxmM

— 𓄂𖤍Bhairavi Nachiyar𖤍 பாண்டிய நாட்டு இளவரசி 🇮🇳 (@Bhairavinachiya) December 11, 2021
Before the conversion of his religion, Ali Akbar posted a video on his Facebook account and slammed those who were smiling on the death of General Bipin Rawat. Soon, his account was suspended due to a lot of hate comments he received on his video. In a fit of rage, he opened a new account and declared on it that he was leaving his religion as he was blocked on Facebook when he raised his voice against wrong. He wrote,


Within five minutes of speaking out against those who put up emojis, the account was blocked. I can not accept it, I can not agree with it, so I'm leaving my religion. I or my family no longer have a religion. That is the decision. That is my reply to those people who posted thousands of smiling emoticons against India."

He further stated that those who celebrated the death of military personnel must be punished. He stated,

The nation should identify those who smile at the death of the CDS and punish them."
Ali Akbar shared a screenshot of those who celebrated the death of Rawat on social media that indicated a particular section of Indian communities in December 2021.