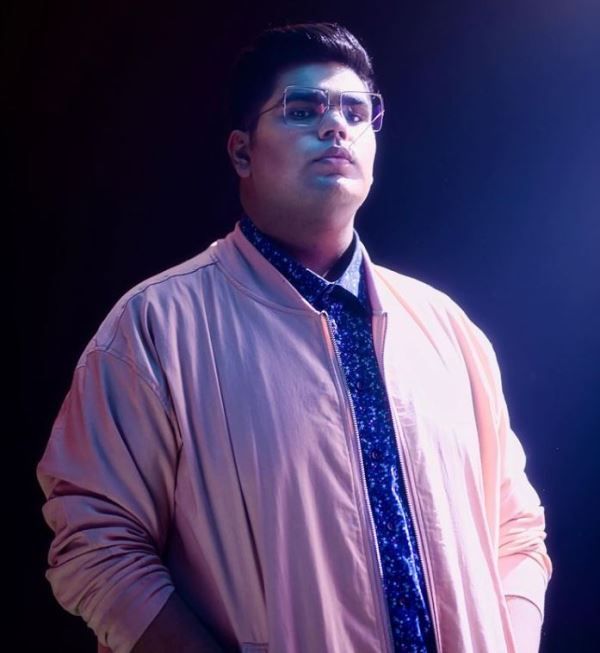 Abdullah Siddiqui is a P akistani singer, songwriter, and electronic pop music producer. He became popular after appearing on Nescafe Basement Season 5 (2017), where he performed his original single 'Resistance.'
Wiki/Biography
Abdullah Siddiqui was born on Tuesday, 22 August 2000 (age 21 years; as of 2021) in Lahore, Pakistan. His zodiac sign is Leo. Siddiqui was inclined towards music since childhood. He started playing guitar at age 9, and producing music at the age of 11 years. He attended Liberal Arts College, USA for his higher education.
Physical Appearance
Height (approx.): 5′ 8″
Eye Colour: Black
Hair Colour: Black
Family
Abdullah Siddiqui was born in a Muslim family in Lahore, Pakistan. [1]Facebook-Abdullah Siddiqui
Parents & Sibling
His father's name is Shuaib Siddiqui and he works at RIPAS Hospital, Bandar Seri, Begawan. His mother's name is Naureen Siddiqui and she is a homemaker. He has three siblings, a brother and two sisters. Names of his sisters are Zoya Siddiqui and Zaineb Siddiqui.
Career
Abdullah Siddiqui began his musical career at the age of 11. He began by creating electronic music in English. His debut song was fairly ambitious, with some insightful and uplifting lines. Everything started at his parents' house, when he sat in front of an outdated and massive computer, downloading some very rudimentary music software. He kept pressing various buttons in an attempt to make it seem like music. Abdullah decided made his music debut in 2014 with the song  Fiction, after years of practising and creating music. He released his song on Facebook, SoundCloud, and YouTube. Talking about his passion for music since child, he said,
I've always been involved with music. I've loved singing from a really young age and I learned to play the guitar when I was nine. At 11, I started to produce music electronically and since then, I've been working on developing my sound as an artist."
The young musician took to his Instagram to announce his participation as an associate producer in Coke Studio Pakistani season 14. He used the platform to reveal about his work in collaboration with Producer Zulfiqar Jabbar Khan (Xulfi). The Pakistani television programme features studio-recorded music performances by established and emerging artists from various international music franchise. The show promotes Pakistan's multiculturalism by inviting artists from various regions and of various languages to collaborate musically with their choice of music including traditional classical, folk, Sufi, qawwali, ghazal, hip hop, rock, and pop music. The fourteenth season of the music show started streaming from 9 January 2022. Some of the local artist featured in the show included local artists like Kashmir ('Pareshaniy), Aaroh ('Main Nahin Manta), The Jupiters (Dosti), Arif Lohar, and Meesha Shafi's 'Alif Allah' and Naseebo Lal and Talal Qureshi's 'Aag' among others. Expressing his gratitude, Siddiqui added
I will forever be grateful to Xulfi for trusting me with his brainchild and for taking me on the greatest artistic journey of my life so far. And I can't wait for you all to hear these songs." The Magenta Cyan hitmaker also shared that he got to sing a song with the coolest collaborator one can ask for. It was and will always be a major highlight for me. It was infinitely rewarding to see people working tirelessly and applying all their talents to help present my work in a capacity that I could never have imagined."
He has worked with singer Meesha (Shafi) for a couple of projects. Abdullah Siddiqui is an associate song producer for Coke Studio 14 (2022), among other things. However, it was Nescafe Basement's 'Resistance' that gave the talented musician his big break. He also bridged the gap between the mainstream and underground music worlds by collaborating with Meesha Shafi on his second solo album's overlooked single 'Magenta Cyan.' She collaborated on the song's direction, and Abdullah had Meesha in mind from the start. Between then and now, the two have worked together on a number of occasions. Abdullah Siddiqui claimed that his connection with Meesha Shafi taught him a lot. He owes her a lot for simply teaching her a lot. She was one of the people who first exposed him to Urdu singing. During an interview, narrating about his experience on working with her, he said,
I've been working with Meesha (Shafi) quite extensively over the last couple of years, we've made a lot of work together. That experience and relationship has had a huge effect on me personally and also on my work and craft," confessed Abdullah. "In terms of the Coke Studio experience, I really got to be there for the first time on the set – I'd never seen that before. It was really lovely to kind of experience her energy as a performer. Soon after the shoot, we got to perform together at a live concert. I got to channel the kind of energy that I saw her give on the set."
His anthem 'Kingdom' ft. Altamash Sever (Takatak), which he produced for Peshawar Zalmi (2021), a Twenty20 side in the Pakistan Super League (PSL), also created an impression. The presence of Esra Bilgic, Mahira Khan, Hania Amir, and Ali Rehman in the music video boosted the song's popularity. The music producer for the Pakistan Super League's anthem, also for 2022, with vocalists Atif Aslam and Aima Baig.
Honours & Achievements
Abdullah Siddiqui, in 2021, was listed in the Forbes' Asia 30 Under 30 list. 30 Under 30 list recognises and highlights the next generation of talent. Siddiqui's achievement comes under the entertainment and sports category. The 20-year-old Pakistani singer shared the news with his fans through an Instagram post which he captioned as,
Forbes 30 Under 30. I'm completely stunned and so incredibly grateful. To everyone who helped me get here, thank you."
Facts/Trivia
He is inspired by electropop pioneer Imogen Heap, James Blake, Sophie, An rca, and Björk.
According to him, he learned how to play a guitar at the age if 9 years. According to him he  enjoyed playing multiple musical instruments but guitar attracted him the most. I've loved singing from a really young age and I learned to play the guitar when I was nine. At 11, I started to produce music electronically and since then, I've been working on developing my sound as an artist.
He uses the words 'Dextral' and 'cinematic' when asked to describe his music in just one word.
He does not enjoy collaborating with other musicians for producing a music piece. Talking about the fact, he said,


Collaborations, I find, are new territories for me because I've been making music for 10 years now and all this time, it's just been me and my computer. Electronic music is not like other most music because in any other style, you have actual instruments that produce sound – live. What makes electronic music different is in the sense that it is controlled by these very specific and elaborate technical parameters that you can't really recreate onstage."
Apart from acting, he also has interest in photography. Some of his Instagram posts are depicts his love for it.
In an interview, he mentioned that although he made all kinds of music but he choose to release the more electronic material because that according to him is the market that not many people were occupying at that time.
As a music producer, he has gone for lengthy stretches without having a single musical idea, just to be struck with a full chorus. He writes in a stream of consciousness manner, where he will receive an idea and then let himself to write whatever comes to mind at the time. Talking about this, he said,


Often I can't rationalise what I'm writing about at the moment, but when I read it back it makes perfect sense in the context of what I'm feeling."
Sharing his experience about working with zulfi he said working with Xulfi was a dream for him. He felt that it was so refreshing to witness his passion for music in an industry where many people become jaded. The actual process itself was tiring for everyone involved but it was beyond worth it, and I'll always be grateful for that experience.
Abdullah Siddiqui has received a lot of accolades and nominations for his skill. He was nominated for Best Emerging Talent (Music) at the 17th Lux Style Awards in 2018 (Twice), but did not win.


Both times, it took me days to believe it had actually happened. I think award shows are incredibly important because they incentivise the creation of new and exciting work."

Adding to this, he said,

I enjoy and respect the LSAs, and I do believe they are mostly on the right track, but they need some restructuring. It doesn't make sense to have any of the music categories up for public voting because there simply aren't enough voters who are consuming all kinds of music, so the winners are usually just those with the most recognisable names. I also think it wasn't a great decision to remove the categories for Album of the Year and Best Music Video Director because albums and music videos are both dying artforms in desperate need of revival."