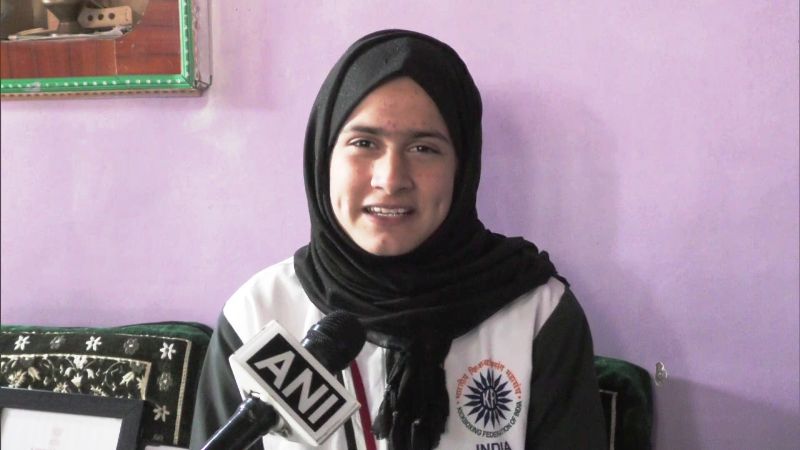 India's Tajamul Islam is the world's youngest kickboxing champion, who made history by bagging a gold medal in the World Kickboxing Championship twice – in 2016 and 2021. Islam is the first Kashmiri girl to achieve this feat. The young kickboxer also successfully runs her own kickboxing academy in her home district of Bandipora.
Wiki/Biography
Tajamul Islam was born in 2008 (age 13 years; as of 2021) in the Tarkpora village of Bandipora district in Kashmir. She goes to the Army Goodwill School in her home village of Tarkpora in Bandipora, Kashmir. [1]Kashmir Life
Physical Appearance
Height (approx.): 5′ 1″
Hair Colour: Black
Eye Colour: Black
Family
Tajamul hails from a poor family of North Kashmir.
Parents & Siblings
Her father, Ghulam Mohammad Lone, works as a driver by profession, under a contract with a private construction agency. His monthly income is around Rs. 15,000- Rs. 20,000.
Her mother's name is Kulsuma Begum, and Tajamul has four siblings – two brothers and two sisters.
Career
Tajamul formally started training for kickboxing in 2014 at the age of six, apparently, after her Army Goodwill School recognized her talent in the sport. Eventually, she joined a local academy of martial arts in her district and started training in her forte under her coach Faisal Ali Dar. Reportedly, due to the lack of sports infrastructure in Kashmir, Tajamul's coach trained her in chilling open fields using only makeshift apparatus. [2]The Milli Gazette The young kickboxer has participated in various district, state, national, and international level kickboxing competitions. In 2015, she won the state-level championship held in Jammu, where she clinched a gold medal in the sub-junior category; however, Islam's first major win was at the National Kickboxing Championship 2015, held at Talkatora Stadium in New Delhi. In the championship, she again bagged the gold medal in the sub-junior category. [3]The Milli Gazette Recalling her two consecutive major wins, Tajamul said in an interview,
This [kickboxing] happened when my [coach] Sir started an academy in Kashmir and I joined it. My brother and sister took me there and then, I started practising. I participated in the state and national level competitions and won gold in both. Sir helped me a lot in my training…I practised with all my heart and then I won gold. I used to watch kickboxing on TV…my siblings started encouraging me and took me to a stadium where I submitted the admission form for the academy. When I first went to the state level, I was very scared but my Sir encouraged me and motivated me. I was a bit worried when I went for the World Championship… but then I thought about Kashmir, about India, and how it was about everyone and not just me."
Tajamul came into the international limelight on 15 November 2016, when the eight-year-old Kashmiri scripted history by winning a gold medal at the World Kickboxing Championship, held in Italy. Her historic win made Islam the youngest kickboxer and the first Indian player in the Under-8 category to win the international title. Representing India among 90 other countries, Tajamul achieved the feat by winning six consecutive bouts at the five-day-long championship and defeating her opponent from the US. When she was interviewed after her historic win, the young champion said, [4]The Milli Gazette
I am happy that I won and I am proud of it. I want to appeal to all the Indian parents to support their children and encourage them and motivate them towards sports."
On 22 October 2021, Tajamul added another feather to her cap by again winning a gold medal at the Under-14 category of the World Kickboxing Championship, held in Cairo, Egypt. Islam's final opponent was from Argentina. The teen world champion took to Twitter to express her happiness on her another international win. She tweeted,
It was really a proud moment for me when I get gold again in the world kickboxing championship in Cairo, Egypt 2021, now I am 2 times world kickboxing champion."
Jammu and Kashmir's Lieutenant Governor Manoj Sinha was all praises for the 13-year-old world kickboxing champion after her win in Egypt 2021 and congratulated Tajamul on Twitter.
Medals
Gold
2015: State-level Kickboxing Championship (sub-junior category), held in Jammu
2015: National Kickboxing Championship (sub-junior category), held in Delhi
2016: World Kickboxing Championship (Under-8 category), held in Italy
2021: World Kickboxing Championship (Under-14 category), held in Cairo, Egypt
Awards, Honours, Achievements
On 16 November 2016, after bagging her first international gold, the Chief of the Army Staff, General Dalbir Singh, felicitated Tajamul on the historic win. In the same month, the young champion was awarded a cash prize of Rs. 51,000 by the Governor and the First Lady of Jammu and Kashmir. Tajamul was also honoured with a cash reward of Rs. 1,00,000 by Jammu and Kashmir's Chief Minister Mehbooba Mufti.
On 23 November 2016, the Bandipora district administration nominated the kickboxer as the brand ambassador for the National Health Mission in the district.
In the same year, Solace International School, Pulwama felicitated Tajamul for winning the World Kickboxing Championship 2016. MLA Langate presented her a cheque of Rs.10,000 and the School Chairman presented Tajamul with the memento.
Facts/Trivia
Apart from kickboxing, Tajamul loves dancing. She also practices other martial arts like wushu and taekwondo, and she also won the title of the best fighter of the year at a state-level Wushu championship, held in Jammu. [5]

Scroll.in [6]

The Logical Indian
Tajamul's elder brother and two sisters are also kickboxers and have participated in many state-level kickboxing championships. [7]

The Economic Times
Reportedly, since Islam's family couldn't afford the expenses of her sport, including her professional kit and her matches, the Indian Army helped the young champion financially and facilitated Tajamul's all the state, national, and international kickboxing matches. [8]

The Economic Times
In 2017, the young kickboxer met the then sports minister of India and requested him to provide appropriate resources for sports to the people of Kashmir. Earlier, she had also posted a video on her Facebook account highlighting the same issues.
In 2019, when Tajamul was only 11 years old, she founded her own sports academy, the Haider Sports Academy, in Bandipora. The kickboxer revealed in an interview that through this academy, she aims to inspire young girls of Kashmir and train them in kickboxing. In the same year, more than 700 people enrolled in her academy. [9]

The Logical Indian
Before her kickboxing championship in Egypt, Tajamul posted an Instagram video in which she expressed her desire to meet Indian Prime Minister Narendra Modi and Sports Minister Anurag Thakur to request them to provide proper sports infrastructure for the people of Kashmir. [10]

Instagram – Tajamul
In an interview, the young champion further revealed her ambition to win a gold medal at the Olympics in the under-18 category of kickboxing. She said, [11]

The Milli Gazette


I will continue to play at national and international levels upto 18 years and thereafter will go to Olympics and will hopefully win there as well."

The kickboxer also revealed her future plans of becoming a doctor with the Indian army. Tajamul laughingly said in an interview, [12]

The Economic Times


It [being a doctor] will have its own benefits. I will first break the bones of my opponents and then treat them."