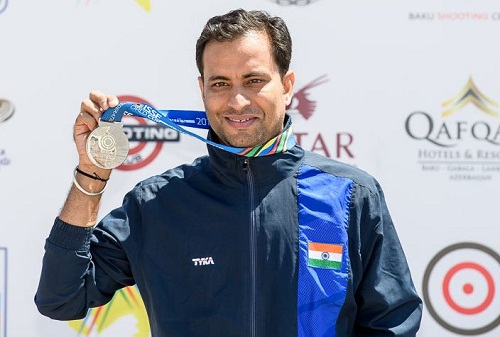 Sanjeev Rajput is an Indian air rifle shooter and retired Junior Commissioned Officer of the Indian Navy. In 2010, he received the Arjuna Award by the Government of India for his outstanding performance in shooting.
Wiki/Biography
Sanjeev Rajput OLY [1]Instagram- Sanjeev Rajput was born on Monday, 5 January 1981 (age 40 years; as of 2021) in Yamuna Nagar, Haryana. His zodiac sign is Capricorn. He did his schooling at SD Public School, Jagadhri, Haryana, from 1985 to 1999. He attended Calorx Teachers University, Ahmedabad, Gujarat (known as Sabarmati University), from 2014 to 2017 to pursue BA in Humanities/Humanistic Studies. From 2018 to 2020, he did MA in Physical Education Teaching and Coaching at Indira Gandhi Technological and Medical Sciences University, Ziro, Arunachal Pradesh. [2]LinkedIn- Sanjeev Rajput
Physical Appearance
[3]ISSF Sports Height: 5′ 10″
[4]ISSF Sports Weight: 78 kg
Body Measurements (approx.): Chest 40″, Waist 32″, Biceps 12″
Eye Colour: Black
Hair Colour: Black
Family
Parents & Siblings
His father, Krishan Lal, worked as a street food vendor. He has an elder brother.
Wife
According to the official website of ISSF, he is unmarried. [5]ISSF Sports
Career
In 1999, he joined the Indian Navy as a sailor. He started practising shooting while he was in the Indian Navy. In an interview, while talking about his initial practicing days. He said,
There are no shooting ranges on ships, so we fixed a target on the quarterdeck with long sticks and hooks and took aim. The ship lurched, the target swayed and standing on the unstable deck with those heavy assault rifles, we took aim. That experience aroused my interest in shooting. I liked that feeling."
Later, he practiced shooting with various weapons including pistols, carbines, and big-bore rifles. Thereafter, he participated in various inter-ship competitions, and in 2002, he was selected in the Indian Navy's shooting team. He has participated in various shooting competitions at the national and international levels. They include 10 m and 50 m air rifle competitions, the ISSF World Cup, and the Olympics. In an interview, while talking about participating in the Olympics, he said,
At both the 2008 and 2012 Olympics, I narrowly missed the finals in 3P. The third time I qualified, for Rio, I was dropped. But if you look at (Abhinav) Bindra and Gagan Narang, they both won medals in their third outing at the Olympics. The first time a person goes, it's (Olympics) a new world for him. The second time, still some preparations are left but the third time a shooter is thoroughly prepared. I was not given that third opportunity. Getting dropped for Rio, I thought I should quit the sport."
While he was in the Indian Navy, he was trained by Felix Thomas. In an interview, while talking about Sanjeev, Thomas said,
Despite no prior experience, he had the perfect temperament to be a good shooter. He was god-gifted with his technique and within a short time, he was winning medals in the domestic circuit."
After almost 14 years of his service, he was retired in 2014 as a Junior Commissioned Officer from the Indian Navy. He made a national record of 1170/1200 in 2007 at the ISSF World Cup, Fort Benning, Georgia, USA, in 2007. Later, in 2011, he broke this record and made a record of 1181 points in world cup held in Changwon, Korea. [6]Sportstar- The Hindu
In 2014, he was offered a job of a police inspector in the Haryana Police. In February 2015, he was appointed as a coach by the Sports Authority of India, New Delhi. In an interview, while talking about it, he said,
The best thing that happened when I coached was that as I taught my technique, I could rewind and further improve my technique. It was a blessing in disguise as my basics became very strong. In 2016, I won the World Cup silver in Baku and followed it up by qualifying for two World Cup finals in 2017. Then came the Gold Coast Commonwealth Games gold with a record score in 3P."
In 2021, he represented India at the Tokyo Olympics 2020. The event was postponed to 2021 due to the coronavirus pandemic.
Later, Sanjeev was trained by many other coaches including Oleg (from Ukraine) and Randhir Singh (national coach). Sanjeev's handedness in shooting is right, and his master eye is also right. He has performed in shooting events like AR60, FR3X40, FR60PR, and R3X40MIX.
Award
Medals
Gold
Commonwealth Championships
2010: 50 m rifle 3 positions event in Delhi
2010: 50 m rifle 3 positions pairs event in Delhi
2010: 50 m rifle 3 positions badge event in Delhi
ISSF World Cup
2011: In 50m Rifle 3 Positions event in Changwon
2021: In 50m Rifle 3 Positions ISSF World Cup in New Delhi
Commonwealth Games
2018: In 50 m rifle 3 positions event in Gold Coast
Silver
ISSF World Cup
2010: 10m Air Rifle event in Sydney
2016: 50m Rifle 3 Positions event in Baku
2019: 50m Rifle 3 Positions event in Rio de Janeiro
2021: 50m Rifle 3 Positions event in New Delhi
Commonwealth Games
2014: 50 m rifle 3 positions event in Glasgow
Asian Games
2010: 10 m air rifle team event in Guangzhou
2018: 50 m rifle 3 positions event in Jakarta Palembang
Commonwealth Championship
2010: 10 m air rifle event in Commonwealth Championship in New Delhi
2017: 50m rifle 3 positions event in Brisbane
Bronze
Commonwealth Games
2006: 50 m rifle prone (singles) event in Melbourne
Asian Games
2006: 50 m rifle 3 positions team event in Doha
2014: 10 m air rifle team event in Incheon
Controversy
In 2016, one of his female co-shooters accused him of physically assaulting her. She filed a complaint against him at the Hinjewadi Police Station, Pune, Maharashtra. The FIR was filed against him under sections 376 and 328 of the Indian Penal Code (IPC). In the FIR, the alleged victim said that the duo was in a relationship for two years, and earlier, Sanjeev promised to marry her. [7]The Asian Age She further said,
The coach had recently visited my residence in Chanakyapuri on my birthday and allegedly offered a drink which was spiked with sedatives."
Later, Sanjeev denied all such allegations. In the same year, the Sports Authority of India (SAI), suspended him from the position of coach. In an interview, while talking about it, he said,
Disappointments have come at crucial phases of my life. Either I can say, why does this happen to me? Or I can say, 'OK, let's make the most of whatever is left. That's why I'm focusing on the new barrel; get it ready on time to begin a new chapter in my life.Yes, I am jobless. I doubt anyone will give me a job now. But no one can stop me from opening a private range in some corner of this country after I retire. They also can't stop me from securing an Olympic quota and possibly an Olympic medal in Tokyo. I want to forget that unsavoury past. I do not want these negative thoughts to clutter my mind. Therefore, when I was preparing for my Olympics this time, I made a conscious decision to forget the incident.''
Facts/Trivia
While he was in school, he used to be a mischievous kid, and his friends' parents and neighbours used to complain about his fights with their kids.
In an interview, while talking about his journey as a shooter, he said,
I belong to a very poor family, so the sooner I got a job, the better; that was foremost on my mind," he says. I had only done 10+2 and was going to take admission in graduation and pursue a B.Sc, but a fixed source of income was more important for me. There is a lot of pressure on me as I have to also look after my ageing parents. Thankfully, my pension from my previous employers – the Navy and funding through TOPS – Target Olympic Podium Scheme – help me with my training. I have no experience in any other profession. I cannot be a banker or a teacher in school. Since I am a sportsperson, I have dedicated every day of my life to become a better shooter."
Sanjeev loves to read books and do adventurous activities in his leisure time.
He regularly practices Yoga to maintain his fitness and composure.
View this post on Instagram
He is an avid animal lover and has a pet dog named Tokyo.
Rajput is fond of Pizzas. He loves to try out different cuisines.
View this post on Instagram
He received the prestigious Arjuna Award in 2010 by the then President of India Pratibha Patil.
In 2018, Amul India congratulated him through its Facebook account on his victory in the Asian Games.