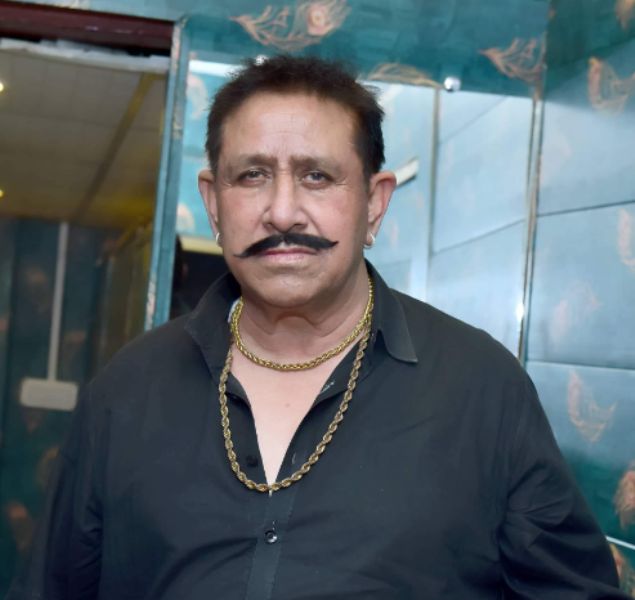 Shafqat Cheema is a Pakistani actor and producer who is well known for playing the negative role of Saqa Kanjar in the Lollywood film Bol in 2011 starring Atif Aslam and Mahira Khan. In October 2022, Shafqat appeared in the highest-grossing Pakistani film The Legend of Maula Jatt as Jeeva Natt starring Fawad Khan and Mahira Khan. [1]India Today
Wiki/Biography
Shafqat Cheema was born on Sunday, 20 November 1955 (age 67 years; as of 2022) in Lahore, Pakistan. His zodiac sign is Scorpio. In 1974, Shafqat pursued his graduation at Jamia Naeemia Lahore University in Lahore, Pakistan.
Physical Appearance
Height (approx.): 5′ 11″
Hair Colour: Black
Eye Colour: Dark Brown
Family
Parents & Siblings
Shafqat's father, Muazzam, was an Aalim (scholar). He has two sisters.
Wife & Children
In an interview, Shafqat revealed that his wife has passed away. He has six daughters and a son, Sheharyar Cheema, a Pakistani actor.
Religion
Shafqat Cheema follows Islam. He considers himself a hafiz and qari of the Quran. [2]Moin Zubair-Official – YouTube (Hafiz is the person, who memorizes the Quran by heart and qari is the one, who reads the Quran by vocalizing it.)
Career
Film
In an interview, Shafqat revealed that his father wanted him to become an Aalim (scholar). But, by chance, he went to Shahnoor Studios in Pakistan following which he decided to pursue his career in acting. Initially, he started working as a stuntman in Lollywood films. After struggling for around 16 years as a stuntman, he got the opportunity to play the supporting role of Qasim in the film Kalka in 1989. Shafqat has appeared in Lollywood films like Parinday as Afzal (1992), Pajero Group as Haji Rasheed Ahmed (1994), Ishtehari Gujjar as Ghulam-E-Mustafa (2001), Naag aur Nagin as Changez (2005), Kafra as Balwant Singh (2011), Main Hoon Shahid Afridi as Bashir Bhatti (2013), and Geo Sar Utha Kay as Ghulam Rasool (2017).
In October 2022, he appeared in the film The Legend of Maula Jatt in which he played the role of Jeeva Natt, which became the first Pakistani film to enter the 100-crore club, within 10 days of its release. [3]DNA India
As of 2022, he has acted in more than 900 films. [4]Moin Zubair-Official – YouTube
Television
In February 2011, Shafqat appeared in the television show Khuda Aur Muhabbat in which he played the role of Abdul Ghafoor on Geo Entertainment.
In June 2012, he appeared as Dinga in the television show Ashk on Geo Entertainment. In February 2013, Shafqat played the role of Kedo in the show Heer Ranjha on PTV Home.
Music Video
In June 2021, Shafqat appeared in the music video Khat, sung by Masuma Anwar.
Facts/Trivia
Shafqat's fans addressed him as "Pakistan's favourite villain," because he mainly played the role of villain in most of his films. [5]

The Express Tribune
In an interview, Shafqat talked about his experience of appearing as a villain in Lollywood films and said,


The art of being a villain lies in maturity and the willingness to immerse yourself in a role so that the hero can feel your presence. When I started negative roles, my mentor showed me clips of an Anthony Quinn film, and I learnt that the trick was to focus on the eyes." [6]The Express Tribune
In an interview, Shafqat revealed that in the initial days of his career, his mentors advised him to appear and efficiently play small roles in the film rather than giving auditions for the lead role. [7]

The Express Tribune
In an interview, Shafqat recalled an incident in which he was almost on the verge of death and revealed that while shooting for the film Dil Sambhala Na Jaye near the Rawal lake in Islamabad, Shafqat fell into the water. He didn't know how to swim and started drowning. Nadeem Cheema, the cousin brother of Shafqat, being unaware of swimming, jumped into the water to save him. Later, when Shafqat gained consciousness, he saw his brother alive and was informed that some local men came to help and saved both of them. He said,


Once upon a time, we were shooting for a film "Dil Sambhala Na Jaye " at Rawal lake Islamabad, I and Saud were shooting a fighting scene in the water. While performing for the scene Saud jumped on me and both of us went into the bog. I didn't know how to swim but Saud did, I told him to save me or I will drown. I was screaming Help me! Help me! But Saud pushed me away, went out of the water, and saved himself. I was all drowned in water and lost my voice because my lungs were filled with water, I started giving signals with my hands and saw my younger brother Naveed Cheema jumping to save me, he also didn't know how to swim and he drowned in front of my eyes." [8]Daily Times
In November 2019, a piece of fake news about Shafqat Cheema's son, Sheharyar Cheema's death, emerged on social media. Later, it was found that it was not actor Shafqat's son, but the news was about the director of the Ministry for Foreign Affairs, Shafqat Ali Cheema, whose son died in a car accident. In an interview, actor Shafqat Cheema, who was shocked to hear about his son's fake death news, expressed his anger at the media for spreading false rumours and said,


Alhamdulillah, my son is alive. Without spending any moment, I telephoned my son in urgency but he did not attend the call. What have I done wrong to someone? [9]Daily Times
In 2015, in an interview, Shafqat revealed that he had a huge crush on Pakistani television host, actress, and former stage dancer, Reema Khan, and he proposed to her, but the proposal was rejected by her. [10]

Daily Motion
In an interview, Shafqat revealed that before beginning his career as an actor, he participated in the Mr Lahore competition.
In March 2022, Shafqat performed in the play Munda Bigra Jaye, which was staged at Rawalpindi Arts Council (RAC) in Rawalpindi, Punjab, Pakistan.