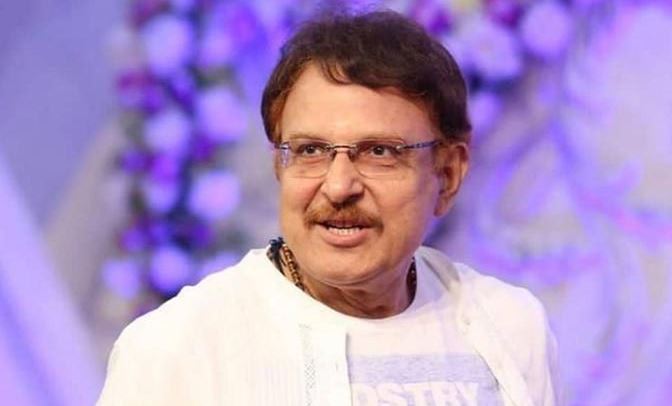 Sarath Babu (1951-2023), also known as Satyanarayana Dixit [1]The Times of India, was an Indian actor who predominantly worked in the Tamil and Telugu film industries. In his career spanning five decades, Sarath Babu appeared in more than 200 films. He is known for his roles in the Tamil films Mullum Malarum (1978), Nenjathai Killathe (1980), and Annamalai (1992). He was a recipient of nine Nandi Awards. Sarath Babu passed away at AIG Hospital, Hyderabad, Telangana, on 22 May 2023 at around 1.30 pm due to multiple organ failure. [2]NDTV
Wiki/Biography
Sarath Babu was born as Sathyam Babu Dixithulu [3]The Siasat Daily on Tuesday, 31 July 1951 (age 71 years; at the time of death) in Amadalavalasa, Madras State (now Andhra Pradesh), India. His zodiac sign is Leo. After completing his schooling, Sarath pursued B.Sc. [4]The Times of India As a child, Sarath Babu desired to become a police officer. However, he could not realise his dream as he developed shortsight during his college days (Clear eyesight was a pre-requisite to join the police service). Although his father wanted Sarath to join his hotel business, Sarath didn't want to get into the family business. While he was studying in college, his friends and lecturers often complimented Sarath for his good looks and suggested him to try his luck in the entertainment industry. Following their advice, Sarath joined his school's theatre group and started practising theatre. While his mother supported him in his career choice, his father was unhappy with Sarath becoming an actor. Once, he came across a newspaper advertisement by a production company called Rama Vijetha looking for a fresh face for a Telugu film. He responded to the advertisement and effortlessly bagged his first acting project.
Physical Appearance
Height (approx.): 5′ 11″
Hair Colour: Salt & Pepper (dyed Auburn)
Eye Colour: Brown
Family
Parents & Siblings
Sarath Babu's father, VSR Murthy, was a hotelier. His mother, Kamala Kumari, was a homemaker. He had a brother named Ayush Tejas. He also had a sister.
Wife & Children
Sarath Babu met the Indian actress Rama Prabha for the first time on the sets of a film. Soon, they fell in love with each other and started dating. In 1974, he entered into a live-in relationship with Rama Prabha. The couple parted ways in 1988. [5]India Today According to some reports, Sarath Babu got married to Rama Prabha in 1974 against the wishes of their family members. Sarath was several years younger than Rama. He had a son named Gowtham and a daughter named Kavya from Rama Prabha. After a marital bliss of around 14 years, the couple got divorced in 1988. [6]The Times of India After their divorce, Rama Prabha accused Sarath of defrauding and marrying her only for her wealth. [7]GreatAndhra.Com In an interview, while talking about his marriage, Sarath said,
I married the daughter of Tamil actor MN Nambiar (Snehalatha is her name) many years ago. It was my first marriage. The media calls some other woman (Rama Prabha) as my ex-wife. Let me tell you that we were never married. Our relationship has no name."
In 1990, Sarath Babu got married to Snehlata (Sneha) Nambiar, classical dancer and daughter of the veteran actor M. N. Nambiar. From Sneha, Rama Prabha had a son named Sai Kartik and a daughter named Pallavi. The couple got divorced in 2008. There were also rumours that he was planning to marry a woman at the age of 70. However, his relationship didn't mature into marriage. [8]GreatAndhra.Com In 2022, there were also rumours about his marriage with the Indian actress Namitha. However, in an interview, while responding to the rumours, Namitha said,
I don't even know who Sarath Babu is. I am actually unaware of how this rumour has popped out on the media. It is completely false that I am going to marry a person whose age is double when compared to mine. For once and all, I am clarifying this."
Career
Film
Telugu
Sarath Babu started his acting career in 1973 with the Telugu film Rama Rajyam. His performance in the film was liked by the audience and he went on to feature in the Telugu films Panthulamma (1977), Guppedu Manasu (1979), and Srungara Ramudu (1979). In 1983, Sarath Babu played the role of Raghupathi (Kamal Hasan's friend) in K Viswanath's Sagara Sangamam. He then played the role of helpless poverty-stricken brother of Lalitha (played by Raadhika Sarathkumar) in Swati Mutyam (1985).
He then played a bankrupt landlord in Vamsy's Sitara. He also played a forest ranger with a hidden weakness in Anveshana (1985). In 1987, Sarath's role in the film Samsaram Oka Chadarangam was one the most relatable characters where he played a typical middle-class self-centred man in a joint family. In 1988, he appeared in ten Telugu films including Abhinandana, Aanimuthyam, Jeevana Jyothi, Chattamtho Chadarangam, Prana Snehitulu, and Kanchana Seeta. In 2013, he appeared in the Telugu film Backbench Student.
Some of his significant Telugu films include Maro Charitra (1978), 47 Rojulu (1981), Magadheera (2009), and Criminal (1994). He also appeared in the film Vengamamba (2019).
In 2021, he appeared in Pawan Kalyan's Vakeel Saab in which he played the role of a Discipline Committee Chairman.
Tamil
Sarath Babu made his Tamil film debut in 1977 with the film Pattina Pravesam. Subsequently, he shot to fame by playing the role of Venkatachalam in K Balachander's Nizhalgal Nijamagiradhu, co-starring Kamal Haasan. He then appeared in the superhit films Annamalai (1992) and Muthu (1995).
He then appeared in several hit films, where he played a few lead roles, strong supporting characters, and villainous portrayals. The Tamil remake of Visu's Samsaram Adhu Minsaram, put forth the subject in an entertaining narrative supported by Sowkar Janaki and Gollapudi Maruthi Rao.
Malayalam
Sarath Babu made his Malayalam film debut in 1979 with Hariharan's film Sarapancharam in which he played the role of Swami. His Malayalam film credits also include Dhanya (1981), Daisy (1988), Four First Nights (1990), Poonilamazha (1997), and Prashna Parihaara Shaala (2018).
Kannada
Sarath Babu made his Kannada film debut in 1984 with the film Tulasidala in which he played the role of Ravi. Subsequently, he appeared in the Kannada films Ranachandi (1991), Amrutha Varshini (1996), Gaaya (1997), Hrudaya Hrudaya (1999), Neela (2001), Namyajamanru (2009), and Aryan (2014).
Television
Sarath Babu made his television debut in 1987 with the Tamil TV serial Silandhi Vallai, which aired on Doordarshan. Subsequently, he appeared in the Tamil TV serials Narendhiranin Vinodha Vazhakku (1988; Doordarshan), Penn (1991; Doordarshan), and Ivala En Manaivi (1989; Doordarshan). In 1997, he appeared in ETV's Telugu TV serial Antharangalu. He has also appeared in the Telugu TV serials Janani (2000; ETV) and Agnigundalu (2005; ETV). Some of his popular Tamil TV serials include Ethanai Manidhargal (1997; Doordarshan), Gopuram (2000; Sun TV), Rekkai Kattiya Manasu (2003; Raj TV), Rajakumari (2013; Sun TV), and Mannan Magal (2014; Jaya TV). He has also appeared in ETV's Kannada TV serial Preetigagi (2001).
Other Work
Besides acting, he has also worked as a dubbing artist in the 1981 Tamil language film Nandu. Sarath has also served as the president of the Movie Artistes' Association (MAA) and as a member of the central board of Film Certification. Actively involved in social work, Sarath founded the 'Bala Shiksha Foundation' to provide free education to underprivileged children.
Controversy
Accused of Forcefully Extorting Houses
After Rama Prabha and Sarath Babu parted ways in 1988, Prabha accused Sarath of cheating her and snatching all her properties in Chennai. In an interview, while reacting to the allegations, Sarath Babu said that the accusations were baseless and that he never plundered any property from her. [9]The Times of India He said,
I was born with a silver spoon and it was K Balachander who introduced me as a hero. Hence, I do not have the necessity to extort other's properties as I myself had sufficient properties in my name."
Adding that he was too young when he dated Rama Prabha, Sarath said,
When we were in a relationship, a house in Alwarpet is all that she had. Another house in Egmore Benefit Society was under a financial issue. I later came to know that she got one of those houses from her first husband. I had sold my agricultural land back then, which was worth Rs 60 Crore today and had bought an independent house for her in Umapathy Street, Chennai. I had also spent over Rs 1 to 2 lakhs for her old house's renovation back then."
Awards
Nandi Award for Best Supporting Actor for the Telugu film Seethakoka Chilaka (1981)
Nandi Award for Best Supporting Actor for the Telugu film O Bharya Katha (1988)
Nandi Award for Best Supporting Actor for the Telugu film Neerajanam (1989)
Tamil Nadu State Film Award for Best Character Artiste (Male) for the film Malayan (2017)
Death
In march 2023, Sarath Babu was admitted to a private hospital in Bengaluru, after he contracted Sepsis. He was later traced with multiple Myeloma which impacted his kidneys, lungs, liver, and other organs and resulted in multiple organ failure. On 20 April 2023, Sarath Babu was shifted to AIG Hospital in Hyderabad, Telangana, after his condition deteriorated. Later, he was put on a ventilator. [10]Outlook India A few days later, there were speculations about his death. However, in a statement, Sarath's sister clarified the rumours and said that the actor was recovering. She said,
All the news about Sarath Babu on social media are coming wrong. Sarath Babu has recovered a bit and the room has been shifted. I hope that he recovers completely soon and talks to the media. My request is don't believe any news on social media."
On 22 May 2023, Sarath Babu died of multiple organ failure at AIG Hospital. Following his demise, the hospital released a statement, which read,
He ​was brought to AIG Hospitals on 20th April 2023 in critical condition with multiorgan failure because of multiple Myeloma. As an immunocompromised patient, he was under the care of a multidisciplinary team and was supported with a mechanical ventilator for his lungs, and dialysis support for kidneys among other therapies. He succumbed to his illness in spite of the best resuscitative measures. Our sincere condolences are with his family and fans."
After his demise, many South Indian actors shared their tributes to Sarath. Kamal Haasan tweeted,
A great actor and a great friend, Sarath Babu has passed away. The days of acting with him are a shadow in my mind. Introduced by my Guru (Balachander) in Tamil. He excelled in many timeless roles. Cinema has lost a good actor. My tribute to him."
Sarath Babu's mortal remains were first kept at Hyderabad Film Chamber for his friends, family members, and fans to pay homage. Later, his body was taken to his house in Chennai, where the cremation took place on 23 May 2023.
Facts/Trivia
Interestingly, Sarath Babu acted with almost all the leading heroes and heroines of the Telugu and Tamil film industries.
He shared a great bond with the Tamil superstar Rajinikanth. Sarath Babu shared the screen with Rajinikanth in many popular Tamil films like Annaamalai (1992), Muthu (1995), and Velaikkaran (1987).
He was very particular about his fitness and followed a strict workout regimen.
Sarath Babu was last seen in the Tamil film Vasantha Mullai in which he played the role of a doctor. He also had a role in the Telugu film Malli Pelli (2023), which was released after his death.