Saint Von Colucci (2000-2023) was a Canadian-Portuguese actor, singer, and songwriter who died in 2023 after an operation to treat infection from a previous jaw implant surgery became complicated.
Wiki/Biography
Saint Von Colucci was born on Thursday, 28 December 2000 (age 22 years; at the time of death) in Quebec, Canada. His zodiac sign was Capricorn. He was interested in music since childhood, particularly emo/pop music. He worked as a child actor and a model before moving out to the USA. He pursued a course in music production at the Berklee College of Music in Boston, Massachusetts, USA. He moved to Seoul, South Korea, in 2019, where he wrote songs for Korean pop artists. In an interview in 2022, he regretted his decision to move to Seoul and said that he moved to Seoul due to financial problems. He said,
It was a poor decision made out of financial desperation. When you are a nobody and get cut off financially by your parents for pursuing arts, you have no choice but to sell your songs and the copyrights of it, so someone else can take credits instead of you."
Physical Appearance
Height (approx.): 6′
Weight (approx.): 80 kg
Hair Colour: Dark Blonde
Eye Colour: Blue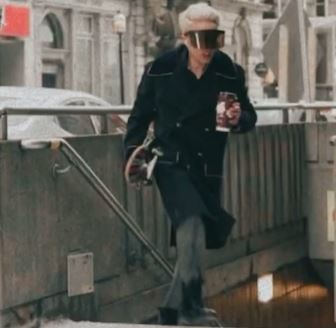 Family
Parents & Siblings
His father was Canadian, and his mother was Portuguese. His parents did jobs which required a lot of travelling, hence he grew up in different cities all over the world.
Wife
He was unmarried.
Relationships/Affairs
He was single.
Career
Singer & Songwriter
He made his debut as a singer with EP 'Hug Me If I Cry,' which was released in June 2022. His DJ name was Saint. The EP had songs titled Kill and Die, Heartless, and I Don't Bleed, which were based on the heartbreak he felt after his first breakup. He talked about the EP in an interview and said,
It is about being young and in love, and all the troubles that come with it when the love is not returned to you and you are betrayed by close people to you that you thought were your friends."
In August 2022, he released the songs Oppa, Pretty Lies, and Dangerously in Love in Korea and USA. He was also working on two other EPs titled 'T1KT0K H1GH SCH00L' and 'I see demons at night' when he died in 2023.
Actor
He played the role of an international student in the drama series Pretty Lies and started shooting in June 2022, which was completed in December 2022; the series was scheduled to be released in the USA by the end of 2023. His publicist Eric Blake revealed after his death that he was working as a trainee for a big South Korean Entertainment company when he died.
Death
Saint Von Colucci died on 23 April 2023 at a South Korean hospital after undergoing an operation. He had undergone 12 surgeries to look like singer Jimin of the K-Pop band BTS. He was offered a 7-figure deal to work in a Korean series for which he had to look like Jimin. He spent $220,000 (around Rs 1,80,00,000) on 12 surgeries, which included jaw surgery, implants, a facelift, a nose job, an eye lift, an eyebrow lift, a lip reduction, and some other minor surgeries. He underwent a jaw implant surgery in November 2022, which caused an infection in his jaws. He underwent surgery to remove those implants on 22 April 2022; however, due to complications during the surgery, he was put on a ventilator. His health deteriorated, and he died at the age of 22. [1]Outlook
Facts/Trivia
He knew 5 languages, English, French, Korean, Portuguese, and Spanish.
He once said in an interview that racism was rampant in South Korea, and there was an urgent need of anti-racism laws to be implemented in the country. He said that he would always stand by the right thing and would fight for what he believed in. He said,


South Korea is a racist country, but unlike any other racist countries such as the USA, Australia, etc, South Korea`s racism, just like in Poland, is not within the minority of the population but within the exact institutions that should be condoning it, such as the governments and local business. South Korea lacks basic anti-discrimination laws and turns a blind eye to it due to being a minority`s problem in the country. Just like misogyny, racism is rampant in the country. That being said, I can tell you one thing for sure, I will make it, but while still staying true to myself and by fighting for what I believe is right, even if that means being hated by most of the world's population."
He signed a deal with the agency IBG PLUS in 2021 and later signed a worldwide management deal with the agency City Boys Money.
His agent Eric Blake,  who had been working with Colucci since March 2022, said in an interview after his death that Colucci was insecure about his looks. He said,


He had a very square jawline and chin and he didn't like the shape of it because he thought it was too wide an wanted a V-shape, the shape many Asians have. He was very insecure about his face. It was very hard from him to get a job in South Korea and he felt very discriminated against his Western looks." [2]Outlook