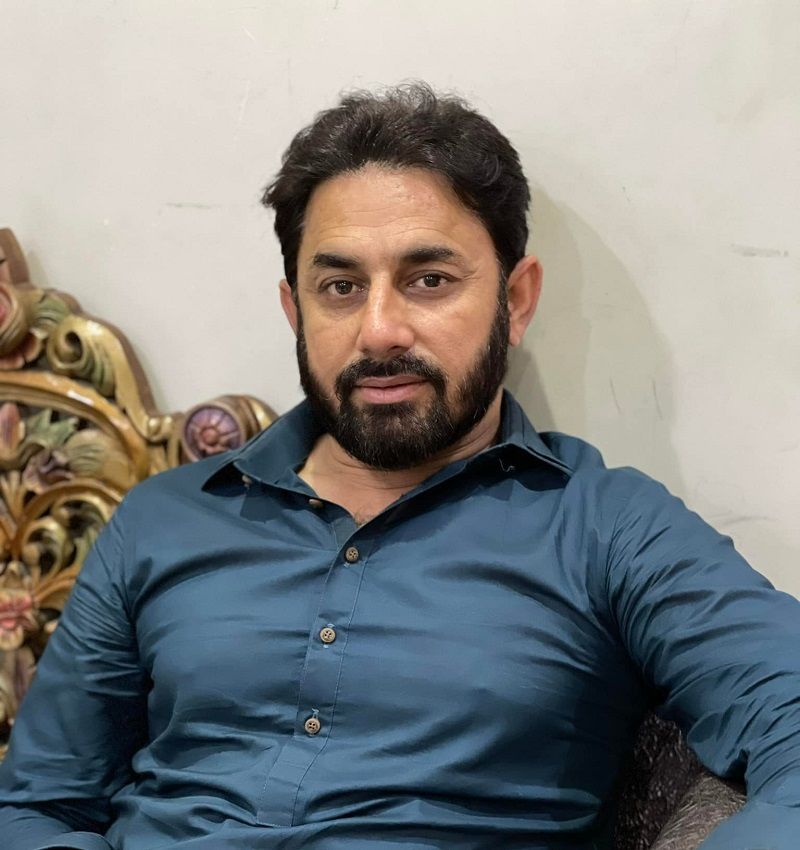 Saeed Ajmal is a Pakistani former cricketer who gained recognition for his bowling the doosra, a type of delivery with a deceptive spin.
Wiki

/Biography

Saeed Ajmal was born on Friday, 14 October 1977 (age 45 years; as of 2022) in Faisalabad, Punjab, Pakistan. His zodiac sign is Scorpio. He did his schooling at Govt. Islamia High School Jinnah Colony, Faisalabad, Pakistan. He attended the Government College University, Faisalabad.
Physical Appearance
[1]The Indian Express Height: 5′ 4″
Hair Colour: Black
Eye Colour: Black
Family
Parents & Siblings
There is not much information available about his parents. He has a younger brother Younis Ahmed, who is also a cricketer.
Wife & Children
Ajmal is married and has two sons, Bilal Ajmal and Hilal Ajmal and a daughter Rameen Ajmal.
Religion
He follows Islam.
Caste
He belongs to the Barelvi caste. [2]NDTV
Career
Domestic Cricket
He had a longstanding association with the Faisalabad cricket team since his debut in 1995 at the age of 18. In Pakistan, he represented the Faisalabad cricket team and played a crucial role in their victory in the 2005 ABN-AMRO Twenty-20 Cup. He was honoured as the best bowler of the ABN-AMRO Patron's Cup final when Faisalabad emerged victorious in March 2006. As recognition of his outstanding performance, he received a prize of Rs. 25,000 during the tournament.
In addition to his association with Faisalabad, he also represented Khan Research Laboratories (KRL) and Islamabad in domestic cricket. In the 2008/09 season, he played in the final of the Quaid-i-Azam Trophy where his team finished as runners-up. Despite the loss, Ajmal delivered an impressive performance, taking 5 wickets for 105 runs in the first innings and 2 wickets for 55 runs in the second innings. This outstanding display not only contributed to his team but also marked his achievement of surpassing 250 first-class wickets. In June 2008, during the Asia Cup hosted by Pakistan, he was chosen as a member of the 15-man squad. His role in the team was expected to complement the leg-spin bowling of Shahid Afridi. On 29 November 2017, he participated in his last cricket match, representing Faisalabad in the semi-finals of the 2017-18 National T20 Cup against Lahore Whites.
International Cricket
He made his ODI debut on 2 July 2008 against India in Karachi. In his debut match, he claimed the wicket of Yusuf Pathan and conceded 47 runs from his allotted ten overs, finishing with figures of 1/47. Pakistan emerged victorious in the match, winning by eight wickets. In the subsequent match against Bangladesh, despite Pakistan having no chance of progressing to the final of the competition, Ajmal delivered an impressive performance. He took 2 wickets for 19 runs (2/19) as Pakistan cruised to a ten-wicket victory.
In November of the same year, Pakistan embarked on a tour of the United Arab Emirates to engage in a three-match ODI series against the West Indies. During the series, he along with Shahid Afridi, formed the main spin options for Pakistan. Ajmal managed to claim one wicket, giving away 73 runs in total across the series. Pakistan emerged triumphant in all three matches, showcasing their dominance against the West Indies. Following the ODI series against the West Indies, his next match was the third ODI against Sri Lanka in January 2009. In April, Pakistan faced Australia in a five-match ODI series held in the United Arab Emirates (UAE) and Ajmal was a part of the Pakistani squad for all five matches of the series. Although he took four wickets, his bowling average stood at 39.50 during the series. Following the ODI series against Australia, Ajmal was selected for the series against Sri Lanka.
He made his test debut on 4-7 July 2009 against Sri Lanka at Galle. He showcased impressive performances in the Test matches, earning him a place in the playing XI ahead of Danish Kaneria in two of the matches. In 2009, during the ICC World Twenty20 tournament, he was reported to have a questionable bowling action. However, he was subsequently cleared of any wrongdoing, allowing him to play a vital role in Pakistan's triumph in the tournament. Following this, the Pakistan Cricket Board (PCB) announced a pool of 30 players for the 2009 ICC World Twenty20 in June. Initially, Ajmal was not included in the list, but he was later added as a replacement for players associated with the Indian Cricket League (ICL) who were dropped from the squad. During the tournament, he formed a formidable bowling partnership with Shahid Afridi. Pakistan emerged as the champions, with Ajmal playing a significant role in their success. He finished as the joint second-highest wicket-taker of the tournament, taking twelve wickets in seven matches. Only Umar Gul from Pakistan surpassed him, with thirteen wickets.
He made his T20 debut on 7 May 2009 against Australia at Dubai (DSC). During the 2010 ICC World Twenty20, he emerged as Pakistan's leading wicket-taker in the tournament. However, he encountered a challenging moment in a match against Australia when Michael Hussey hit him for three sixes. This particular match is widely recognized as one of the most thrilling Twenty20 matches ever played, with Australia in a difficult position. Unfortunately, Ajmal was the bowler tasked with delivering the final over, which resulted in those significant sixes. Ajmal revealed in an interview that he was deeply affected by this incident and experienced a sense of depression. He even mentioned that he stopped attending practice sessions for a week following the match. In the interview, he added,
When I returned home after that, from the plane to the airport, and all the way back home, all I could hear was 'Mike Hussey, Mike Hussey'. I didn't step outside the house for 8 days. My father came to me and said, 'you need to get to the ground'. If you stay at the home, you will be dropped from the team. Inside one year, I need a response to this."
Following the T20 World Cup setback, the Pakistan cricket team embarked on a tour of England, which consisted of two Test matches against Australia in July, followed by a series of four Test matches and five One Day Internationals (ODIs) against England. Initially, Ajmal was not selected for the first Test against England. However, for the second Test, the selectors made the choice to drop Kaneria from the playing XI due to his ineffective performance. As a result, Ajmal was given the opportunity to be part of the team for the second Test match against England. Despite Pakistan's defeat by nine wickets in the match, Ajmal made his first five-wicket haul in Test matches. Additionally, when it was Pakistan's turn to bat against England, Ajmal displayed an impressive innings, scoring 50 runs off 79 balls. This marked his first half-century in Test matches, although he was eventually dismissed by Graeme Swann.
During the ICC Cricket World Cup held from February to April 2011, Pakistan made it to the semi-finals but eventually suffered a loss against India. Saeed contributed in three matches and claimed a total of five wickets with an average of 18.60.
Following the ICC Cricket World Cup, Pakistan participated in a series of ten Test matches. Out of these matches, Pakistan emerged victorious in six and suffered only one defeat. They secured wins against Bangladesh, New Zealand, Sri Lanka, Zimbabwe, and West Indies during this period. He secured a deal to join the Adelaide Strikers for the 2012 season of the Big Bash League (BBL) in Australia. In 2014, he faced a ban from the International Cricket Council (ICC) as his bowling action was found to be illegal. To rectify his action, he collaborated with Saqlain Mushtaq, a former spinner. However, despite their efforts, Ajmal made the difficult decision on 27 December 2014 to withdraw his name from the Pakistani World Cup squad for the ICC Cricket World Cup 2015. This choice was made as he was unable to rectify his bowling action in time to participate in the tournament. In an interview, he talked about it and said,
My dream was to play in the World Cup in Australia and New Zealand and my dreams were shattered by that ban. However, there was nothing I could do about it. Yes, it was disappointing, yes it hurt, but I have to move on and look to the future and not look back."
In July 2014, he represented the MCC (Marylebone Cricket Club) side in the Bicentenary Celebration match held at Lord's Cricket Ground. The match was organized as part of the commemorations for the 200th anniversary of Lord's, which is widely recognized as one of the most esteemed cricket grounds globally. On 13 November 2017, he made an official announcement declaring his retirement from all formats of cricket. In 2017, in the Hong Kong T20 Blitz, he became the first bowler and the first overseas player to secure a five-wicket haul.
County Cricket
In 2011, he represented Worcestershire as an overseas player in English domestic cricket. He was subsequently re-signed by Worcestershire as their overseas player for the 2014 and 2015 seasons. In 2014, he proved to be highly successful, emerging as the leading wicket-taker in County Cricket for Worcestershire. He displayed remarkable performance, taking a remarkable tally of 56 wickets during the season.
Television
He made his television debut with the adventure-action reality show 'The Ultimate Muqabla' (2022-2023) on ARY Digital.
Bowling Style
Throughout his career, his bowling action came under scrutiny due to the bending of his elbow exceeding the ICC's permitted limit of 15 degrees during the ball's release. This led to suspicions and occasional controversies surrounding his bowling style. As a right-arm off-spinner, Ajmal was known for his effective use of the doosra, a delivery that spins in the opposite direction. The doosra was a valuable weapon as batsmen often struggled to read it accurately. Moreover, Ajmal's bowling style differed from that of most off-spinners, and his ability to deceive batsmen with his doosra and flatter deliveries played a significant role in his success as a bowler. In an interview, he talked about his bowling style and said,
If I bowl with flight I cannot bowl well. If I bowl at a quicker speed I can then use variations in pace. If I take 70% of my wickets with the doosra why should I not bowl it? Whether you bowl a doosra or an offbreak, the ball should be bowled on the right line and one should take a wicket with it."
Controversies
Questions raised on bowling action
In April 2009, he came under scrutiny by umpires for a suspected bowling action. Subsequently, an independent test was conducted in the following month to evaluate his action. The results of the test indicated that Ajmal's arm flexed within the acceptable 15-degree tolerance limit set by the International Cricket Council (ICC). [3]The Nation
Allegations of being involved in a spot-fixing scandal
During the 2010 series against England, Pakistan was embroiled in a spot-fixing scandal that unfolded during the fourth Test. In a confidential interview, an alleged fixer named Mazhar Majeed disclosed that Saeed Ajmal, along with Abdul Razzaq, Younis Khan, and Shahid Afridi, were individuals who could not be swayed by bribes. Majeed specifically highlighted Ajmal's strong religious convictions and principles, emphasizing that he was not involved in any such activities. [4]The Economic Times
Wrong remarks about ICC
In 2012, a post-Test series interview with the BBC by Ajmal created confusion regarding his bowling action, raising concerns about its legality. This led to speculation and questions surrounding Ajmal's action. To address the issue, journalist George Dobell conducted an extensive investigation and engaged in discussions with the International Cricket Council (ICC) regarding the matter. ESPNCricinfo subsequently published a detailed report based on this investigation, providing comprehensive information and shedding light on the discussions held with the ICC. The articles resulting from the investigation emphasized and clarified that his bowling action was well within the legal parameters defined by the ICC for bowlers. [5]BBC))

Alleged for illegal bowling action

Following an exceptional performance for Worcestershire against Essex in 2014, where Ajmal achieved his career-best innings haul of 7/19, concerns resurfaced regarding his bowling action. Notably, former England captain Michael Vaughan and current Twenty20 captain Stuart Broad were among those who raised doubts about the legitimacy of Ajmal's action. Stuart Broad expressed the view that Ajmal's action in competitive cricket might differ from the one he used during ICC testing. During the testing procedure to assess a bowler's action, match footage is indeed utilized alongside videos recorded in a controlled laboratory environment. This comparison ensures that the bowling action observed in competitive matches aligns with the action recorded in the controlled setting. This protocol was followed in his case, and his action was found to be identical and consistent with the previously approved action. Given Stuart Broad's comments that raised concerns about Ajmal's action, it was understandable that Ajmal reached out to the England and Wales Cricket Board (ECB) to seek clarification regarding the basis of those comments. He sought to address any concerns or misunderstandings regarding his bowling action and requested an explanation from the ECB. ((Sportskeeda
Banned by ICC
On 9 September 2014, he faced a ban imposed by the International Cricket Council (ICC) due to concerns raised regarding his bowling action. In a statement given to them, they said,
An independent analysis has found the bowling action of Pakistan's off-spinner Saeed Ajmal to be illegal and, as such, the player has been suspended from bowling in international cricket with immediate effect. The analysis revealed that all his deliveries exceeded the 15 degrees level of tolerance permitted under the regulations." [6]The Guardian
Honour
He was honoured with the Sitara-e-Imtiaz on 23 March 2015. This esteemed award, presented by President Mamnoon Hussain, acknowledged Ajmal's outstanding contributions and services to the nation.
Domestic/State Teams
2000–2007: Khan Research Laboratories
2005–2015: Faisalabad Wolves
2009–2017: Zarai Taraqiati Bank Ltd
2011, 2014–2015: Worcestershire
2016–2017: Islamabad United
Facts/Trivia
He follows a non-vegetarian diet.
He was known by the name 'The Magician' by the media and his teammates. [7]

Sportskeeda
His jersey number was # 50 (Pakistan).
His batting style was a right-hand bat and his bowling style was a right-arm off-break.
On 28 January 2012, in his 20th Test match, he became the quickest Pakistani player to reach 100 Test wickets.
In 2012, he captured 50 wickets from 8 Test matches, making him the highest wicket-taker among all bowlers. The second-highest wicket-taker during that period was India's Ishant Sharma with 43 wickets. Moreover, Pakistan delivered an impressive performance in One Day Internationals (ODIs), winning 24 out of the 32 matches they played. Following Pakistan's 4-1 victory over Sri Lanka in November 2011, Ajmal attained the top rank in the ICC's ODI rankings.
During Pakistan's tour of Bangladesh in 2012, he secured nine wickets across two Test matches. Additionally, he reached the pinnacle of the Twenty20 International (T20I) rankings between October and December 2012. In Test matches, his highest ranking during the same year was second, maintained between January and July. Ajmal also held the record for being the leading wicket-taker in Twenty20 International cricket with 85 wickets. However, this record was later surpassed by Shahid Afridi, who took 101 wickets in T20Is.
At the start of 2012, Pakistan engaged in a three-match Test series against England. The series was held in the United Arab Emirates (UAE). During the first Test of the series against England, he was honoured with the prestigious "Man of the Match" award for taking 10 wickets for 97 runs, including outstanding figures of 7/55 in England's first innings. In the second Test, he became the fastest Pakistani bowler to reach 100 Test wickets, surpassing Matt Prior. He accomplished this feat in just 19 matches. The Test series between Pakistan and England concluded with a remarkable 3-0 victory for Pakistan. Ajmal's outstanding contributions earned him the title of "Man of the Series," for taking a total of 24 wickets at an average of 14.70.
Following his retirement from cricket, he ventured into the fashion industry and established his own fashion brand known as the Saeed Ajmal Store. The store specializes in selling Eastern clothing and footwear.
In 2018, he took up as an assistant coach for the Islamabad United team in the Pakistan Super League (PSL).
In 2012, he was featured in brand endorsements for Pepsi and Mobilink Jazz, specifically for their association with the Pakistan Cricket Team.
In 2014, he opened the Saeed Ajmal International Cricket Academy in Faisalabad. The primary objective of the academy is to provide a nurturing and mentoring environment for young and talented cricketers, with the aim of developing and grooming the future talent of Pakistan.
In 2017, following his retirement from international cricket, he also established the Saeed Ajmal Foundation, a charitable organization aimed at assisting disabled individuals and underprivileged communities.
In 2023, in an interview, he voiced his criticism of the Pakistan Cricket Board (PCB) by highlighting that the board had announced a bonus reward of Rs. 25 lakh PKR (Pakistani Rupees) for each player for their victory in the 2009 T20 World Cup. However, he revealed that the promised amount was never deposited into the players' bank accounts. In the interview, he added,


Our cheques were dishonored after winning the ICC T20 World Cup 2009. We got the check but no money. Yusuf Raza Gilani was Sahab. Check bounced. It was a check of 25 lakhs. I didn't get any prize money for being the world number 1 bowler. Also, in 2012 and 2013, I was in the ICC ODI Team of the Year, I was there for two years. This is a team of the best players in the world. My name has appeared there twice, but financially I did not get anything. ICC rewards you. Simply, it comes near your name. But I think this is more than enough."
In 2023, he made an allegation stating that during the replay of a pivotal moment in the 2011 World Cup semi-final match held in Mohali, two frames were deliberately omitted to depict the ball missing the stumps in favour of Sachin Tendulkar. During an interview, he further mentioned that he received verbal abuse from Indian fans after dismissing Sachin Tendulkar in the same match.
From November 2011 to December 2014, he was the ICC's number-one bowler in One Day Internationals (ODIs). However, he mentioned in an interview that despite his success, he never received the 'Player of the Match' award. He recalled an incident after the 3rd ODI match between India and Pakistan in 2013, expressing that he deserved the award but it was given to MS Dhoni instead. In the interview, he added,


MS Dhoni got the Player of the Match award in that game. Dhoni scored 18 runs and dropped 2 catches, still got Man of the Match. So that's wrong. You tell me what is the meaning of Man of the Match. The player who performs the best in the game gets the Man of the Match. I took five wickets in that match, but India won the match, so they gave the award to Dhoni. He scored only 18-20 runs and dropped catches. How did he get Man of the Match? I should have received the Man of the Match award in that game."
In an interview in 2020, he recalled an incident from a Test match between Pakistan and England at Edgbaston in 2010. He expressed his frustration towards James Anderson, stating that he wanted to hit Anderson's head with his bat. Ajmal explained that Anderson had approached him after the new ball was taken and asked if he was prepared for bouncers. Ajmal, considering himself a tailender, assumed Anderson was joking and responded that he didn't understand English. However, to his surprise, England started delivering bouncers towards him. After being hit multiple times, he expressed his anger to Zulqarnain Haider and shared his desire to strike Anderson's head with his bat but he counter-attacked by stepping out of his crease and attempting to hit the bouncers, which led to improved batting performance as the ball began coming onto his bat.
He was among the Test bowlers who started their international careers after the age of thirty and went on to claim more than 100 Test wickets. Other notable players in this category include Clarrie Grimmett, Dilip Doshi, and Ryan Harris.
References

↑

1
The Indian Express

↑

2
NDTV

↑

3
The Nation

↑

4
The Economic Times

↑

5
BBC))

Alleged for illegal bowling action

Following an exceptional performance for Worcestershire against Essex in 2014, where Ajmal achieved his career-best innings haul of 7/19, concerns resurfaced regarding his bowling action. Notably, former England captain Michael Vaughan and current Twenty20 captain Stuart Broad were among those who raised doubts about the legitimacy of Ajmal's action. Stuart Broad expressed the view that Ajmal's action in competitive cricket might differ from the one he used during ICC testing. During the testing procedure to assess a bowler's action, match footage is indeed utilized alongside videos recorded in a controlled laboratory environment. This comparison ensures that the bowling action observed in competitive matches aligns with the action recorded in the controlled setting. This protocol was followed in his case, and his action was found to be identical and consistent with the previously approved action. Given Stuart Broad's comments that raised concerns about Ajmal's action, it was understandable that Ajmal reached out to the England and Wales Cricket Board (ECB) to seek clarification regarding the basis of those comments. He sought to address any concerns or misunderstandings regarding his bowling action and requested an explanation from the ECB. ((Sportskeeda

↑

6
The Guardian

↑

7
Sportskeeda