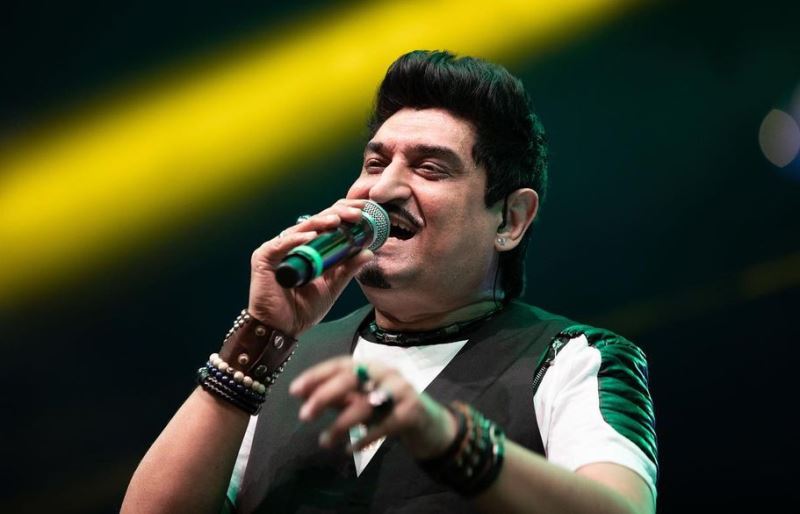 Neeraj Shridhar is an Indian singer, songwriter, music composer who is best known for being the lead vocalist of the Indian pop and rock band 'Bombay Vikings.' In the 2000s, Neeraj Shridhar came into the limelight with the remakes of old Bollywood hit songs, such as Kya Soorat Hai, Woh Chali, and Chod Do Anchal.
Wiki/Biography
Neeraj Shridhar was born on Friday, 23 June 1978 (age 45 years; as of 2023) in Jalandhar, Punjab. Since Neeraj belonged to a family with a musical background, he got inclined towards music at a very young age. In an interview, he said,
There'd be a lot of mehfils at home. My mother would sing and my father would play the tabla. My parents discovered the musician in me when I was just three or four years old."
At the age of eleven, he got a bongo and a guitar. Thereafter, he severed himself from the world while spending long hours playing his guitar. Later, in 1992, his parents decided to send him away to Sweden, Europe. In an interview, he said,
I started spending eight hours playing guitar. Slowly, I got cut off from the world… it was just music and me. I'd make a lot of noise at home and my parents decided to pack me off to Sweden."
Although in Sweden he felt terribly homesick, he started spending his time playing guitar in music bands at school, and later, he also collaborated with professional bands. By the age of nineteen, he had become a full-fledged musician who earned his living in Sweden.
Physical Appearance
Height (approx.): 5′ 6″
Hair Colour: Black
Eye Colour: Black
Family & Ethnicity
Neeraj Shridhar was born into a Punjabi family. [1]The Kapil Sharma Show
Parents & Siblings
Neeraj Shridhar's father was a producer at All India Radio.
Relationships, Wife & Children
On Sunday, 1 July 2012, Neeraj Shridhar got married to Nikila Shridhar. Neeraj Shridhar's son's name is Nevan Shridhar.
Career
Neeraj Shridhar began his musical journey in 1994 with the formation of the music group Bombay Vikings. Neeraj, along with his fellow members and Swedish musicians Oscar Söderberg and Mats Nordenborg, established Bombay Vikings in Stockholm, Sweden. Neeraj was the lead vocalist and back-up guitarist. Mats Nordenborg played the saxophone as he was a jazz specialist. Thereafter, Mats Folke and Johan Folke joined the group as keyboard specialists. Later, Morgan joined the group as a drummer, Par as a bass controller, and Staffan as the lead guitarist. Soon, Bombay Vikings gained immense popularity while performing live shows in Sweden and Norway. After a few years, most of the band members disbanded, but, Neeraj chose to keep the name of the band. Later, he formed another band with the remaining members, and in 1999, he released his debut music album, Kya Soorat Hai.
Indian music companies were sceptical about the success of songs with such strong English and Western influence among the Indian population, hence, they wanted to modify the songs accordingly. After getting postponed for almost four years, finally, Sony BMG Music Entertainment agreed to produce the music album 'Kya Soorat Hai' in India without any changes. The album consisted of eight tracks, all of which were remakes of old Indian songs. The album gained immense recognition in India, and it introduced western music to country. In 2000, post the success of Kya Soorat Hai, Neeraj released another music album, Woh Chali, which gained him massive stardom. In 2002, Bombay Vikings released another successful album,' Hawa Mein Udati Jaaye' in which Neeraj worked with guest singers Linnea Spores and Falguni Pathak to produce songs. In 2004, 'Chhod Do Aanchal' was yet another prominent music album released by Bombay Vikings.
In 2003, Neeraj began his career as a playback singer, and he made his Bollywood debut with the song 'Pyar Ke Naam Pe' from the film 'Rules: Pyaar Ka Superhit Formula.' Thereafter, Neeraj went through a prosperous journey in Bollywood with his hit songs like Ticket To Hollywood (2007), Heyy Babyy (2007), Bhool Bhulaiyaa (2008), Race Saanson Ki (2008), Ragupati Raghav (2013), etc.
Awards/Honours
Nominated for the Stardust Awards in the category of New Musical Sensation (Male) in 2008 for the song Ticket To Hollywood
 Nominated for the Stardust Awards in the category of New Musical Sensation (Male) in 2008 for the song Bhool Bhulaiyaa
Nominated for the IIFA Award in the category of Best Playback Singer (Male) in 2008 for the song Bhool Bhulaiyaa
Nominated for the Screen Awards in the category of Best Playback Singer (Male) in 2010 for the song Tum Mile
Favourite Things
Rock Bands: Led Zeppelin and Deep Purple
Facts/Trivia
In 2000, Neeraj recorded another successful music album 'Woh Chali' which included the popular Indian singer Lata Mangeshkar's song 'Main Chali.' Lata Mangeshkar was so impressed by the remake of her song that she invited Neeraj to perform at her birthday party.
He has a Swedish nationality.