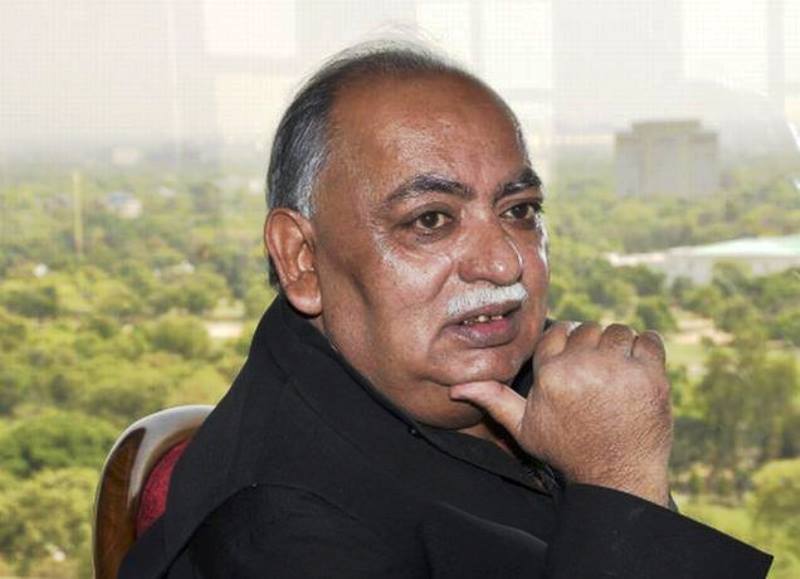 Munawwar Rana is a world-renowned Indian poet who writes in Hindi, Urdu, and Awadhi languages. He is best known for his poetry book Maa, a collection of couplets that describe a mother's virtue.
Wiki/Biography
Munawwar Rana was born as Sayed Munawwar Ali on Wednesday, 26 November 1952 (age 70 years; as of 2022) in Rae Bareli in Uttar Pradesh. His zodiac sign is Sagittarius. After the Partition of India, most of his relatives migrated to Pakistan, but his father decided to stay in India. Thereafter, his family moved to Kolkata, West Bengal, where he did his schooling and spent most of his life.
Later, he started living in Lucknow. After the government abolished the Zamindari system, his father started a transport business. In Kolkata, Munawwar befriended some Naxalites. When his father discovered his inclination towards Naxalism, he threw Munawwar out of the house. In the following two years, Munawwar was a refugee, who ran hither and thither without any purpose in life. Once he said that those two years were a learning period for him during which he learned a lot about human values and life.
Physical Appearance
Height (approx.): 5′ 7″
Hair Colour: Grey (half bald)
Eye Colour: Light Brown
Family
He belongs to a Muslim family. [1]Hindustan Times
Parents & Siblings
His father, Anwar Ali (deceased), was a Zamindar in the British Raj. However, when the government abolished the Zamindari system, his father started a transport business. His mother's name is Ayesha Khatoon. Munawar has six siblings, 5 brothers, Ismail Rana, Yadhya Rana (deceased), Rafe Rana, Shakeel Rana, and Jameel Rana, and 1 sister, Shaheen Rana. Ismail Rana was a theatre artist.
Wife & Children
His son Tabrez Rana was booked in 2021 for allegedly faking an assault on himself to implicate his uncles over a property dispute in the Rae Bareli district. [2]The Indian Express
His daughter Uroosa Imran Rana is a politician and chief editor at Sindhu Times newspaper. She joined the Indian National Congress (INC) in 2021, and soon after, she was nominated as vice-president of the UP Mahila Congress. She contested and lost the Purwa Assembly seat in 2022.
His daughter, Sumaiya Rana, is also a politician who joined Samajwadi Party in 2020. Saumaiya made headlines when police cases were lodged against her during the anti-CAA protests in Lucknow.
His daughter, Fauzia Rana, is a politician and a member of the INC.
Religion
He follows Islam.
Address
He resides at Flat No. 1, Fi Dingra Apartment on Lalkuan Road, Lucknow, Uttar Pradesh (22600).
Career
He writes in Hindi, Urdu, and Awadhi languages. One of his famous works includes the book Maa, a collection of short poems presented in the Ghazal genre to extol a mother's virtues. A couplet from the text reads,
किसी को घर मिला हिस्से में या कोई दुकाँ आई
मैं घर में सब से छोटा था मेरे हिस्से में माँ आई"

(Kisi ko ghar mila hisse mein, ya koi dukaan aayi,
main ghar mein sab se chhota tha, mere hisse mein maa aayi)
In 2014, he won Sahitya Akademi Award for his poetry book Shahdaba, which featured 30 Ghazals, 40 Nazms, and a song. The very first ghazal of the book read,
आँखों को इंतज़ार की भट्टी पे रख दिया
मैंने दिये को आँधी की मर्ज़ी पे रख दिया
अहबाब का सुलूक भी कितना अजीब था
नहला धुला के मिट्टी को मिट्टी पे रख दिया"
Some of his other works include the poetry books Muhajirnama, Ghar Akela Ho Gaya and Pipal Chhaon. Rana's poetry has also been translated and published in Gurumukhi and Bangla.
Political Affiliation
Munawwar Rana is generally linked with the Indian National Congress (INC). [3]The Times of India He also wrote poetry on Congress leader Sonia Gandhi, which was featured in his book Sahitya Akademi Award-winning book Shahdaba. Rana came under public scrutiny for a while for siding with the political party via his poetry. [4]ABP News – YouTube However, Rana, on numerous occasions, has clarified that he had no interest in politics. [5]Live Hindustan – YouTube In 2022, Congress fielded his daughter Uroosa Imran Rana from the Purwa Assembly constituency, but she lost.
Controversies
Returning the Sahitya Akademi Award
In 2015, Rana made headlines for returning the Sahitya Akademi Award along with a one lakh rupees cash prize and vowed never to accept any government award in future. He announced his decision during a debate on the TV in New Delhi citing that he was disappointed with the present developments in the country. [6]Hindustan Times He blamed the communalism in the country and said,
I am a Muslim and some may label me as a Pakistani. Many areas in this country do not have an electricity connection but Muslims here are linked to Dawood Ibrahim"
Objectionable Comments Against CJI Ranjan Gogoi
In 2020, Rana made a highly objectionable comment against the former Chief Justice of India Ranjan Gogoi while commenting on the Supreme Court verdict on the Ram Janmbhoomi-Babri Masjid land dispute case. Rana said that "it was not justice, it was an order." Rana also questioned Gogoi's nomination to Rajya Sabha after his retirement meanwhile accusing Gogoi of allegedly "selling himself for less than a prostitute" to deliver the Ayodhya verdict. [7]Hindu Post
Criticised for Supporting the Murder of Samuel Paty
On 16 October 2020, a French secondary school teacher named Samuel Paty was beheaded by an Islamic terrorist in Éragny-sur-Oise, a suburb of Paris. Allegedly, Paty had shown his students Charlie Hebdo's 2012 cartoons portraying an image of the Islamic prophet Muhammad naked with his genitals exposed in a class on the topic of 'freedom of expression.' In the aftermath of the event, a video of Rana went viral on the internet in which he was allegedly found supporting the Murder of Samuel Paty for showcasing two caricatures of Prophet Muhammad from the pages of Charlie Hebdo. A day after the video went viral on the internet, the UP government lodged an FIR against Rana at the Hazratganj police station, booking him under various charges including promoting enmity between groups and outraging religious feelings with deliberate intent. [8]The Hindu
Criticised for Favouring the Taliban
In 2021, he stirred controversy for refusing to recognize the Taliban as a terrorist organization. [9]India TV He said,
India has no reason to worry from Taliban in Afghanistan. Taliban are not terrorists, they can be called aggressive."
When asked about the Taliban's act of destroying Buddha statues in Bamiyan, Rana said,
Yahan Ram Mandir banane ke liye masjid tod diya…usko kya kahiega…koi pak nahi hai
(What do you have to say about a mosque being destroyed to built a Ram Temple. No one is sacred enough)."
Accused of Stealing the Lines of Poet Alok Srivastava
In 2020, Rana was accused of stealing lines from his famous couplet "Mere Hisse Main Maa Aayi" from Vidisha poet Alok Srivastava. Senior Doordarshan journalist Ashok Srivastav shared a letter on his Twitter account, reportedly written by poet Alok Srivastav to Maunnawar Rana in 2003. In the letter, poet Alok Srivastav elaborated on how Rana had been using his lines despite being reminded of the plagiarism many times.
Booked for Comparing Maharishi Valmiki To Taliban
In 2021, A case was registered in Madhya Pradesh's Guna against Rana for allegedly comparing the militant organisation Taliban with Maharishi Valmiki, the author of the epic Ramayana. He was booked under IPC's Sections 505 (2) (public mischief) and the Scheduled Caste and Scheduled Tribe (Prevention of Atrocities) Act at Hazratganj police station at Lucknow in UP. Rana on a TV channel said,
Valmiki became a God after he wrote the Ramayana, before that he was a dacoit. A person's character can change. Similarly, the Taliban, for now, are terrorists but people and characters change. When you talk about Valmiki, you will have to talk about his past. In your religion, you make anyone God. But he was a writer, and he wrote the Ramayana, but we are not in competition here."
Rana's statement hurt Hindu religious sentiments. Later, Rana's lawyer tried to convince the bench that no offence was meant because it was his freedom of speech. [10]The Indian Express
Awards, Honours, Achievements
Rais Amrohvi Award, Raebareli (1993)
Saleem Jafri Award (1997)
Saraswati Samaj Award (2004)
Kavita ka Kabir Samman Upadhi, Indore (2006)
Maulana Abdul Razzaq Malihabadi Award (2011) by West Bengal Urdu Academy
Maati Ratan Samman (2012) by Shaheed Shodha Sansthan for his services to Urdu literature
Sahitya Akademi Award (2014) for his poetry book Shahdaba (He returned this award on 18 October 2015 on a live TV show, and vowed to never accept any government award in future.)
Favourites
Shayar(s): Wali Aasi, Rahat Indori
Facts/Trivia
In 2019, news about Munawwar Rana's death went viral on social media. He was admitted to the Sanjay Gandhi Post Graduate Institute of Medical Sciences (SGPGI) after he collapsed and fainted with chest pain. During a mushaira, after he was well, he talked about his deteriorated health and hospital visits and presented the Shayari,


ऐसा ऊढू के जाल ना आए खुदा करे, रास्ते मे अस्पताल ना आए खुदा करे
अब उससे दोस्ती है तो फिर दोस्ती ही रहे, शीशे मे कोई बाल ना आए खुदा करे"

(Aise uddu, ke jaal na aaye khuda kre, raste mein hasptaal naa aaye khuda kre,
abb uss'se dosti hai toh phir dosti rahe, sheeshe mein koyi baal naa aaye khuda kre.)

The acclaimed poet actively took part in the anti-CAA protests. At that time, he often made headlines for his bold stance on contentious issues like the Babri Masjid case and policies of the governments at the Centre and in the state.
He became fascinated by the city of Lucknow on his first visit, it has become his favourite city. There, he made acquaintance with the Ghazal Shayar Wali Aasi and started learning poetry under his mentorship. Rana credits his poetry skills to Wali Aasi.
In 2020, Munawwar Rana sent a letter to PM Modi expressing willingness to donate his ancestral 5.5-acre land next to river Sai in Rae Bareli, for the construction of a grand Babri Masjid. He said that the five-acre land in Dhannipur village sanctioned by the government in lieu of Babri Masjid, should be used for building a hospital in the name of King Dashrath, the father of Lord Ram.
His hobbies include flying kites and listening to classical Indian music.
Munawwar Rana occasionally smokes cigarettes.
Once he said that if Yogi Adityanath's government again came into power in the 2022 Uttar Pradesh Legislative Assembly election, he would leave the state. [11]

News 18 He gave the statement,


If Yogi becomes the chief minister again, then I will assume that the state is no longer fit for Muslims to live and I will have to migrate to some other place."