Logan Verjus van Beek is a professional Dutch-New Zealand cricket player. He has been a member of the Netherlands national cricket team since 2012 and competes for Wellington Firebirds in domestic cricket in New Zealand. He is an all-arounder and right-handed fast-medium bowler. His performance against the West Indies in the super over of the 2023 Cricket World Cup Qualifier in June 2023 catapulted him to international prominence.
Wiki/Biography
Logan Verjus van Beek was born on Friday, 7 September 1990 (age 32 Years; as of 2023) in Christchurch, New Zealand. His zodiac sign is Virgo. He attended Saint Andrews College, Christchurch, New Zealand from 2004 to 2008 for school education. He then attended the University of Canterbury, New Zealand from 2011 to 2014 and earned a bachelor of commerce and management degree. [1]Logan's LinkedIn Account Logan van Beek has a passport from the Netherlands because his father's parents moved to New Zealand in the 1950s. Once, during a conversation with the media, Beek mentioned his Dutch citizenship. He said,
My paternal grandparents came over from Holland in the 1950s, and they settled in the South Island. When they had my father, he was eligible for a Dutch passport. And when my father had us, we were still eligible to get a Dutch passport."
Physical Appearance
Height (approx.): 6′
Weight (approx.): 75 kg
Hair Colour: Dark Blonde
Eye Colour: Blue
Body Measurements (approx.): Chest: 40 Inches, Waist: 32 Inches, Biceps: 13 Inches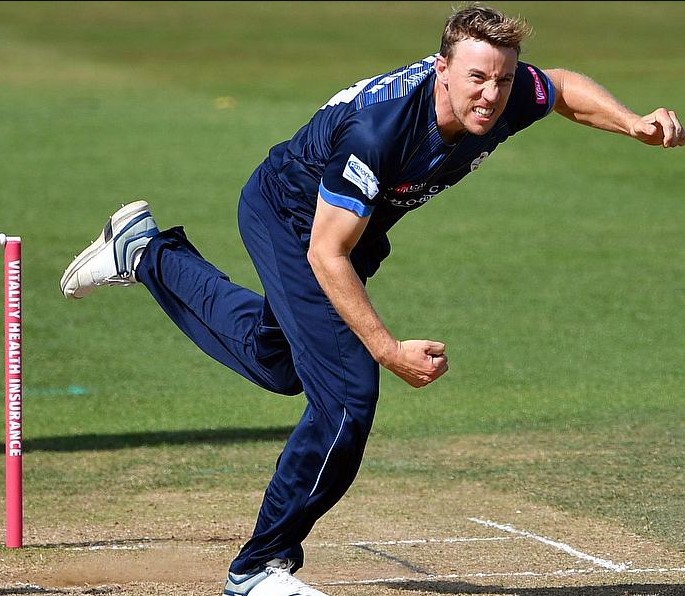 Family
Parents & Siblings
His parents' names are not known.
He has a sister and a brother named Sachavee van Beek and Courtney van Beek, respectively.
His cousin brother, Justin Guillen, is a cricketer.
His Great-grandfather, Victor Guillen, was a well-known cricketer. Sammy Guillen, his maternal grandfather, was a test cricket player who held citizenship in both the West Indies and New Zealand. Sammy Guillen was born in Trinidad. Sammy Guillen was one of the 15 cricketers who had the chance to compete in Test matches for Canterbury and the West Indies in the 1950s. He initially played in five Test matches for the West Indies cricket team during their 1951–1952 tours of Australia and New Zealand. He eventually relocated to New Zealand and started playing cricket for Canterbury. Logan van Beek once discussed his grandfather's life experiences during a media interview. Beek stated,
My maternal grandfather met a bloke in Christchurch and asked him if he could get him a job there because he liked it so much. A few months later, the bloke rang him up with an offer. My grandfather said he hopped on a ship the same day and came over to New Zealand, and a few years later he ended up being a part of New Zealand's first Test win over the West Indies."
Wife & Children
On 30 April 2022, he got married to Elitsa. She is a women's health and wellness coach in New Zealand.
Relationships/Affairs
Logan van Beek was in a relationship with Elitsa before getting married to her in 2022.
Career
Basketball
He competed for New Zealand at the FIBA Under-19 World Championship in 2009. He was a point guard in high-level youth basketball.
In June 2015, he started working as a Marketing Assistant for the Canterbury Rams Basketball Team. He held this position until July 2015.
Other
From September 2010 to December 2011, he had a job at Window Wizards where he worked as a manager and cleaner. During this time, he assisted other young cricketers by arranging cleaning jobs for them in Christchurch. He also found customers for the business by receiving recommendations from happy clients. Since 2015, Logan van Beek has been volunteering at Radio Lollipop, a charitable organization in New Zealand. From May 2015 to September 2015, he also worked as a volunteer at Imagination Station in Christchurch, New Zealand. In May 2015, he obtained a certification in Social Media for Marketers from the Marketing Association in New Zealand. He started working as a social media content creator for Canterbury Kings in August 2016 and held the post until April 2017. Logan van Beek served as a people and culture consultant for Humankind in Wellington & Wairarapa, New Zealand from May 2018 to October 2018. Logan van Beek started working at Follow Through with LVB in Wellington, New Zealand, as a podcaster in March 2020. Logan van Beek interviews other athletes at Follow Through to learn about their unique paths.
Cricket
Logan van Beek competed for New Zealand in the Under-19 World Cup in 2010. In 2011, he began working as a cricket coach at Canterbury Cricket and continued in that role until 2016.
The following year, in 2012, Van Beek started playing for the Netherlands cricket team. He had to wait for three years to meet ICC regulations and qualify to play for the Netherlands since he had previously played for New Zealand in 2010. He played a match against Essex County Cricket Club in the 2012 Clydesdale Bank 40 tournament. In January 2013, he earned a coaching certification at Level 1 from the New Zealand Cricket Association. In 2014, Logan van Beek participated in his first major international tournament for the Netherlands, which was the 2014 ICC World Twenty20 held in Bangladesh.
During the Plunket Shield on 24 October 2015, Logan van Beek scored his first century in first-class cricket. He recorded his first 10-wicket match haul in first-class cricket in November 2017 during the 2017–18 Plunket Shield season.
In March 2018, during a Plunket Shield match, Logan van Beek achieved a hat trick while playing for Wellington against Canterbury. He was the top wicket-taker for Wellington in the 2017-18 Plunket Shield, dismissing 40 players across seven matches. In June 2018, he signed a contract with Wellington Firebirds to play in the 2018-19 season. In December 2018, Logan van Beek signed with the English team Derbyshire for the 2019 County Championship season.
Logan van Beek was selected for the Dutch senior cricket squad in April 2020, and in June 2020, Wellington made him an offer to sign a contract for the domestic cricket season of 2020–21. Logan van Beek was chosen for the Dutch ODI team in May 2021 for their series against Scotland. On 19 May 2021, he made his ODI debut for the Netherlands against the Scotland cricket team. Van Beek was selected to play for the Netherlands in the ICC Men's T20 World Cup in September 2021. He played for the Dutch cricket team that competed in the Zimbabwe-based ICC Men's T20 World Cup Global Qualifier B event in July 2022. He made history by taking a hat-trick in a T20I play for the Netherlands in the same year against Hong Kong in a group match.
Logan van Beek played an important part in the Netherlands' win against the West Indies on 26 June 2023 in a match during the Cricket World Cup Qualifier. The Netherlands batted second and concluded at 374/9 to tie the game with the West Indies after a massive run chase of 375. Logan, batting at number eight, made a quick contribution by scoring 28 runs in just 14 deliveries during the Netherlands' batting innings in the super over. At the time, the Netherlands was struggling at 327/7 and needed 47 runs from the final three overs of the innings.
The Netherlands set a new record for the most runs scored in any format at the international level on 27 June 2023 surpassing the West Indies' previous mark of 25 runs scored in a super over. Beek scored 30 runs and achieved a world record by scoring the highest number of runs by a batsman in an international cricket super over. Logan van Beek received the Player of the Match award following the game. [2]Stuff
Career Statistics (till 2023)
One Day International (ODI)
He participated in 17 matches and achieved 262 runs with an average of 18.71. His highest score was 32. Additionally, he bowled 854 balls and successfully took 22 wickets, averaging 35.18. He also made 10 catches.
Twenty20 International (T20I)
He participated in 17 matches and scored a total of 43 runs, averaging 7.16. His highest individual score was 19. In addition, he bowled 278 balls and successfully took 18 wickets, averaging 20.38. He also made 7 catches during the matches.
First-class cricket (FC)
He participated in 64 matches and scored a total of 1554 runs, averaging 22.85. His highest individual score was 111. In addition, he bowled 9722 balls and successfully took 160 wickets, averaging 32.80. He also made 43 catches during the matches. Furthermore, he achieved one century (scoring 100 or more runs in a single inning) and seven half-centuries (scoring 50 to 99 runs in a single inning).
List A cricket (LA)
He participated in 101 matches and scored a total of 952 runs, averaging 16.70. His highest individual score was 64. In addition, he bowled 4195 balls and successfully took 124 wickets, averaging 31.92. He also made 58 catches during the matches. Furthermore, he achieved three half-centuries.
Record
Logan van Beek set a new world record on 26 June 2023 when he scored 30 runs in the ODI World Cup Qualifier match against the West Indies Super Over.
Car Collection
He owns a Black Ferrari.
Favourites
Facts/Trivia
His jersey number is # 17 (formerly 90) for the Netherlands cricket team.
Logan enjoys taking long vacations and visiting far-off locales.
Henry Michael Nicholls, a cricketer from New Zealand, is a childhood friend of Logan van Beek. Henry Nicholls and Logan van Beek have been friends since they were kids and used to play cricket together using a plastic bat. Their older brothers were also friends and played on the same team, which brought the two of them closer and helped them develop a bond. In a media conversation, Beek mentioned that he used to live at Tom Latham's house in Christchurch, and Matt Henry was his third flatmate for a period of four years. Beek said,


When I finished school and moved out of home, I moved into Tom Latham's house in Christchurch. Matt Henry was the third flatmate and we lived together for four amazing years. It was easily the most fun time of our lives. Three great mates, all living and breathing cricket, under one roof."
Since January 2014, Logan van Beek has been volunteering for two charitable organizations in New Zealand: Sponsor a Child World Vision and Camp Quality.
His social media posts indicate his passion for dance.
He is often spotted consuming alcoholic beverages on various occasions.