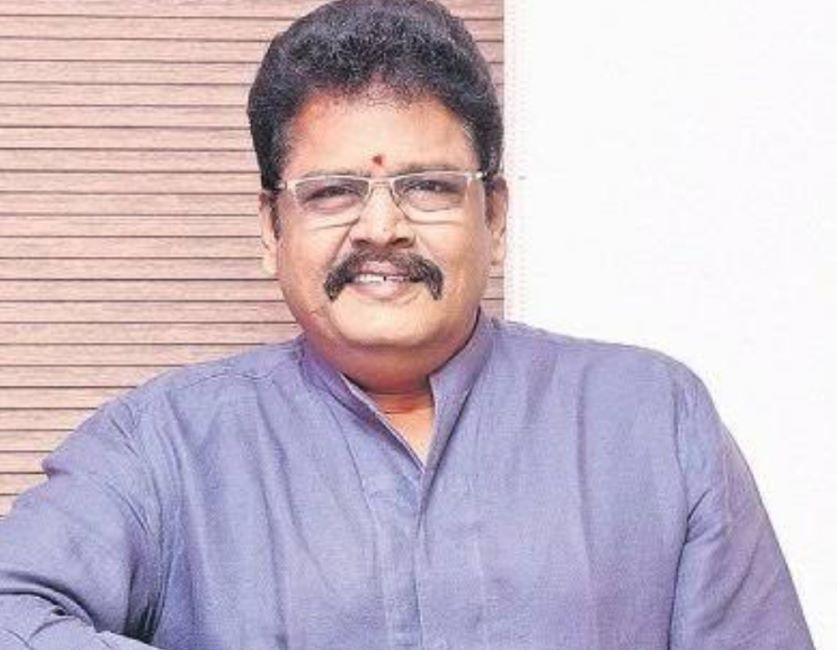 K. S. Ravikumar is an Indian film director, actor, producer, and screenwriter, who works predominantly in the Tamil film industry.
Wiki/Biography
K. S. Ravikumar was born on Friday, 30 May 1958 (age 65 years; as of 2023) in Vanganoor, Tiruvallur, Tamil Nadu. His zodiac sign is Gemini. Ravikumar attended Dhanraj Baid Jain College, Jyothi Nagar, Chennai, Tamil Nadu.
Physical Appearance
Height (approx.): 5′ 7″
Hair Colour: Black
Eye Colour: Black
Family
Parents & Siblings
His father, K. Subramani (deceased), worked in cycle shops, restaurants etc. to support his family. [1]YouTube – Naadodigal Productions His mother's name is Rukmani Ammal Tampatiyar. K. S. Ravikumar has four siblings.
Wife & Children
K. S. Ravikumar is married to Karpagam Ravikumar who is a film producer. The two have three daughters together, Maalica Ravikumar AK, who works as a women's life coach, entrepreneur and film producer, Janani Ravikumar who is an entrepreneur, and Jasvanthi Ravikumar who is a doctor and producer.
Relationships/Affairs
Ramya Krishnan has closely collaborated with the director K. S. Ravikumar. During their collaborations at work, Ramya and K. S. Ravikumar reportedly developed a strong bond that eventually evolved into a romantic involvement. This relationship carried on despite K.S. Ravikumar being married to Karpagam Ravikumar. Rumours were being spread about a possible pregnancy, and tensions escalated when Karpagam Ravikumar supposedly became aware of her husband's alleged relationship with Ramya. Finding out about the alleged affair reportedly strained their marriage, prompting K.S. Ravikumar to take definitive action. Allegedly, he offered a substantial sum of Rs. 75 lakhs at the time to facilitate the termination of the possible pregnancy and effectively put an end to the relationship. While such rumours were at their peak, both Ramya Krishnan and K. S. Ravikumar vehemently denied the validity of reports surrounding their alleged relationship, pregnancy, and subsequent termination when questioned by the media. [2]BollywoodShaadis K. S. Ravikumar remains married to Karpagam with their three daughters, and Ramya Krishnan is married to Krishna Vamsi (Telugu filmmaker) with whom she has a son.
Career
Filmmaker
K. S. Ravikumar is well-known for making films in the masala film genre (a mix of all genres). Ravikumar started his career as an assistant to directors such as Bharathiraja, Vikraman, E. Ramdoss, Nagesh, Ramarajan, and K. Rangaraj. He then worked as a co-director to R. B. Choudary in his production Pudhu Vasantham (1990), whose success led to the producer giving him a chance at his directorial debut. Ravikumar made his debut as a filmmaker with the film Puriyaadha Pudhir (1990) which is a remake of the 1989 thriller Tarka, a Kannada film based on The Unexpected Guest, the 1958 Agatha Christie play.
Afterwards, he shifted his cinematic attention towards producing a series of action-packed films set in rural areas, frequently teaming up with actor R. Sarathkumar. This partnership resulted in blockbusters like Cheran Pandiyan (1991) and Nattamai (1994), which turned him into a much sought-after filmmaker within the Tamil film industry.
Director
Ravikumar has worked with many established actors, reflecting his confidence in their potential for success in the market and their acting experiences. Once he finalizes the lead actor for the film, he makes suitable adjustments to the original storyline to align with the actor's persona. Ravikumar once shared how he discussed each scene with the actor Rajinikanth, who helped Ravikumar in placing punch dialogues to engage with the audience, during the making of "Padayappa" (1999). Ravikumar mentioned that Kamal Haasan detailed scenes for urban audiences' laughter during the creation of "Thenali" (2000) and "Panchatanthiram" (2002), then suggested adding slapstick humour to resonate with rural viewers too. Ravikumar produced several village action films with R. Sarathkumar, including "Muthu" (1995), which is an adaptation of Priyadarshan's 1994 Malayalam film Thenmavin Kombath. Despite buying the remake rights, he worked on its screenplay, and the film gained "cult classic" status in India and Japan, becoming one of the most profitable Tamil films at the time of release. Following this success, he collaborated with Kamal Haasan for the first time in Avvai Shanmugi (1996), an Indian adaptation of the 1993 American comedy "Mrs. Doubtfire."
The film received positive reviews and performed well at the box office. Ravikumar's career continued to flourish with projects like Padayappa (1999), featuring Rajinikanth and Sivaji Ganesan. The film faced delays due to strikes but was completed within three months and became a blockbuster upon release. He also directed other successful films like Thenali (2000), starring Kamal Haasan, and Dasavathaaram (2008), a high-budget venture with Kamal Haasan playing ten different roles.
In the subsequent years, Ravikumar directed various films, including Aadhavan (2009) and Manmadan Ambu (2010) with Kamal Haasan. He ventured into Hindi cinema with Policegiri (2013) starring Sanjay Dutt. Although the film faced production issues. Ravikumar directed Mudinja Ivana Pudi (2016) and Kotigobba 2 (2016) in Tamil and Kannada languages, both successful. He also directed the Telugu action films Jai Simha (2018) and Ruler (2019) featuring Nandamuri Balakrishna.
Actor
K. S. Ravikumar acted in the films Aayiram Pookkal Malarattum (1986), Raaja Raajathan (1989) and Pudhu Vasantham (1990) where his roles were uncredited. Further, he has acted in Pagaivan (1997), Dosth (2001), Vinnaithaandi Varuvaayaa (2010), Sigaram Thodu (2014), Thanga Magan (2015), Remo (2016), and Comali (2019). In 2021, he made a notable appearance in the lead role in the film Mathil.
Writer
K. S. Ravikumar wrote the story, screenplay, and dialogue for the 2014 film Kochadaiiyaan: The Legend, which was directed by Soundarya Rajinikanth.
Controversy
K. R. Ravi Rathinam vs. The Director General Of Police (Case against K. S. Ravikumar and Rajinikanth)
Ravi Rathinam (the petitioner) stated that his story and work were stolen and used in K. S. Ravikumar's (respondent) movie 'Lingaa'. Despite a complaint to authorities, no action was taken. Ravi Rathinam appeared before the Inspector of Police and explained that he is directing a film named 'Mullai Vanam 999' based on Mullai Periyar Dam and Colonel J.Penni Cuick, with supporting evidence of the film's inauguration. He alleged similarities between his film's story and the film 'Lingaa' produced by K. S. Ravikumar and Rajinikanth, requesting a stay on the release of 'Lingaa'. The petitioner failed to demonstrate any similarity between his story and the Respondent's. Despite performing pooja for the film 'Mullai Vanam 999', shooting had not yet begun, with plans to start in January 2015. Ravi Rathinam's claims regarding his film 'Mullai Vanam 999' and alleged similarities to 'Lingaa' were denied by Rajinikanth who stated that this petition was an attempt at fame. K. S. Ravikumar argued that the film 'Lingaa' was still in the making and had not been submitted for certification by the Central Board of Film Certification. He emphasized that it was premature to make any claims about the film's content until it was properly certified. Ravikumar's counsel referred to legal definitions from the Information Technology Act, arguing that the petitioner's claims do not constitute a cybercrime. The case was dismissed, and the parties were made responsible for their costs. [3]Indian Kanoon
Awards
K. S. Ravikumar won the Tamil Nadu State Film Award for Best Film and Best Director in 1994 for his film Nattamai.
K. S. Ravikumar won the Vijay Award for Best Director and Favourite Director in 2006 for his film Varalaru: History of Godfather.
K. S. Ravikumar won the ITFA (International Tamil Film Awards) Best Director Award in 2008 for his film Dasavathaaram.
K. S. Ravikumar received the IIFTC Tourism Impact Award for Outstanding Contribution to the Cinema in 2020.
Car Collection
K. S. Ravikumar had a Toyota Sera that was used in the film Padayappa (1999) and has a Honda Accord.
Facts/Trivia
K. S. Ravikumar is known as a 'producer's delight' as he does not exceed the budget and always tries to release the film on time. [5]

Internet Archive
K. S. Ravikumar appeared in all of his films. In an interview, he said that it was because of Alfred Hitchcock's influence on him. [6]

Internet Archive