Jewel Mary is an Indian actress and television presenter who predominantly works in the Malayalam film industry and Television shows. She became famous after hosting the Malayalam dance reality show D 4 Dance (2014) on Mazhavil Manorama with Govind Padmasoorya.
Wiki/Biography
Jewel Mary was born on Monday, 11 June 1990 (age 32 years; as of 2022) [1]Jewel Mary – Official Facebook Page in Thrippunithura, Kochi, Kerala. She spent most of her childhood in Aluva, Kochi, Kerala, because of her father's work. Jewel and her family moved back to her father's home in Thrippunithura, Kochi, Kerala after she completed her eighth grade. She pursued her Bachelor of Science in Nursing at the Samaritan College of Nursing at Pazhanganad, Thrissur. [2]The Times of India In an interview, Jewel said she has worked part-time as a master of ceremonies during her college days to earn pocket money.
Physical Appearance
Height (approx.): 5′ 6″
Hair Colour: Black
Eye Colour: Brown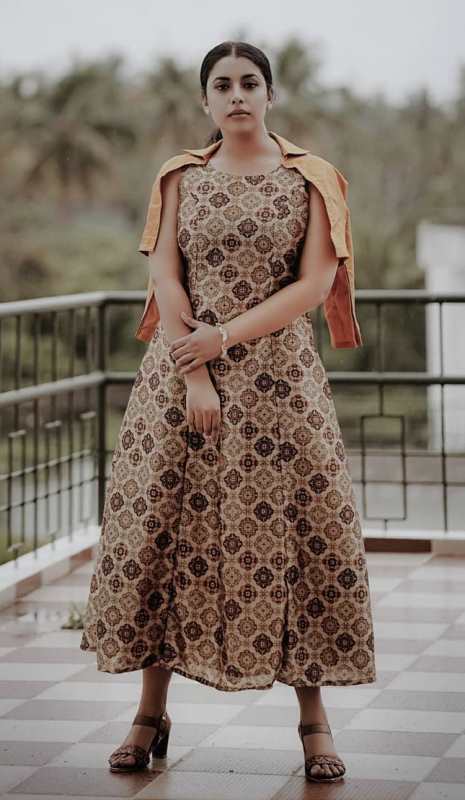 Family
She belongs to a Malayali Christian family in Thrippunithura, Kochi, Kerala.
Parents & Siblings
Her father, Sebi Antony, was a former employee at The Fertilisers And Chemicals Travancore Limited (FACT), and her mother's name was Rose Mary. Her brother, Jibin Sebi, is married to Amala Biju; Jewel has a sister called Jeeva Sebi.
Husband
She married Jenson Zachariah on 11 April 2015 at St Joseph's Church, Veroor, Changanacherry, Kerala. Jewel met Jenson at her workplace, and they fell in love. In an interview, she said that her wedding with Jenson was an arranged love marriage; when she had understood Zachariah had feelings for her, Jewel immediately asked him to meet with her parents, as she was not ready to mess around. Both families were happy with the proposal and gave their permission for the marriage. Jenson Zachariah produced the celebrity talk show Onnum Onnum Moonu, which was telecasted on Mazhavil Manorama.
Career
Anchor
Jewel had worked as an anchor in small shows from her college days to earn pocket money. In 2014, she was about to move to Canada when she was selected as one of the hosts for the Malayalam dance reality show D 4 Dance which was telecasted on Mazhavil Manorama. Jewel cohosted the show alongside Govind Padmasoorya, and the pair was an instant hit among the audience.
In 2016, she cohosted the Malayalam cooking reality show Dhe Chef: Season 1 telecasted on Mazhavil Manorama. Jewel hosted the Malayalam reality TV serial Urvashi Theatres, telecasted on Asianet between 2017 and 2018. She hosted Asianet Star Singer Season 8 from 2020-2022; the show was halted in July 2021 due to the Covid-19 lockdown and resumed on 02 January 2022. In 2021, she hosted Comedy Kondattam telecasted on Flowers TV.
Film
In 2015, she made her debut in the Malayalam film industry with veteran Malayalam director Kamal's satirical comedy, Utopiayile Rajavu. She played the role of Umadevi.
Her first film to be released in theatre was the Mammootty starrer Pathemari; Utopiayile Rajavu got its theatrical release after Pathemari. In 2016, she was cast in the Malayalam mystery film Ore Mukham.
She made her Tamil film debut in 2017 with the Vijay Antony starrer Annadurai. She did a cameo role in the Suresh Gopi starrer 'Paappan' released in 2022.
Host
Jewel hosted different shows as a college student, majority of the these shows were corporate events. After she became famous for hosting the D 4 Dance, she emceed many award shows. In 2015, she and Meera Anil hosted the inaugural Asianet Comedy Awards and was retained as the hosts for the second Asianet Comedy Awards in 2016. In 2016, Jewel hosted the first-ever Malayalam film award show held in Europe, Anand TV Film Awards in Manchester, England. Jewel cohosted the Vanitha Film Awards (2017).
Awards
2015: Asiavision Film Award – Best New Face – Utopiayile Rajavu (2015) and Pathemari (2015)
2015: Ramu Karyatt Memorial Awards – Best New Face – Pathemari
2016: Manappuram Minnale Awards – Best Actress – Pathemari
Facts/Trivia
In an interview, she revealed that her favourite author was Paulo Coelho and her dream was to write a book. She also said that anchoring was a part of her life, and she used to write and participate in the ballets during her school days, and it helped her to get rid of her stage fear and paved the way for her hosting career (master of ceremonies).
She was asked about her experience working with the veteran Malayalam actor Mammootty during an interview, and she revealed that he was her favourite actor and she was thrilled to have made her debut alongside him, and Mammootty had suggested her name to the Malayalam director Kamal for his movie, Utopiayile Rajavu. Jewel's first two films were with Mammootty and she played the lead heroine opposite him.
Jewel, in an interview, recalled that her parents were initially reluctant to let her host the D 4 Dance as she was about to move abroad, and she had to try hard before they were convinced about the plan.
In an interview, she revealed that she faced body shaming as a child because she was skinny and also revealed that she was subjected to discrimination based on her colour, and was often compared to her sister.
In 2015, Jewel hosted an exclusive chat show with Bollywood actors Shah Rukh Khan and Kajol. The actors were promoting their film Dilwale.
In an interview, she revealed that as a school student, she had to discharge from one of her schools and had to be enrolled at a new school at the age of thirteen; she suffered a love failure, and many of her fellow students treated her as if she had AIDS, and added that she was forced to sit alone on a bench and suffered mental trauma by the events. [3]

FilmiBeat
In 2015, she was spotted at an annual nursing colleges meet, Dhanak, which was held in Kochi. [4]

The Times of India In an interview, she said that alongside praising the nurses for their work, they should be paid equally for their services, and society should acknowledge their service and hard work.
In 2015, Jewel landed in controversy after she claimed that she had backed out from the Malayalam movie Aadu Puliyattam with Malayalam actor Jayaram in the lead role. Some reports suggest that she backed out from the movie as she did not want to act with the veteran actor and preferred a younger hero; however, Jewel refuted these reports and said that she backed out of the movie as she was not satisfied with the script. Following her comments, the producers of the film came forward with the claim that it was Jewel who had reached out to them for acting in the film without even reading the script, and they rejected the actress when she asked whether a new-generation actor was the hero. [6]

International Business Times The movie became a blockbuster, and the producers extended a special invitation to Jewel Mary as the chief guest for the movie's success bash [7]

Malayala Manorama
In an interview, she revealed that even though she had not experienced the casting couch, someone who introduced himself as a producer had called her and asked her whether she would be interested in being a part of a famous actor's film when Jewel told him that she needed to hear the story, he narrated a one-line over the phone and narrated the story of an old Malayalam film called 'Deshadanakkili Karayarilla'. After he told the story, he asked whether she would make any adjustments (sexual) as she was a newcomer in the film industry at the time. Jewel understood the story was from an old movie and instantly realised the person was a fraud; She revealed that she questioned his motive and called out him for being a fraud. After that incident, she said he had not disturbed her any further. [8]

FilmiBeat
Jewel was asked about her experiences as an anchor during an interview, and she shared that there were moments when she had cried during stage shows and moments she regretted. She revealed one of the incidents where she was the host of an award show held in Europe and unintentionally announced the Best Actor Award when the Bollywood actor Anil Kapoor was supposed to announce the award. She added that Anil Kapoor had not understood that she got mixed up and had declared the winner.
On a social media post following the Vismaya dowry death in Kerala, Jewel Mary blasted the practice of normalising domestic violence and abuse and called out the societal pressure that urged the female child or wives to adjust to their abusive partners; she demanded that it was high time that the parents and families taught their female children to stand up for themselves and they stood up against any form of physical and mental abuse.
She launched her YouTube channel on 1 June 2021 and published her first-ever cover song of the famous pop and hip-hop song, Enjoy Enjaami.
Jewel has various tattoos, including two tattoos on her hands and one on her leg. She posted the video of getting her first-ever tattoos on Instagram.