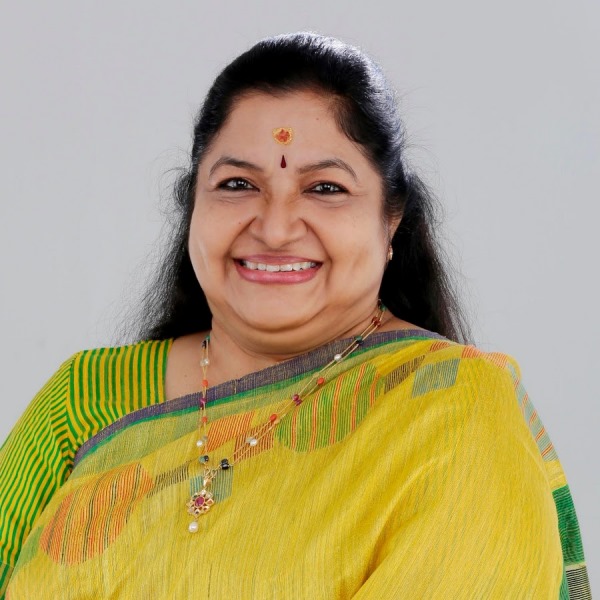 Krishnan Nair Shantakumari Chithra is an Indian playback singer who has been active in the music industry for over four decades. She has been awarded the Padma Shri and the Padma Bhushan for her contribution to the field of music.
Wiki/Biography
Krishnan Nair Shantakumari Chithra was born on Saturday, 27 July 1963 (age 60 years; as of 2023) in Trivandrum, Kerala, India. Her zodiac sign is Leo. She obtained a bachelor's degree in music from the University of Kerala and was ranked third in the university. In 1978, she was selected for the National Talent Search Scholarship programme for vocal classical music, a central government programme, wherein she was trained by Professor K. Omanakutty.
Wishing my dear #Omanakutty Teacher Joy and Happiness. You are an amazing teacher, and you only deserve the best. You are the spark, the inspiration, the guide, the candle to my life. I am deeply thankful that you are my teacher. Happy Birthday!#KSChithra #DrOmanakutty #Birthday pic.twitter.com/3VUNPK8Prw

— K S Chithra (@KSChithra) May 24, 2020
She completed her master's degree in music at Kerala University. She had a keen interest in music from a very young age and learnt the basics of music from her father since he was also a musician.
Physical Appearance
Height (approx.): 5′ 4″
Hair Colour: Black
Eye Colour: Black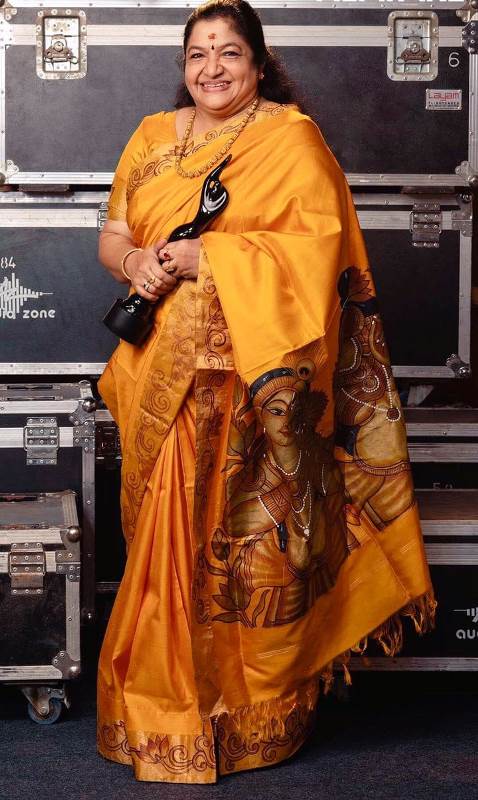 Family
Parents & Siblings
K. S. Chithra's father, Krishnan Nair, was a musician and a teacher. He died in 1986 after a long battle with Cancer. Her mother, Santhakumari, is an Indian actress, working predominantly in Malayalam cinema.
She has two siblings, a sister named K. S. Beena, who is a singer, and a brother named Mahesh, who is a guitarist.
Husband & Children
In 1988, she got married to Vijayashankar, an engineer and a businessman. On 18 December 2002, the couple was blessed with a daughter, Nandana, who was born with a genetic disorder, Down's syndrome. On 14 April 2011, Nandana passed away after accidentally drowning in a pool in a private villa at Emirates Hills, Dubai.
Religion
K. S. Chithra follows Hinduism.
Career
Malayalam music
In 1979, K. S. Chithra was introduced to Malayalam playback singing by M. G. Radhakrishnan, who helped her get many singing assignments for various films and private albums. She recorded songs for films like Attahasam, Snehapoorvam Meera, and Njan Ekananu. The turning point of her career was when she had the opportunity to perform at various live concerts alongside K. J. Yesudas, one of the greatest singers in the history of Indian music.
Later, she worked with many veteran music directors such as Ravindran, Shyam, Jerry Amaldev, Kannor Rajan, and Johnson who helped her get more singing projects. By the mid-1980s, Chithra had become the most sought-after female singer in the Malayalam music industry.
Tamil music
K. S. Chithra made her debut in the Tamil music industry with the song 'Poojaikketra Poovithu,' composed by Ilaiyaraaja for the film 'Neethana Antha Kuyil.' She later recorded numerous songs for Ilaiyaraaja in Tamil. She is officially recognized as the female singer to sing the maximum number of Tamil songs for the composer A. R. Rahman, an Academy Award-winning composer.
Telugu music
K. S. Chithra made her debut in the Telugu music industry with the song 'Paadalenu Pallavaina,' which is a dubbed version of a Tamil original. Her first original Telugu song was 'Abba Daanisoku' from the film 'Aakhari Poratam (1988).' In 1989, she was a playback singer for the movie Geethanjali and gained recognition for the song 'Jallanta Kavvinta.'
Bollywood music
In 1985, K. S. Chithra recorded her first Hindi song composed by S. P. Venkitesh. However, it was never released. In 1991, she recorded duet songs with S. P. Balasubrahmanyam composed by Anand Milind for the Bollywood film 'Love.' In 2000, she was signed as an exclusive artiste for Sony Music. She released two pop albums while she was associated with Sony Music, Piya Basanti, and Sunset Point, which went on to become huge hits. She gained immense popularity with the album 'Piya Basanti' and came to be known as 'Piya Basanti Chitra' in the northern region of India. She worked with Ustad Sultan Khan for 'Piya Basanti.'
K. S. Chithra has featured in various ghazal albums alongside Lata Mangeshkar, Pankaj Udhas, Ghulam Ali, and Asha Bhosle.
Television
K. S. Chithra has been a member of various panels of judges on different reality TV shows like Idea Star Singer, Josco Indian Voice, and Airtel Super Singer Junior. She has appeared in a few music shows like Swarabhishekam, Super Masti, Jhumandi Nadam. In 2023, she was a judge on the TV show 'Super Singer Junior 9,' which aired on 'Star Vijay.'
Concerts
K. S. Chithra has been a regular performer at concerts of various renowned artists including Ilaiyaraaja, A.R. Rahman, and S.P. Balasubrahmanyam. She has also performed with other singers such as S. P. B. Charan, S. P. Sailaja, Sunitha Upadrashta Karthik, and Shweta Mohan. In 2009, she performed a rendition of 'Tunga Tarange Gange' alongside other singers at the Qinghai International Musical Journey on Water and Life concert.
Awards, Honours, Achievements
Government of India Awards
2021 – Padma Bhushan – India's third-highest civilian honour
2018 – Rashtrapati Award for being the "First Lady" in the field of music, felicitated by the Ministry of Women and Child Development of the Government of India at the Rashtrapati Bhavan
2005 – Padma Shri – India's fourth highest civilian honour
2001 – National Excellence Award by Limca Book of Records
National Film Awards (Best Female Playback Singer)
2004 – Song: OvvoruPookkalume – Film: Autograph – Language: Tamil
1997 – Song: Payalein Chun Mun – Film: Virasat – Language: Hindi
1996 – Song: Maana Madurai – Film: Minsaara Kanavu – Language: Tamil
1989 – Song: Indupushpam Choodi Nilkum Raathri – Film: Vaishali – Language: Malayalam
1987 – Song: Manjal Prasadavum – Film: Nakhakshathangal – Language: Malayalam
1986 – Song: Padariyen Padippariyen, Naan Oru Sindhu – Film: Sindhu Bhairavi – Language: Tamil
State government awards
1997 – Kalaimamani Award by the Government of Tamil Nadu
2011 – Bharath Ratna Lata Mangeshkar Award by the Government of Andhra Pradesh for Cultural Council
2013 – Sangeeta Samman Puraskar (P B Srinivas) Award by the Government of Karnataka
2014 – Kerala Samsthana Vanitha Rathnam (Kamala Surayya Award) by the Government of Kerala for Social Welfare Department
2018 – Harivarasanam Award by the Government of Kerala
Lifetime Achievement awards
2003 – Lifetime Achievement Award from Global Malayali Council London
2003 – Swaralaya Yesudas Award Lifetime Achievement Award
2005 – Sikharam – 15 Lifetime Achievement Award 2005 from India Today
2005 – Jeevan TV – P. Jayachandran Lifetime Achievement Award
2007 – Aginhotri Lifetime Achievement Award from Samorin of Calicut
2014 – Lifetime Achievement Award from Raindrops, a youth-based social organization on the occasion of Women's Day
2017 – V.C. Padmanabhan Memorial Award for lifetime achievement from Manappuram Finance Ltd.
2018 – Legend of the Year Award – Red FM Music Awards
2019 – Women achievers, News7 Tamil's Thangatharagai Lifetime Achievement award for being an inspiring women icon and for her outstanding achievements
2019 – Most Socially Committed Lifetime Achievement Award – Ishal Laila Awards 2019, Dubai
2019 – Excellence in the Field of Music Award – JFW Women Achievers
2021 – Mirchi Music's Lifetime Achievement Award for extraordinary contribution to South Indian Film Music
Filmfare Awards South (Best Female Playback Singer)
2004 – Language: Telugu – Song: Nuvvostanante – Film: Varsham
2006 – Language: Malayalam – Song: Kalabham Tharam – Film: Vadakkumnadhan
2006 – Language: Kannada – Song: Araluva Hoovugale – Film: Autograph
2008 – Language: Malayalam – Song: Oduvil Oru – Film: Thirakkatha
2009 – Language: Malayalam – Song: Kunnathe Konnakyum – Film: Pazhassiraja
2013 – Language: Telugu – Song: Seethammavaakitlo – Film: Seethamma Vakitlo Sirimalle Chettu
2016 – Language: Telugu – Song: Ee Premaki – Film: Nenu Sailaja
2017 – Language: Malayalam – Song: Nadavathil – Film: Kambhoji
2022 – Language: Malayalam – Song: Theerame – Film: Malik
Kerala State Film Awards (Best Playback Singer)
2016 – Song: Nadavathil Thurannilla – Film: Kambhoji
2005 – Song: Mayangipoyi – Film: Nottam
2002 – Song: Karmukil Varnante – Film: Nandanam
2001 – Song: Mooli Mooli – Film: Theerthadanam
1999 – Song: Pular Veyilum – Film: Angane Oru Avadhikkalathu
1995 – Song: Sasikala Charthiya – Film: Devaraagam
1994 – Song: Parvanenthu – Film: Parinayam
1993 – Song: Ponmeghame – Film: Sopanam, Song: Rajahamsame – Film: Chamayam, Song: Sangeethame (Gazal)
1992 – Song: Mounasarovaram – Film: Savidham
1991 – Song: Thaaram – Film: Keli, Song: Swarakanyakamar – Film: Santhwanam
1990 – Song: Kannil Nin Meyyil – Film: Innale, Song: Palappoove – Film: Njan Gandharvan
1989 – Song: Kalarivilakku – Film: Oru Vadakkan Veeragatha, Song: Thankathoni – Film: Mazhavilkavadi
1988 – Song: Indupushpam – Film: Vaishali
1987 – Song: Eenam marannakatte – Film: Eenam Maranna Kattu, Song: Thalolam Paithal – Film: Ezhuthappurangal
1986 – Song: Manjalprasadavum – Film: Nakhakshathangal
1985 – Song: Oreswaram Ore Niram – Film: Ente Kaanakkuyil, Song: Poomaname – Film: Nirakkoottu, Song: Aayiram Kannumai – Film: Nokkethadhoorathu Kannum Nattu
Karnataka State Film Awards (Best Female Playback Singer)
1997 – Song: Hele Kogile Impagalaa -Film: Nammoora Mandara Hoove
2001 – Song: Navileno Kunibeku -Film: Gattimela
2005 – Song: Kandamma Kandamma -Film: Maharaja
MTV Award
In 2001, she received the MTV International Viewer's Choice Award for the album 'Piya Basanti' at the Metropolitan Opera House in New York.
Facts/Trivia
In 1985, K. S. Chithra was given the title 'chinnakuyil' (Little Nightingale of South India) for the song 'Chinna Kuyil Paadum' from the film Poove Poochudava. The song was composed by Ilaiyaraaja. She has sung some of Ilaiyaraaja's best compositions, which helped her gain immense popularity in South India.
According to Chithra, she initially wanted to become a music teacher; however, she eventually became a playback singer.
Her first song ever recorded was a riddle song that was recorded at a studio in Thiruvananthapuram.
She has sung over 25000 songs in various Indian languages such as Tamil, Telugu, Malayalam, Kannada, Hindi, Oriya, Bengali, Bhaduga, and Punjabi. She has also sung in various foreign languages such as Latin, Arabic, Sinhalese, English, and French.
In 1993, she recorded her first album, 'Ragga Raaga,' featuring Voodoo Rapper.
In 2006, she paid tribute to M. S. Subbulakshmi, the first musician to be awarded Bharat Ratna, by dedicating an album named 'My Tribute' to her. The album contains a collection of songs dedicated to Subbulakshmi.
In 2009, she paid tribute to Lata Mangeshkar with the album 'Nightingale: A Salute to Lataji' on her 80th birthday.
According to Chithra, even after a career spanning over four decades, she still gets nervous when it comes to stage performances.
She enjoys learning new languages and therefore tries to learn the basics of any new language she decides to sing in. The legendary playback singer Balasubrahmanyam taught her the basics of Telugu, and Latika, a singer, taught her Tamil. She practised her Tamil pronunciation by listening to cassettes of S Janaki, an Indian playback singer.
She is an ardent devotee of Lord Krishna and is the singer of the album 'Krishnapriya,' which includes Kirtans on Lord Krishna. According to K. S. Chithra, she always carries a miniature temple with her whenever she travels.
She is the only singer from India to perform live in the House of Commons, London.
She is the first Indian female singer from South India to perform live in the Royal Albert Hall, London. She was titled as the Golden Voice of India by the Royal Albert Hall.
Her favourite song amongst all her national award-winning songs is the 'Paadariyen Padippariyen' song from the Tamil film 'Sindhu Bhairavi.'
Her top 3 favourite songs from all of her songs are 'Varmukelae' from the film "Mazha," 'Ethetho Ennam Valarthean' from 'Punnagai Mannan,' and 'Khanahai Kiya' from 'Bombay.'
She is the first singer from South India to get the MTV Award.
She is the highest recipient of Kerala State Awards in the category of Best Playback Singer Female and has won it 16 times with a record of winning it 11 times in a row, from 1985 to 1995.
She holds the record for being the oldest singer to win the Filmfare Awards South at 59 years of age for the Malayalam song 'Theerame' & also the oldest nominated female singer ever at the age of 59, for the Tamil song 'Yennuyire.'
She is the recipient of the highest number of national awards won by a female singer in India.
In 2011, she received an honorary doctorate from Sathyabama University, Chennai.
In 2018, she received an honorary doctorate from the International Tamil University in the United States.
In 2019, she was honoured by Sultan bin Muhammad Al-Qasimi, sovereign ruler of the Emirate of Sharjah and a member of the Federal Supreme Council of the United Arab Emirates, for successfully completing 40 years in the Indian film industry.
She is the first Indian woman to be honoured by the British Parliament at the House of Commons in the United Kingdom.
Her song 'Kannalane (Kehna Hi Kya)' from the film Bombay (1995) was included in The Guardian's "1000 Songs Everyone Must Hear" list in 2009.
In an interview, she talked about her eating habits and said,


I am a person who eats a lot. But, I am a vegetarian also. I used to eat non-vegetarian food before, but the bones and thorns in it are disgusting. I would eat the cleanest piece only. Now, I am completely vegetarian."
She is known as the Melody Queen of Indian Cinema.
On completion of her three decades in the music industry, she launched a fundraising organisation, Sneha Nandana, with Asianet Cable Vision (ACV), to support retired musicians who face financial impediments and those who suffer from health problems. [1]

acvsnehanandana
According to Chithra, she never visits a cinema hall before any live performance as it hampers her singing quality. [2]

onmanorama
During the COVID-19 lockdown, she created a separate album, Loka Samastha Sukhino Bhavanthu, to do online concerts for charity purposes and gave some music lessons to kids.
She is known for being a very obedient student. She once asked a lyricist to change a few lyrics from a particular Tamil song as it involved a few foul words that she did not intend to sing. Later, she was removed from the project. Ilaiyaraaja then asked her not to repeat this behaviour and to focus on the task assigned to her, which she made sure to follow for all her future projects.