Jitendra Awhad is an Indian politician. He is a member of the Nationalist Congress Party. He was a Member of the Legislative Assembly of Maharashtra for 3 terms, 2009, 2014, and 2019. He became the Minister of Minority Development & Aukaf in March 2022.
Wiki/Biography
Jitendra Satish Awhad was born on Monday, 5 August 1963 (age 60 years; as of 2023) in Nashik, Maharashtra. His zodiac sign is Leo. He completed his schooling at St. John the Baptist High School, Thane. According to some sources, he completed a Bachelor of Arts at Bombay University (later renamed Mumbai University) in 1986 [1]My Neta, however, other sources suggest that he graduated in Marine Engineering Studies from Mumbai University. [2]Maharashtra Government Some sources say that he pursued a master's in personnel management at Mumbai University, however, some other sources say that he completed a master's in labour studies at Mumbai University in 1989 [3]My Neta. He completed PhD in "The History of Socio-Religious Movement in Maharashtra, a Sub-Alternate View" at Mumbai University in 2013. During his college days, Jitendra was appointed as Gymkhana secretary, and later, he became the secretary of the All-India Students' Organization. Being the president of the Akhil Bhartiya Vanjara Youth Association, he joined the student wing of the Indian Nation Congress, National Students' Union of India (NSUI). In 1988, he became chief secretary of the National Students' Union of India in the Maharashtra unit. In 1991, he was appointed as General Secretary of all India NSUI. From 1988 to 1995, he worked as an assistant labour officer at Kores India Limited, Thane as well. In 1996, he became the president of the Maharashtra Pradesh Youth Congress.
Physical Appearance
Height (approx.): 5′ 7″
Hair Colour: Black
Eye Colour: Hazel grey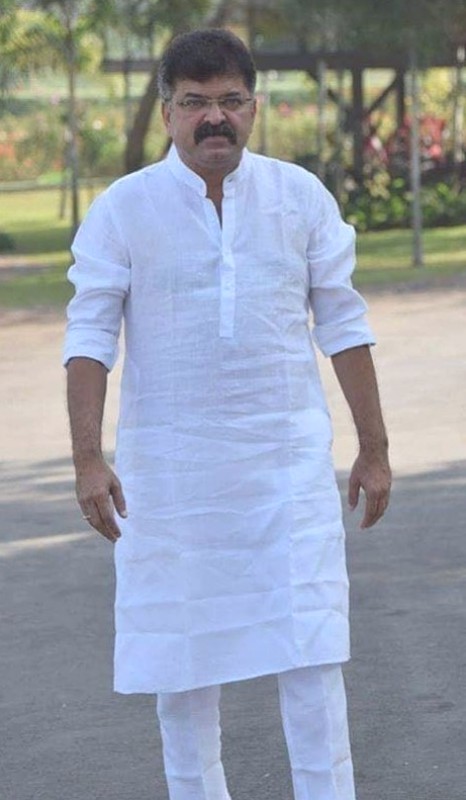 Family
Jitendra Awhad belongs to a Vanjari family. Vanjari is one of the different castes of Kshatriya in India.
Parents & Siblings
Jitendra Awhad's father's name is Satish Awhad and his mother's name is Lilavati.
Wife & Children
He is married to Ruta Awhad, the daughter of a famous Indian politician Dattatray Samant. The couple has a daughter named Natasha Awhad.
Religion
Jitendra Awhad follows Hinduism.
Address
B-3, Girija Enclave, Near Tuljabhavani Temple, Ganeshwadi Road, Panchpakkhadi, Thane (West) 400602
Signature/Autograph
Career
Jitendra Awhad was appointed as the first National President of the Youth National Congress Party after the formation of NCP in 1999. He was elected as a Member of the Legislative Council twice in 2002 and 2008. In October 2009, he contested his first Maharashtra Legislative Assembly election from the Mumbra-Kalwa (Thane) constituency on a ticket from the NCP. He won the election by a margin of 15,689 votes. In 2014, he was re-elected as a Member of the Legislative Assembly from the Mumbra-Kalwa (Thane) constituency and became the minister of medical education, horticulture, and employment guarantee. He made famous Bollywood actor Amitabh Bachchan the brand ambassador of Maharashtra's horticulture promotion. In 2019, he contested again in the Legislative Assembly election from the Mumbra-Kalwa (Thane) constituency and defeated Deepali Sayed from the Shiv Sena party by a margin of 75,639 votes; he became Minister of Housing under the Thackeray ministry.
After NCP Chief Sharad Pawar resigned from his position in May 2023, Jitendra Awhad also resigned from his position as National General Secretary. In an interview, he said
For several decades, we have been staunch followers of Sharad Pawar. All along, Pawar has been saying that the people's mandate is very important in a democracy. Without consulting senior party leaders, Pawar unilaterally quit the party post. In my opinion, Pawar's decision is against his own principles. Under such circumstances, I too have decided to quit the party post." [4]The Times of India
Controversies
Cases Pending
3 charges related to Punishment for criminal intimidation (IPC Section-506)
1 charge related to Criminal breach of trust by a public servant, or by banker, merchant or agent (IPC Section-409)
1 charge related to Punishment for kidnapping (IPC Section-363)
1 charge related to Kidnapping or abducting with intent secretly and wrongfully to confine a person (IPC Section-365)
1 charge related to Wrongfully concealing or keeping in confinement, a kidnapped or abducted person (IPC Section-368)
1 charge related to Voluntarily causing hurt by dangerous weapons or means (IPC Section-324)
1 charge related to Cheating and dishonestly inducing delivery of property (IPC Section-420)
9 charges related to Punishment for Being a member of an unlawful assembly (IPC Section-143)
6 charges related to Every member of unlawful assembly guilty of an offence committed in prosecution of a common object (IPC Section-149)
5 charges related to Punishment for Rioting (IPC Section-147)
4 charges related to Punishment for wrongful restraint (IPC Section-341)
4 charges related to Joining or continuing in unlawful assembly, knowing it has been commanded to disperse (IPC Section-145)
3 charges related to Joining unlawful assembly armed with a deadly weapon (IPC Section-144)
3 charges related to Disobedience to order duly promulgated by a public servant (IPC Section-188)
2 charges related to Punishment for public nuisance in cases not otherwise provided for (IPC Section-290)
2 charges related to Continuance of nuisance after injunction to discontinue (IPC Section-291)
2 charges related to Rioting (IPC Section-146)
2 charges related to Rioting, armed with a deadly weapon (IPC Section-148)
2 charges related to Punishment for voluntarily causing hurt (IPC Section-323)
2 charges related to Intentional insult with intent to provoke breach of the peace (IPC Section-504
2 charges related to Mischief causing damage to the amount of fifty rupees (IPC Section-427)
1 charge related to Punishment of abetment, if the act abetted, is committed in consequence, and where no express provision is made for its punishment (IPC Section-109)
1 charge related to Punishment for criminal trespass (IPC Section-447)
1 charge related to an Act endangering the life or personal safety of others (IPC Section-336)
1 charge related to Wantonly giving provocation with intent to cause riot-if rioting to be committed-if not committed (IPC Section-153)
1 charge related to Obstructing public servants in the discharge of public functions (IPC Section-186)
Engineer Assault Case
An assault case was filed by a Civil engineer, Anant Karmuse, for kidnapping and assaulting him on the night of 5 April 2020 over the morphed pictures of Jitendra Awhad posted by him on social media. In his statement, he mentioned that he was kidnapped by some police officer and brought to Awhad's house where police officers and bodyguards of Awhad assaulted him; he even posted pictures of marks on his back on social media. Jitendra Awhad was arrested against assault charges but released over bail later. The fourth chargesheet was filed in the case in May 2023. [5]The Times of India
Resignation over FIR
Two cases were filed against Jitendra Awhad in November 2022. A molestation case was filed by the Bharatiya Janata Party leader Rida Rashid; she stated that she was pushed during an inauguration event by Jitendra. While narrating the incident in an interview, she said
In Mumbra, a bridge was inaugurated and all were invited. I asked Chief Minister's PA to let me meet the Chief Minister. There was a lot of crowd around the CM and I was near his car. I saw MLA Jitendra Awhad. When I tried to get to the CM, Awhad pushed me aside and said, what are you doing here? He pushed me and I fell into the crowd where all men were surrounded… I showed the video to the police official. An FIR has been registered against him." [6]The Print
He was booked for another case in November, two days before the molestation case, for disrupting the night show of the film Har Har Mahadev at a theatre in Thane. Awhad said that fake cases were filed against him, and he was willing to resign from the position of MLA. He tweeted on his Twitter
Police registered 2 false cases against me in 72 hours. I will fight against police brutality. I am deciding to resign from the post of MLA. We can't witness the murder of democracy." [7]The Print
Remark on the film The Kerala Story
A non-cognizable offence case was filed against Jitendra over the remark he made on the controversial film The Kerala Story by an activist at the Vartak Nagar police station. Jitendra said on a news channel that the incidents shown in the film are fake. Jitendra is alleged to say that the producer of the film should be hanged in public for insulting the women of Kerala. [8]The Times of India
Remarks on Sindhi Community
On 27 May 2023, during a party in Ulhasnagar, Jitendra made an objectionable comment to the Sindhi community. A video went viral on social media in which he said
Ek Sher ko maran ke liye sau Sindhi kutte bhi aa gaye to kuch bhi nahi karanat." [9]YouTube – TV9 Marathi
An FIR was filed under Sections 153A (Promoting enmity between different groups on grounds of religion, race, etc) 153B, 295A (deliberate and malicious intention of outraging the religious feelings of any class of citizens) and 298 (deliberate intention of wounding the religious feelings of any person) of the IPC against him at Thane police station.
Awards, Honours, Achievements
He received the most impactful politician of Maharashtra award at Lokmat Awards in 2022.
Car Collection
He owns Honda City and BMW cars.
Income
His income for the financial year 2017-2018 was Rs. 1,74,66,580. [10]My Neta
Assets & Properties
Movable Assets
Bank Deposits: Rs. 84,75,085
Bonds, Debentures and Shares: Rs. 1,53,86,000
LIC or other insurance Policies: Rs. 33,13,670
Personal loans given: Rs. 8,37,47,459
Motor Vehicles: Rs. 55,66,149
Immovable Assets
Agricultural Land: Rs. 5,09,03,598
Non-Agricultural Land: Rs. 3,33,200
Commercial Buildings: Rs. 16,00,01,040
Residential Buildings: Rs. 1,37,91,200
Note: The given estimates of movable and immovable assets are according to the year 2019. It excludes the assets owned by his wife and dependents. [11]My Neta
Net Worth
Jitendra Awhad's net worth for the financial year 2018-2019 was estimated to be Rs.2,01,58,041. [12]My Neta It excludes the net worth of his wife and dependents.
Facts/Trivia
In 1982, he held a campaign against rising tuition fees at Mumbai University.
During his college days, Jitendra was very inspired by popular Indian politician Sharad Pawar.
He organises the Dahi Handi competition on Krishna Janmashtami every year through the NGO Sangharsh.
He is a dog lover and owns a dog as well.