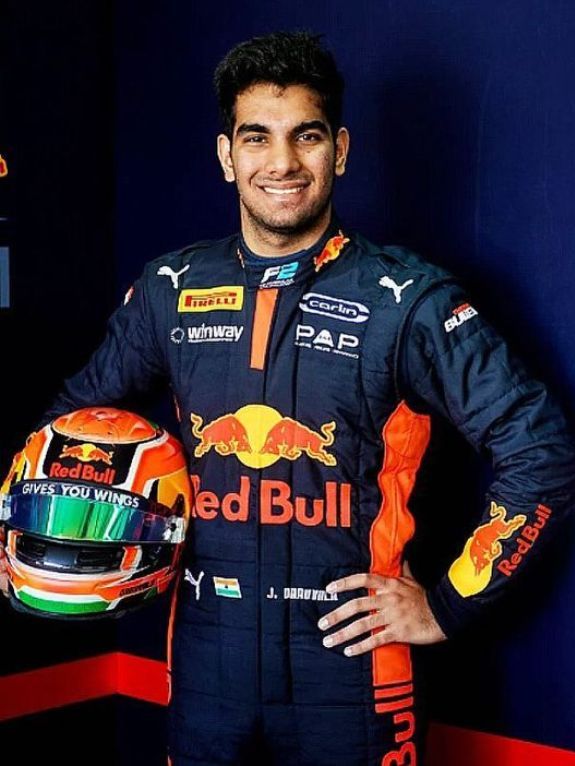 Jehan Daruvala is an Indian motorsports racing driver. He participated in the FIA Formula 2 Championship with Prema Racing. In 2011, he became one of the three winners of a 'One in a Billion hunt,' which was arranged by the Force India F1 team 2011 after which he became an apprentice of the team. On 20 June 2022, Jehan shared that he got the opportunity to take the previous year's Formula 1 car, Mclaren MCL35, for a drive. In 2022, he received the honour to test an F1 car for the first time on 21 and 22 June 2022 at Silverstone in the United Kingdom. [1]Outlook
Wiki/Biography
Jehan Daruvala was born on Thursday, 1 October 1998 (age 23 years; as of 2022) in Mumbai. He did his schooling at Bombay Scottish School in Mahim West, Mumbai. [2]Hindustan Times Jehan developed an interest in racing at a young age. In 2011, he started his driving career by karting at the age of thirteen and competed in many karting competitions. Rayomand Banajee, Go-karting champion and owner of Rayo Racing, discovered the potential and talent for racing in Jehan. He coached Jehan and laid a strong foundation for his successful career.
Physical Appearance
Hair Colour: Black
Eye Colour: Black
Family
Jehan Daruvala belongs to a Parsi family in Mumbai.
Parents & Siblings
His father, Khurshed Daruvala, is an MD of Sterling & Wilson, which is an associate company of Shapoorji Pallonji. Her mother's name is Kainaz Daruvala. He has an elder sister named Delna Daruvala.
Relationships/Affairs
Jehan is in a relationship with Maia Shroff. Reportedly, Jehan and Maia have been dating each other since 2014 and are very open about it on social media. According to her Linkedin profile, in 2019, she started working as a marketing executive at Nykaa Fashion and held the position for one and a half years, then she joined Barcode Entertainment: Strategic Brand Solutions and handled junior client services. In 2021, she launched her own swimwear line named 'Papaaya Swimwear.' [5]Linkedin- Maia Shroff
Career
Karting
Jehan first took part in the karting championship in 2011. He won the 2012 Asia-Pacific Championship and 2013 Super 1 National Championship and secured positions in other competitions held in Asia and Europe.
Eurocup Formula Renault 2.0
He levelled up to single-seaters with Fortec Motorsport in the Formula Renault 2.0 NEC and Formula Renault 2.0 Alps championships in 2015. [6]Formula Scout He ranked fifth in the Northern European Cup on the basis of his performance. He took part in the Eurocup and Alps series as a guest driver. Next year, he claimed an opening pole position and took a podium in the second race. [7]Formula Scout In Hungary, he won his first Northern European Cup.
Toyota Racing Series
In 2016, he took part in Toyota Racing Series. Winning three times and taking three podiums made him vice-champion to Lando Norris. In the next season in 2017, he took the most pole positions of any driver and won two times. The championship fight was very competitive, and he attained the fifth rank.
European Formula 3 Championship
2017
In November 2016, he talked about his aim to participate in European Formula 3 Championship the following year. He signed to race with the Carlin Motorsport team in December 2016. He was ranked 6th in the 2017 championship. In the same year, he also took part in the 2017 Macau Grand Prix, where he achieved 10th position.
2018
In the 2018 season also he remained in the Carlin team. He finished third at the opening weekend at Pau Grand Prix during the third race. His only win of the year was in the first race of the Spa-Francorchamps round. He again competed in the 2018 Macau Grand Prix and secured 12th position.
GP3 Series
In the 2018 Yas Marina GP3 finale, he joined the MP Motorsport team. He scored 26th position in the race.
FIA Formula 3 Championship
In 2019, Daruvala competed in the inaugural season of the Formula 3 championship for the Prema Powerteam. He took part in 16 races and won two of them. He attained 3rd position in the championship.
F3 Asian Championship
In 2021, he participated in the championship from the team Mumbai Falcons India Racing Ltd, which took place in Abu Dhabi, United Arab Emirates. He participated in 15 races and won 3 of them. His overall performance and 192 points in the championship made him secure 3rd position in teams' championship.
FIA Formula 2 Championship
2020
In February 2020, Daruvala rejoined the Carlin Motorsport team to compete in the 2020 FIA Formula 2 Championship. He was named Red Bull Junior during this championship. He participated in 24 races and only won one of them. He achieved 12th position in the championship.
2021
In 2021, he again participated in the championship and continued with the same motorsport team, Carlin. He took part in 23 races and won 2 of them due to which he gained 7th position. [8]FIA Formula 2
2022
He reunited with the Prema Racing team for the 2022 championship in January 2022. After participating in 12 races, he did not win any of them, but the number of podiums he took and the points he gained made him rank 3rd in the championship.
Racing Ranks
Karting
He achieved 1st position in All-Stars Karting Championship Malaysia- Yamaha Junior (2011)
He achieved 1st position in Asia-Pacific Championship- KF3 (2012)
He achieved 1st position in Super 1 National Championship- KFJ (2013)
He achieved 2nd position in CIK-FIA International Super Cup- KFJ (2013)
He achieved 2nd position in the German Karting Championship- Senior (2014)
He achieved 3rd position in CIK-FIA World Championship- KFJ (2014)
Formula Racing
He achieved 2nd position in Toyota Racing Series (2016)
He achieved 3rd position in FIA Formula 3 Championship (2019)
He achieved 3rd position in the F3 Asian Championship (2021)
He achieved 3rd position in FIA Formula 2 Championship (2022)
Favourites
Car: Lamborghini Aventador
Facts/Trivia
Jehan is the first Indian to win New Zealand International Grand Prix, which is an annual motor racing event that takes place in New Zealand. He won the race in 2017 in which he drove a Tatuus FT-50 Toyota. [9]

Formula Scout
He considers Fernando Alonso as his role model.
His guilty pleasure is eating a Shake Shack burger in London.
In an interview, while talking about how he felt after getting a chance to take the 2021 Formula 1 winner car, Mclaren MCL35 for testing, he said,


I have never driven a Formula 1 car before. This test is for me to learn the car and its characteristics and find its limits. My aim is to win the F2 Championships and hopefully I do enough and my name is out there (to be noticed)." [11]Outlook